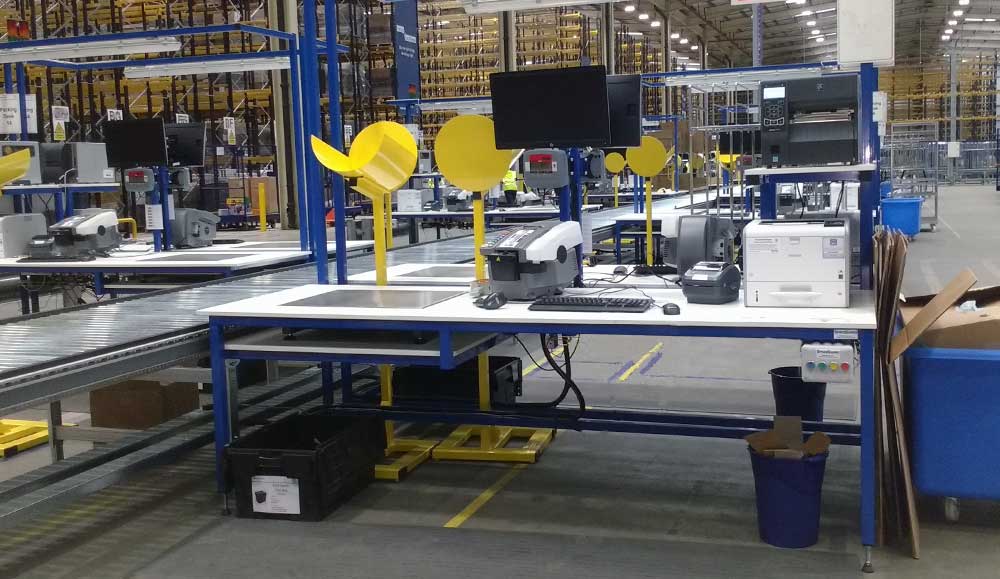 Why are returns a problem for online retailers?
Throughout the online retail sector the processing of returned goods is a major headache.
Items returning to the warehouse must undergo a procedure to determine their quality and whether they're suitable for resale. This procedure takes time, leading to inventory getting 'stuck' within the returns process.
Retailers in most cases pay for the item to be transported back to the warehouse, this in turn eroding profit margins on lower cost items.
The payment solution provider Klarna estimates that 22% of all online orders end up being returned. Few consumers however give any thought to the complexity of the returns system and the logistics costs involved.
Do you need help with your returns processing?
Contact our team today for expert advice & custom designed returns processing equipment
Phone: 01482 363445
Email: sales@spaceguard.co.uk
Returns as part of the shopping experience
First of all, let's consider the habits of online shoppers and why so many items get returned to the warehouse.
The ease and comfort of online shopping has many benefits for the consumer. For example, with just a mobile phone, shopping can now take place anywhere at any time. 
One downside of online shopping for retailers however is most easily illustrated within the fashion retail sector. 
Previously to buy an item of clothing, you would have to visit a physical shop. Many of these retail outlets having changing rooms to try on items. Some stores also provided personal shoppers or fitting services to assist in getting the desired products in the correct sizing. 
With online fashion retailing however, this is not an option. The solution many consumers have come up with is to over order on items, knowing they will be entitled to a refund for the items they do not wish to keep. 
Jill wishes to buy some new outfits for her summer holidays. She looks online and finds a website she has not previously ordered from. She loves their new summer dresses range. The online store uses UK sizing for all their products, but Jill notices in the reviews that many customers ended up with clothes that are too small. The reviewers recommend buying a size up for a better fit. Jill decides to buy her clothes in her actual size, and also the same items in a size up just to be safe. 
Right to return
Jill in this scenario is like many online shoppers.
Research suggests that 19% of shoppers buy multiples of the same item to try at home.
Similarly 30% of shoppers over purchase with the expectation of being able to return unwanted items 
Jill is still deliberating over her summer dresses order. The dress she really loves is quite expensive. Whilst she can afford to buy two sizes, she's still unsure about spending that much right before her holiday. Jill checks the returns policy to find out if she can get a free return if any of her items don't fit. She also checks the customer reviews again to see if anyone else has had any problems returning their unwanted clothing. 
In the UK, you generally have a legal right to return an item purchased in a store if it does not meet certain standards.
Online orders also have an extra layer of legal protection, with regulations stating you have a 14 day right to change your mind on online purchases. It is then up to the retailer to pay for basic return shipping costs. They must then refund you for your returned items within 14 days. 
What is the impact of increased returns?
The closures of many high street retailers will only increase the prevalence of online ordering. Hand in hand with that is an increase in the returning of these orders.
This is a problem for many online retailers as the costs of return shipping and processing has a financial impact on the business
Logistics costs for returns is estimated at between £20bn and £60bn per year.
33% of retailers had to increase prices to counter rising returns volumes
31% of retailers said managing returns impacts their profits
For some companies the costs of accepting returns amounts to as much as 5% of their annual turnover.
4 Easy Ways To Reduce Customer Returns
The ideal scenario for any retailer is that returns on orders are minimal. This saves the company not only the costs of carriage on returned items, but also the costs of processing and repackaging items for resale. 
Let's examine the main reasons why people return items they ordered online.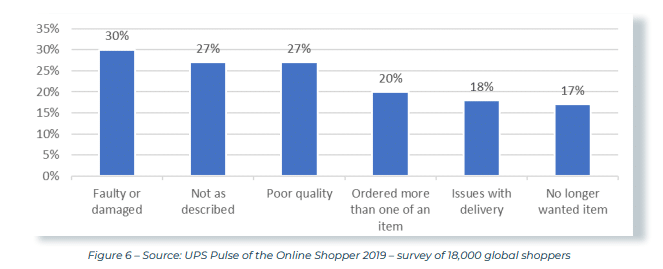 The above chart shows that faulty or damaged items lead in the reasons for items being returned.
We will examine this later on in this article. For the moment we will focus on the close second category for the reason for return which is 'not as described'.
Product descriptions are of great importance in online retail. So much so that some companies hire people to write not only accurate, but also engaging and keyword heavy product descriptions. 
Unfortunately many retailers forgo this important step and in some cases the product description is barely an extension of the product name.
So how can better product descriptions decrease the number of customer returns?
Below we will consider three important parts to an accurate product listing and examine how these increase buyer confidence and lessen the rate of item returns. 
Reduce Returns Using Detailed Written Product Descriptions
First of all the information provided on the store or marketplace should be as accurate as possible. For fashion retailers for example this could include sizing information, as well as material, colours, brand etc.
As each type of product has unique features or details which customers may like to know, it is up to the retailer however to make sure this information is absolutely clear to the customer. 
Reduce Returns By Showing Product Reviews & FAQ's
This is a very smart feature used to help with buyer confidence. It is often impossible to predict the very specific information consumers require, so the companies sometimes use their large customer base to their advantage. 
By allowing prospective buyers' questions to be answered directly by the manufacturer, or by previous customers, the chance of buyers getting the correct item the first time increases. 
Often product listing pages contain product reviews. Reviews are similarly quite often full of information which the seller perhaps overlooked when listing the product.
Companies actively encourage customers to leave product reviews and answer other customers' questions. They know that this information helps to improve customer confidence and drives sales.
A second benefit of customer reviews is that now the customer has more information to make an informed purchase, reducing the chance that the item will be returned.
Reduce Returns By Offering High Quality Product Photos & Videos
In many cases promotional photos or stock photos are used, with many of these being heavily edited to fit a certain company aesthetic. 
Photographs of products ideally should show all details and features which the customer may be interested in. 
Many product listings now also include a video of the product, large photos with a zoom function, or interactive 360 product viewing options.
The more ways in which the customer is informed about the purchase they're making, the more likely they will be happy with the item they ultimately receive.
Reduce Returns Of Faulty Or Damaged Items
Products can become damaged through poor storage, transport, or handling methods.
If particular products keep being returned due to damage then the handling of these items should be examined. Perhaps the packaging used is not sufficient, or the items are being mishandled before dispatch.
Faulty items however could be up to the manufacturer. In this case a robust checking process for items coming into the warehouse should help avoid this problem.
What is the current state of returns in warehouses
In the past, retailers would discourage returns, however a simple & quick returns process encourages customer conversions and increases brand loyalty.
As more and more items purchased online are being returned, the costs of transporting and processing these items increases. It is quite difficult to visualise the sheer scale of the challenge faced by online retailers as they attempt to keep track of and process items coming back into their warehouses. 
Ideally the customer also needs to receive their refund as soon as possible as a delay in refunds leads to unnecessary frustration and a loss of customer trust. This means the item needs to be on it's way back to the retailer as quickly and efficiently as possible.
Then at the warehouse the faster processing of returns is the key to keeping the warehouse space running efficiently. When returns arrive at the warehouse they need to be assessed as quickly as possible to start the process of removing them from, or adding them back into the stock rotation.
So there are two key areas to examine when looking for ways to improve the returns process, the transport of returns, and the processing of returns.
Transport  of returns
The returns process often begins online, with customers logging into their accounts or contacting the retailers customer service department and informing them they wish to return an item. This is useful for the retailer as they have a 'heads up' so to speak on what items may be returning to the warehouse. 
Many retailers will then issue a return label or reference number with which the customer can post the item at a post office, have the item collected, or alternatively drop the item off at a click & collect, parcelshop, or locker service.
Some retailers will issue a refund for the returns as soon as the return request is raised. Others will do this as the returns are scanned into the delivery network, thus ensuring customer satisfaction.
Many retailers however will hold off on issuing a refund until the product returned has been checked. This it why it's of the utmost importance to have the items back and checked as soon as possible.
Processing of returns 
When returned items arrive at the warehouse they must go through a series of processes. 
First of all they need to be registered as received. Then the package has to be opened for the contents condition to be assessed.
Let's look at Jill's returned summer dress from our earlier example:
The returned dress arrives at the warehouse, it is then scanned on delivery to confirm arrival
The package is sent to the returns department, along with any other returned items that have arrived at the warehouse
The package is opened and the dress is removed.
The dress is examined for any faults. This could include stains, missing buttons, pulled stitches, any holes, rips, or tears, pattern printing errors, missing or incorrect labels and tags, or any instance of 'returns fraud'.
The dress is also examined to see if it is consistent with other products of the same type. For example, does the colour match, pattern match, are the measurements correct for that particular size.
If the item is in good condition it then needs to be cleaned and repackaged for resale. The inventory can then be updated to show the item is going back into the warehouse stock.
If the item is in 'okay' condition, for example a button is missing or a stitch has come loose, this might get sent for repair before being prepared for resale. 
Damaged Goods
Sometimes slightly damaged items are sent to a third party who will then sell the item as 'seconds' or as a lower grade item. Many retailers in the UK send their unwanted stock to bargain shops, clearance stores, or sell them at a discount elsewhere online.
If the item is in poor condition it will not be resold, and may be recycled or simply thrown away. The economical way to dispose of unwanted returns would be to recycle or donate them, however even this could incur further costs which the retailer may not be able to feasibly afford. 
The above process is just a guide, and isn't based on any specific retailer. Processes will always vary between companies, with some having much more success than others. 
Returns Success Story

UK retailer Shop Direct were able to resell an impressive 96% of their fashion returns.

The average time from receiving an item at their returns facility to it being back in their fulfilment centre for resale being around just six hours. 
What is returns fraud?
Whilst the vast majority of items are returned for a legitimate reason, retailers are sometimes faced with dishonest and fraudulent returns. Returns fraud incurs unrecoverable logistics cost, so it is important to lessen their prevalence. 
Types of returns fraud include
Wardrobing
Purchasing clothes and wearing them, then returning them to the retailer.

Renting
Purchasing an item, using it, and returning it as 'unused'.

Falsely faulty
Purposefully breaking an item to be able to claim back a refund.

Counterfeit Returns
Purchasing an expensive branded product and returning a counterfeit version.

Beauty Products
A method of counterfeit return involving buying high end products and emptying the contents, then replacing the contents with an inferior quality version to return. 

Incorrect Returns
Sending back a package with the wrong item. For example, a brick instead of a laptop. 
What are the benefits of improving the warehouse returns process?
When asked to rate their overall shopping experience, many customers rate the returns experience as less satisfactory than that of the delivery.
There are several reasons for this, including difficulty getting the package collected by a courier, or finding drop off locations to leave the package. Many people also do not own a printer, therefore they cannot print off the free returns label provided by the retailer.
Customers want their returns to arrive back with the retailer as fast as possible, so they will swiftly receive their refunds.
From the retailers perspective they want to have the items back as quickly as possible so they can enter the items back into their inventory. The IMRG report states that at any time up to 10% of re saleable inventory is held up within the returns process and is therefore unavailable for onward marketing. 
An improved returns process can have a great impact on the level of repeat custom from customers.
69% of surveyed customers stated that the quality of the returns process influences their future shopping habits. 
Over 50% of customers prefer retailers with a hassle free and easy returns policy. 
92% of customers become repeat purchasers upon experiencing a good returns process from a retailer.
Source: IMRG Consumer Delivery Review 2019/20
Who handles all these returned items?
We have already looked at the process which items go through in the warehouse.
Now we will consider the environment in which this happens and the people who are doing the physical job of unloading, inspecting, and grading these returns.
The average job description for a Returns Processor includes:
Unpack returns and check for damage
Be able to follow guidelines for grading products
Use of computers, handheld scanners, and also printers
Repackage products
Stock control
Able to keep work area organised and tidy
Physically able to lift and move heavy products
Now let's look at comments regarding the difficulties some staff face whilst working at returns processing departments across America. 
Problems faced by Returns Processors:
Workday is 10 hours and you're on your feet the whole shift
Long time standing led to back pain and feet pain issues
Boxes are sometimes very heavy and hard to lift
The environment is very hectic which can be highly stressful
The work is fast paced in addition to physically demanding
There are productivity targets and quotas to be met
It is clear from both the job description and the employee comments that the desired state of the returns processing department is fast paced, efficient, tidy, clean, and full of hardworking and target driven workers.
Clearly the warehouse workers who unbox and unwrap packages as they arrive at the returns department face a daunting task. 
It is well established that the working environment and the tools provided can have a great impact on staff productivity levels. This is where Spaceguard is ready to help.
How can Spaceguard help your business?
Our team aims to make it easier for warehouse staff to do their job efficiently through providing warehouse equipment designed to suit each individual warehouse process.
Our warehouse products include:
At Spaceguard we provide equipment custom designed and manufactured to suit the specific warehouse process in which it is used.
Ergonomic workstations and benches
For example, our returns processing bench could include rails for hanging clothes for inspection. Or a lightbox to assist in detecting rips, tears, holes, and also fabric flaws. 
Returns processing benches can also include shelves for printers, scanner holders, and computer integration, and packaging materials. Conveyor integration can also be included to assist in transporting returns to and from the processing area.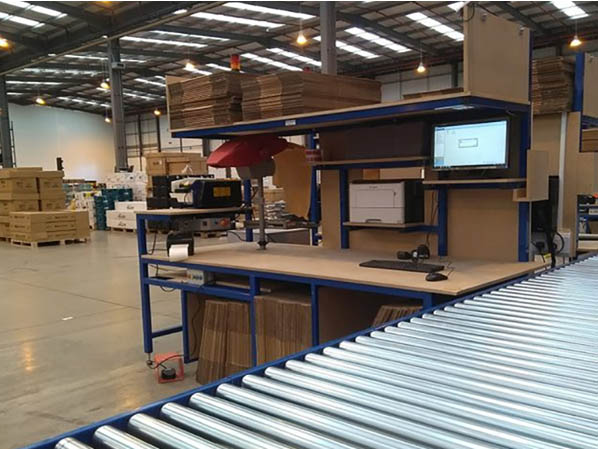 Operator comfort in mind
Anti-fatigue floor matting helps to lessen the prevalence of pain and injury from long periods of standing. This in turn decreases the amount of time employees might need to take off sick. 
The benches below include overhead lighting, provided to help processors see clearly. We also manufacture benches with magnifiers for close detail quality examination.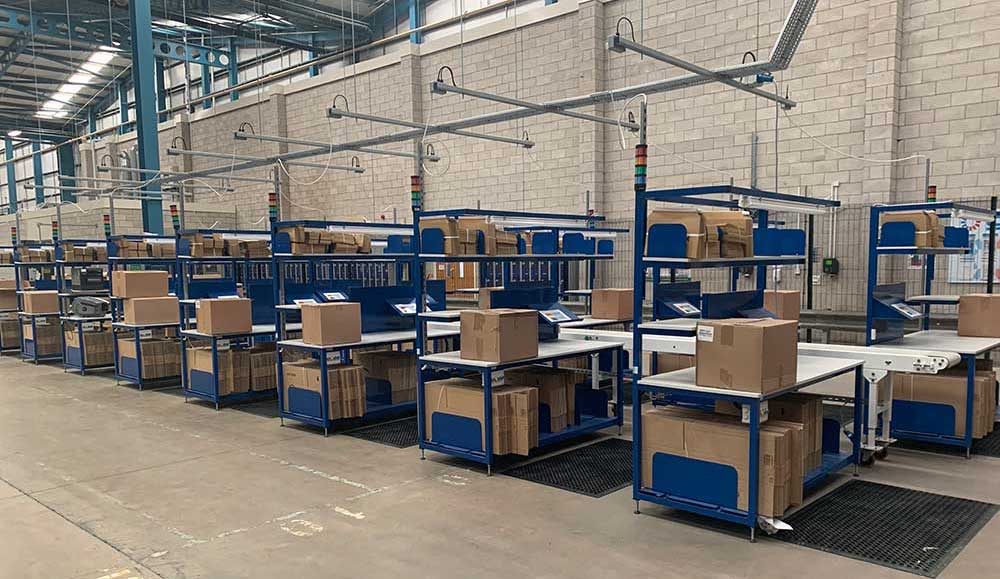 Safe electronics processing
For the grading and testing of electronics items we manufacture electronics benches . These can include anti-static worksurfaces, or ESD equipment to protect delicate components. We can also design returns processing benches complete with electrical outlets including USB sockets.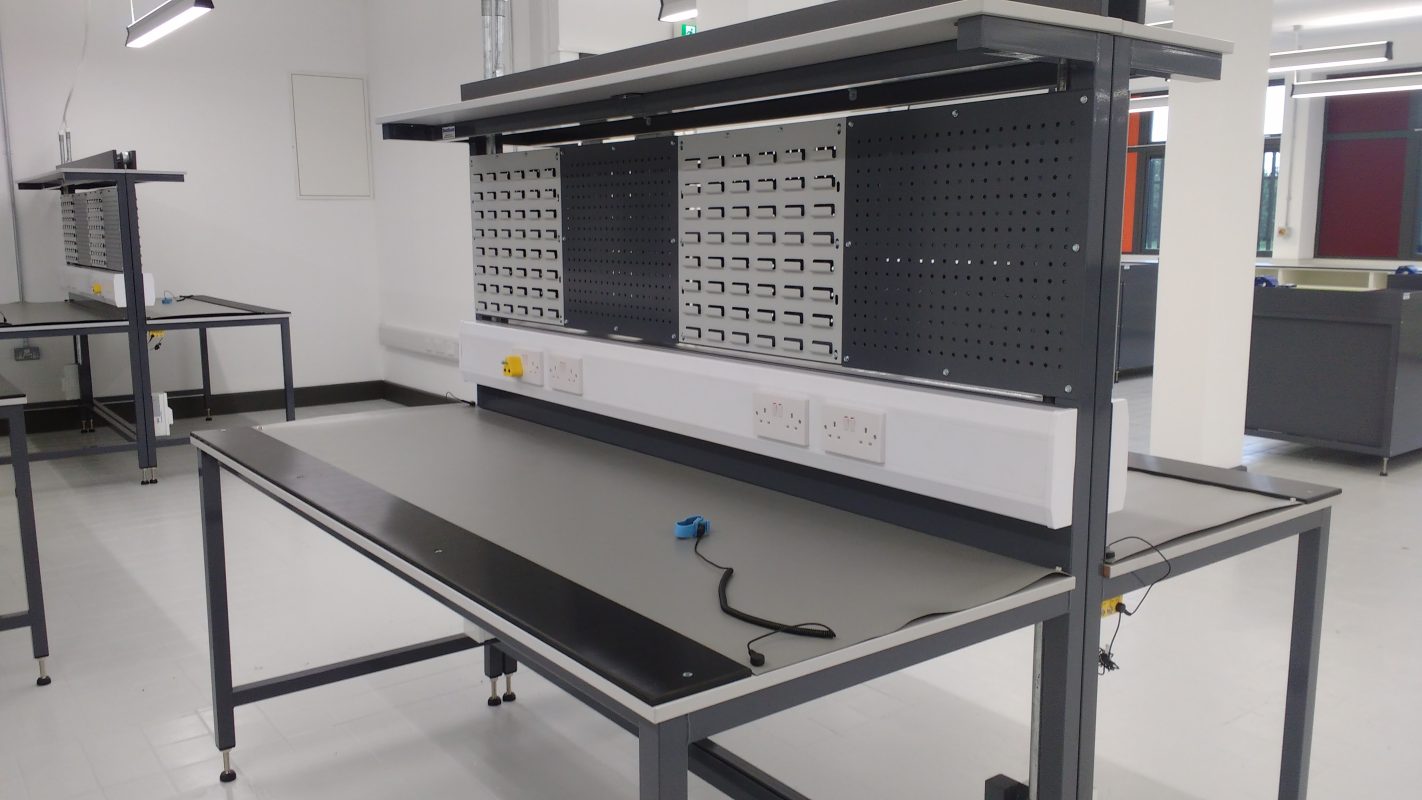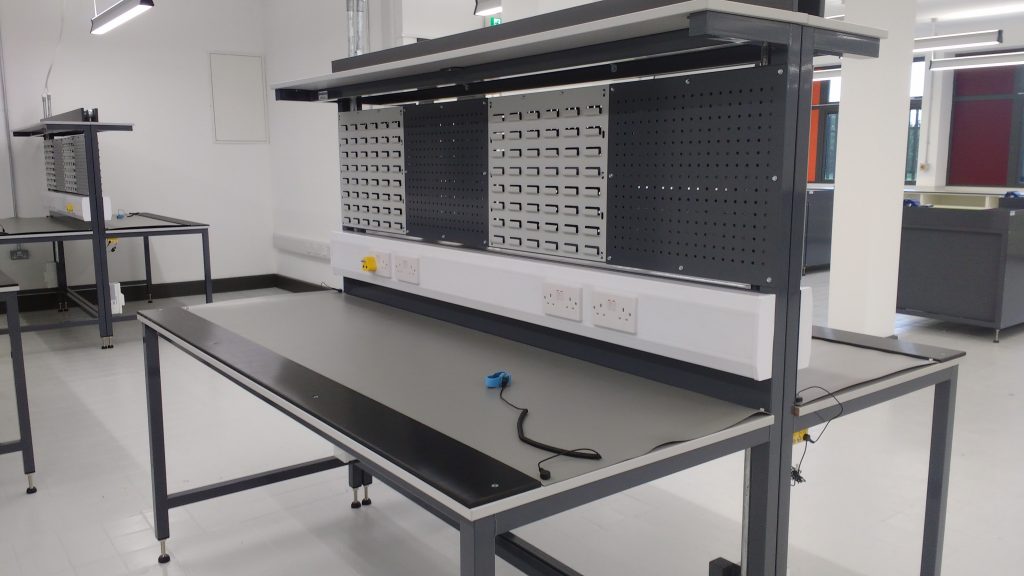 Packing benches
Our packing benches range includes roll holders and material cutters suitable for use with packaging materials such as bubble wrap, corrugated cardboard, and kraft paper. 
Tidy workstations
Additionally for keeping the working area tidy and free of clutter, we can include tool storage for box cutters, tape dispensers, or cleaning products.
Our benches can also include holders for rubbish bags, or built in bins for products or packaging to be discarded.
Safe & efficient warehouse conveyor systems
The use of a conveyor system can dramatically reduce the need for heavy lifting equipment in the warehouse and can lessen product damage. 
Read our article to learn how to design a belt conveyor.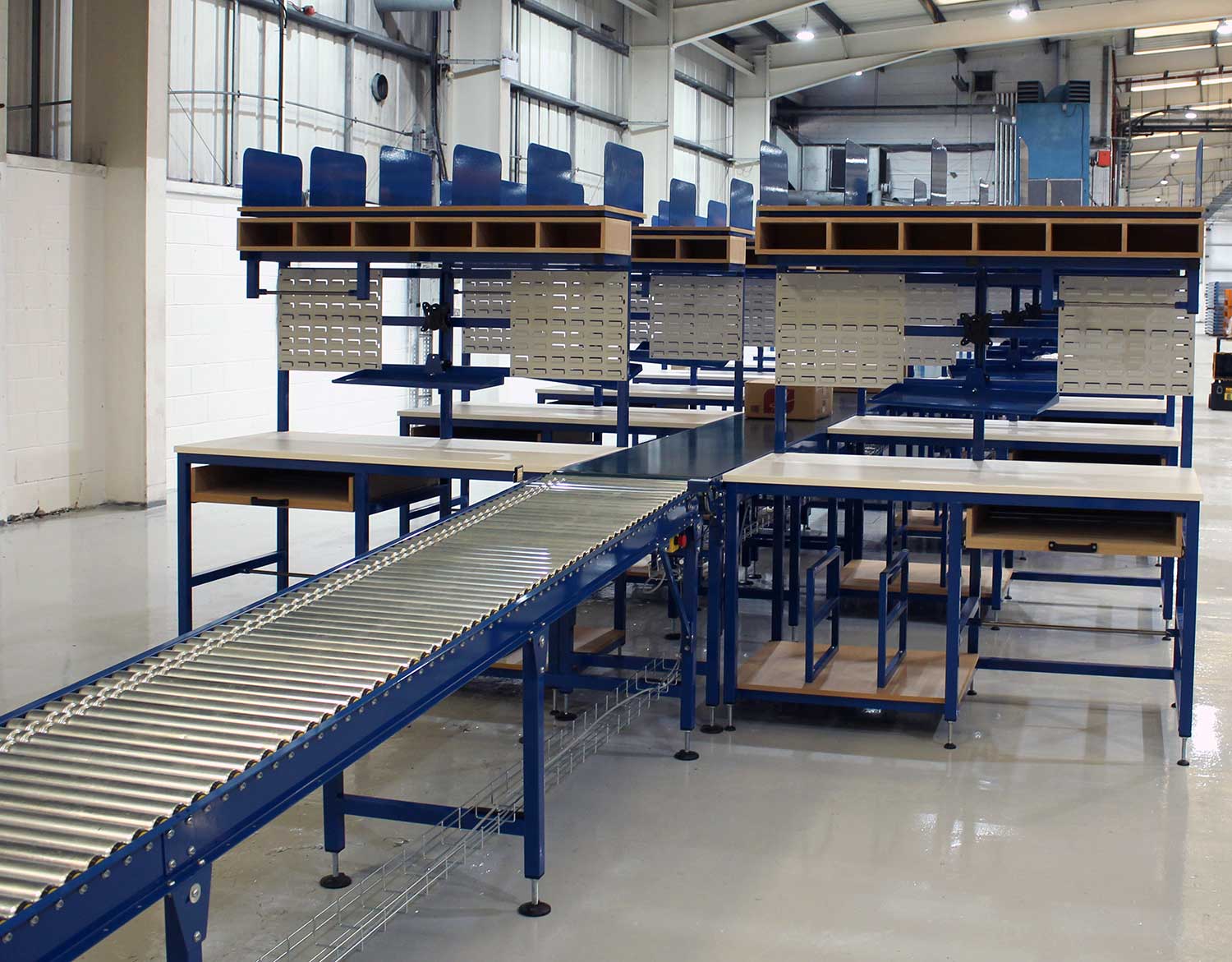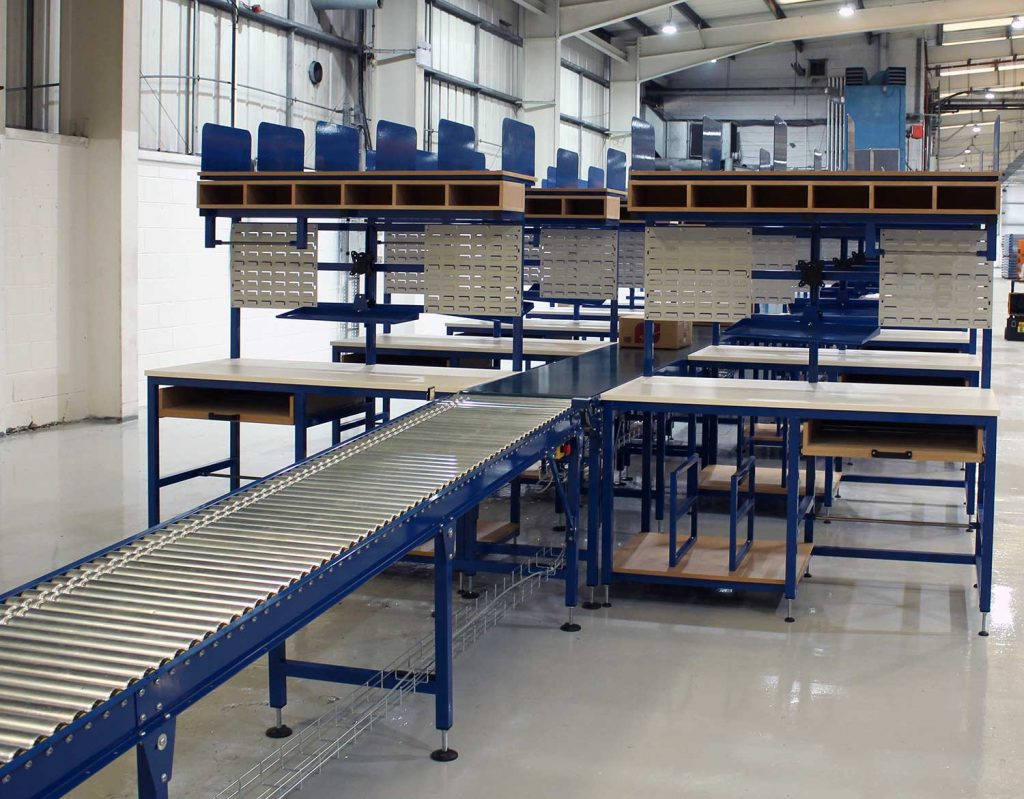 Forklift trucks generally require a lot of space and are somewhat accident prone.
A simple, space efficient and cost effective method of A to B transport is a conveyor system. 
The use of a conveyor system means less personnel moving about the warehouse manually transporting products. It is often during the manual handling of products that accidents occur and products become damaged.
Conveyors are a more reliable and gentle method of transporting items in bulk across the warehouse. Through an increase in automated transportation solutions such as conveyors, product damage and employee injury can be reduced. This means there's less chance of damaged goods leaving the warehouse, and in turn a lower instance of damaged goods being returned. 
We also provide case conveyors specifically designed to transport totes and crates around the warehouse environment. 
Alternatively for transporting small quantities of items to and from the different warehouse zones we also manufacture a wide range of warehouse trolleys and order picking trolleys.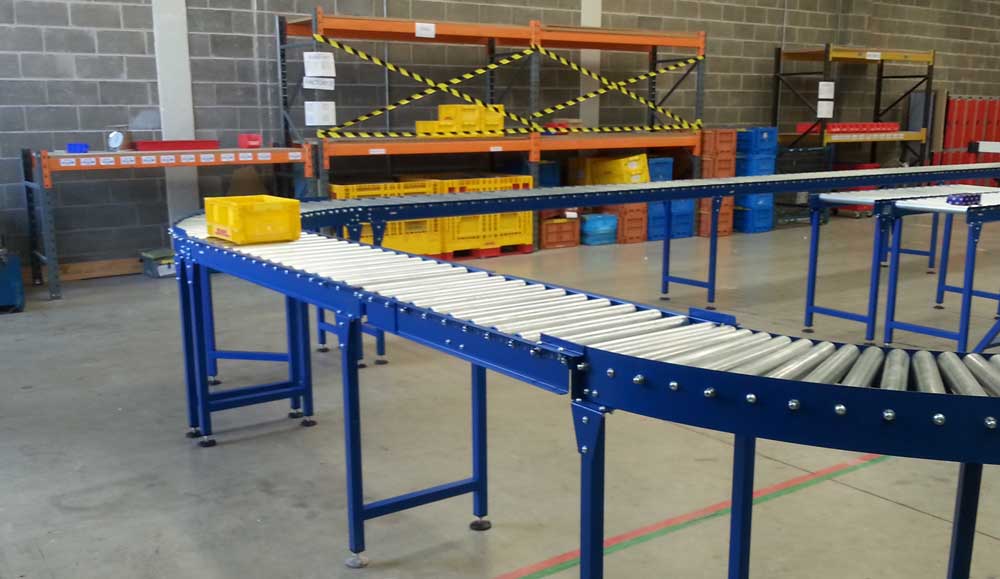 Andon Signal Lights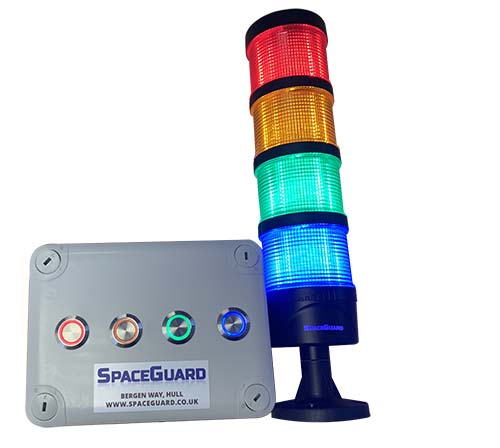 To keep the warehouse operations running smoothly, we also offer andon signal lights. These make a handy addition to all types of benches and workstations.  These allow staff to alert others of any problems and quickly receive assistance from team leaders or other team members.
Contact Us
If you are interested in any of our products and how we can help you organise and also maintain your warehouse environment please contact us.
We offer fast no obligation quotes for our items, with all of our products manufactured bespoke to suit your requirements.
Please use the contact form below or alternatively contact us by phone, or email.
Sources used for this article
https://www.clippergroup.co.uk/wp-content/uploads/2013/09/clipper-retail-week-returns-whitepaper.pdf
https://www.imrg.org/data-and-reports/imrg-reports/imrg-returns-review-2020/
https://www.moneysavingexpert.com/reclaim/consumer-rights-refunds-exchange/
https://www.which.co.uk/consumer-rights/regulation/consumer-contracts-regulations