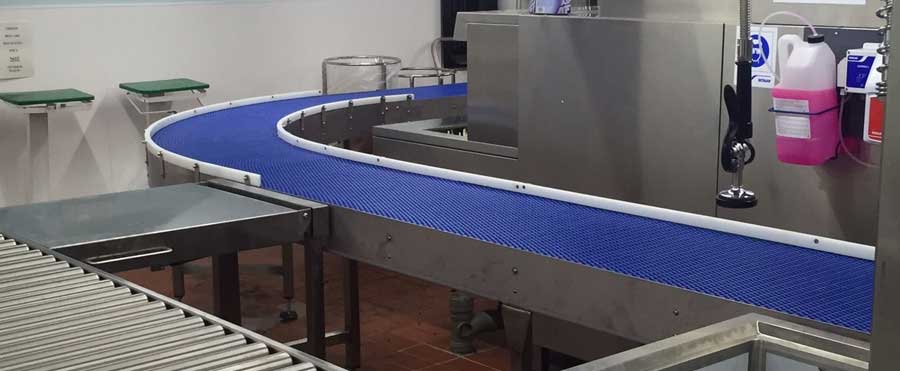 We manufacture efficient & hygienic conveyors for the food sector
At Spaceguard we manufacture food conveyors and food processing workstations for the food production sector.
Our equipment is well built using proven designs, offering a reliable and low maintenance conveyor solution for all areas of food production and packaging. Spaceguard conveyors are ergonomically designed in addition to being aesthetically pleasing to enhance the environment for production staff.
Both our flat conveyors and modular belt conveyors are manufactured to suit customer requirements. We also manufacture drying conveyors and converger conveyors.
We aim to assist your business in increasing product quality and consistency, leading to lower reject rates and higher productivity.
We manufacture all products to order, which gives our customers peace of mind knowing they're receiving equipment specifically designed to suit their process and environment.
PRODUCT FEATURES
Designed & Manufactured to suit customer requirements
Hygienic and easy to clean
FDA Approved Materials
Robust proven designs
3D Rendered drawings for planning / layout process
Fully assembled upon arrival or installation service available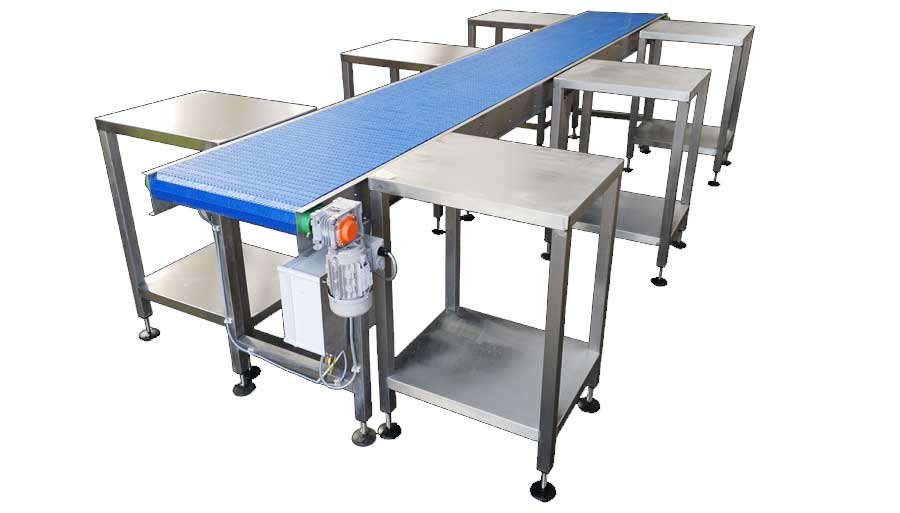 Food Conveyors manufactured from concept to completion, Spaceguard is the ideal partner for the manufacturing of your bespoke food industry conveyors
Designed with hygiene in mind, Spaceguard food conveyors are built to last, easy to clean and also maintain.
Using only quality materials, with a proven track record for delivering durable automation equipment, Spaceguard conveyors prove that robust, well engineered conveyors need not be expensive. Spaceguard provides a wide range of products which facilitates a "one stop" service for our customers providing all the components and installation for productive conveyor workstations.
We offer unique solutions that include conveyors with bends, converger conveyors, and product drying conveyors.
Spaceguard have a trusted reputation for understanding customer needs and providing reliable conveyor equipment. Using our 3D software we can layout the conveyor workstation and in addition provide 3D rendered drawings to enable customers to inform staff of planned projects prior to installation.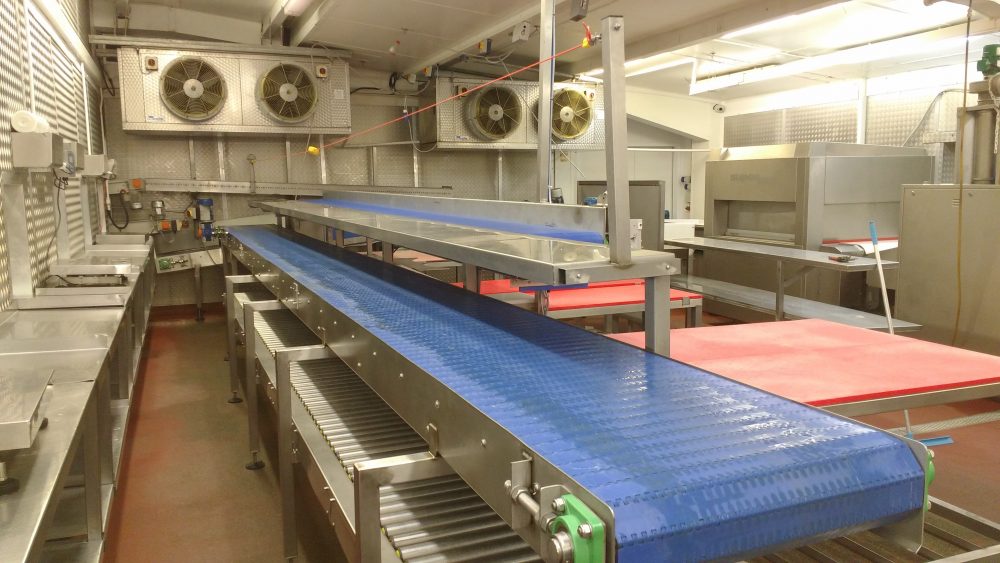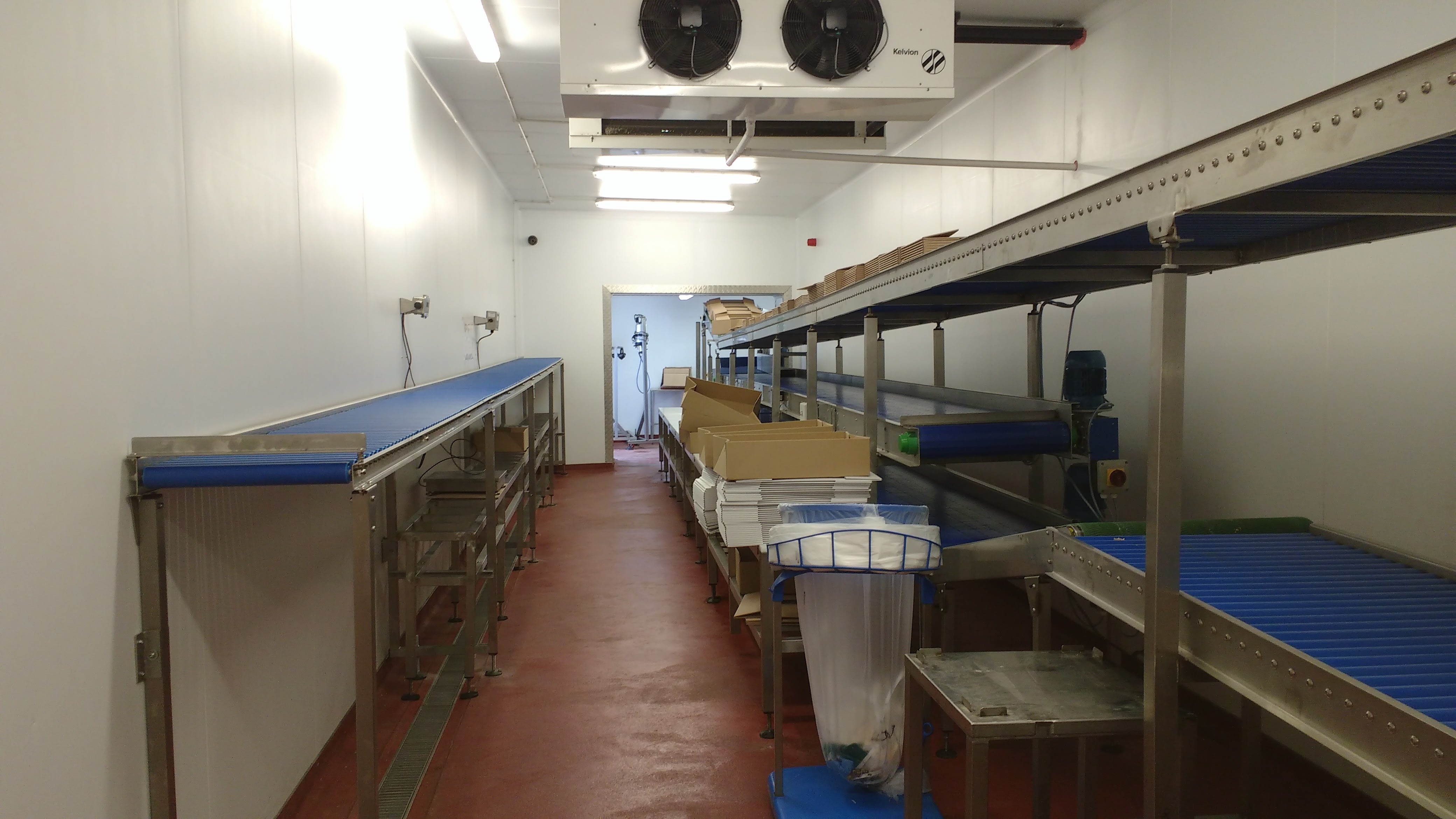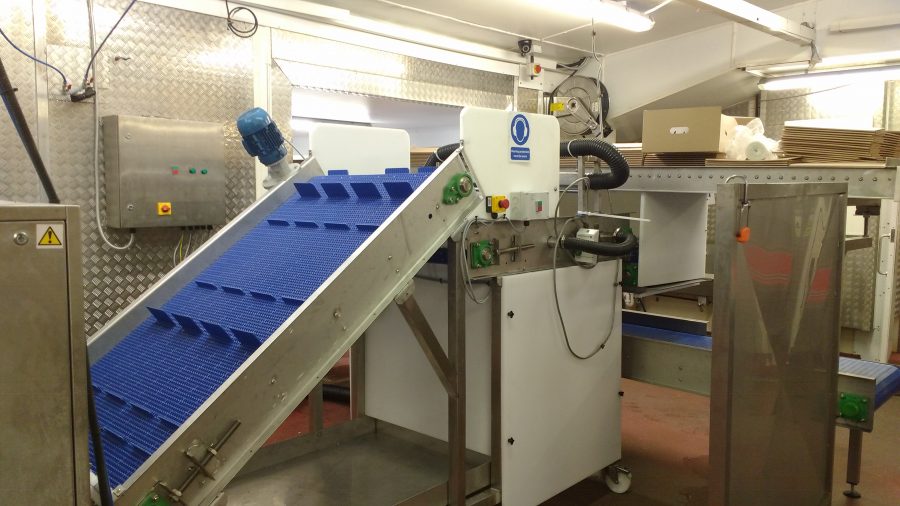 Food Conveyors Technical Specification
Conveyor Dimensions:
To suit customer requirements
Conveyor Loading:
Please contact sales to discuss your options
Belt Materials:

1ply PU or PVC (food grade)
2ply PVC (food grade)
Modular plastic belting (see modular conveyors)

Frame Material:
Stainless Steel (2B)
Accessories:

Side guides
Castors
Quick release belts

Support detail: 
Welded 'H' section (+/- 50mm)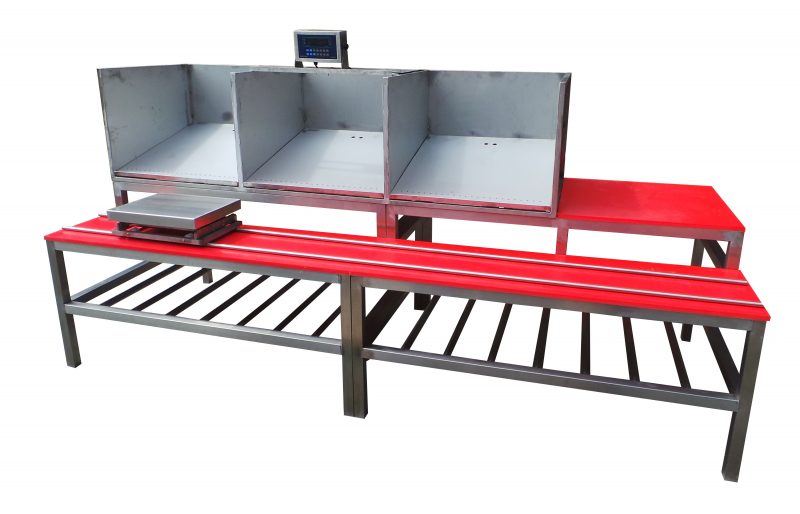 Meat Processing Workstation
The workstation shown is designed so one member of staff can collate, grade and weigh four cuts of beef, collating the product into specific weight bags and packaging boxes to maximise productivity.
The unit allows for draining of excess liquids along with storage of packaging. The weigh scale simply slides down to the required position reducing additional associated costs. The full unit is easily diss assembled to allow cleaning.
All Spaceguard equipment comes complete with product manuals including food safe information on direct contact surfaces.
Please contact sales with any processing workstation enquiries.
Food Conveyors Frequently Asked Questions
Generally our conveyors are delivered fully assembled and work ready, therefore they do not often require installation. However if your project does require installation we do have a team available, please discuss this with our sales team.
We use our trusted delivery partners to collect your products from our factory and have them delivered directly to you.
When you place an order we will let you know the estimated delivery date in the order confirmation. You will then also receive an update via phone or email with the allotted delivery date and time once this has been fully confirmed.
If you have any special requirements for delivery please let our team know beforehand.
We can offer site visits in some circumstances, please contact our sales team to discuss your project.
Make an Enquiry
Please leave details of requirements below and include your contact details so our sales team can call you or email you if they have any questions.