Packing Conveyors manufactured in the UK
Packing conveyors enhance the packaging process allowing for faster more efficient end-of-line packing of goods, we offer solutions for packing containers, boxes, bags, bottles and more.
As a UK conveyor manufacturer, we're able to meet the requirements for any given product. Our team is able to design conveyor and packing solutions to any product specification. Where applicable for more complex designs we offer on-site visits and installation of our products. In many cases however our products will arrive fully assembled, wired, and ready to go.
Previous customers who have required conveyor packing solutions include distilleries, distribution centres, coffee blenders, meat processors, hamper curators, and also pet food manufacturers. In all cases we are able to provide a cost-effective, aesthetic, and above all reliable system to enhance their production and packing processes.
Where hygiene is of importance we offer stainless steel conveyors and packing tables, with FDA-approved materials making our products suitable for food and also pharmaceutical use.
We also offer solutions for product accumulation, including accumulation tables, rotary tables, and lineshaft conveyors.
Please contact our team who will assist with your enquiries
Phone: 01482 363445
Email: sales@spaceguard.co.uk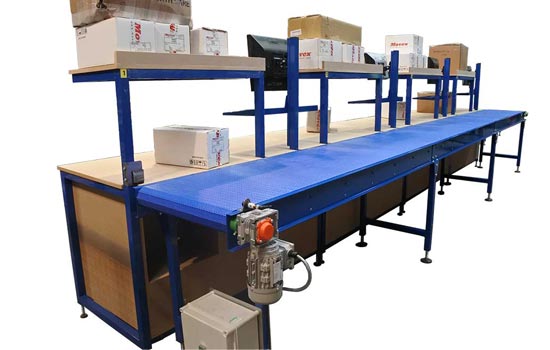 Packing Conveyors
Designed & manufactured to suit your needs
All products made in our UK factory
Rotary tables are also available
Continued product support & maintenance
Installation available
Packing Conveyor Overview
Please contact our helpful sales team with your requirements to receive a free quotation.
Improve your picking and packing processes with a bespoke designed packing conveyor belt.
Packing conveyor belts enhance the picking and packing process allowing for faster more efficient product packing.
The use of side tables and extended conveyor side surfaces allows employees to use the conveyor as a workstation when packing goods, saving time on moving back and forth between stations. The use of a conveyor also reduces the risk of workplace injury from employees lifting and carrying heavy loads.
The products can be kept in a continual flow, giving a constant supply of items to be picked and packaged into boxes ready for dispatch.
We can also manufacture converger conveyors, rotary tables, modular accumulation tables, and drying conveyors to further enhance your packing process.
We have previously supplied conveyor systems for a wide range of industries including:
Automotive
Food & Beverage
Pharmaceutical
Distribution Centres
Postal Services
Transport and logistics
Electronics
Assembly
Manufacturing
Agriculture
Waste and recycling
Lean Packing Workstations
Packaging material storage
Weighing Scales
Monitor/keyboard mounts
Power and networking sockets
Lighting
Printer shelves
Andon light systems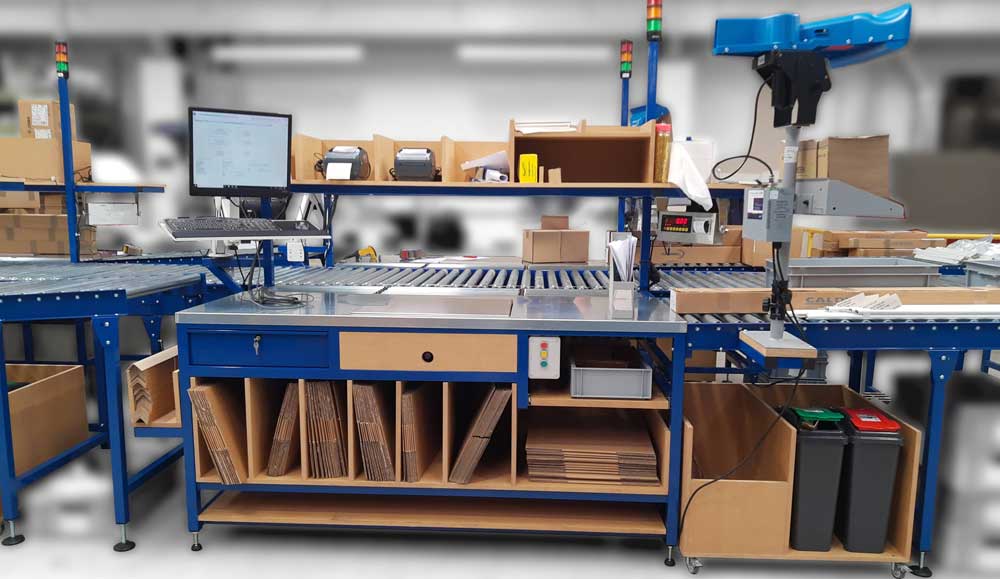 Food Packing Stations
Moveable stainless steel tables
Modular conveyor belts
Adjustable height feet
Stainless steel frames
Conveyor control panels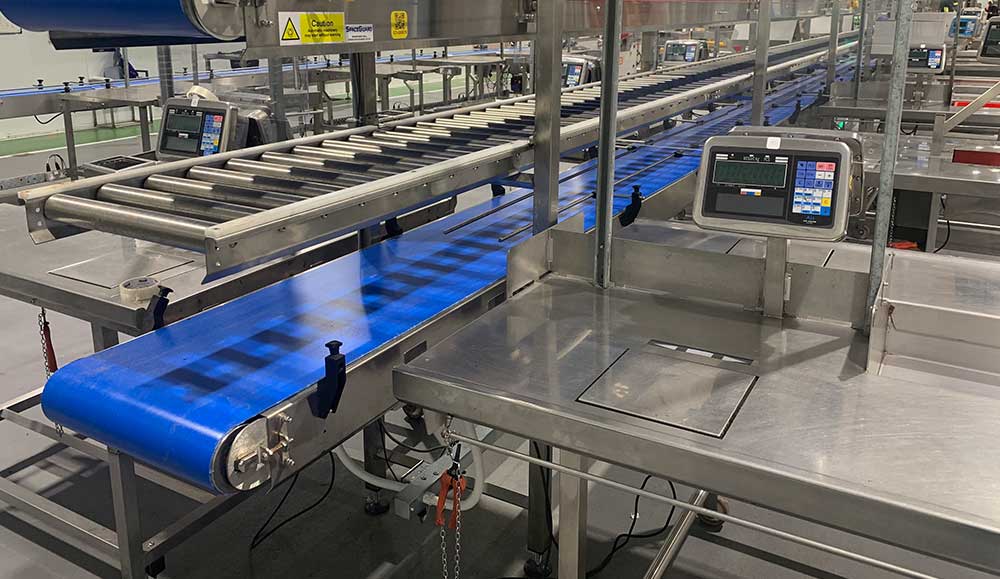 E-commerce Packing Stations
Custom design packing stations
Optional PC integration
Overhead lighting
Bench mounted sockets
Weighing scales
Packaging storage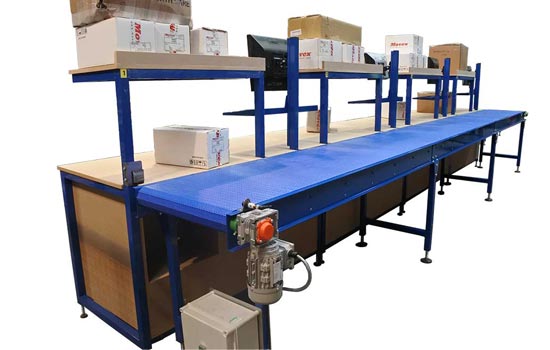 Fully bespoke Packing Tables
Packing benches are made to suit your requirements to complement your packing conveyor system
This means you can have a simple table or a full workstation with storage and accessories as shown below. Our design team will work with you to ensure you get the right product for your packing application.
All benches and tables can be custom-built alongside your conveyor and delivered and installed together.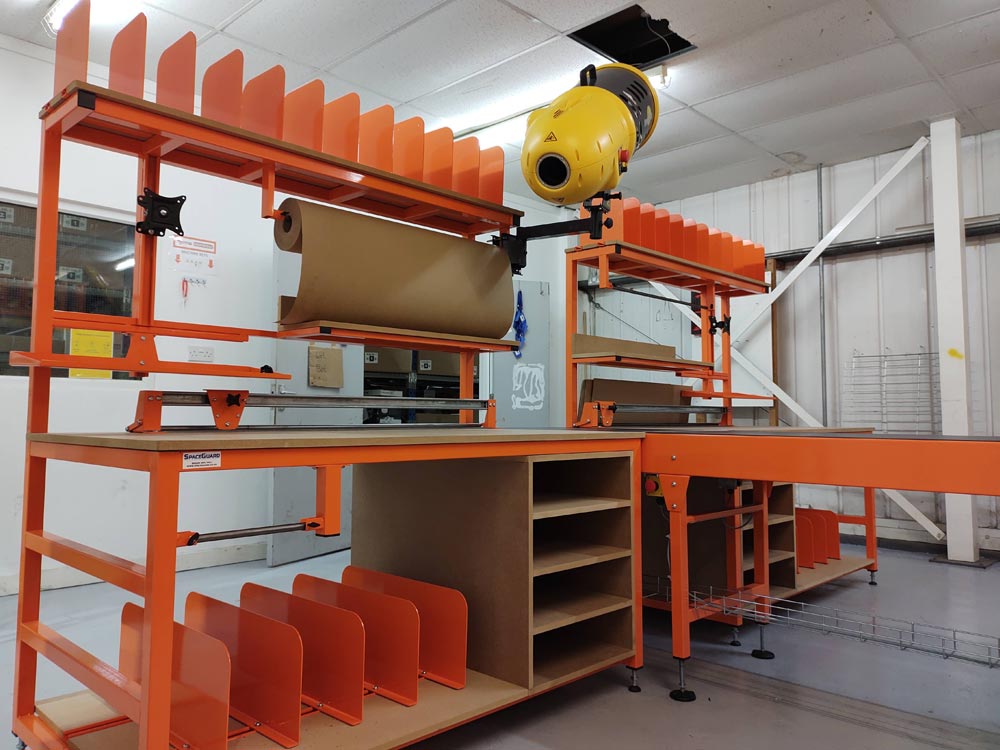 Get a FREE Packing Conveyor Quote today
We are a leading UK manufacturer of packing conveyors
Email sales@spaceguard.co.uk with your enquiries
Are you looking for a Packing Conveyor?
Tell us about your requirements to receive a FREE quotation
Please complete the form below to send a message to our team.
For product and pricing enquiries please include a brief overview of your requirements.
Quick response guaranteed
8-5pm Mon to Thurs, and 9-3pm on Fridays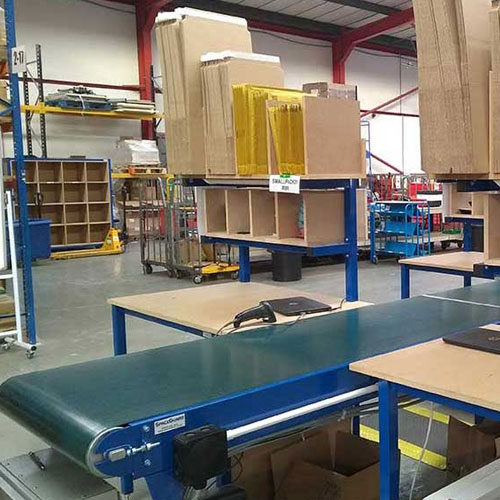 Packing conveyors bring vast improvements in packer speed and efficiency, helping to get your important orders out the door faster