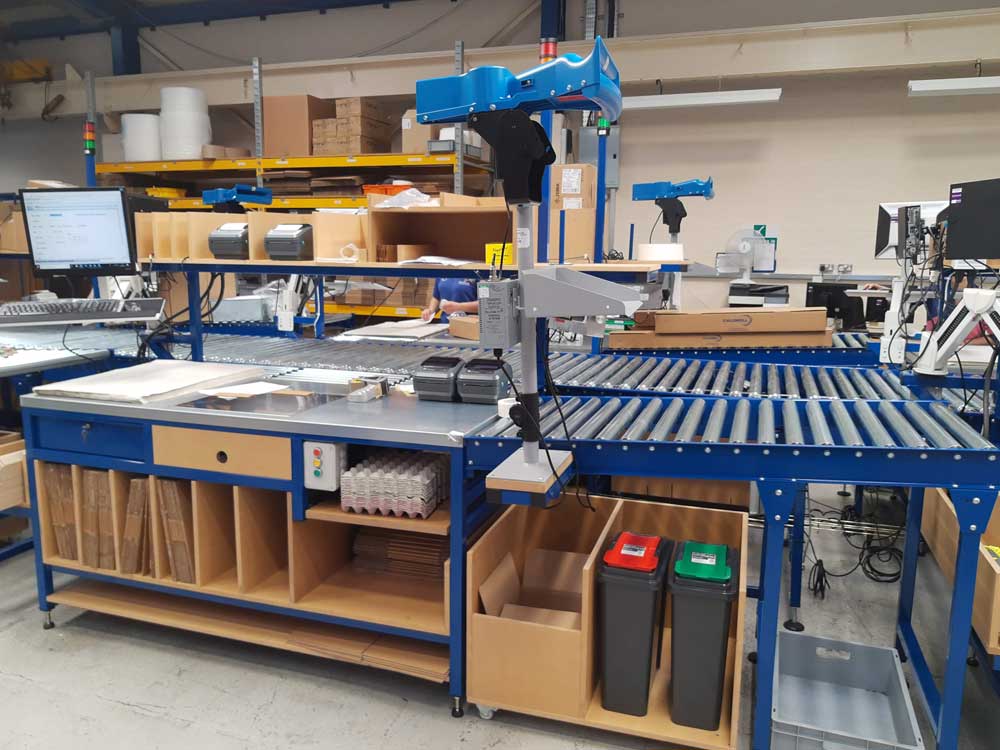 Order dispatch area packing workbenches & roller conveyor system
The customer is a leading manufacturer and supplier of specialist window and door hardware.
Due to the large range of products, a versatile driven roller conveyor system was required to cater to the many variations of sizes and weights of products.
In addition, fully bespoke packing stations were required to improve packing speeds and accuracy.
All products shown below were designed, manufactured, and installed and serviced by Spaceguard.
Please contact our helpful design & sales teams with your enquiries
Phone: 01482 363445
Email: sales@spaceguard.co.uk
Making order packing easier
As you can see from this short clip, products are packed and weighed at the packing stations before being pushed onto the driven roller conveyor.
From this point the packaged products are transported around the 90 degree bend and onto a gravity roller conveyor, which gently guides the products towards a strapper.
Conveyor System & Workbench Design
In the gallery below you can find just some of the renders & plans provided during the design phase of the project.
Our design & sales teams work very closely with customers to determine their exact requirements to ensure that the equipment provided is tailor made to suit their industry, available space, and application.
Once the designs were finalised the benches and conveyors were manufactured in our East Yorkshire factory.
Conveyor System Specification
24V Driveroll Conveyor with 90 degree bend (x1)
Dimensions: 13,725mm x 90 degree bend inside frame width 1000mm x 975mm H (+/50mm)
Frame: Mild steel, finished with Epoxy powder coated painted / Blue RAL 5010
Roller material: Mild steel zinc plated Roller diameter: 50mm Roller pitch: 75mm
Bearing type: Precision
Top of roller height: 1100mm decline to 975mm (+/50mm)
Drive: 24V Integral Driven Roller Drive fixed drive poly round with speed of nominal 15m/min
Support: Stand with adjustable swivel lockable castors.
Outfeed Gravity Roller Conveyor (x1)
Infeed Gravity Roller Conveyor (x2)
Infeed Gravity Roller Conveyor (x4)
Workbench Specification
Packing Workstations (x6)
Dimensions: 1800mm x 1000mm x 975mm
Worktop: Complete with White PE 1800mm x 700mm X 300mm
Worktop Rollers: 3 lane gravity roller conveyor fitted to back of worktop
Weighing Scales: Mounted inside worktop
Shelving: Upper MDF storage shelves with dividers, pull out bottom shelf
Andon Signal Lights: 3 light andon kit fully wired signal box
PC Integration: Monitor & Keyboard Arm
Bench Drawer: Steel, lockable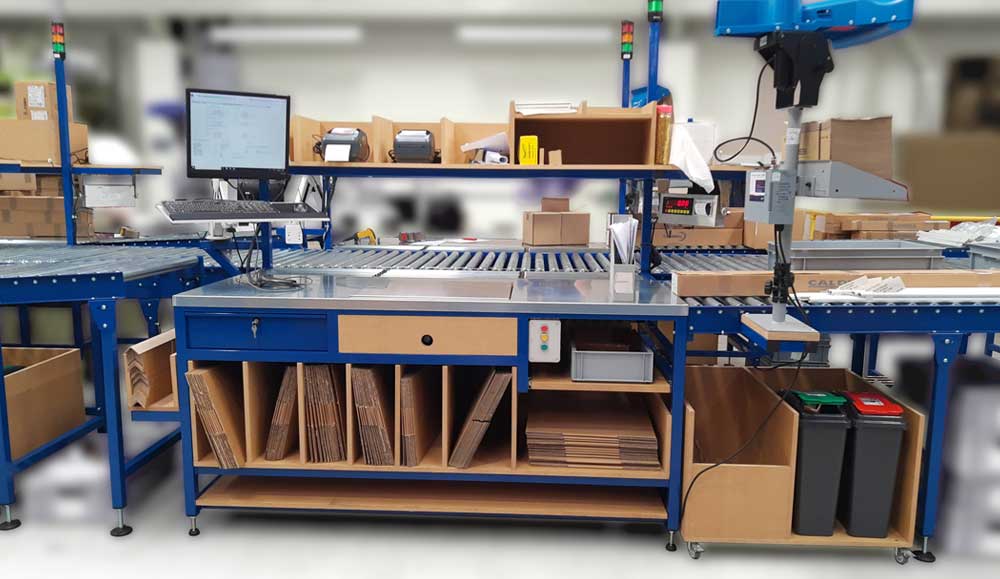 On Site Installation
Our installation team travelled to site to fully install and test the conveyors and workbenches to ensure they're ready for work.
We also provided a free service as part of the package, which included checking all bands, fixings, motors, cables, control panel functions, emergency stops, and PAT testing of the weighing scales.
Are you looking for a dispatch area solution for your business?
Please contact our team to receive expert advice and free quotations.
Phone: 01482 363445
Email: sales@spaceguard.co.uk