Cantilever Workbenches manufactured in the UK
Cantilever workbenches follow an alternative design than that of regular industrial workbenches. Whilst standard industrial benches are supported by two vertical legs either side, as a traditional table, the cantilever workbench design refers to the construction position of the supporting legs.
This design allows more under-bench access and maximises leg room. This also makes cleaning easier, which is ideal in areas that value high levels of hygiene.
The aesthetically pleasing construction does not compromise on performance. Cantilever workbenches can be built complete with most standard workbenches' capacity and durability. This design of workbench is widely used within the electronics industry, as so Spaceguard manufactures full ESD workbench versions of this product.
Dependent on the work carried out on the workbench, a choice of worktops are available including Laminate, Plywood, Linoleum, Beech, Trespa or simple MDF.
For all enquiries please contact our helpful sales team
Phone: 01482 363445
Email: sales@spaceguard.co.uk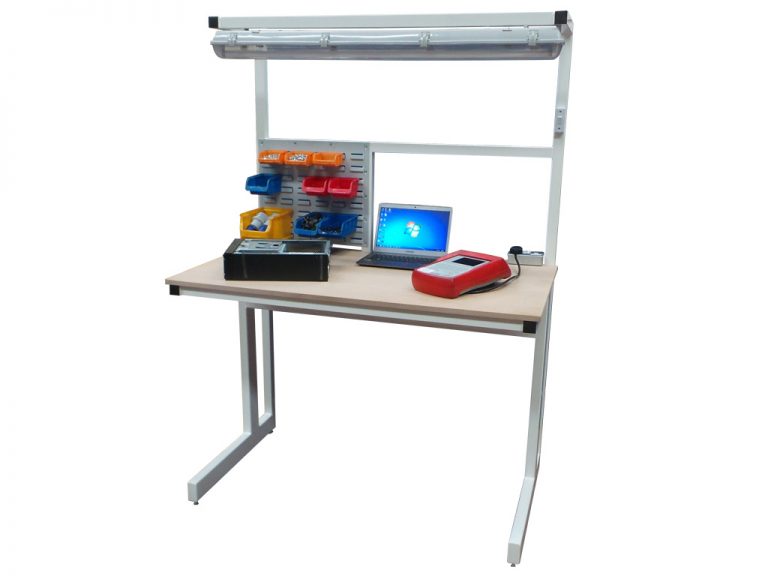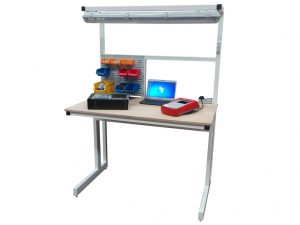 Cantilever Workbenches
Cantilever construction allows for maximum legroom
Powder-coated frame in the colour of your choice
Range of worktop materials
Delivered fully assembled & ready for work
Cantilever Workbench Overview
We offer a wide range of competitively priced cantilever workbenches to suit all industrial sectors, environments and applications.
Please contact our helpful sales team with your requirements to receive a free quotation.
Cantilever Workbenches are made to the size you require
These are the sizes for our standard benches, which means these can often be manufactured on a shorter lead time.
Widths: 600mm / 750mm / 900mm
Lengths: 1200mm / 1500mm / 1800mm / 2000mm
Height: 850mm
For large and custom-built workbenches, we have an installation team available who can ensure your benches are fitted into your workspace correctly.

ESD Cantilever Workbenches
ESD Cantilever workbenches combine the extra leg room of a cantilever design with the static dissipative properties of an ESD bench.
The ESD workbench range is suitable for use as assembly or repair benches in the electrical and electronic sectors. The cantilever design ensures there is room underneath the workbench for staff to sit comfortably, whilst also offering the benefit of keeping the floor more open. They are also easier to clean and tidy.
Worktop options include base material with ESD Laminate, ESD matting or Anti-static Polyethylene. We also stock a full range of ESD accessories available including louvre panels, anti-static floor matting, ESD seating and circuit breakers.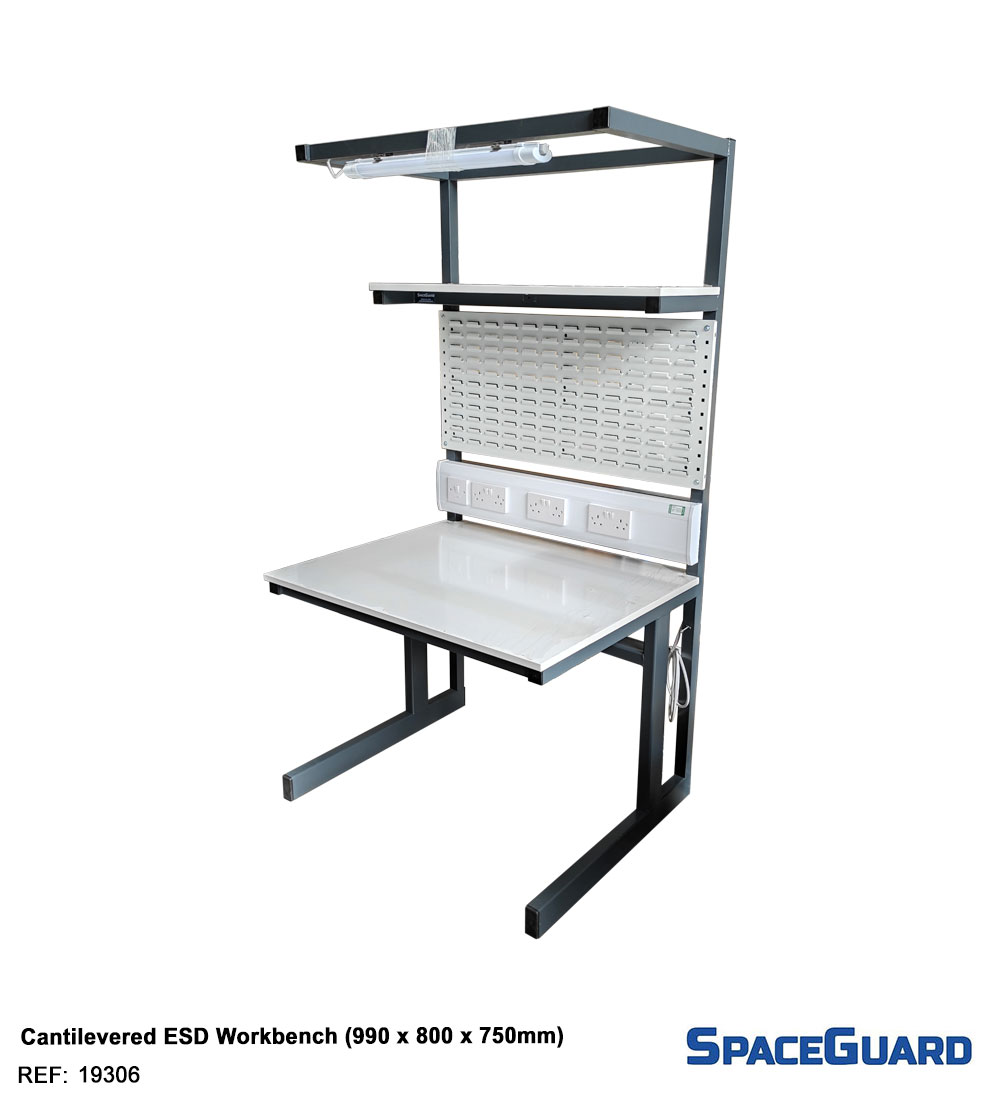 Get a FREE Cantilever Workbench Quote today
We are a leading UK manufacturer of bespoke cantilever workbenches
Email sales@spaceguard.co.uk with your enquiries
Frequently Asked Questions
Are you looking for a Cantilever Workbench?
Tell us about your requirements to receive a FREE quotation
Please complete the form below to send a message to our team.
For product and pricing enquiries please include a brief overview of your requirements.
Quick response guaranteed
8-5pm Mon to Thurs, and 9-3pm on Fridays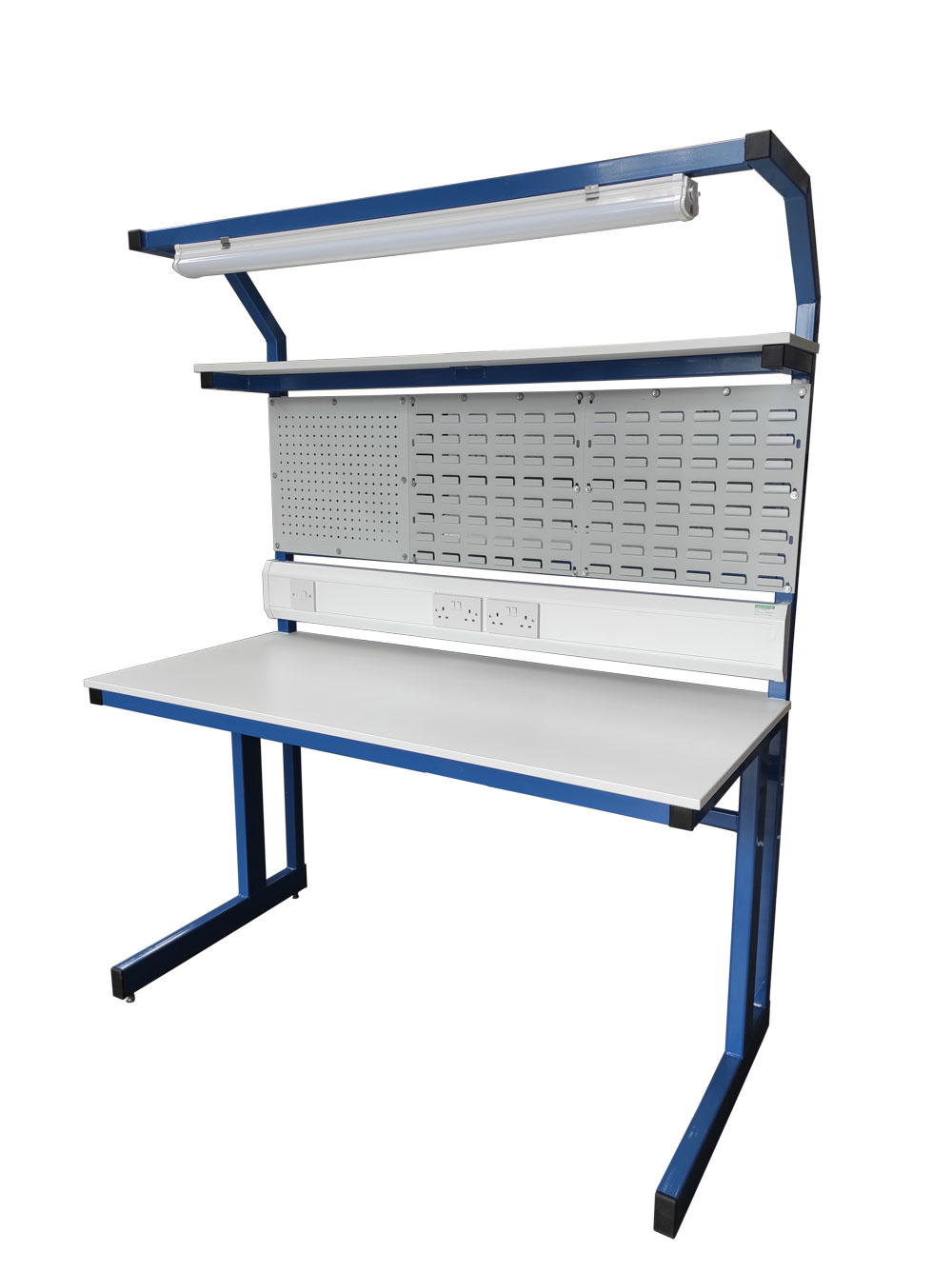 Spaceguard manufacture a bespoke cantilever workbenches with a wide range of optional accessories