Picking Trolleys manufactured in the UK
Warehouse trolleys and versatile picking trolleys manufactured in the UK by Spaceguard.
Picking trolleys can be designed fully bespoke to suit your business requirements, including to suit your product dimensions and weights.
Picking trolleys are a simple and efficient way to quickly transport orders from the warehouse to the packing and dispatch areas.
Whether your items are small or large, our versatile warehouse picking trolley designs are sure to assist in safely manoeuvring goods about your workspace.
Please visit our trolleys page to see other types of trolleys we manufacture.
For all enquiries please contact our helpful sales team
Phone: 01482 363445
Email: sales@spaceguard.co.uk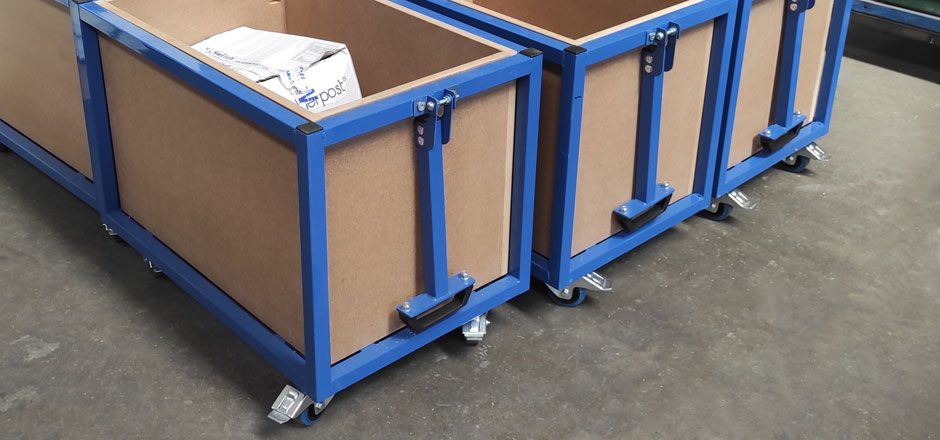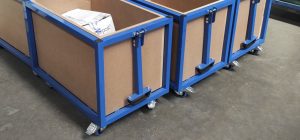 Picking Trolleys
Designed and manufactured to order in the UK
Made to suit your specifications
Wide choice of materials and options
Delivered fully assembled
Picking Trolley Overview
Please contact our helpful sales team with your requirements to receive a free quotation.
Trolley Sizes:
Made fully bespoke to order in your choice of shape and size
Frame Materials:
- Welded Mild Steel with powder coat paint finish (your choice of colour)
Castor Types:

-- Fixed
- Swivel
- Lockable
- ESD
- Heavy duty
- Pneumatic
- Non-markingWe manufacture to suit your requirements and can source non-standard castors as required
Storage Options:

- Trays
- Baskets
- Shelves
- Cages
We design and manufacture warehouse picking trolleys with operator comfort and ease of use in mind
Moving products within the warehouse can take up a significant amount of time. Improving the tools available to pickers can significantly reduce picking times and bring an overall productivity boost.
To enhance the picking process, ensure your picking trolleys are suited for operator use and environment. Whilst larger trolleys have a higher capacity, heavier trolleys can damage flooring over time if used in the wrong warehouse areas. Large trolleys can also be difficult to manoeuvre which in some circumstances can become unsafe.
Cumbersome trolleys can also cause unnecessary strain for users, and potentially cause injury through repeated use. To keep employees safe and working effectively it makes sense to have equipment that will make order picking easier.
This is the benefit of having a versatile range of trolleys, or a bespoke general purpose trolley designed to suit your workspace and products.
Our products have been developed using our industry expertise to make order picking easier and faster. We can manufacture trolleys to suit your application or process, your environment, and your workers.
Read our guide to learn about the benefits of using trolleys in the warehouse
Picking Trolleys manufactured to order in the UK

We design and build picking trolleys to meet customer requirements, regularly creating new and improved picking trolley designs to suit even the busiest of warehouse environments. We understand that no one trolley will ever be suitable for all picking tasks. We work with our customers to make sure the trolleys we manufacture are specified for your space and workflow and even to suit your products. Simply let sales know what you need, and we will make sure to have designs tailored exactly to meet your requirements.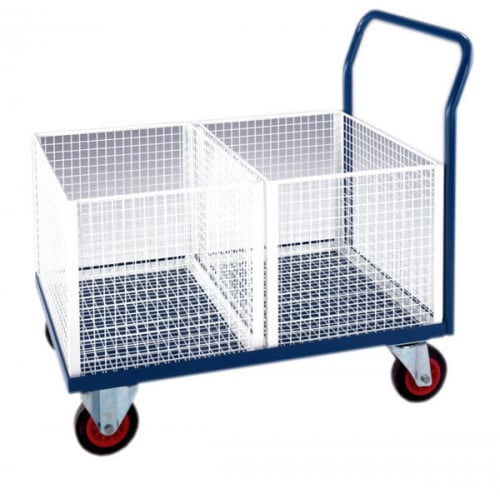 Made to the size you need

Any trolley, any shape, any size - that's what you get from Spaceguard. We manufacture fully bespoke trolleys to suit your needs, whether it's a small light-duty picking trolley for warehouse use or a large board trolley for a busy manufacturing site, we can make trolleys in any size for any space.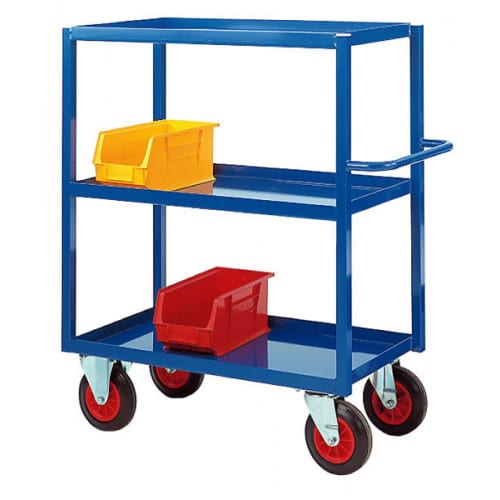 Custom colour trolleys

We can supply trolleys in whatever colour materials you need, this allows you to have colour-coded trolleys for differing applications. As standard, we use Blue (RAL5010) as this is a common industry standard, but if you want something a little brighter so your trolley stands out, you can have any RAL colour you like!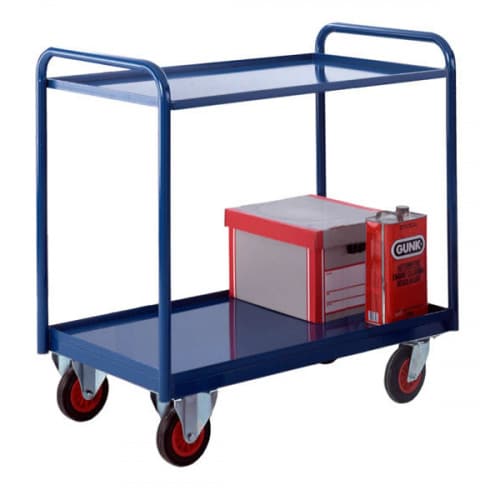 Choose from a wide range of picking trolley materials

We are a UK manufacturer, with all picking trolleys being designed and manufactured at our factory in East Yorkshire. We have a vast array of materials, accessories, and machinery at our disposal to create fully bespoke picking trolleys and carts that are functional, ergonomic, and aesthetically pleasing. Whether you need a tube frame trolley, a box section frame, wooden shelves or sides, or mesh or cage trolleys, we manufacture to meet your exact needs.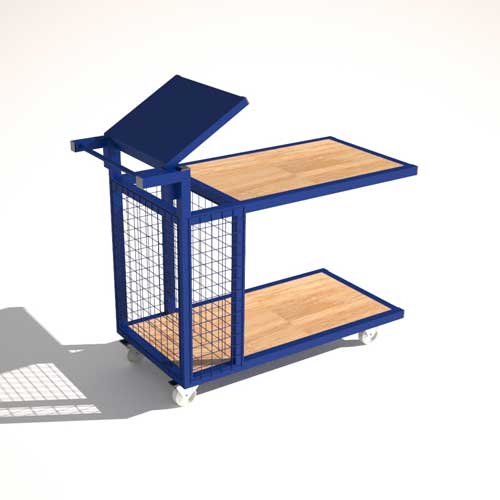 Choose the wheel type to suit your application

We only use the highest quality castors available in the UK - we can offer any castor type that you require, These include non-marking, lockable, ESD, rubber, nylon, pneumatic puncture-proof wheels, and more. All you have to do is let our sales team know what you need, we can offer quotes for any wheel type.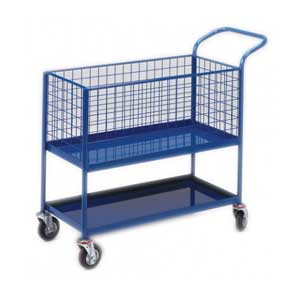 How to order a bespoke made-to-order picking trolley
Simply contact our helpful customer support or sales teams with your enquiry. We will take some details from you, such as the delivery postcode, the purpose of the trolley, the desired size, type, colour, wheel type, and any accessories. Once we have an understanding of your requirements we will be able to provide you with a render of the proposed design for your approval, as well as a competitive quotation including delivery costs. Simply contact us with some details of what you require and our helpful design & sales teams will ensure you get a picking trolley designed to suit your specific needs.
Please see the gallery below for examples of designs we have produced for previous customers.
Get a FREE Picking Trolley Quote today
We are a leading UK manufacturer of bespoke picking trolleys
Email sales@spaceguard.co.uk with your enquiries
Receive a FREE quotation
Please complete the form below to send a message to our team.
For product and pricing enquiries please include a brief overview of your requirements.
Quick response guaranteed
8-5pm Mon to Thurs, and 9-3pm on Fridays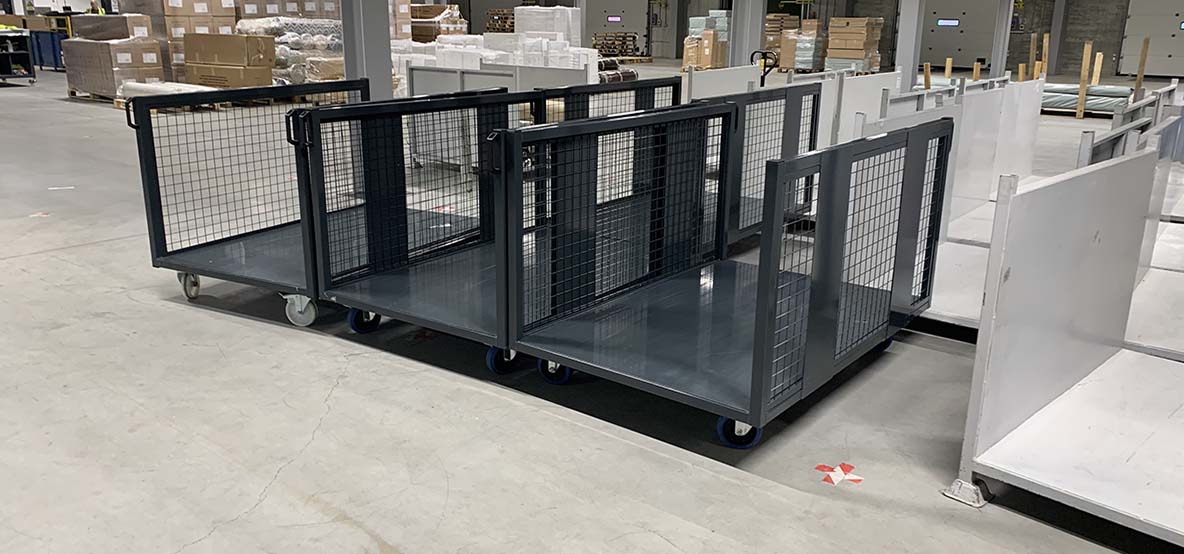 All trolleys are made in the UK by Spaceguard to suit your specification