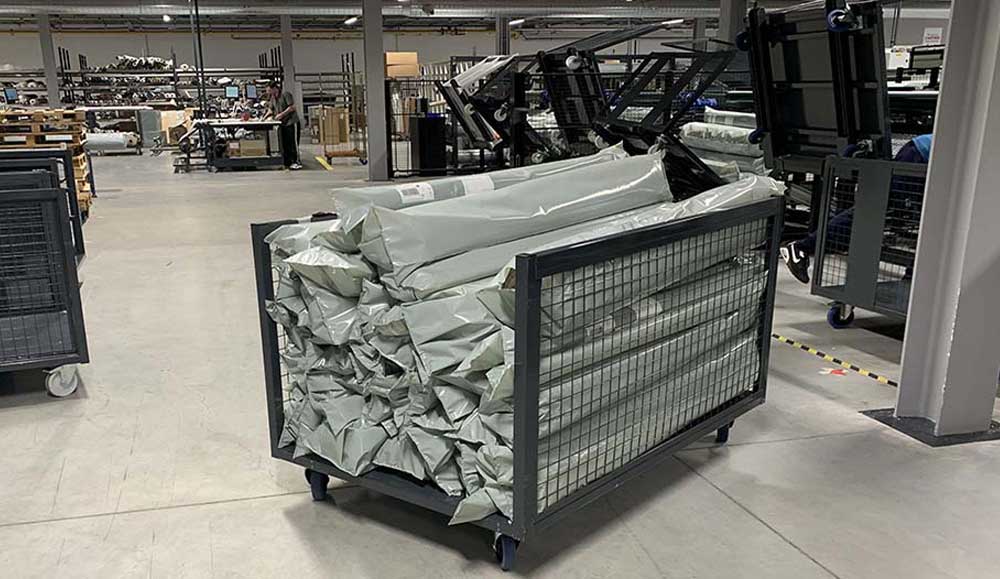 Specialist trolley for fabric manufactured by Spaceguard
Trolleys are affordable pieces of equipment for many assembly, manufacturing, and warehouse environments as they can be used to transport a wide variety of products and materials. 
Using trolleys increases warehouse safety and efficiency by allowing employees to move items with ease through the warehouse space. For this reason, warehouse trolleys and picking trolleys are commonly one of the most used pieces of equipment in the warehouse environment.
Using heavy duty trolleys allows for a single employee to move heavier items or items in bulk, this means less need for additional manpower to assist in manual carrying or expensive & hazardous forklift trucks. It is always important for employers to provide equipment to assist employees in doing their jobs safely without the risk of strain that can lead to musculoskeletal disorders - these are injuries that commonly occur from improper lifting or handling techniques. Trolleys are an inexpensive solution to prevent a potentially costly problem - employees being off sick due to injury.
To make things easier for warehouse employees, many trolleys are adapted to include specialised storage, multi-function storage, equipment holders, and in some cases built-in IT equipment. Many models of picking trolleys also include steps to allow the employee to retrieve items from higher storage shelves. Picking trolleys also often have spaces to store boxes or totes of different shapes and sizes, allowing for multiple items to be transported at once whilst still being kept organised. This saves on multiple trips to and from the picking area, this is desirable as it considerably cuts down on order processing time.
Using Trolleys in the Warehouse - challenges and risks
Wherever possible trolleys should be pushed instead of pulled - there are many reasons for this. First of all, when pulling a trolley you're inclined to walk backwards which is unsafe, you're also more likely to accidentally run over your toes, trip or fall, or be knocked down by the trolley itself. The majority of people can also apply more force when pushing than they can when pulling.
One of the main risks when using a trolley is if the load is uneven or unstable, the items could fall from the trolley and be damaged or cause injury to employees. Items can also be shaken or jolted loose from trolleys that are used on rough ground. Trolleys work best on flat rigid surfaces, such as concrete floors, but for rough terrain, there are options for different wheel types (such as pneumatic wheels) to keep the trolley rolling along smoothly.
To prevent items from falling from trolleys, adjustments can be made to the design, such as adding a lip around the trolley to stop items from sliding off, or cage & mesh sides to contain all the items safely. Cage trolleys can also be locked for security purposes.
Outside of the warehouse environment, specialist trolleys are often designed to transport more problematic materials, equipment, or components. For example, the trolley shown below was designed for transporting large electrical equipment between testing stations. The benefit of having trolleys custom designed to suit the items they're intended to carry is that the design can take into account the potential hazards of moving that item, and the trolley can be adapted to eliminate or mitigate those risks.
Mobile Workstations and Computers On Wheels
In addition to trolleys, wheeled storage or mobile workstations can be used for similar purposes. In many workspaces, there is a need to move from various stations and be able to bring your work with you. A mobile workstation for example allows you to take your tools and components from one job to the next, which can be highly desirable in production and assembly lines.
Computers on wheels (also known as C.O.W.s) are becoming increasingly popular in many environments including schools, colleges, hospitals, and in the warehouse. The Computers on Wheels are powered by rechargeable batteries, which means there are no trailing wires to cause trip hazards. They allow the employee to take the computer to where it is needed, eliminating the need for separate computer workstations for barcode scanning, printing, and labelling.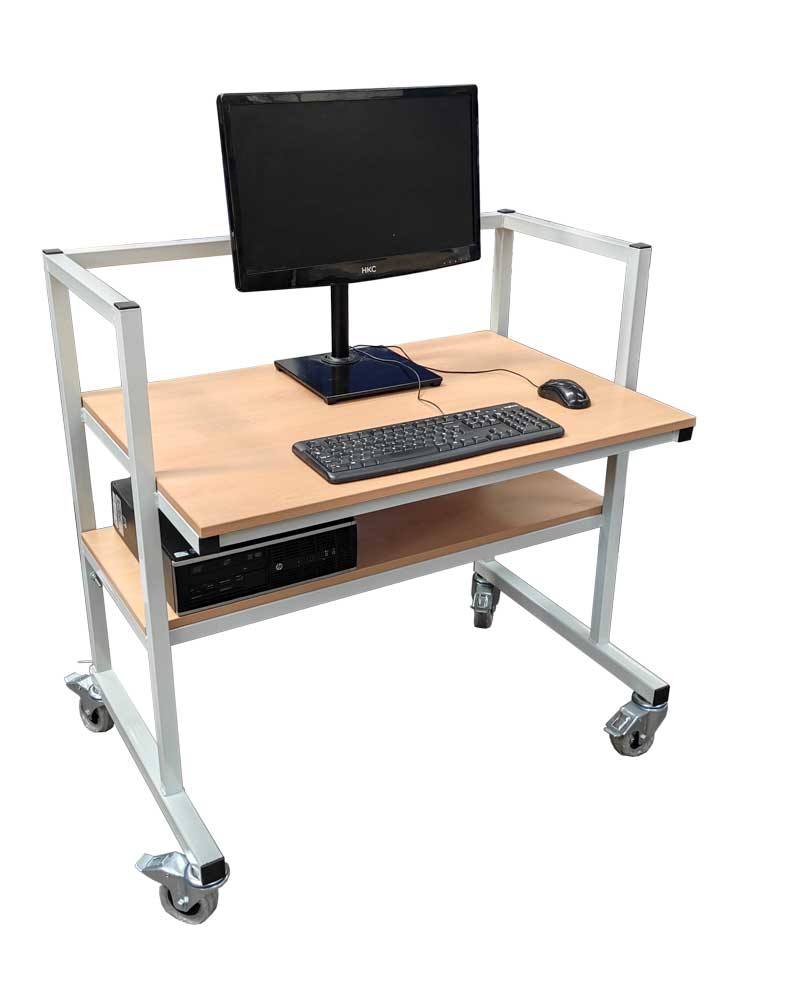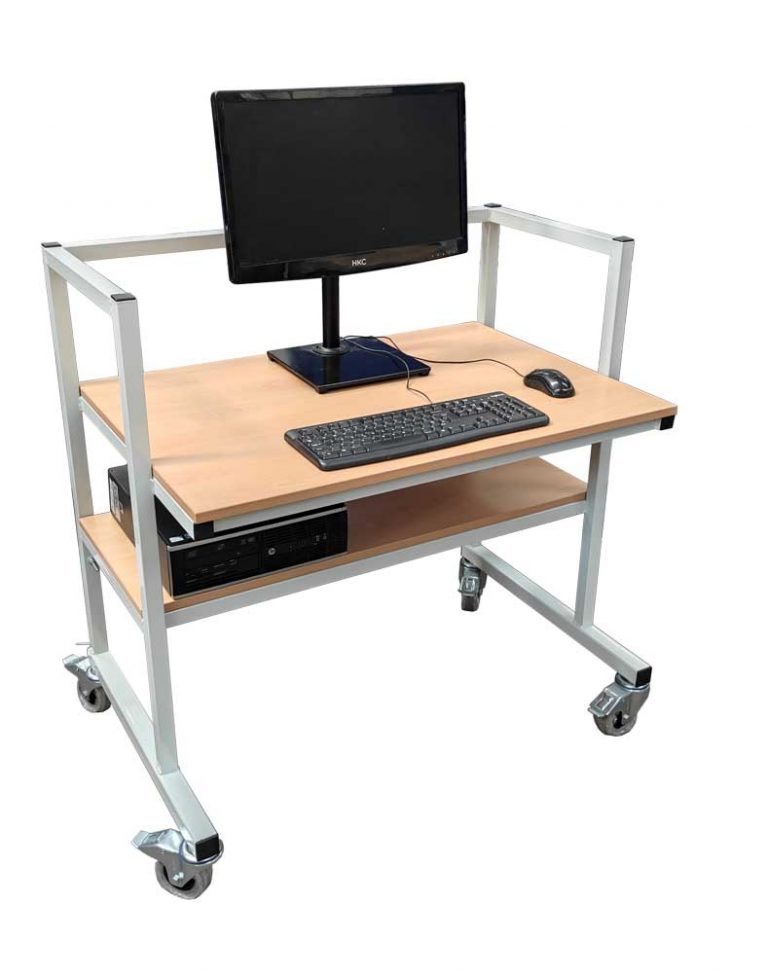 Computer On Wheels (COWs)
How to get a bespoke trolley manufactured
At Spaceguard we manufacture fully bespoke warehouse trolleys to suit your environment, application, and products. We work closely with you to determine the best trolley type for your needs and from here we create CAD models so you can see what your trolley will look like, before actually manufacturing the trolleys to your specification. As we manufacture everything in-house at our East Yorkshire based factory, you can choose to customise your trolley right down to the wheel type, frame type, materials, and even colour.
Please contact us and let us know what type of trolley you're looking for, or what items you need help with moving - we will work with you to design a cost-effective and reliable solution to suit you.
A good starting point is to send us a sketch of what you have in mind, with some basic dimensions added so we can understand the scale you require - it doesn't have to be a work of art. Our sales team can then offer you a quote, or contact you to discuss your requirements if we need further information.
If you'd like to chat to our sales team you can try the live chat, email us, leave a message below, or call us and we'll be happy to help you.
Phone: 01482 363445
Email: sales@spaceguard.co.uk
Are you looking for a bespoke warehouse trolley?
Contact us for a free quotation.
Please leave your details below and a member of our team will be in touch