Modular Belt Conveyors Overview
We offer a wide range of competitively priced conveyor products to suit all industrial sectors, environments and applications.
Please contact our helpful sales team with your requirements to receive a free quotation.
End diameter:
50mm or 100mm
Drive type:
Geared motor
Drive position:
End drive
Belt type:
1/2" or 1" and 2" pitch modular, open or closed pitch, side flexing available for bends
Frame material:
Mild steel or stainless steel
Conveyor finish:
Painted or 2b stainless steel
Conveyor widths:
200mm to 1200mm
Conveyor loading:
 Please contact us for details
Support detail:
Welded 'H' section (+/- 50mm)
Extra Options:

Bend modules available
Side guides - fixed or adjustable
Nose over or swan neck
Please contact us to discuss electrical options
Get a FREE Modular Conveyor Quote today
We are a leading UK manufacturer of bespoke modular belt conveyors
Email sales@spaceguard.co.uk with your enquiries
What is a modular conveyor belt?
Modular belt conveyors are a type of flat belt conveyor where the belt is comprised of many interlocking modules instead of synthetic fabric. It is driven by sprockets which lock into the belt  The modular belt's interlocking modules are made from robust materials which tolerate low and high temperatures.
For this reason and due to the ease with which the belt can be removed and cleaned, modular conveyors are often used in the food industry. The interlocking modules of the belt also allow for air or liquids to pass through which again is beneficial in the food industry for drying items.
Modular Conveyor uses
Modular belt conveyors are often used to transport:
Small items such as screws and components
Food & beverage products
Plastic boxes and also totes
Heavier items on pallets
Cardboard boxes and packages
Irregular shaped packages
Where are Modular Conveyor Belts used?
Areas in which modular conveyor belts can be found include:
Packaging lines
Cooling and drying applications
Assembly lines
Tray merging and routing
Warehousing distribution
Clean rooms
Pharmaceutical applications
Whilst modular conveyors have many benefits, a disadvantage is that the cost of the belting itself can be costly in comparison to a traditional conveyor belt. This is due to the labour required to create the interlocked mesh.
These conveyors also cannot run at high speeds, unlike a traditional flat belt conveyor. without getting loud. In some environments, this could be problematic.
Plastic modular belts also have a set pitch, meaning any belt replacement has to be an exact match to suit the existing sprockets.
Modular Belt Conveyors are durable
The materials used to construct the belt are durable, chemical resistant, and also suitable for exposure to hot and cold temperatures (-60°C to 170°C).
If a modular belt does become damaged, it is very easy and economical to replace a small section of the belt rather than having to replace the whole belt. The parts of a modular belt link together with pins, somewhat similar to the linking methods used in metal watch straps. These links can be removed or replaced with ease and at low cost.
The modular belt also differs from a regular conveyor belt in that it does not have tracking issues. As the drive sprockets interlock with the belt itself there is little opportunity for the belt to shift or slip out of alignment when lateral force is applied.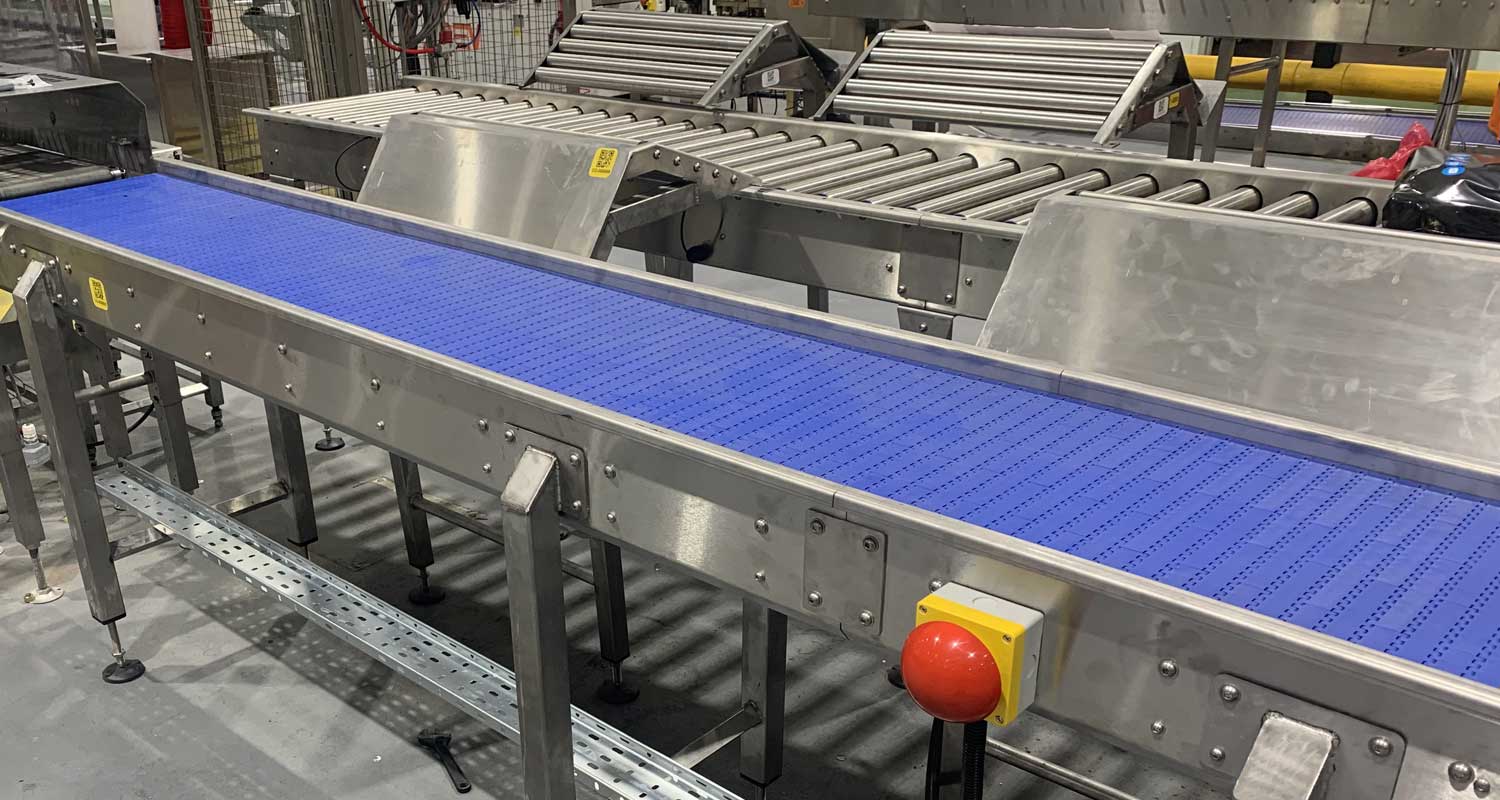 Modular Belt Conveyors are hygienic
The belt can be removed entirely for disinfecting and cleaning purposes within just minutes.
The modular belt can also be used in wet environments. One additional benefit of using modular belts in wet environments is that as the belt construction allows for air & liquids to pass through. This makes modular belt conveyors particularly suited for draining or drying products prior to packing.
Conveyor bends and corners also become easily achievable through the use of a modular belt. Similarly flights (also known as cleats) can simply be attached to the modular belting. A flight is added to a conveyor to prevent fall back of items when travelling upwards. In contrast, regular conveyor belts flights have to be fused to the belt material itself.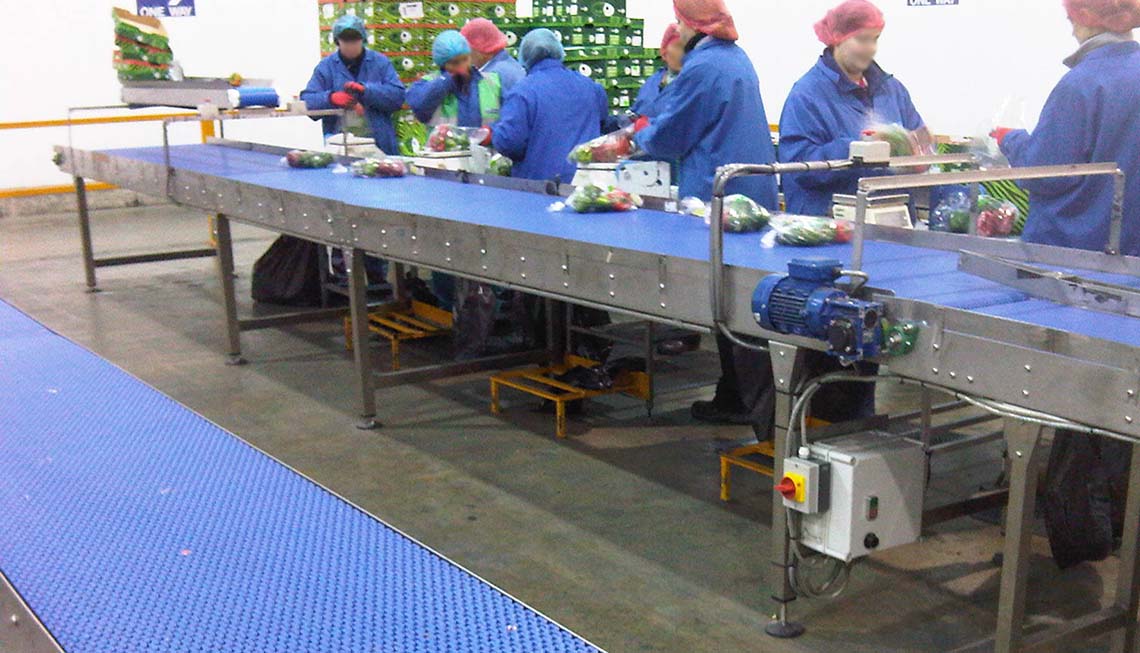 Modular Belt Conveyors are versatile

The modular belt conveyor is incredibly versatile as it is available with a range of belt material options. This allows for a wider range of objects to be transported. A regular belt conveyor for example is likely to become damaged over time when transporting sharp items. As the modular belting is constructed from plastic components it is much more suited for sharp item transport. This is why modular belts are often found in meat processing facilities.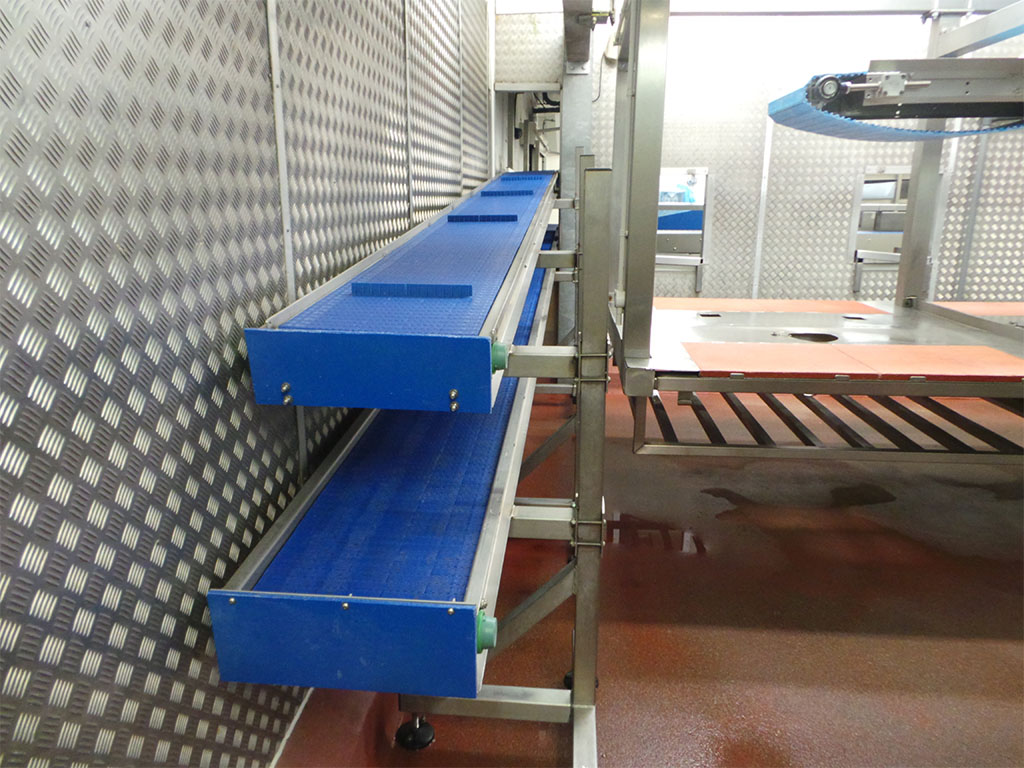 Receive a FREE quotation
Please complete the form below to send a message to our team.
For product and pricing enquiries please include a brief overview of your requirements.
Quick response guaranteed
8-5pm Mon to Thurs, and 9-3pm on Fridays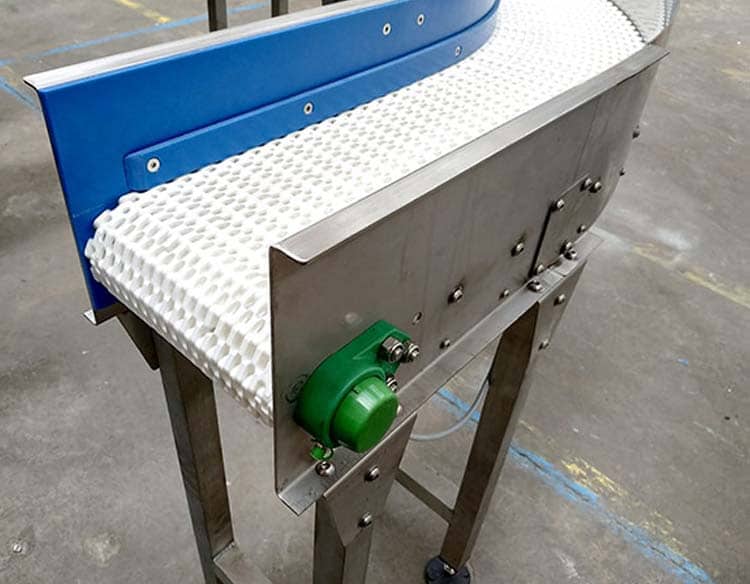 Modular belt conveyors manufactured by Spaceguard are a versatile and robust conveyor option suited to the food industry. We manufacture to suit your requirements.