Warehouse shelving and industrial storage shelves UK manufactured by Spaceguard
Spaceguard shelving is robust, and long lasting - made to order to suit any environment
These robust shelving units are UK manufactured from welded steel section, and finished with durable powder coated paint. They're ideal for heavy duty use, and manufactured bespoke so you can be certain you'll have the perfect industrial shelving or racking solution to suit your needs.
Shelf materials include wood, stainless steel, anti static polyethylene, laminate, melamine, MDF, plywood, steel, or even rollers.
All shelving units and fully bespoke equipment  is designed & manufactured at our East Yorkshire based factory.
We supply a wide range including adjustable shelving, storage racking, roller racking, and pick walls. For all enquiries please contact our sales team
Phone: 01482 363445
Email: sales@spaceguard.co.uk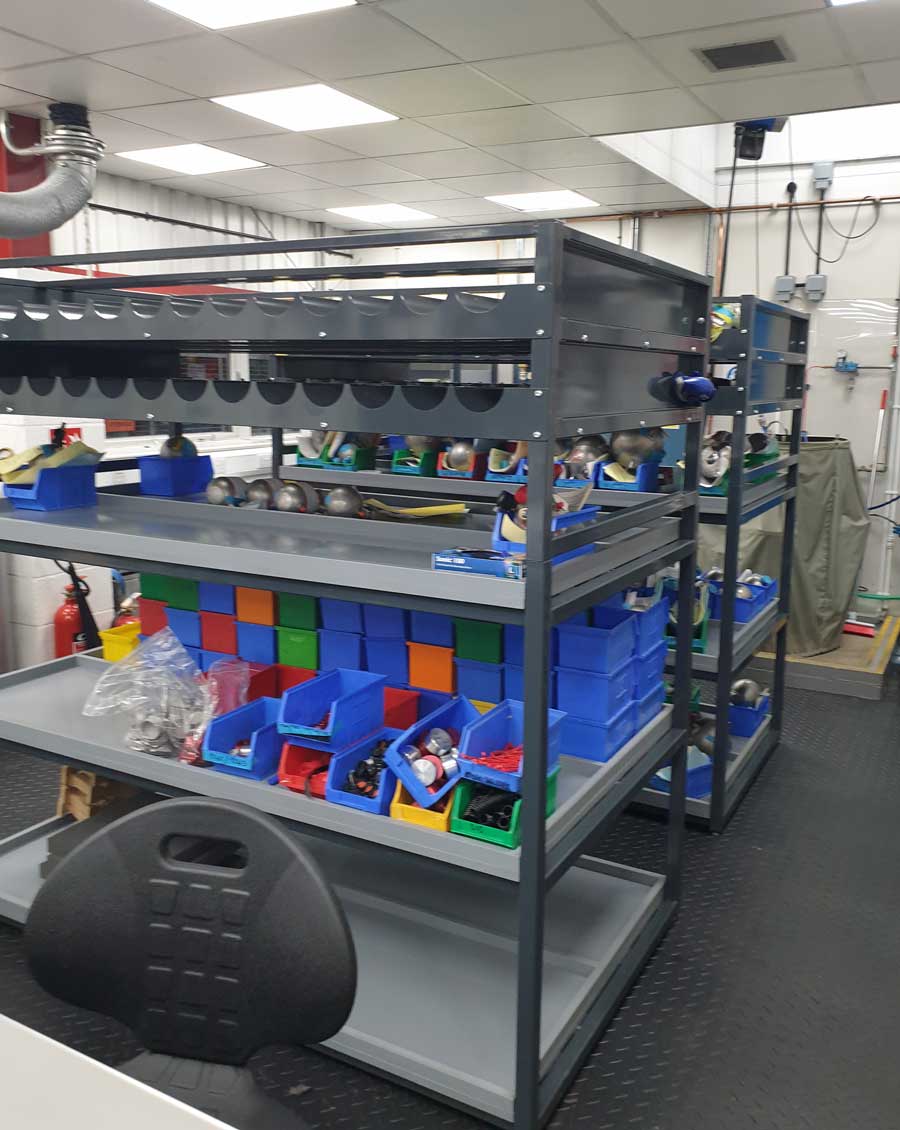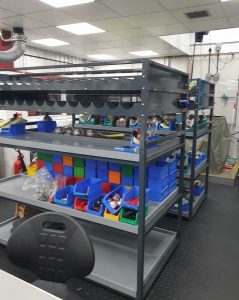 Industrial Shelving
Designed & manufactured in the UK
Using the highest quality materials
Made to order to suit your specification
Roller track & carton flow options available
Delivered fully assembled or installed by our team
Industrial Shelving & Storage Overview
Please contact our helpful sales team with your requirements to receive a free quotation.
[/span6][/columns]
Frame Materials:

- Mild steel (powder coated in your choice of colour)
- Stainless Steel
- Wood
Size:

Custom made to order
Shelf Materials

- Mild steel (powder coated in your choice of colour)
- Stainless Steel
- Melamine
- Laminate
- Wood (MDF / Ply / Block Beech)
- Plastic (PE, HDPE, PVC)
- Rollers
- Micro Track
Industrial shelving, racking, and storage equipment manufactured to suit any environment
Home storage systems
Garage shelving units
Workshop racking and storage
Factory storage shelving
Shed racking
Greenhouse shelving
Stockroom shelving
Cold store shelves
Warehouse racking
E-commerce fulfilment racking
Get a FREE Industrial Storage Quote today
We are a leading UK manufacturer of industrial storage systems
Email sales@spaceguard.co.uk with your enquiries
We only manufacture strong & robust Heavy-Duty Shelving and Metal Racking
Wherever possible we manufacture fully welded steel shelving and racking to ensure strength and stability.
Watch the video to see how our fully welded racking holds up against a competitor's standard shelving
Storage racking to suit your workspace
Spaceguard's custom made shelves are UK manufactured to suit your needs.
Our team is experienced in designing and building racking and storage to maximise the storage space for your business.
Whether it's an area of stockroom shelving or a large quantity of warehouse shelving units, all racking and shelves are made to your specification.
If you require heavy duty garage shelving we also offer metal garage shelves & storage trolleys to suit your space.
Data Center & Server Racking
We manufacture fully bespoke all metal shelving that is suitable for use in data centers or as server racking.
The shelves pictured feature height-adjustable shelves which are made from powder-coated steel.
We can manufacture shelves in any size and in any colour to suit your needs.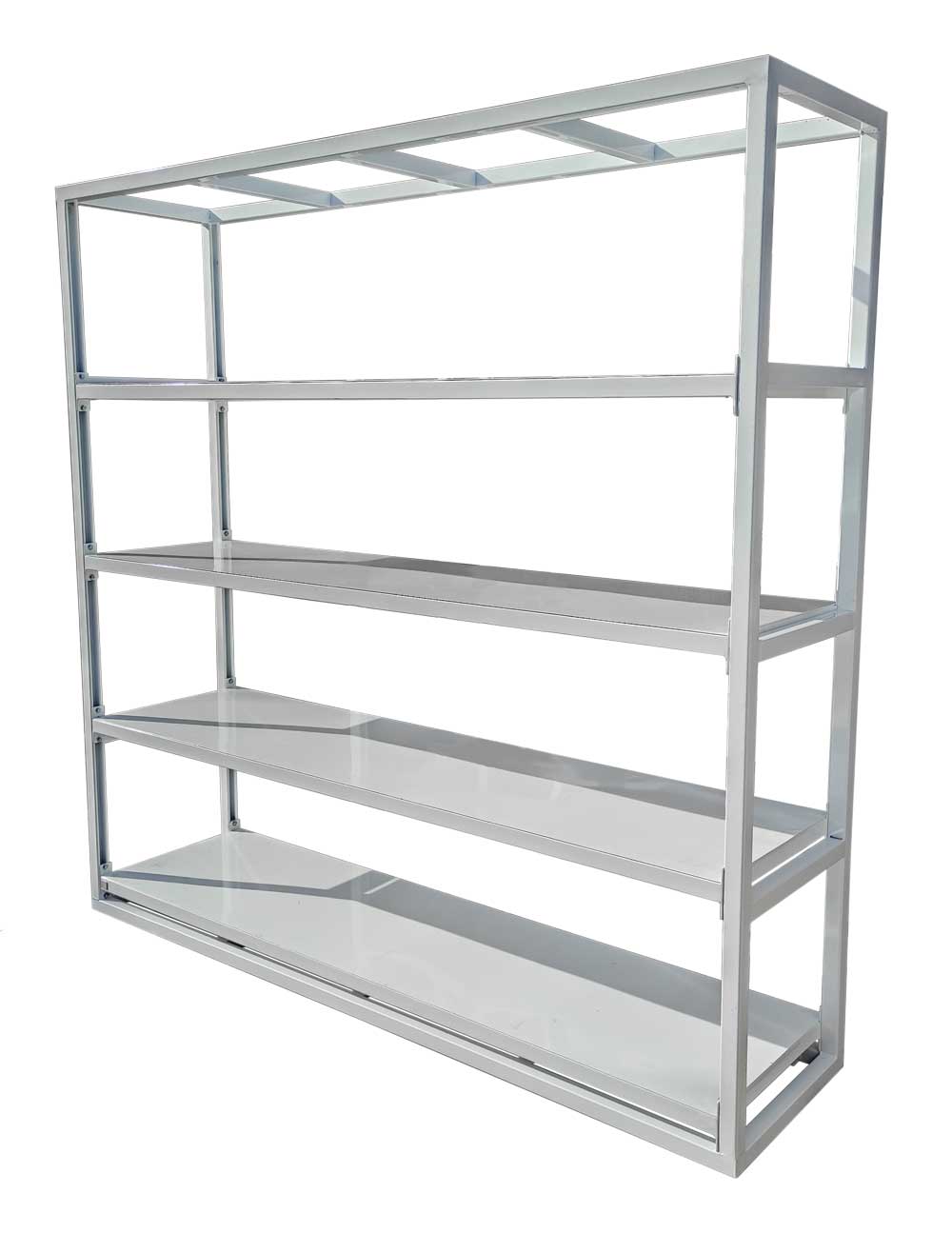 Metal storage shelving units made to order
Custom designed and manufactured in the UK, our steel shelving units and racking are fully made to order.
If you require bespoke shelving units, metal storage racks or heavy duty steel shelving, we're able to supply made to measure bespoke shelving solutions to suit your business.
This allows you to choose the exact specification in size, load capacity, number of shelves, shelving material, and even the colour of the frames and shelves themselves.
Please contact our helpful sales team to discuss your requirements.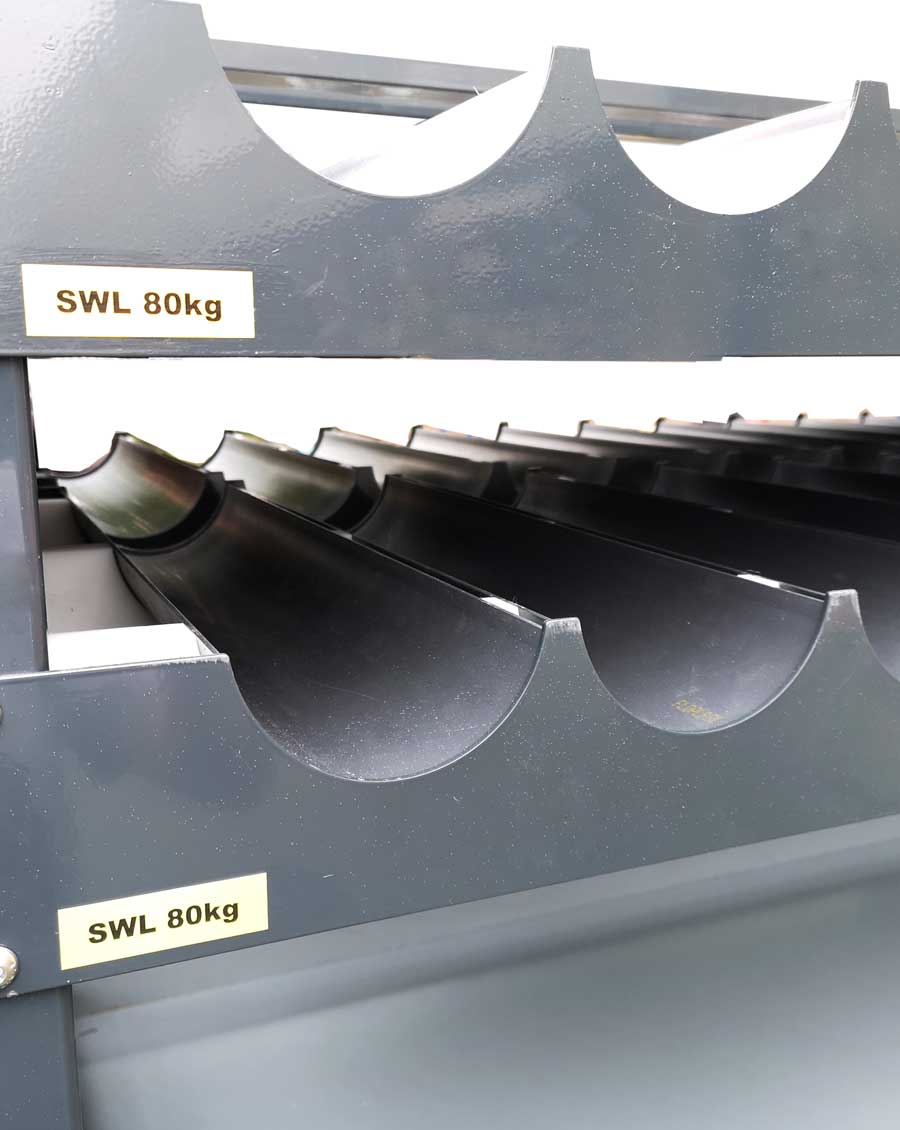 Workshop Shelving & Storage Solutions
As an industrial
workbench manufacturer
we have in depth experience working with businesses to design and fit out their workshop spaces.
Every workshop is different, and whilst standard and off the shelf workshop equipment can be sufficient, it doesn't always fully meet your specific needs.
Working with Spaceguard allows you to have the exact workshop benches with storage solutions that you need for your products or process.
We're able to build workshop pigeonhole units, workbenches, bespoke shelving, equipment trolleys, peg boards, shadow boards, louvre panel trolleys and more.
All equipment is UK designed and manufactured to enhance your workspace.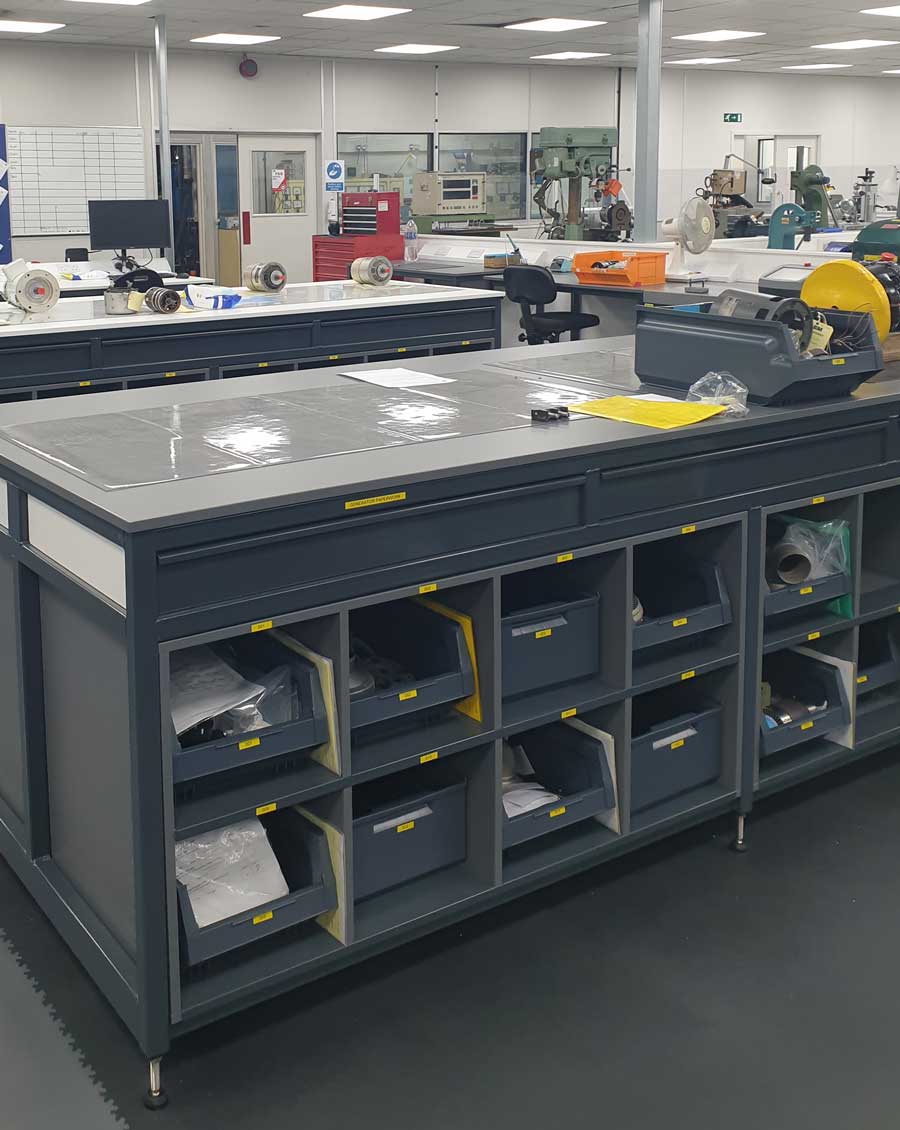 Adjustable shelving units
The adjustable shelving units shown in the photo are constructed from unistrut uprights which provide a sliding channel to allow the shelves to be adjusted as required.
These were installed for a stockroom in a small building that was tight on space, so the required shelving had to accommodate a wide variety of products.
We manufacture both wooden and adjustable metal shelving to suit your workspace and items that need to be stored.
All custom shelving is UK manufactured to suit your specification.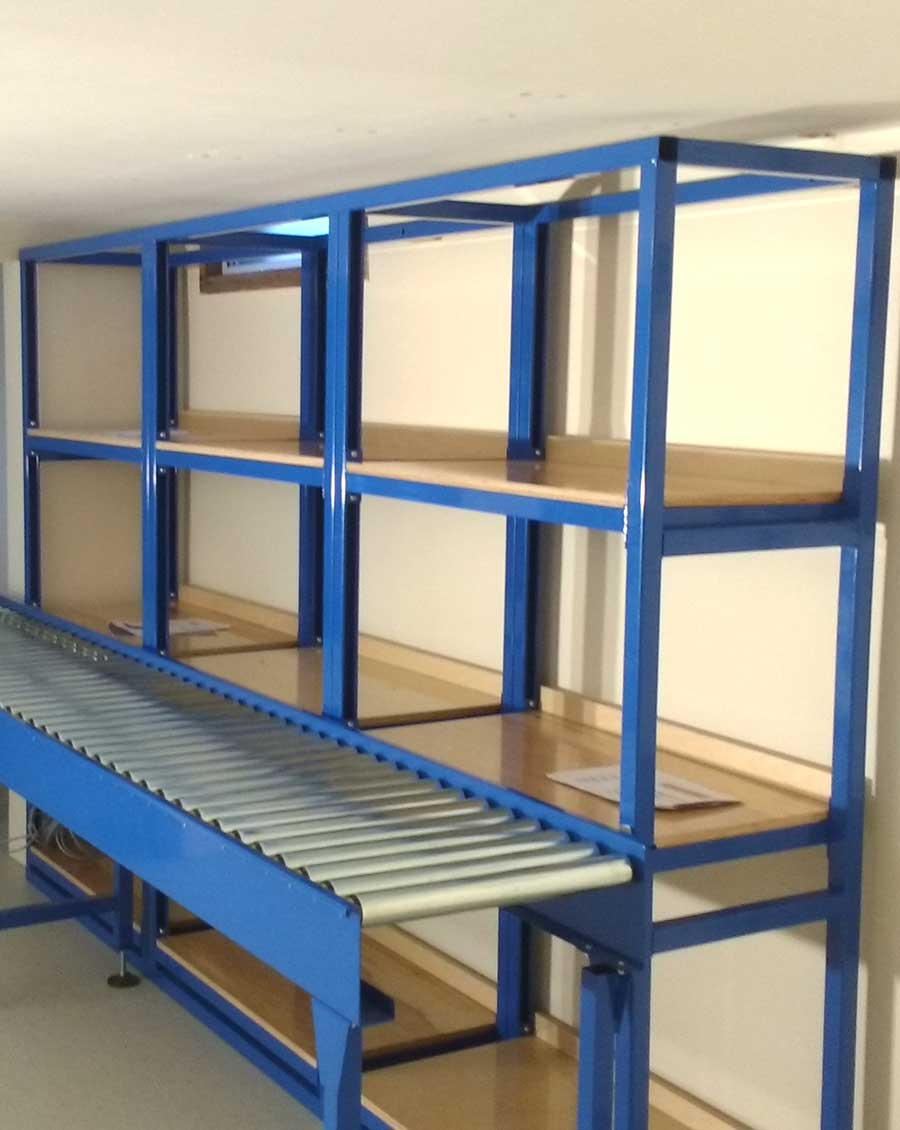 Mobile Storage Shelving & Trolleys
Mobile heavy duty shelves can be useful for large workspaces that need to be re-configured quickly to suit the job at hand.
The shelves pictured were made to suit a fabrics manufacturer, and feature heavy duty castors to allow the fabric storage bay to be moved as needed.
We also manufacture small shelving units that are mobile to suit small parts and components, these can be constructed from materials of your choosing.
Trolleys are also a useful mobile storage option, we make bespoke metal storage trolleys with compartments, shelves, and adjustable shelves.
Please send us a message or a drawing describing your requirements to receive a free competitive quote.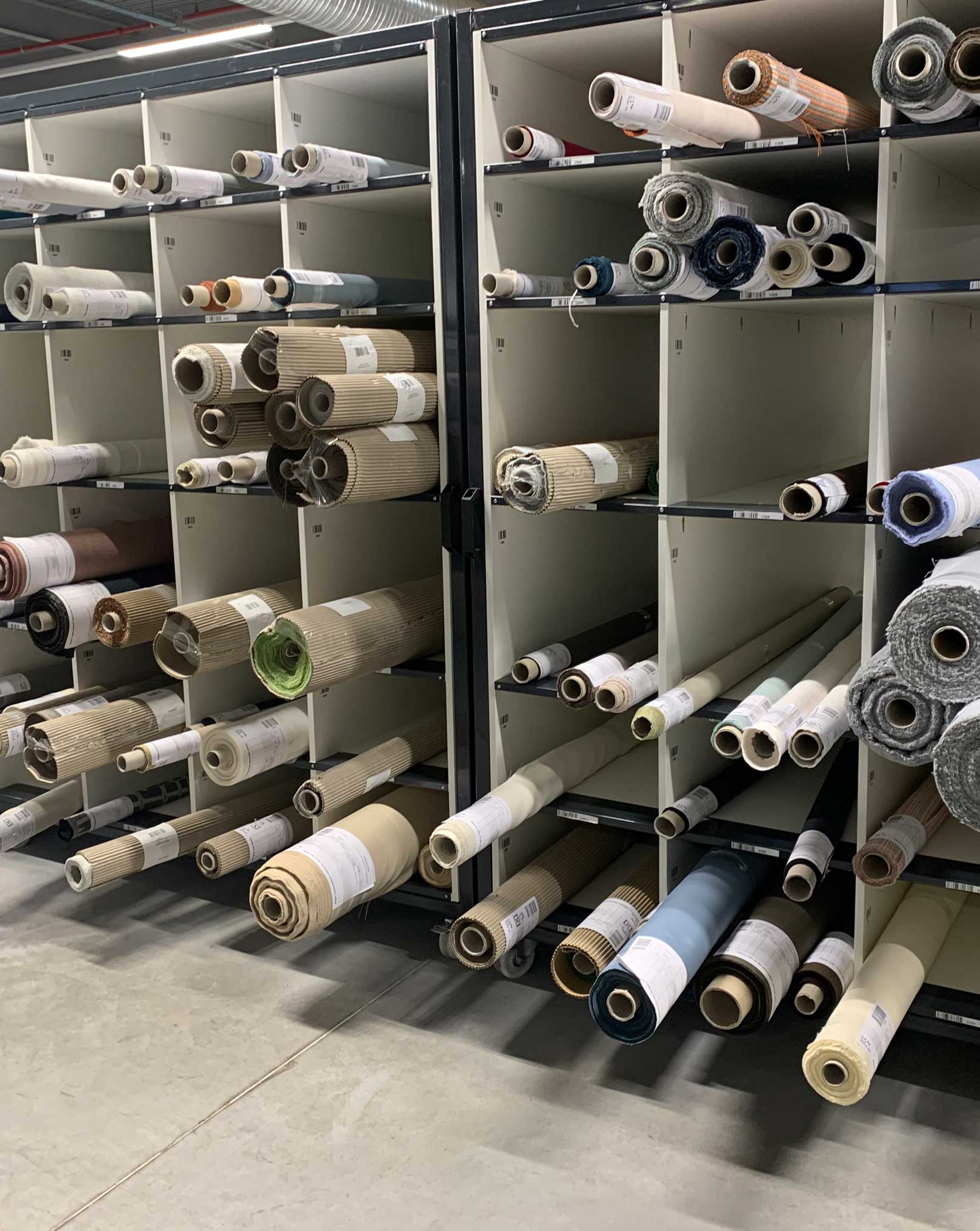 Special Application Shelving
We're able to create shelf units with built in electrical features such as power sockets, data sockets, and lighting.
These custom made shelves are useful to suit industries involved in electronics repair and processing.
Shelves with lighting & power also make excellent display cabinets, we have supplied a number of these for retail displays.
Please contact our sales team to discuss your options, or use the contact form below to send us a message with your requirements.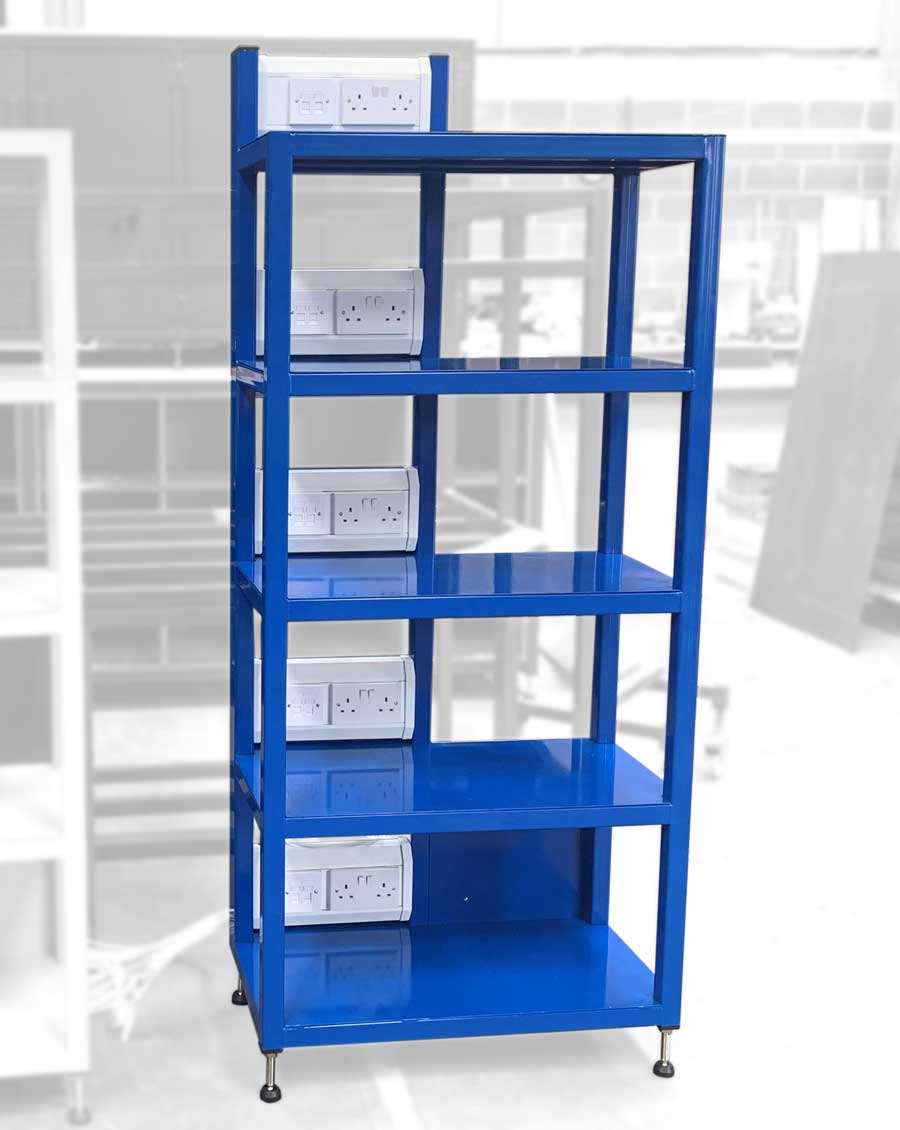 Roller Racks - Gravity Flow Racking
Heavy duty carton flow racking is a popular storage method that can be used in a wide range of industrial applications.
We manufacture all types of roller racking (FIFO / FILO / LIFO etc) to suit your space and products.
Storage systems can be manufactured with rollers or micro track for efficient parts storage.
For more information please see our carton flow storage page.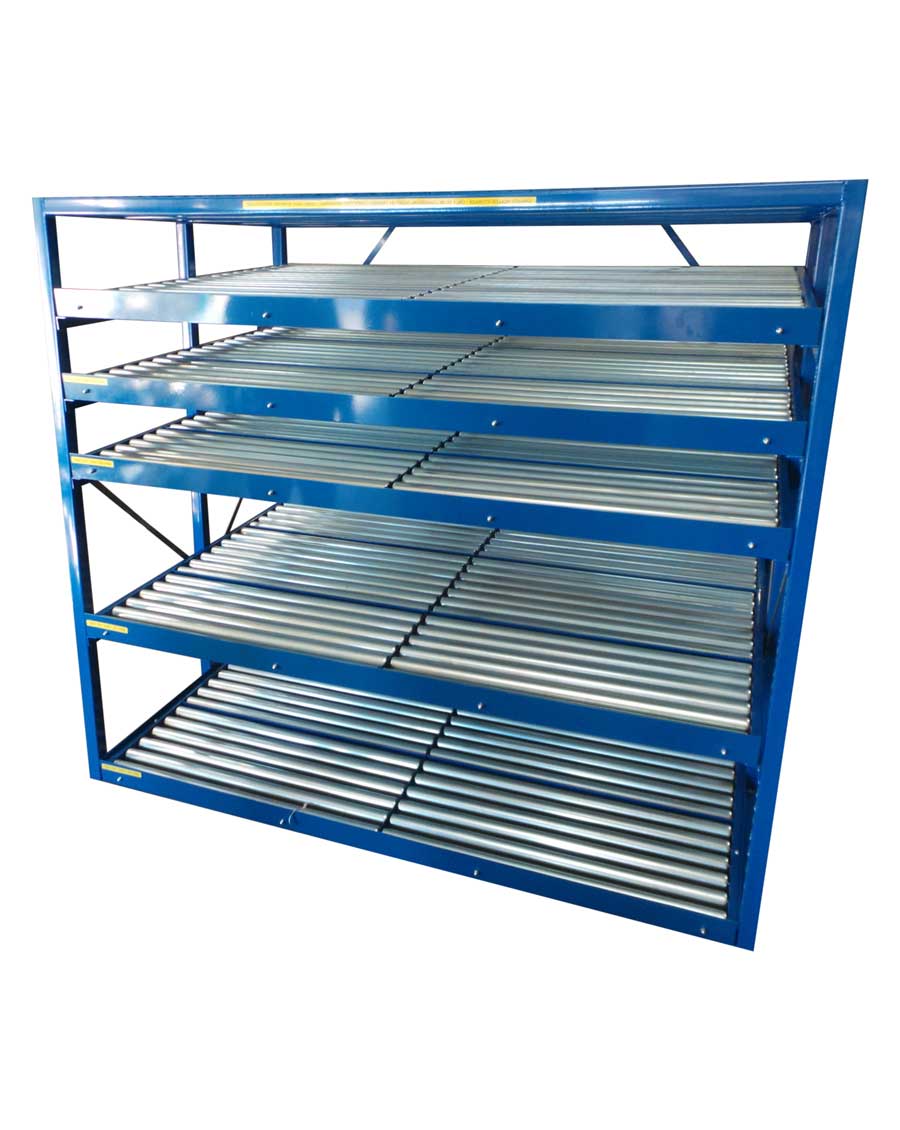 Spaceguard heavy duty storage shelving is guaranteed to last
Whether you need metal shelving units for storage in your garage or shed, or large quantities of commercial shelving for your business, we offer competitive quotations for any size, capacity, or quantity.
Our industrial shelving units are made from steel section and fully welded to create storage shelving that's heavy duty to suit any environment.
Using 3D design we create a model of your space and plan out shelving prior to manufacture. This allows us to create heavy duty shelving to meet your needs.
From a small storage shelf unit to a full industrial shelves wall - our design team has in depth experience creating metal shelving products to suit any space.
Receive a FREE quotation
Please complete the form below to send a message to our team.
For product and pricing enquiries please include a brief overview of your requirements.
Quick response guaranteed
8-5pm Mon to Thurs, and 9-3pm on Fridays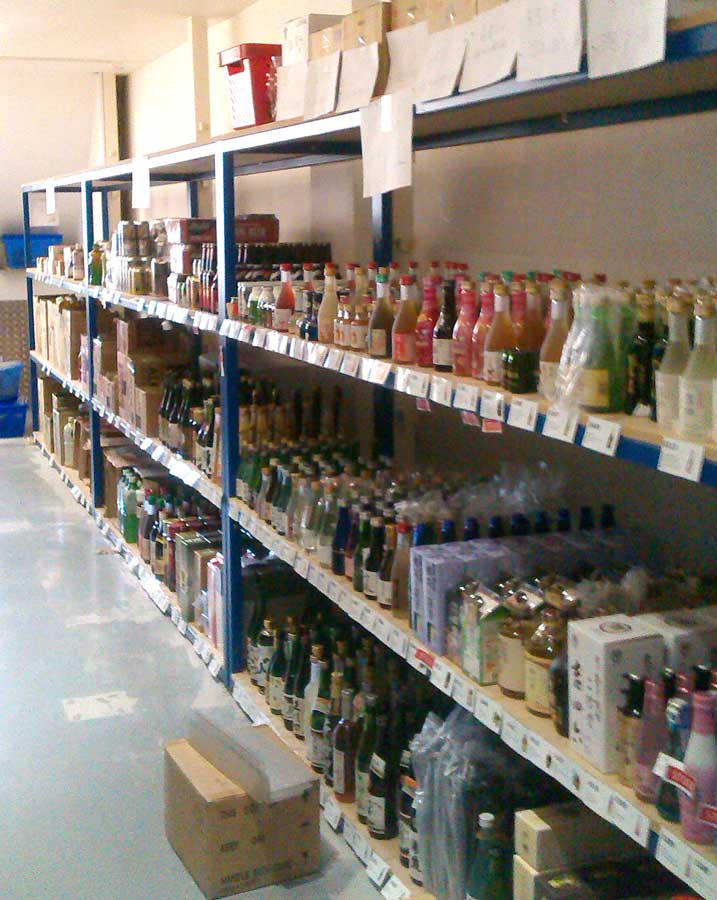 Spaceguard shelving & racking is made to order to suit your requirements