Warehouse Equipment
Spaceguard is a leading UK manufacturer and supplier of warehouse equipment. Our team has over a decade of experience in planning, designing and also manufacturing robust innovative industrial workplace equipment. Our customers generally look to us for fitting and furnishing their warehouse spaces, factories, fulfilment centres, and other commercial environments. As a warehouse equipment manufacturer, we supply a wide range of standard and bespoke equipment, including warehouse packing stations, case conveyors, and fully welded industrial shelving.
As the warehouse is normally the main company hub for storage it is important to make the most of the available space. The correct warehouse equipment reduces strain on employees, improves productivity, and also keeps stock moving effectively.
Primarily our aim is to help you get the most out of your space and offer you the most effective materials handling solutions for your business.
If you have any questions please don't hesitate to call us, our experienced and friendly team will be happy to help.
Phone: 01482 363445
Email: sales@spaceguard.co.uk
Spaceguard UK Warehouse Equipment
UK Manufactured
Robustly constructed using proven materials and production methods
Fully bespoke to suit your business needs
Excellent customer service including aftersales support
Site visits to assess requirements
Also available with full on-site installation depending on project requirements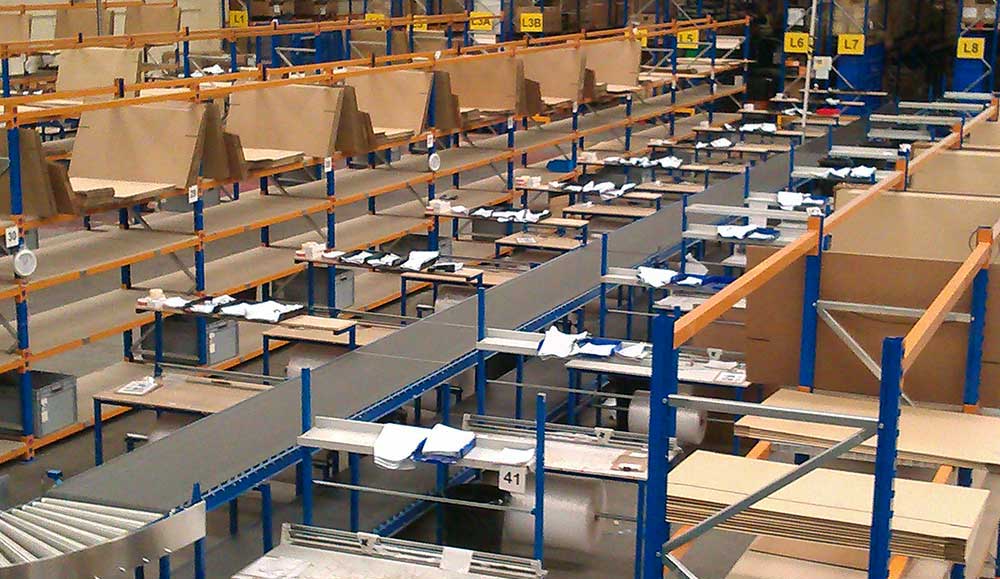 Why choose Spaceguard Warehouse Equipment?
Spaceguard warehouse equipment is uniquely designed to suit your warehouse space and logistical operations.
In an ideal warehouse, all incoming stock is quickly processed and efficiently stored ready for pick and pack upon order placement. Any delays and inefficiency within this process can lead to slow dispatch and customer frustration.
Through the use of high quality warehouse equipment in addition to effective planning, all warehouse processes should run smoothly and minimise any storage or dispatch issues.
The Spaceguard team has built a reputation for providing innovative and high quality warehouse equipment. We have a wealth of experience in the design or redesigning of warehouse spaces.
Where applicable we're able to offer site visits to assess your business requirements. Our team can then provide recommendations to improve the flow of materials and also suggest optimum layouts and suitable equipment.
Overall we aim to use our industry specific expertise to help you achieve your business goals.
Warehouse Equipment Customisation Options
Why not take advantage of our extensive experience in the manufacture and installation of conveyor systems, packing benches, workstations, and similar warehouse equipment?
As we are a UK based warehouse equipment manufacturer we are uniquely positioned for the supply of fully bespoke and customised industrial products.
We offer a wide range of fully customisable warehouse equipment to suit your business needs.
Conveyor Systems
Choose from a variety of conveyors including belt, gravity roller, driven roller, modular belt, and also slat options.
Dimensions to suit your space in addition to product requirements
Frame material options include mild steel as well as stainless steel
Power coated paint colour options (standard is RAL 5010)
Packing Benches & Workstations
Entirely bespoke with design service also available
Dimensions to suit your packing space and products
Packaging material solutions including cutters, dispensers, organisers and roll holders
Worktop material options include MDF, plywood, melamine, polyethylene, mild steel, stainless steel and more.
Variety of storage solutions to choose from including cupboards, drawers, shelves, tool rails, peg boards, louvre panels
Lighting and magnifying such as LED or fluorescent overhead lighting & articulated magnifiers
Power and data socket integration within the packing bench
Monitor mounts and also keyboard shelves or trays
Work surface extensions such as Ball transfer and roller transfer surfaces
Power coated paint colour options (standard colour is RAL 5010)
Warehouse Trolleys
Fully customisable dimensions
Options for shelves and also integrated storage
Manufactured to load rating / capacity you require
Power coated paint colour options (standard is RAL 5010)
Please see individual product categories for more information.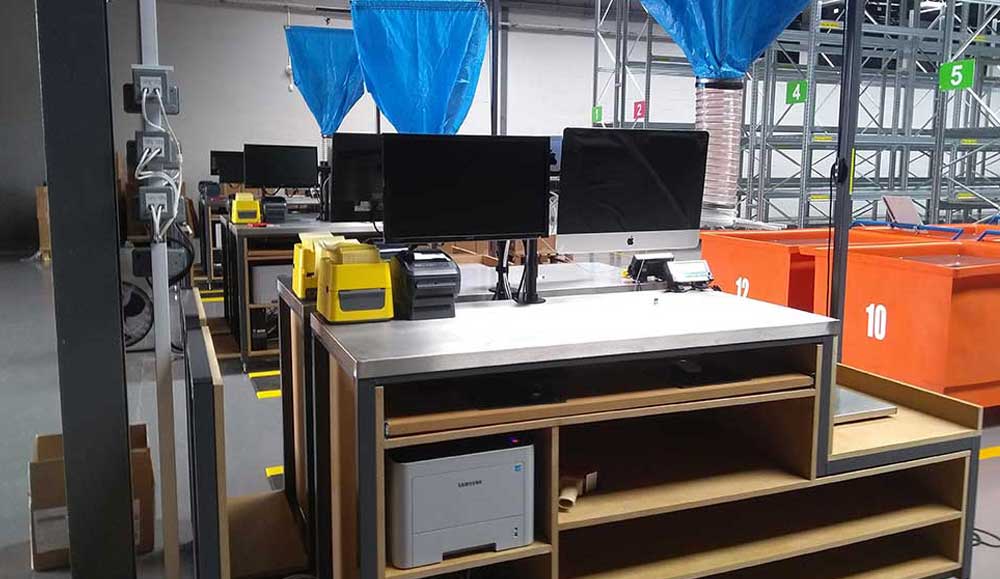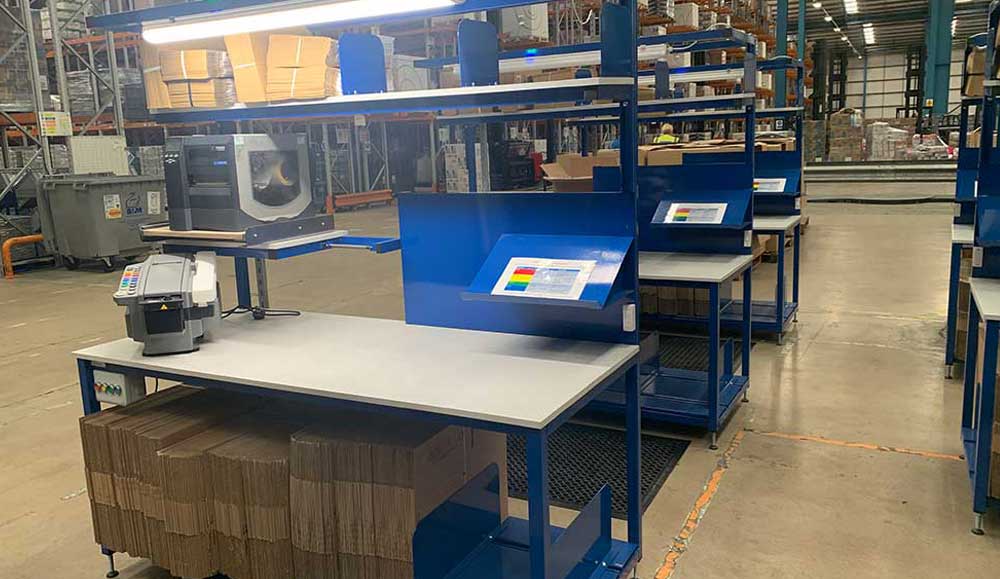 Warehouse Equipment Frequently Asked Questions
Please contact our team and then provide information on your project or equipment requirements. Once we have this information we can provide quotes for your consideration. If you then wish to go ahead with the order our team will discuss terms of payment with you. Your equipment will then go into production for delivery on a date agreed with you. Throughout this process we will send important paperwork such as quotations, dispatch notes etc via email so please ensure you're able to receive emails from the address below. If you have any further questions on the order process please get in touch.
Email: sales@spaceguard.co.uk
Phone: 01482 363445
Contact form: Click here
Delivery
We use our trusted delivery partners to collect items directly from our factory. Once an order has been placed we will normally provide a preliminary delivery date based on our current production schedule. Finally once the order is ready for dispatch we will then contact you either by phone or email to confirm the arrival date and time. Please let us know if there is any access restrictions or any additional information required for our drivers to access your site.
Installation
Many of our products arrive fully assembled and ready for work and require no specialist installation. For larger projects however our team is available for installing and also setting up your equipment when required. Our sales team will be happy to discuss installation options with you when placing your order.
Finally, please contact our team if you have any questions.
Email: sales@spaceguard.co.uk
Phone: 01482 363445
Contact form: Click here
Spaceguard is happy to make site visits to assess your requirements and also assist in planning your warehouse equipment options.
With this in mind please contact our team to find out more.
Email: sales@spaceguard.co.uk
Phone: 01482 363445
Contact form: Click here