Height adjustable workbenches manufactured in the UK
We offer a wide range of both standard and bespoke height adjustable workbenches, each manufactured to the highest quality in our East Yorkshire based factory.
There are several adjustment options to choose from, starting with a simple pin method, a winding handle, touch button electrical controls, right up to scissor lift tables.
Our workbenches are designed for industrial & packing process use in demanding assembly areas and workshops. We couple height adjustments with efficient bench design & layout to create employee-friendly and ergonomic workstations.
Whatever your requirement, Spaceguard offers a range of height-adjustable workbench products to suit your needs.
We offer a wide range of competitively priced workbenches to suit all industrial sectors, environments and applications.
Please contact our helpful sales team with your requirements to receive a free quotation.
Phone: 01482 363445
Email: sales@spaceguard.co.uk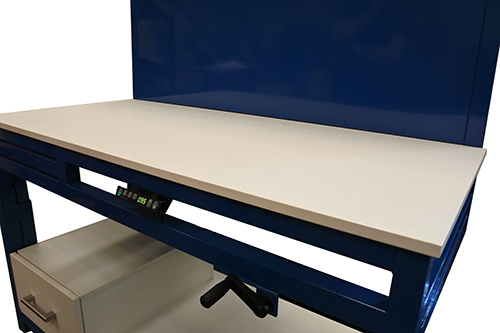 Height adjustable workbench specification
Made to order in the UK
A variety of height adjustment options include pin, hand crank, electrically operated, and scissor lift
Choice of worktop material
Wide range of options and accessories
HEIGHT ADJUSTABLE WORKBENCHES MADE TO ORDER
Call 01482 363445 to discuss your requirements

Height Adjustable Workbench Overview
Please contact our helpful sales team with your requirements to receive a free quotation.
Height-adjustable workstations provide benefits for both employee & employer
Using height-adjustable workbenches can help your business decrease absences and improve productivity due to improved operator ergonomics.
They offer users the flexibility to either sit or stand during their working day. This choice is either based on their comfort or determined by other factors such as the size and weight of the objects they are working with.
A standard workbench height may not be suitable for all staff members, so the flexibility offered is also useful when several people use the same workstation. This way, the workspace always compliments the user's requirements and adapts to their workload. There's also no need for two separate workbenches for jobs that require standing, and those that require sitting. For these reasons, height-adjustable benches are perfect for shift-based work.
Our wide range of standard and bespoke manufactured industrial workbenches are designed to turn demanding workspaces into ergonomic productive environments.

Adjustment Types
Manual Adjustment
Cost-effective & ideal for operations that do not require regular changes in working height. The adjustment is achieved using pins, with holes at increments of 50mm. This method requires 2 or more people.
Mechanical Adjustment
The Handle operated adjustable height workbench is ideal for occasional height adjustment.
Electrical Adjustment
This push-button operated adjustable workbench allows for pre-set heights to be stored, making it ideal for repeated tasks and for sit or stand operations.
Allen Key Adjustment
The allen key height adjustment mechanism allows for height adjustment via the loosening and tightening of the leg screws.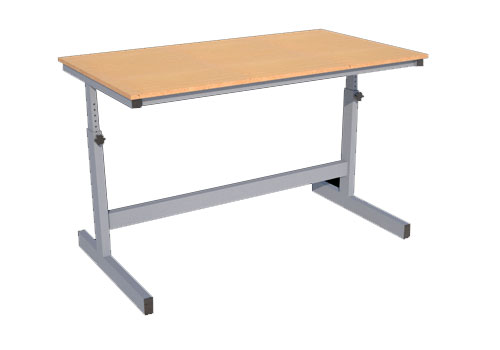 Get a FREE Height Adjustable Workbench Quote today
We are a leading UK manufacturer of bespoke workbenches
Email sales@spaceguard.co.uk with your enquiries
Why choose a Spaceguard Height Adjustable Workbench?
Ergonomic design helps reduce staff absences
Improve employee comfort and wellbeing
Ideal to create sit / stand workstations
Suitable for wheelchair users
Multiple users can comfortably use the same workbench
Range of adjustment options
Designed to suit your exact needs
Installation service available
Height Adjustable Workbench Example Gallery
All the benches shown here were manufactured by Spaceguard
Frequently Asked Questions
Can you do a CAD drawing before we commit to purchase?
Are you looking for a Height Adjustable Workbench?
Tell us about your requirements to receive a FREE quotation
Please complete the form below to send a message to our team.
For product and pricing enquiries please include a brief overview of your requirements.
Quick response guaranteed
8-5pm Mon to Thurs, and 9-3pm on Fridays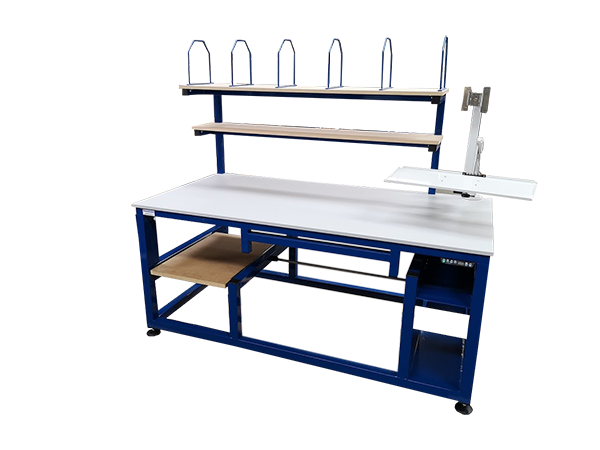 All height adjustable tables are made to order in our UK based factory
Products also manufactured by Spaceguard