Conveyor rollers delivered quickly at competitive prices
Conveyor rollers direct from UK manufacturers, Spaceguard supplies a wide range of conveyor rollers throughout the UK and Europe.
From our Hull based site, we are able to supply rollers to suit your specific requirements. Whether you're looking for a single roller or a hundred, we offer high-quality conveyor components delivered on a short lead time with competitive pricing.
Please contact our sales team with your requirements.
Phone: 01482 363445
Email: sales@spaceguard.co.uk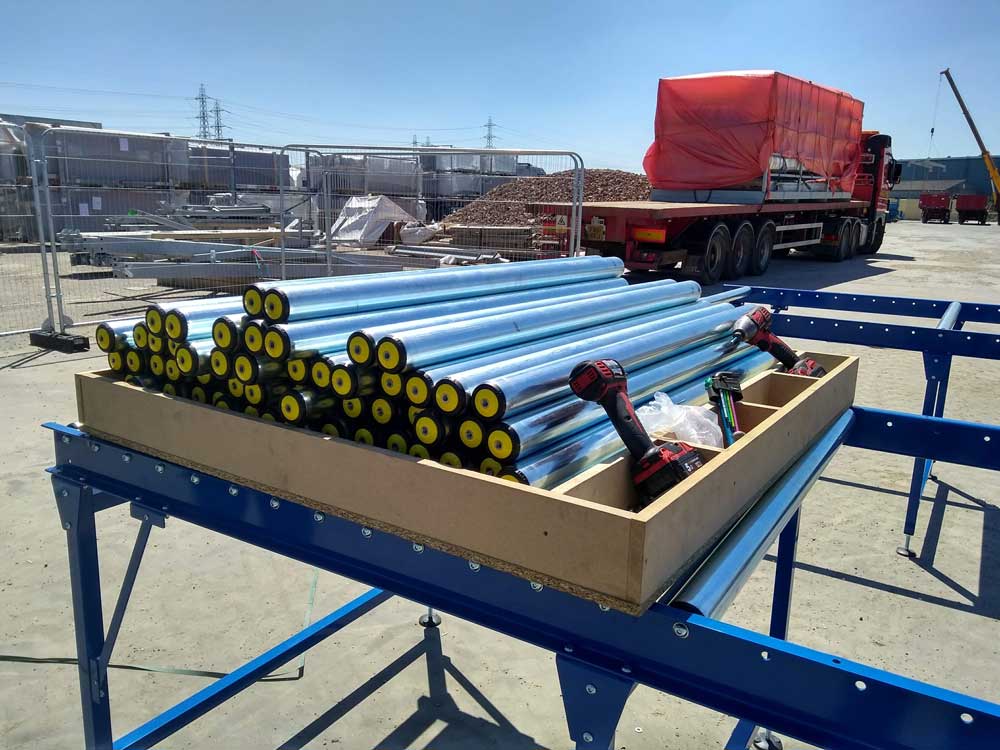 Reliable conveyor rollers from Spaceguard
Conveyor Rollers
Wide range of high quality conveyor rollers stocked
Suitable for all conveyor types
Delivery from within the UK
Competitive pricing & delivery costs
Conveyor Rollers Overview
We offer a wide range of competitively priced conveyor rollers to suit all industrial sectors, environments and applications.
Please contact our helpful sales team with your requirements to receive a free quotation.
Conveyor Roller Terminology
| | |
| --- | --- |
| AGL: | An industry abbreviation for shaft length. |
| Bearing: | Fitted within the roller normally single ball race or also deep grooved ball bearing. Generally used to reduce friction aiding the roller to turn. |
| Effective length (EL): | The industry term for inside frame dimension. |
| Female threaded: | Uses a setscrew to fix the roller into the conveyor frame. Using this method also adds structural strength to the conveyor. |
| Fixed drive: | Positive drive between the drive mechanism and the roller tube. |
| Flatted shaft: | Milled flat on the roller shaft to prevent shaft from rotating when fitted in a appropriate sized slot. |
| Friction drive: | Normally associated with sprocket driven rollers, this allows the roller tube to be stopped allowing product to accumulate. |
| Grooved roller: | Used on a lineshaft or DC roller conveyor. A groove is usually formed into the roller tube to allow a polyurethane band to join the rollers together. |
| Over bearing projection (OBP): | Dimension over the bearings. Note this is normally different to the EL dimension. |
| Spring loaded shaft: | Normally used to fit gravity rollers into the frame. Simple press in the end of the shaft at one side into the bearing to fit the roller. |
| Sprocket: | Drive mechanism fitted to roller - normally push fit or welded (See fixed or friction drive) |
Get a FREE Conveyor Roller Quote today
We are a leading UK manufacturer & supplier of conveyor rollers
Email sales@spaceguard.co.uk with your enquiries
Gravity Conveyor Rollers
A gravity conveyor roller is an unpowered free moving roller that is widely used within conveyors and machines.
These are fitted either horizontally to easy manual handling, or on a decline so the roller turns when under a load. As a result, transporting goods along the conveyor section is simply achieved by manual force or gravity alone.
From lightweight to heavy-duty applications, our wide range of rollers are available in zinc plated mild steel, stainless steel and also plastic tubes with mild steel or stainless steel shafts.
Gravity rollers are generally the most economical roller as they suit a wide variety of applications including gravity roller conveyors. 

Driven Conveyor Rollers
Spaceguard manufactures and supplies a wide range of driven rollers including sprocket driven for light and heavy-duty applications.
We also supply Grooved Rollers for use within 24V DC roller or lineshaft conveyors in addition to poly V driven rollers, which are an option for 24V roller conveyors as they transmit more drive than the grooved roller.

Heavy Duty Conveyor Rollers
Spaceguard is a leading supplier of conveyors,
roller conveyors
, and conveyor equipment. We can supply heavy duty conveyor rollers to our customers to meet their specifications.
As a UK manufacturer Spaceguard is ideally placed to offer quality and also reliable conveyor components on a short delivery lead time. We do this whilst also providing competitive pricing coupled with a high quality of customer service.
Please contact our helpful sales team for product information and competitive quotes.

Receive a FREE quotation
Please complete the form below to send a message to our team.
For product and pricing enquiries please include a brief overview of your requirements.
Quick response guaranteed
8-5pm Mon to Thurs, and 9-3pm on Fridays

We stock a vast assortment of conveyor rollers and accessories so they're ready for when you need them.