As a UK belt conveyor manufacturer we produce a range of versatile and robust materials handling solutions to suit your business needs
Belt conveyors are a simple and efficient solution for transporting goods within factories, warehouses, assembly lines, and other industrial environments.
At Spaceguard we design and manufacture a comprehensive range of reliable belt conveyor systems to suit our customers' requirements. Whether it's a small one off conveyor for linking pieces of machinery, or a large scale packing line, we will always ensure you get the best materials handling automation solution for your business at a competitive price. For your peace of mind we offer comprehensive after sales maintenance & ongoing support.
We produce standard belt conveyors in addition to custom designed conveyors at our UK based factory. Using proven designs and quality components we manufacture a range of quality belt conveyors, suitable for for a multitude of industrial, pharmaceutical and food production belt applications.
We manufacture to order, though for urgent requirements we have a range of stocked conveyors for quick despatch
For any queries or to receive a competitive quote please contact our experienced sales team to discuss how we can deliver tailored solutions to suit your business needs.
Call: 01482 363445
Email: sales@spaceguard.co.uk
Belt Conveyor Gallery
All products shown below were manufactured by Spaceguard for previous customers.
Warehouse & Logistics Belt Conveyors
Belt conveyors are a versatile materials transport option as they can transport both uniform and none uniform loads. They are used as a simple and efficient solution for transporting goods within factories, warehouses, assembly lines, and other industrial environments.
Other conveyors suited for warehouse use include: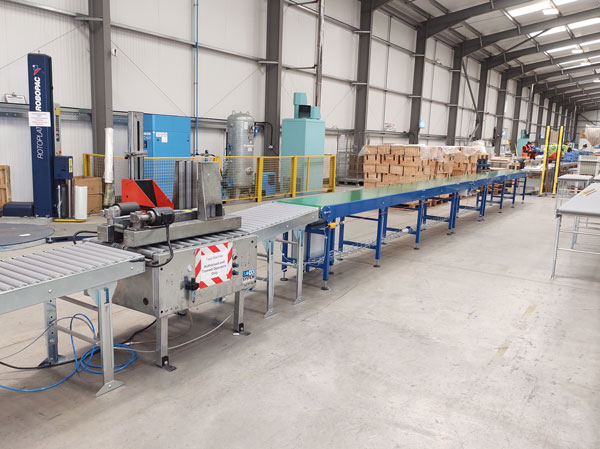 Food Sector Belt Conveyors
We manufacture stainless steel belt conveyors using FDA approved food safe belt materials. These are suitable for food production and packing environments where hygiene is of the utmost importance. Belt conveyors are suitable for both packaged goods and raw ingredients, including dough, fruit, vegetables, meat, cheese, grains and many more food items. Our previous customers include supermarket suppliers, butchers, and many household brands.
For transporting bottles, cans, and other food goods we also manufacture slat conveyors and modular conveyors.
Plastic modular belts are a type of flat conveyor belt where the belt is comprised of many interlocking modules instead of a synthetic fabric. The modular belt's interlocking modules are made from robust materials which can transport sharp materials, as well as tolerate low and high temperatures. The construction also allows for thorough cleaning and disinfecting, making them a hygienic option for use in food and beverage production or packing.
Inclined & Mezzanine Conveyor Systems
Our design team work with our customers to ensure that the conveyor inclines are manufactured specifically to suit their needs. We offer reliable solutions for simple machine feeding or larger variations suitable for moving products to and from mezzanines for example.
Swan neck belt conveyors are also suitable for elevating products or to create a bridge within a conveyor system.
Belt Conveyor Control Panels keep things running smoothly
We deliver conveyors complete with control panels fully wired and ready for work including all operation, maintenance and compliance manuals.
The controls provided are custom designed specifically to suit the customers needs. This means you can have the controls as simple or complex as you require, including variable speed panels.
Innovative special application conveyors to solve your production problems
For example. the split bed design pictured here allows for the positioning of a labelling head. This allows labelling in addition to coding on the base of the products. This particular belt ran off a single drive shaft to maintain belt speeds.
In many cases we supply conveyors complete with rotary tables as required.
Special application conveyors can be supported through the use of custom manufactured conveyor workstations or bespoke workbenches and packing benches.