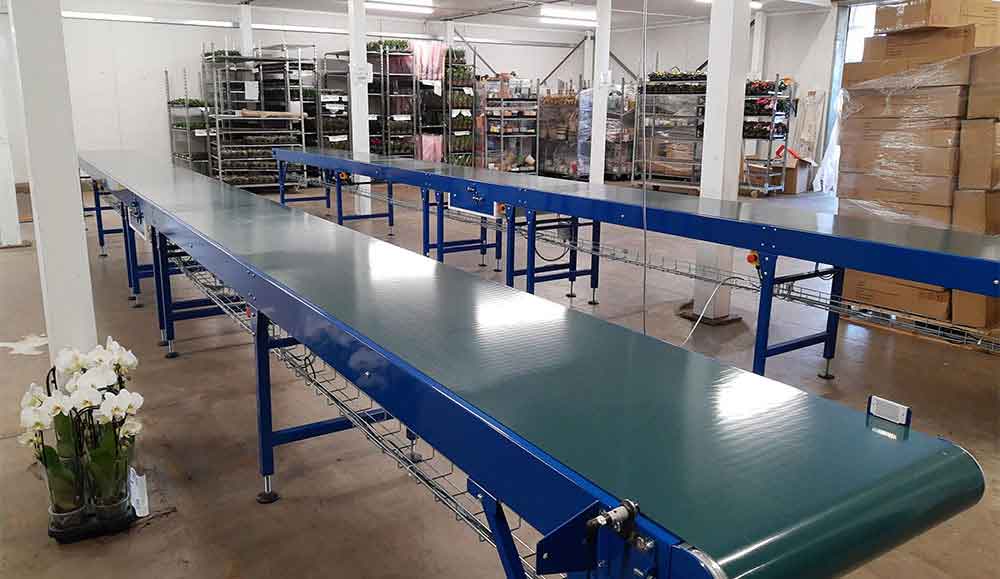 Spaceguard manufacture Belt conveyor systems in the UK to your specifications.
At Spaceguard we design and manufacture a comprehensive range of reliable belt conveyor systems to suit our customers' requirements. Whether it's a small one off conveyor for linking pieces of machinery, or a large scale conveyor line, we will always ensure you get the best solution for your business at a competitive price. 
We produce standard belt conveyors in addition to custom designed conveyors at our UK based factory. Our customers can choose from our wide range of light duty conveyors, through to medium and heavy duty conveyors. 
Spaceguard conveyor products are suitable for all types of industrial usage including for e-fulfilment packing, factories, production lines, warehouses, and logistics.
We can also provide a large selection of stainless steel conveyor units for food processing and pharmaceutical sectors, including plastic modular belts where required.
For any queries or to receive a quote please contact our sales team to discuss how we can deliver tailored solutions to suit your business needs.
About Spaceguard Belt Conveyors
Belt conveyors are a versatile materials transport option for use in warehouse, production, and also e-fulfilment environments. They are ideal for transporting both uniform and none uniform items.
Drive options include geared motors or drum motors, with drive positions including shaft mounted underslung or end drive. Belt material options include food grade PVC, PU, and also rubber. Our frames include stainless steel, or powder coated mild steel. Generally we manufacture conveyors with a belt width between 80mm and 2000mm, with an end roller diameter of 25-200mm.
Please see the technical specification section below or download our datasheet.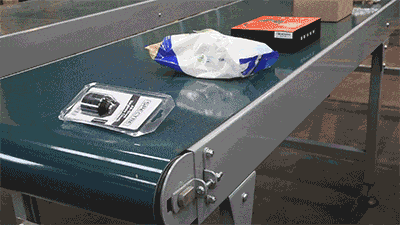 Belt Conveyor Product Categories
Spaceguard Conveyor Belts Designed To Meet Your Needs
We use proven robust designs
We produce high quality reliable equipment
Our conveyors are supplied CE marked with manuals
We deliver conveyors fully assembled & wired
We offer durable powder coated frames or stainless steel construction
Our team can visit your site for installation if required
We offer a choice of drive & belt types
Our conveyors are suitable to stand alone or be incorporated with other machinery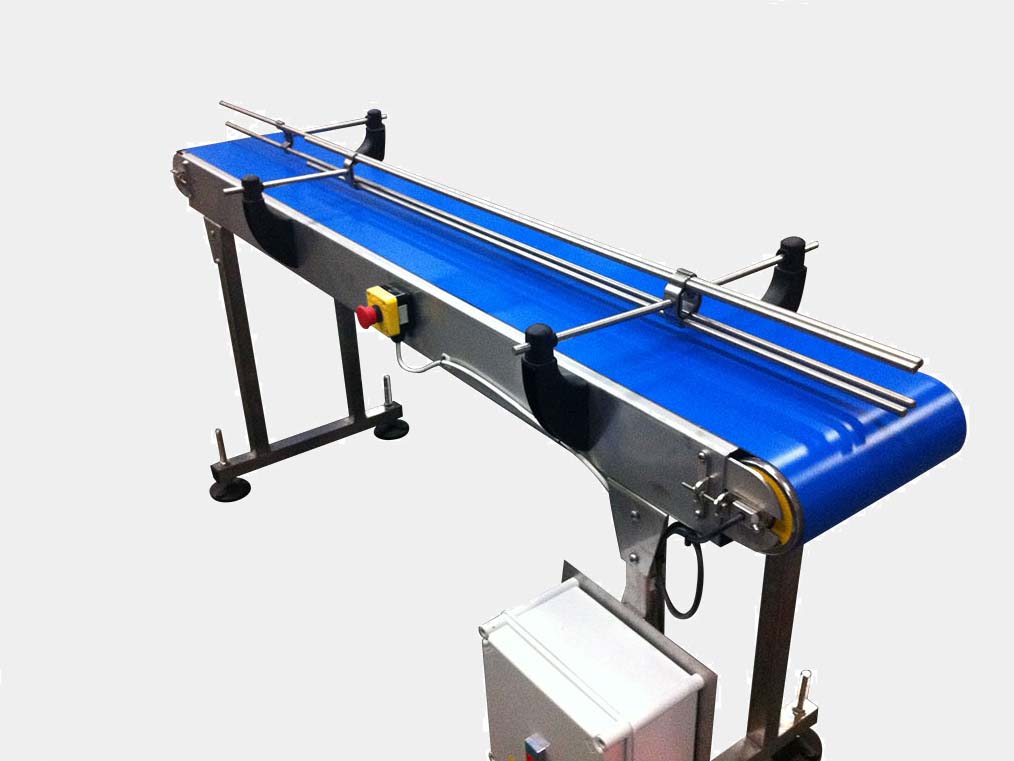 Quick deliveries & competitive pricing.
Delivered fully assembled and wired.
Onsite installation service available
Conveyor Belts Technical Specification Summary
End Roller Diameter:
From 25mm to 200mm
Roller Materials:
Polypropylene, Mild Steel or Stainless Steel
Drive Type:
Geared motor or Drum Motor
Drive Position:
Shaft mounted underslung or End Drive
Belt Type:
1ply PU or PVC (industrial or food grade)
2ply PVC (industrial or food grade)
2ply Rubber
Other belt options available please contact sales
Frame Material:
Powder Coated Mild Steel or Stainless Steel
Conveyor Finish:
Powder Coated Paint: RAL 5010 as standard (other colours available)

Stainless Steel (2B)

Conveyor Widths:
80mm to 2000mm
Conveyor Loading:
Please contact sales to discuss your options
Support Detail:
Welded 'H' section (+/- 50mm)
Optional Extras:

Sideguides
Castors
Quick release
Swan neck / nose over
Under slung centre drive
For electrical options please contact sales
Plastic Modular Belt Conveyors are ideal for the Food Sector
Modular belts are a type of flat conveyor where the belt is comprised of many interlocking modules instead of a synthetic fabric. The modular belt's interlocking modules are made from robust materials which tolerate low and high temperatures.
To find our more please see our modular belt page.
Inclined Conveyor Belt Systems make product elevation easy
Our design team work with our customers to ensure that the conveyor inclines are manufactured specifically to suit their needs. We offer reliable solutions for simple machine feeding or larger variations suitable for moving products to and from mezzanines for example.
Belt Conveyor Control Panels keep things running smoothly
We deliver conveyors complete with control panels fully wired and ready for work including all operation, maintenance and compliance manuals. The controls provided are  custom designed specifically to suit the customers needs. Consequently you can have the controls as simple or complex as you require, including variable speed panels.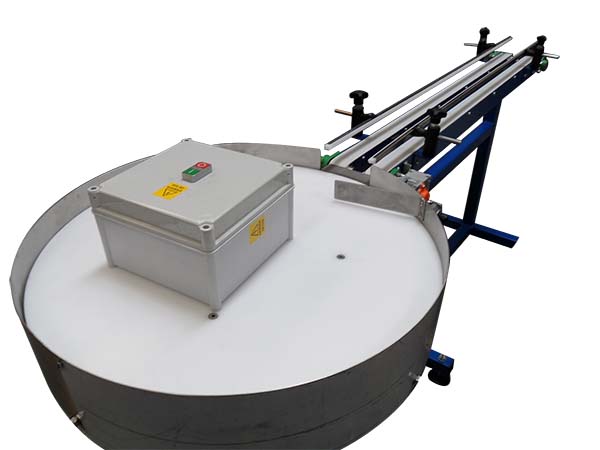 We make innovative & versatile special application conveyors to solve all your production problems
An example of one of our special application conveyors. This split bed design allows for the positioning of a labelling head. This allows labelling in addition to coding on the base of the products. This particular belt ran off a single drive shaft to maintain belt speeds. The products after printing were then also run off onto a rotary packing table.
Reliable Conveyors from only £500.
Contact our team for advice and quotes.
We manufacture conveyor belts to meet customer requirements
Belt conveyors are a simple and efficient solution for transporting goods within factories, warehouses, assembly lines, and other industrial environments. Conveyor belts manufactured by Spaceguard are the ideal A to B transport solution for both uniform and also non-uniform loads. Our belt conveyors are often used to provide an efficient and reliable solution for transporting totes, boxes, packets, cartons and irregular shaped objects.
Whether it's a small one off conveyor for linking pieces of machinery, or a large scale conveyor line, Spaceguard will always ensure you get the best solution for your business at a reasonable price. We have over a decade of experience in designing & manufacturing reliable conveyor systems. As a result we understand the problems our customers face, and we are always happy to provide robust and reliable solutions to solve these problems.
Finally, if you'd like to read more about the types of conveyors and their uses we have a guide available here.
Make a Conveyor Belt Enquiry