Designing a belt conveyor may seem like a daunting task, however it's a lot like ordering any other product from a manufacturer.
So long as you can provide a few details about your products, process or your application, getting the right conveyor for your project can be quite simple.
At Spaceguard we receive a lot of calls and emails from people who are looking to buy a belt conveyor but don't know how to decide on what they need.
We've put together this short and simple 'how to' guide to walk you through the steps to getting a belt conveyor designed and manufactured.
Please contact our sales team if you require any more help
Phone: 01482 363445
Email: sales@spaceguard.co.uk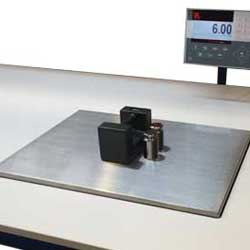 Step 1 - Measure & weigh your products
To determine the size and weight capacity of your conveyor you need to check the size and weights of your products or items to be transported on the belt. It is helpful to know the total weight that will be on the belt at any given time.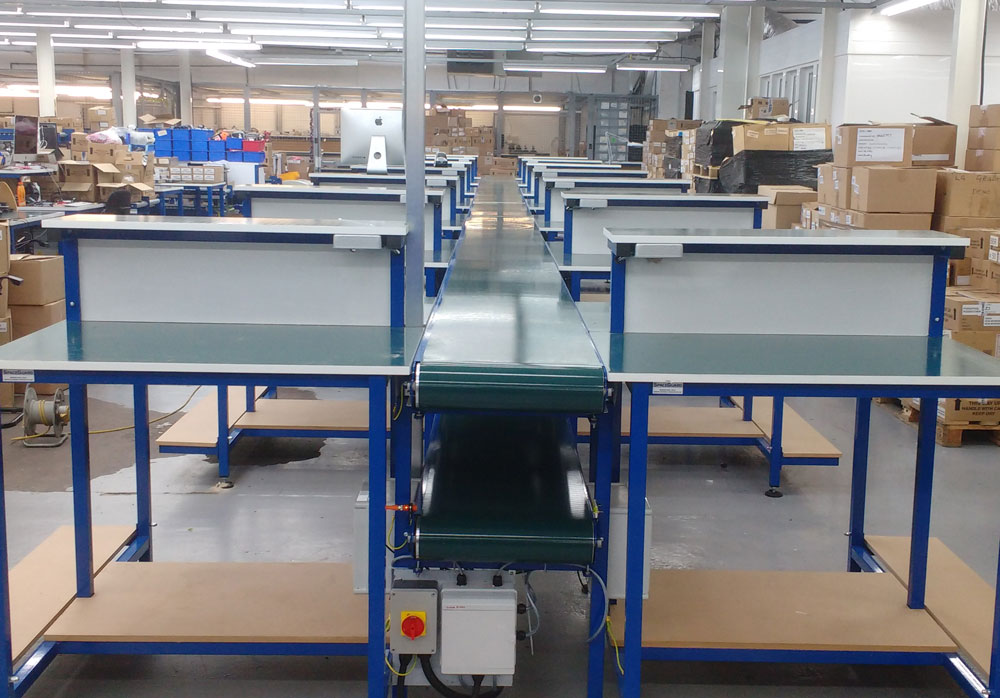 Step 2 - Consider your space & distance conveyor is required to cover
Measure your available space and consider the length of conveyor you will require.
If you know you need a conveyor to get from point A to B then measure the distance between those points to determine your conveyor length.
If you don't have a set distance to be travelled, use the sizes of your product and work out how many items will be on the conveyor at a given time. This gives you a rough idea of how long the conveyor needs to be.
For belt width, opt for a measurement that is slightly wider than your largest product.
Consider or measure the height you want the conveyor to be situated once installed. This is important if you have people working alongside the conveyor as the incorrect height can cause injury through over reaching or crouching.
Tip: Conveyors can be designed to bend around corners.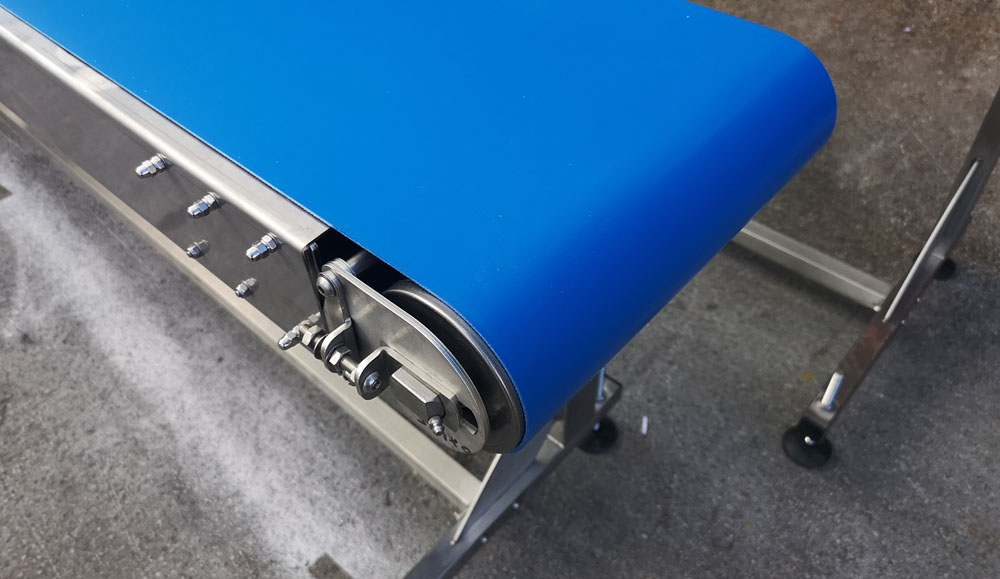 Step 3 - Choose your belt conveyor materials
If you're working with cosmetics, beauty products, pharmaceuticals, or food items then you will likely need a hygienic food safe belt material for your conveyor.
You will also potentially require a stainless steel frame material as opposed to a standard painted mild steel frame.
For non-food & pharmaceutical conveyors a painted mild steel frame and a durable belt made from PVC is often suitable, though for heavy duty applications a stronger belt material may be needed.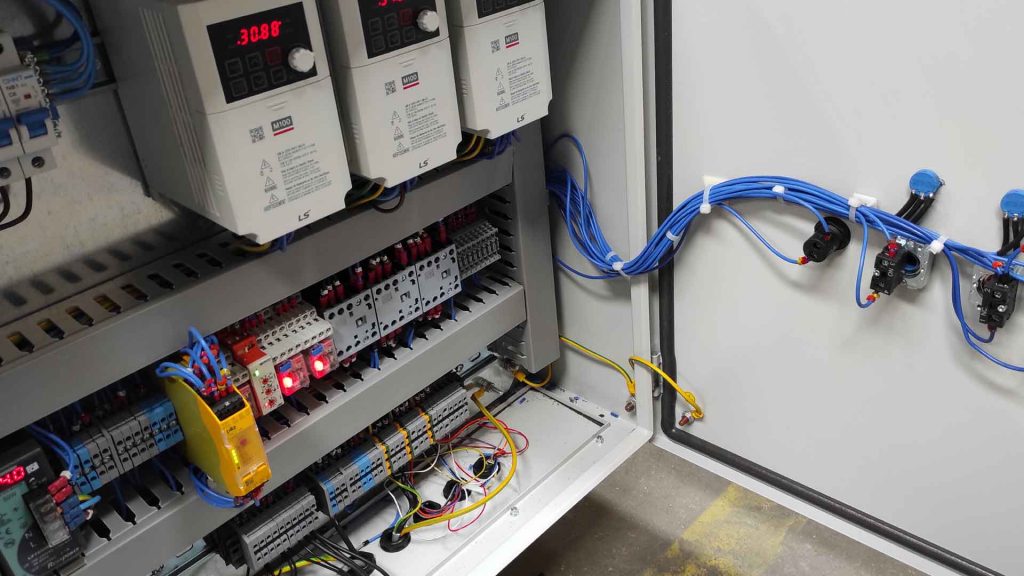 Step 4 - Choose your conveyor speed & controls
To select the correct motor for your conveyor, you need to know the speed you would like the conveyor to run at. This is often measured as metres per minute.
Consider how long each product needs to be on the conveyor, how fast your conveyor runs depends on what your application or process is.
If you want your conveyor to run at different speeds then decide on a minimum and maximum speed, as your manufacturer will still need this information to set up the appropriate controls.
Belt conveyors can be made to start and stop through the use of sensors. If you would like your conveyor to automatically stop when a product reaches the end of the belt then ask your manufacturer for a PEC (photoelectric sensor) or similar.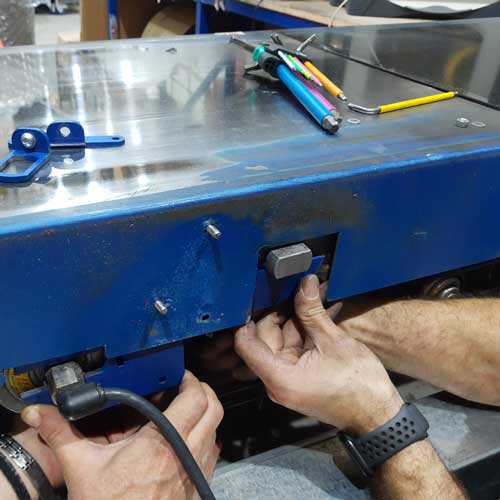 Step 5 - Contact a reputable conveyor manufacturer
Give the information you've determined to a reputable belt conveyor manufacturer (like Spaceguard) - this includes the desired length, width, height, speed, product weights, controls, and application/purpose information. Remember to mention if you require a food or pharmaceutical safe conveyor.
To have your conveyor manufactured, it's best to partner with a reputable belt conveyor manufacturer. They will go through the information you provide to ensure it's correct and that they understand your application or process.
Once the specification of the conveyor is agreed with a manufacturer they will be able to put it into production. This may take some time depending on the complexity of your conveyor design and any unique features required.
You may be able to find a conveyor 'off the shelf' that meets your requirements. Make sure to check with the manufacturer that it is fit for your purpose prior to making a purchase.
Many conveyor manufacturers do install conveyors, however if you are installing them yourself you MUST read the safety information and manual prior to installation. This is very important as conveyors can be dangerous if not operated correctly.
We offer fast quotes on any conveyor at an affordable price.