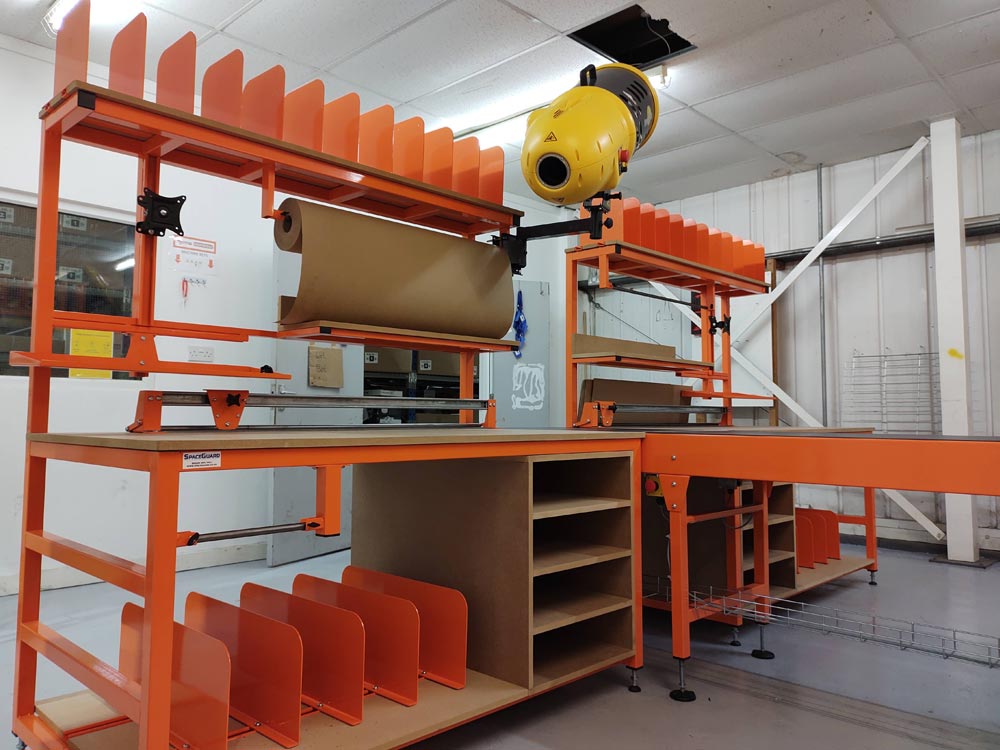 Spaceguard manufactures conveyor systems and packing benches to kit out your packing and dispatch areas
This project was manufactured and installed in 2021 for an eCommerce retailer
The retailer was looking for a number of packing benches and a conveyor system to transport the packaged products and have them accumulate on the gravity roller conveyor.
Each of the benches features a worktop mounted packaging cutter and a roll holder to quickly dispense and cut packaging materials.
Please see the products supplied section to find out more about the products we manufactured for this project.
If you have any enquiries about this project or any of our products, don't hesitate to get in touch with our helpful sales team.
Phone: 01482 363445
Email: sales@spaceguard.co.uk
Products Supplied
Packing Bench
Size 1600 x 850 x 850mm
MDF Worktop & Shelves
Roll holder
Worktop mounted packaging cutter
Post mounted monitor bracket with keyboard tray
Adjustable steel dividers on the top shelf
Conveyor System
Belt conveyor - 6500 x 600 x 800mm (L x W x H) with black smooth belt and control panel

24V driven roller bend

 

- 600mm x 800mm (W x H) with tapered rollers at 52mm pitch and control panel
Gravity roller conveyor - 9000 x 600 x 800mm (L x W x H) declining with 50mm diameter zinc plated rollers at 75mm pitch with an end stop
Project Gallery
Below are just some of the photos of Spaceguard products installed and in use on site.
Are you looking to improve your packing process?
Receive a FREE quotation
Please complete the form below to send a message to our team.
For product and pricing enquiries please include a brief overview of your requirements.