From stand alone roller conveyor units to integrated driven roller conveyors workstations, Spaceguard can supply solutions for most applications.
Our conveyor product range is broad as we manufacture to order, with units suitable for both medium and heavy duty applications. We can design & manufacture gravity conveyors and also powered roller conveyors to suit your business needs.
A roller conveyor system is normally the ideal cost effective solution to transport piece goods with a flat and rigid bottom. They're most suited for moving boxes, totes, crates and also pallets. We will ensure the conveyor you request is optimised for transporting the goods you work with.
We are also able to supply quantities of conveyor rollers as required.
For further information on roller conveyors please see our guide available here, or alternatively see our complete conveyor range.
Our helpful sales team are happy to answer any of your questions to assist you in getting exactly what you require for your project. 
Phone: 01482 363445
Email: sales@spaceguard.co.uk
What are Roller Conveyors?
Roller conveyors generally consist of a number of rollers mounted within a frame. In the case of a gravity conveyor these rollers spin as the product travels across them, aiding the product in moving forward. The rollers of the conveyor can also be powered, meaning items placed on the conveyor will be pushed forward by the rollers. In either case the roller conveyor makes product transportation simple and also efficient for most industrial environments.
Most commonly transported items include boxes, pallets, crates, totes, trays and also boards. Items being placed upon a roller based conveyor should generally have a flat and rigid bottom, this ensures that the product will not slip in between or sag in the rollers and become stuck.
Where are roller conveyors used?
Found throughout a wide range of industries, roller conveyor systems offer an incredibly versatile, adaptable, and simple to install conveyor solution. This makes them popular with small businesses and large businesses alike.
Roller conveyors can be found in the following industries:
Food production
Food packaging
Packaging
Logistics
E-commerce Fulfilment
Postal Services
Luggage handling
Steelmaking
Manufacturing
To find out more see out 'What are Roller Conveyors" article.
Receive a FREE quotation
Please complete the form below to send a message to our team.
For product and pricing enquiries please include a brief overview of your requirements.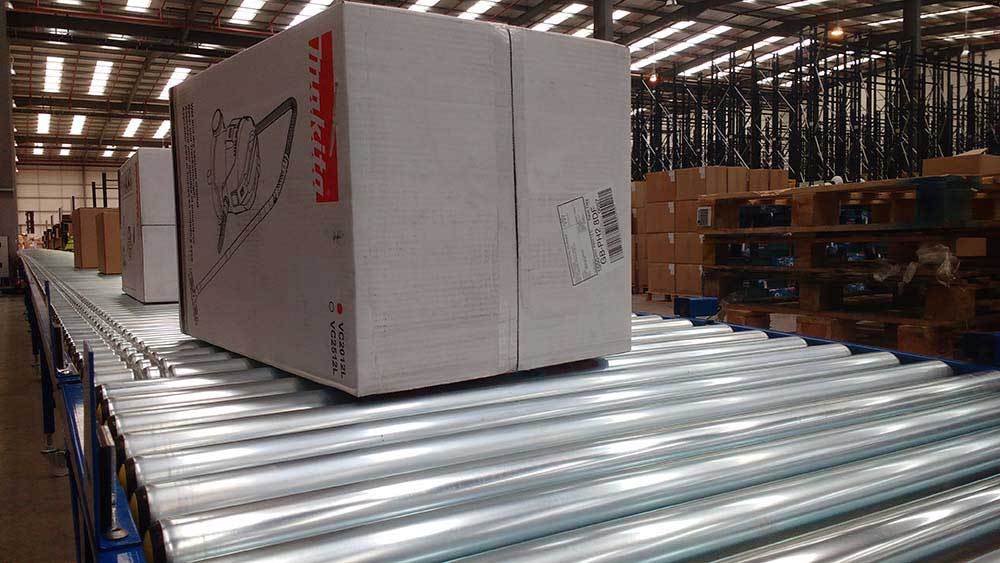 Roller conveyors are essential in modern warehouse & manufacturing spaces for simple and effective product transportation. At Spaceguard we manufacture to order, to suit your space and your process.