Roller conveyors manufactured in the UK by Spaceguard
Our product range includes gravity roller conveyors, powered and driven conveyors, and integrated roller workstations
Our roller conveyor product range is broad as we manufacture to order, with conveyor units suitable for both medium and heavy-duty applications. We can design & manufacture gravity conveyors and also powered roller conveyors to suit your business needs. We also supply a wide range of conveyor rollers to suit any application.
A roller conveyor system is the ideal cost-effective solution to transport piece goods with a flat and rigid bottom. They're most suited for moving boxes, totes, crates and also pallets. We will ensure the conveyor you request is optimised for transporting the goods you work with.
For further information on roller conveyors please see our guide available here, or alternatively see our complete conveyor range.
Our helpful sales team are happy to answer any of your questions to assist you in getting exactly what you require for your project. 
Phone: 01482 363445
Email: sales@spaceguard.co.uk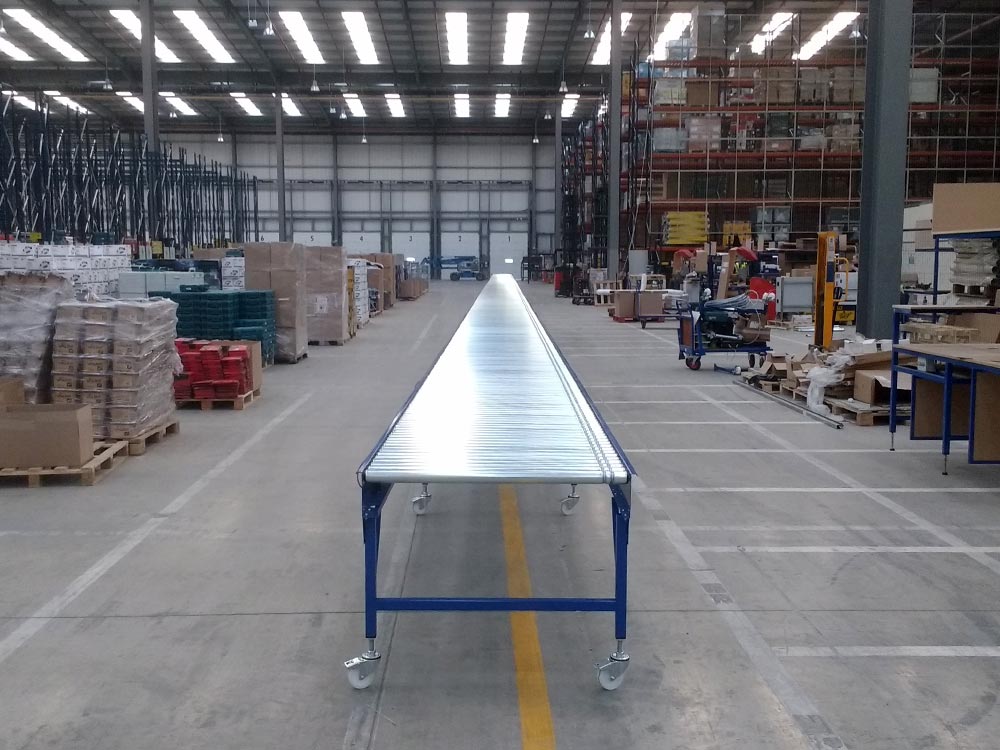 Roller Conveyors
Fully bespoke & made to your specification
Manufactured in the UK
Powered & un-powered varieties available
Short lead times
Delivered assembled or installed by our site team
Roller Conveyor Overview
We offer a wide range of competitively priced conveyor products to suit all industrial sectors, environments and applications.
Please contact our helpful sales team with your requirements to receive a free quotation.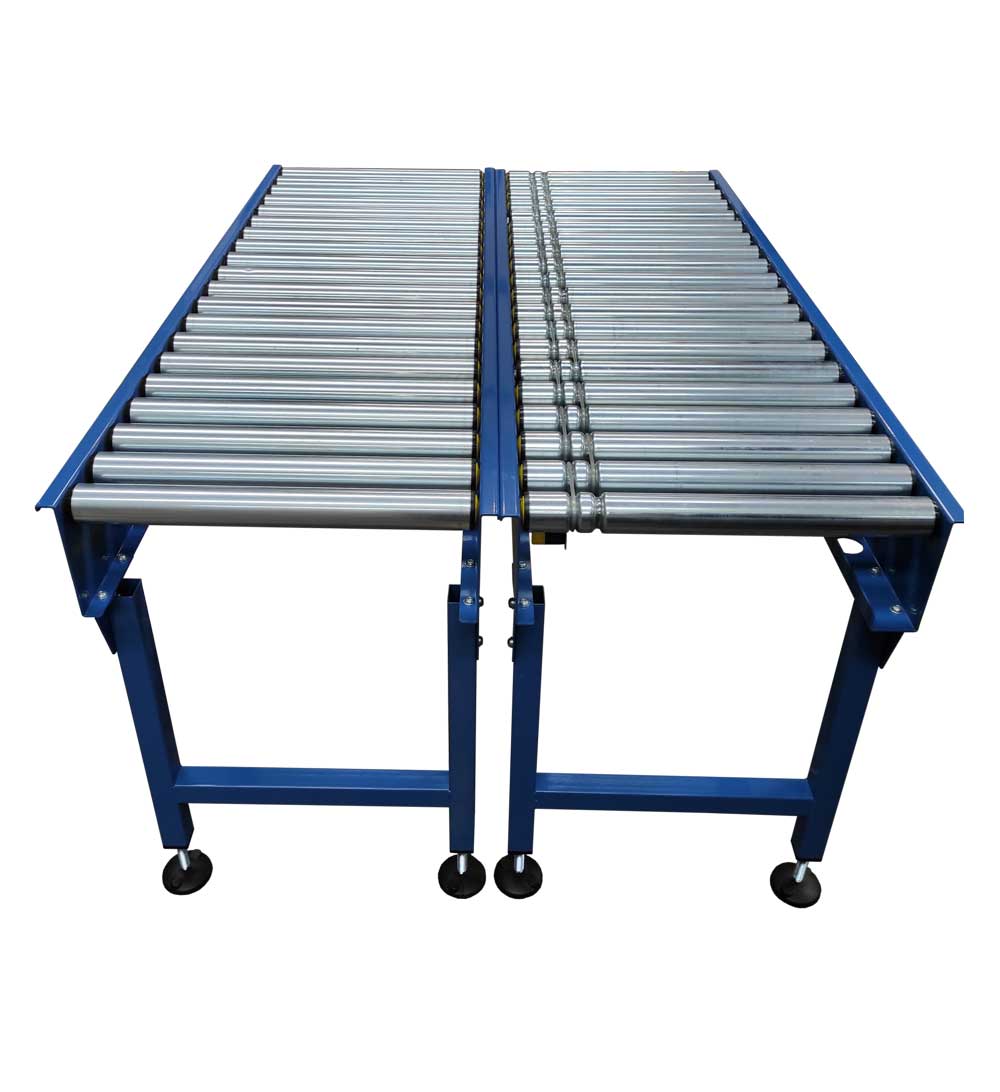 Gravity conveyors are a versatile and simple transport solution suitable for most industrial environments.
We offer a range of roller materials such as PVC or stainless steel, and also frames in stainless steel or painted mild steel.
Suitable for many applications, these are a low cost unpowered conveyor solution.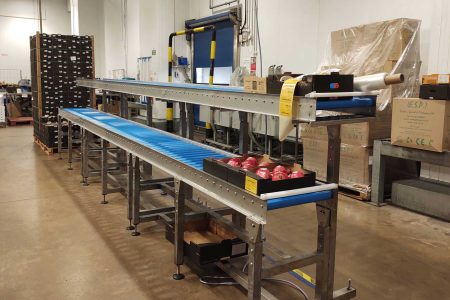 24v Motorised Roller Conveyors are a type of powered conveyor, we manufacture these from high quality components.
We offer Fixed Drive in addition to Zoned Zero Pressure options. These powered roller conveyors are available with straights, bends, merges, and also transfers.
Generally these are the ideal solution for carton handling applications.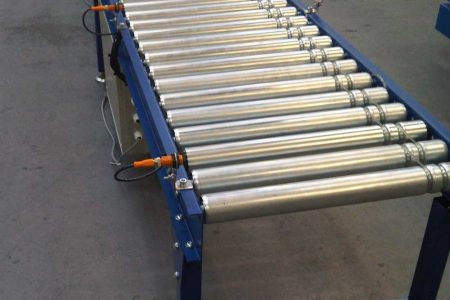 Lineshaft driven conveyors are an economical transportation solution ideal for warehouse & also distribution environments.
These are a type of powered conveyor ideal for low pressure accumulation.
Suitable for boxes, totes, cartons, and trays.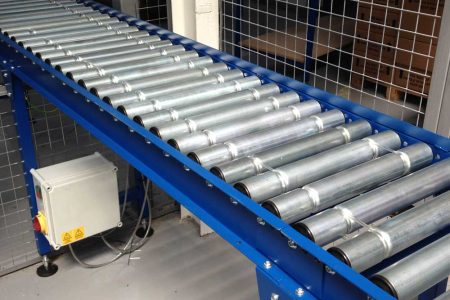 Flexible roller and skate wheel conveyors are available in a range of sizes for both light and heavy-duty accessories.
Suitable for loading & unloading vehicles or where quick reconfiguration is required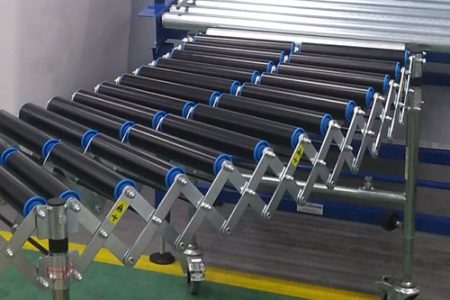 Chain driven roller conveyors are ideal for transporting loaded pallets, and other very heavy items. They are incredibly durable, with a frame manufactured from fully welded steel.
Suitable for heavy duty applications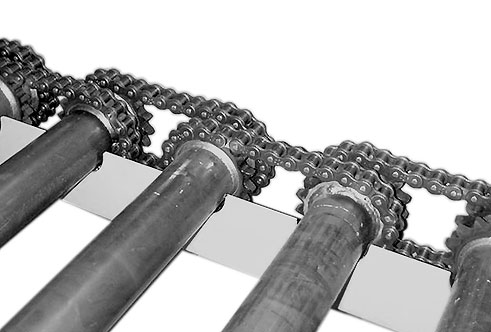 Heavy duty chain driven conveyors are a robust materials handling solution for especially heavy duty applications, including for transporting pallets. These units are also fully guarded to ensure safe operation.
Suitable for heavy duty applications, including transporting pallets.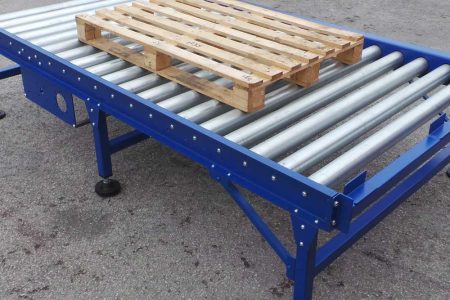 Conveyor workstations are the ideal ergonomic operator friendly conveyor addition. Constructed from either painted mild steel or stainless steel and built to suit a wide range of applications.
We offer many additional options or accessories from packing stations to tool storage. This includes integration of IT equipment as required.
The conveyor workstation is generally entirely custom built to suit customer requirements, ideal for process lines, manufacturing, assembly lines and many more industrial applications.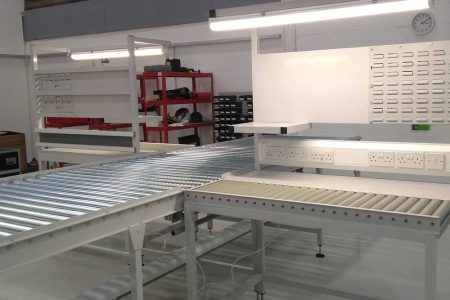 Conveyor Lift Up Access Gates
The lift up gate is used as a pedestrian access gate. Generally used for warehouse pathways or emergency access routes. The gate uses industrial gas springs to support weight of the gate whilst opening. As a result the gate is light to operate. Incidentally it may be possible to use the gate section as a stop. The lift up gate uses a 50mm diameter roller as standard.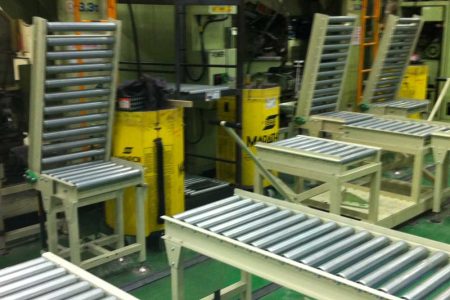 Get a FREE Roller Conveyor Quote today
We are a leading UK manufacturer of bespoke roller conveyors
Email sales@spaceguard.co.uk with your enquiries
Special Application Roller Conveyor Modules & Accessories
Roller Conveyor Bends
These are particularly useful in applications where a straight conveyor line is not feasible, such as in small warehouses or production areas with limited floor space.
Using a curved conveyor, materials can be transported more efficiently around corners, reducing the need for manual handling and increasing throughput.
As materials are transported smoothly around corners, there is less stress on the conveyor system, reducing wear and tear and extending the system's lifespan.
Roller conveyor bends can also be integrated into existing conveyor systems, providing greater flexibility in terms of material handling and layout.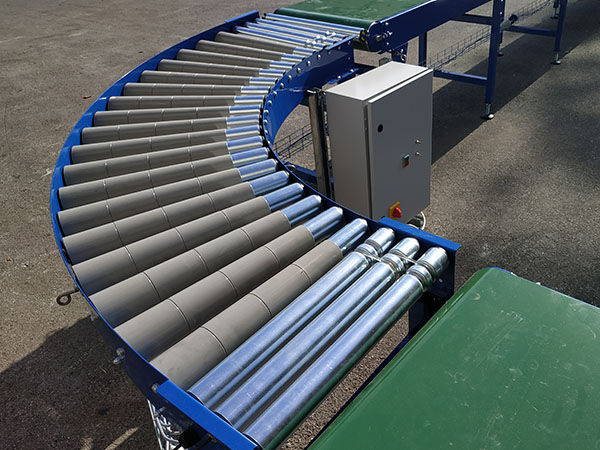 Roller Conveyor bends are a cost-effective way to move materials around corners or to navigate around obstacles.

Roller Conveyor Frequently Asked Questions
Receive a FREE quotation
Please complete the form below to send a message to our team.
For product and pricing enquiries please include a brief overview of your requirements.
Quick response guaranteed
8-5pm Mon to Thurs, and 9-3pm on Fridays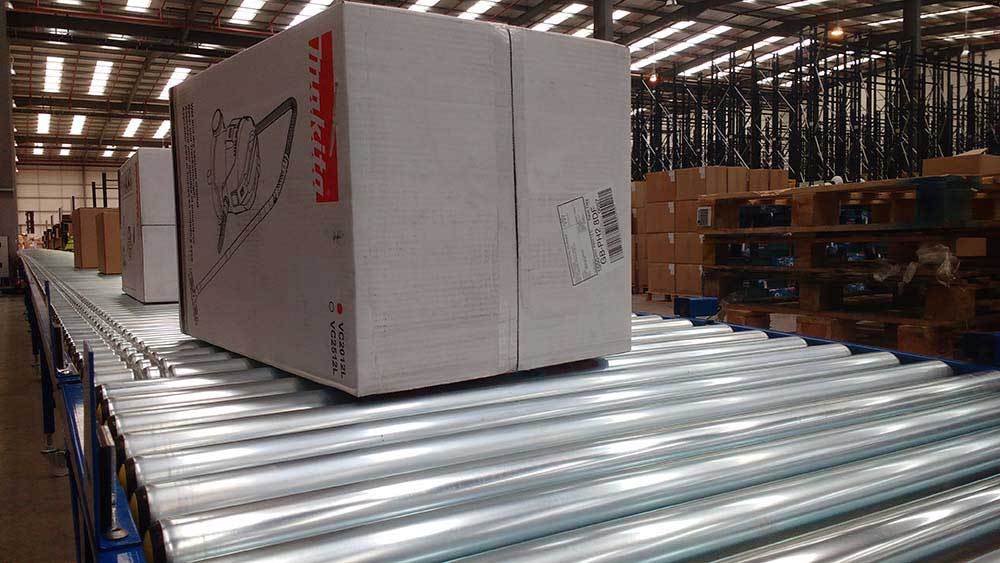 Roller conveyors are essential in modern warehouse & manufacturing spaces for simple and effective product transportation. At Spaceguard we manufacture to order, to suit your space and your process.