Gravity Roller Conveyors
Spaceguard are UK manufacturers of standard gravity conveyors and bespoke gravity roller conveyors, offering a short lead time on many standard products with fast delivery by our trusted carriers. 
We manufacture a wide range of gravity conveyors to suit a range of industrial applications, each manufactured to suit our customers' requirements.  All gravity roller conveyors are fitted with zinc plated, PVC, or stainless steel conveyor rollers. These are mounted in a robust steel frame of either stainless steel, or powder-coated paint.
Gravity conveyors are made to suit your needs, with lengths, widths, and roller diameters to your requirements. From a one-off gravity conveyor, to a fully integrated lean packing or assembly system, you can be certain the equipment is made to the highest standards.
Where required we can also offer a gravity conveyor installation service, please speak to our helpful sales team should you have any questions.
Please see the conveyor products page to see the complete range of conveyors we manufacture.
Phone: 01482 363445
Email: sales@spaceguard.co.uk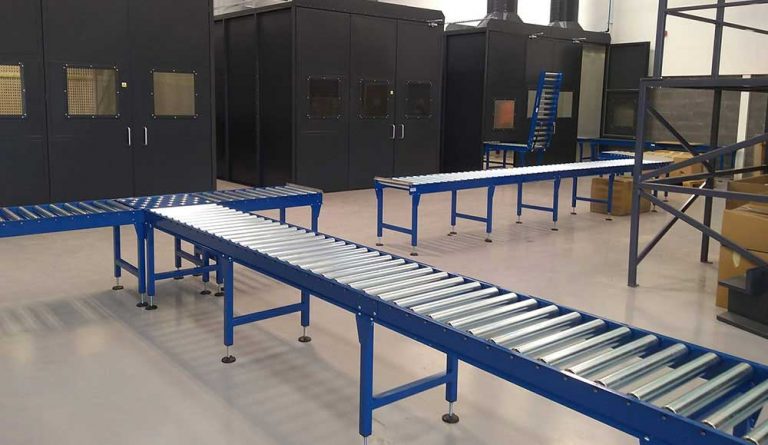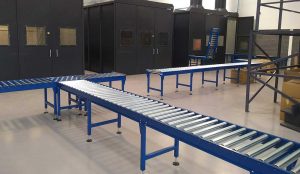 Working with Spaceguard
We make fully bespoke gravity conveyors made to your requirements
Large selection of roller types
UK manufactured in-house
Short lead times
Delivered fully assembled or installed by our site team
Gravity Conveyor Overview
Gravity roller conveyors are the most economical way of moving loads from one position to another
We use proven designs and a modular approach to build robust and reliable gravity conveyors systems to suit all environments. We manufacture to order, please contact our helpful support team with your enquiries.
Please contact our helpful sales team with your requirements to receive a free quotation.
Roller Type:

Mild steel Zinc plated
PVC
Stainless Steel
Frames Material:

Mild Steel Powder Coated
Stainless Steel
Roller Diameters:

20mm, 30mm, 40mm, 50mm, 60mm, 63mm, 76mm, 80mm, 89mm, 102mm
Get a FREE Gravity Conveyor Quote today
We are a leading UK manufacturer of gravity roller conveyors
Email sales@spaceguard.co.uk with your enquiries
Twin-tier Tray Return Conveyors
Twin-tier gravity conveyors are commonly used for tote or tray returning in security-based or crate filling applications. The twin-tier gravity conveyor is often found in metal detection areas and food production and packing environments.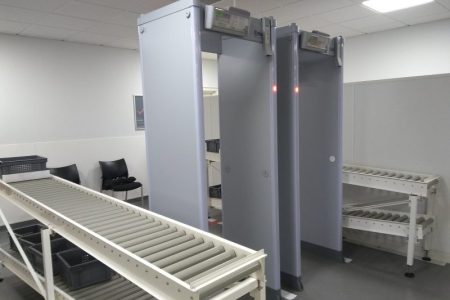 Bend Angles:

30 º , 45 º , 60 º , 90 º
Roller Type:

Twin Track
Skate Wheel
Taper Roller
Frame Material:

Powder Coated Mild Steel
Stainless Steel
Roller Diameter:

50mm (base roller)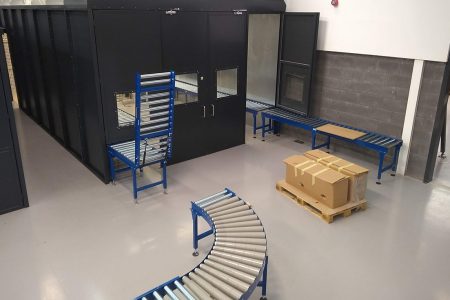 The conveyor rollers used within Gravity roller conveyors ordinarily have a spring loaded shaft for easy removal, or a female threaded shaft.
We manufacture and supply a wide range of conveyor rollers to suit all applications, please see the conveyor rollers page to learn more, or contact our helpful sales team with details of your requirements.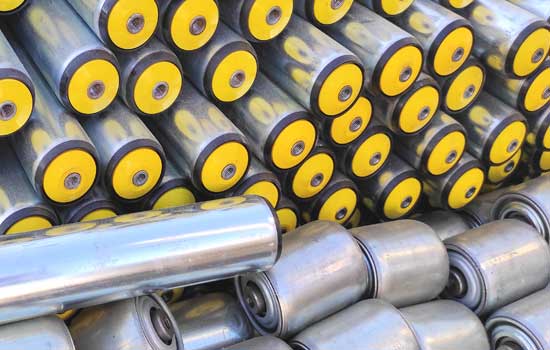 Gravity Skate Wheel Conveyors
An alternative to gravity rollers is skate wheels. Skate wheels are suitable for lighter loads, and are available in zinc plated steel or PVC. They generally move faster than standard rollers, and are used for flat bottom items. They can also handle items that are wider than the width of the conveyor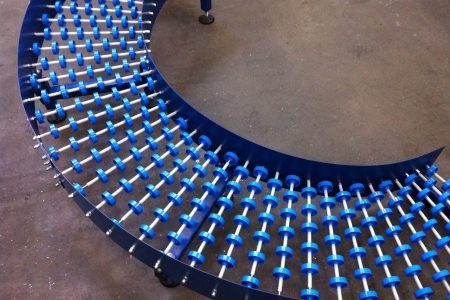 Flexible conveyors expand and flex allowing them to bend to suit the environment or application. They are mounted on castors for ease of maneuverability.
Roller Type:

PVC
Zinc Plated Steel
Roller Diameter:

40mm, 50mm
Variable Lengths:

Open lengths - 1.5 to 9m
Closed lengths - 0.510m - 2.576m
Height:

Adjustable with variable height ranges from 470mm to 1530mm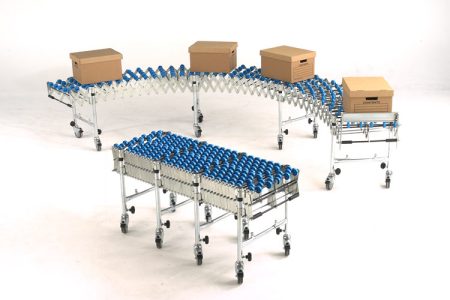 Telescopic Conveyors are used for loading and unloading goods. Telescopic Roller Conveyors are found in warehouses, package distribution, loading, and delivery areas.
Roller Type:

PVC in decks
Mild steel zinc plated on transfer sections and loading area.
Roller Diameter:

50mm (20mm for transfer sections)
Roller Pitch:

65mm
Side Frame Material:

Powder Coated Mild Steel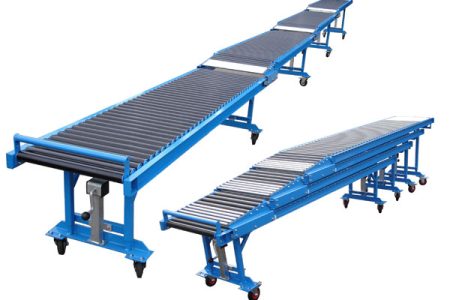 Ball Transfer Tables
have rolling balls instead of straight parallel rollers. They're ideal for use with loading or feeding machines or for moving goods & materials.
| | |
| --- | --- |
| Frame: | Welded Mild Steel |
| Ball Diameter: | 22mm |
| Ball Pitch: | 150mm, 100mm, 75mm, 52mm |
| Load Rating: | 40kg per ball |
| Ball Configuration: | Square or Diamond |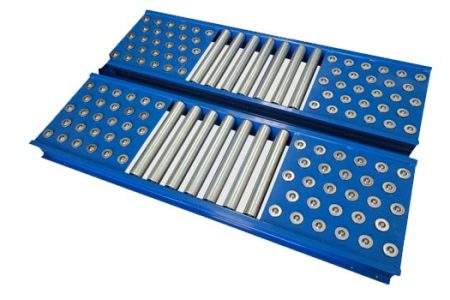 Special use gravity roller systems
As well as bespoke roller conveyors, Spaceguard also manufactures products for managing waste fluids. For example, coolants and oils.
In this area Spaceguard has many years of experience. We also deliver solutions which safely and cleanly manage liquids within your production areas.
Previous uses include for example, aircraft wheels, and machined engine parts. Also for paint production, and oil manufacturing. Delivering to you robust special application roller conveyors which especially suit your needs.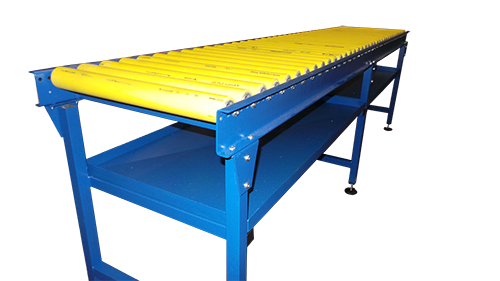 Gravity roller racking provides an ideal solution for assembly cells and also order fulfillment lines. It is up to 80% more productive compared to conventional static racking.
The use of Carton flow racking also allows staff to be more productive by reducing manual handling. As a UK manufacturer Spaceguard is able to build first in first out, or push back racking, to suit your specific products.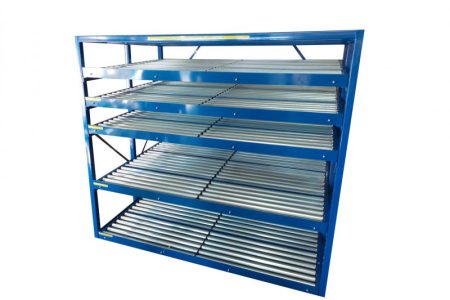 Gravity roller conveyors are ideal for the inclusion into assembly or order fulfilment work stations. Including the use of roller conveyors results in the reduction of manual handling, and subsequently the improvement of personnel working ergonomics.
The workstation can also include packing aids, scales, lighting, and IT equipment, and as a result yields additional productivity improvements.
These units are designed to suit your specific requirements. Ideal in this case to improve productivity and ergonomics whilst also reducing operator manual handling, giving ongoing payback on your investment.

Pedestrian access lift up gates
The conveyor lift up gate. Allows for access through fixed conveyor lines. These are generally for warehouse pathways or emergency access routes.
Spaceguard lift up gates are manufactured using a pivot bush. Giving additional strength to the gate. The weight of the gate section is supported by industrial gas springs. This as a result makes the gate light to operate. When positioning the gate - note should be taken to the product on the conveyor. To ensure it doesn't fall off.
Incidentally it may be possible to use the gate section as a stop. This section of roller track should also only be used in horizontal applications with either gravity or driven roller.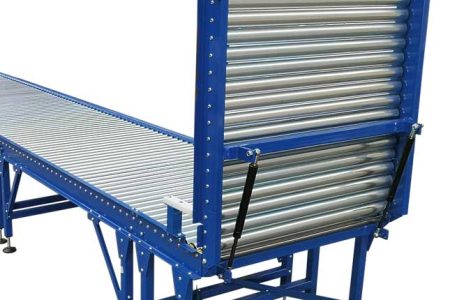 Transfer Cars
The Roller Conveyor Transfer Car runs on floor mounted tracks to travel between the gravity lines. Built to suit application, for example, board handling.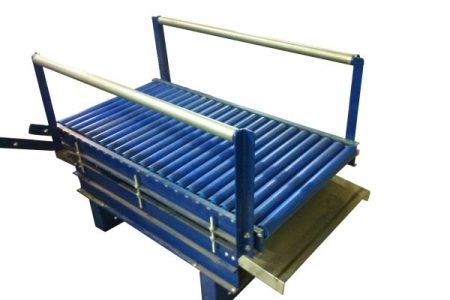 Other Gravity Roller Conveyor System Accessories
Fixed End Stop -
Bar fixed across the end of conveyor to stop product
Roller End Stop -
Used to aid in removing product from the end of the conveyor
Roller Brake -
Used to stop a bank of rollers for production accumulation.
We can manufacture fully bespoke gravity conveyor accessories to suit your specific application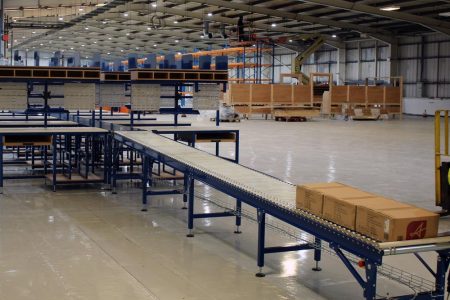 What is a Gravity Conveyor?
A gravity conveyor is an un-powered roller conveyor which uses either manual force or, when used on a decline, the momentum of gravity to move products along the conveyor.
By design the rollers are simple to remove and replace, allowing for fast and cost effective maintenance. As a rule, when the gravity conveyor is used on an incline the product must have sufficient weight to allow the conveyor rollers to turn. If particularly heavy loads are used then the conveyor may require additional braking.
Below you will find more details of the gravity conveyors and accessories we manufacture, please see our full conveyor product range for other types of conveyors.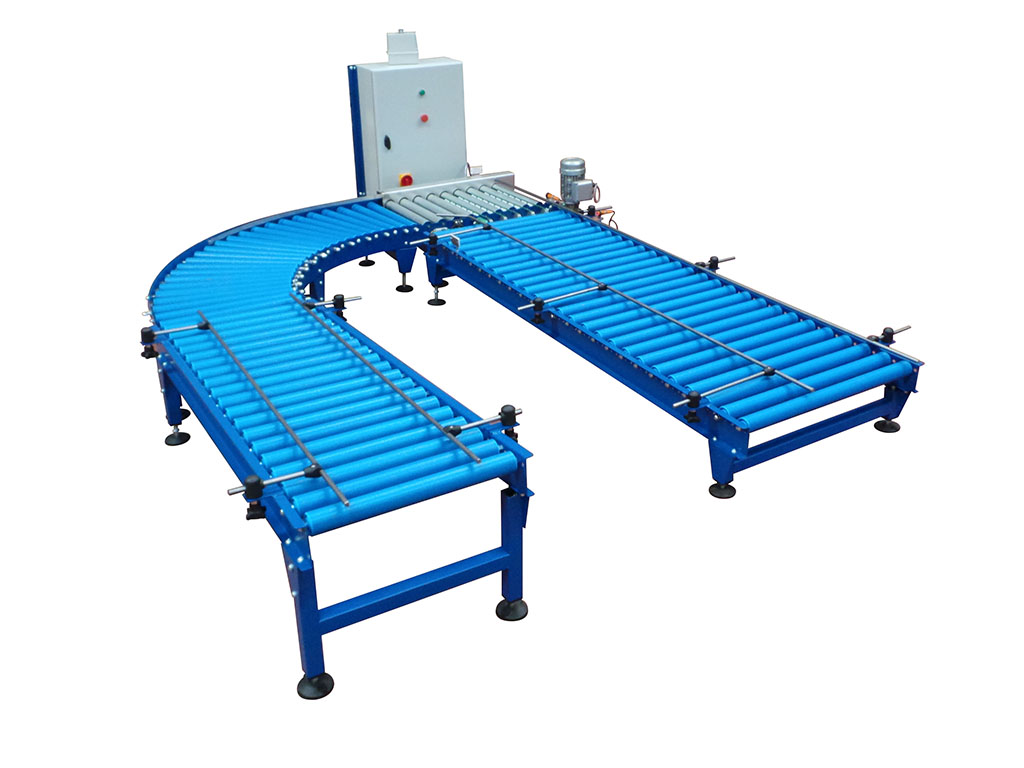 Gravity Conveyors Technical Specification
Please see the expanding tables below for more information about our standard gravity conveyors. We manufacture to order so please contact us if you require a bespoke conveyor, or would like further advice on specifying your conveyor. 
Receive a FREE quotation
Please complete the form below to send a message to our team.
For product and pricing enquiries please include a brief overview of your requirements.
Quick response guaranteed
8-5pm Mon to Thurs, and 9-3pm on Fridays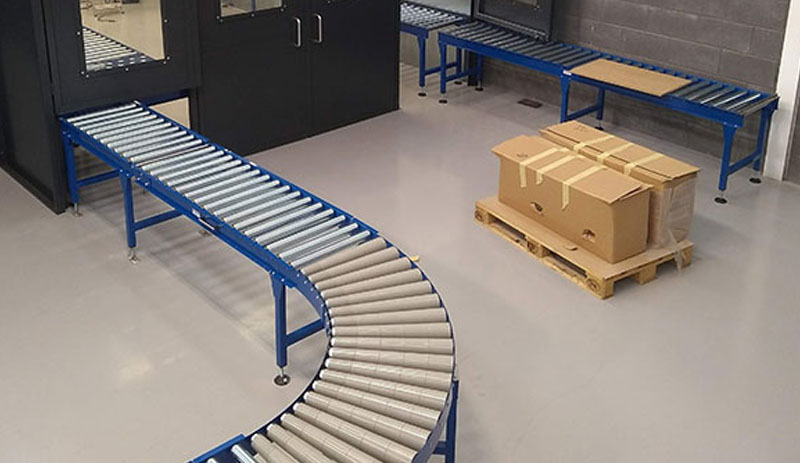 Gravity conveyors can be made to order to suit your space or project requirements.