Stainless steel belt conveyors are ideal for use in the food, medical and pharmaceutical industries
Spaceguard is an ideal partner for the design and manufacture of stainless steel conveyors, food handling and automation equipment.
We produce a wide range of reliable equipment for product transport, in addition to packing & processing workstations.
Stainless steel conveyors are suitable for both direct food (and also washdown) or handling packed products. Spaceguard conveyor equipment is proven within food processing and packing environments combining high levels of reliability, with low maintenance.
We utilise high quality components along with proven design and build methods to produce reliable complete conveyor systems. Our experienced in house design and sales teams have experience across a range of industries. They will be happy to assist you in designing your ideal conveyor system.
Our stainless steel belt conveyors are particularly suited to the food, pharmaceutical and medical industries. We use food industry grade materials for out stainless steel belt conveyors to comply with strict hygiene regulations. All fabrication takes place in house, allowing for our staff to undertake strict quality control procedures.
Please contact our sales team for more information:
Call: 01482 363445
Email: sales@spaceguard.co.uk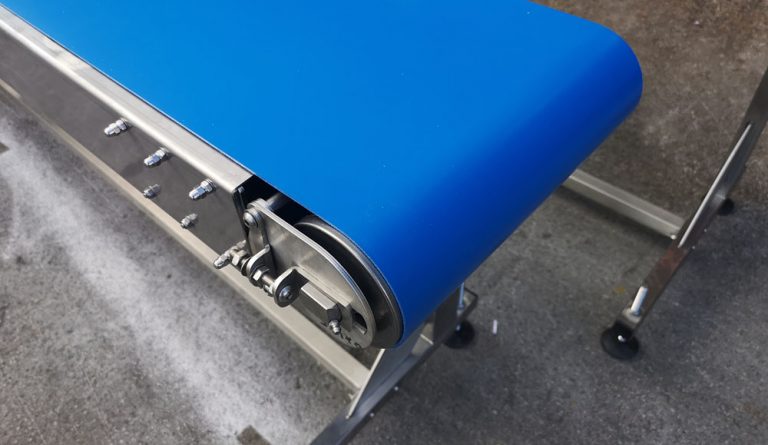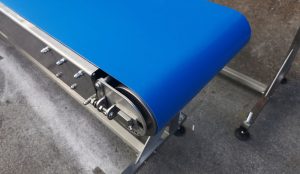 Stainless Steel Belt Conveyors
Buy direct from a UK conveyor manufacturer
Wide range of options and accessories
Fully bespoke manufacture available
Delivery & Installation Service
Stainless Steel Belt Conveyors Overview
We offer a wide range of competitively priced conveyor products to suit all industrial sectors, environments and applications.
Please contact our helpful sales team with your requirements to receive a free quotation.
End Roller Diameter:
From 25mm to 200mm
Roller Materials:
Stainless Steel
Drive Type:
Geared motor or Drum Motor
Drive Position:
Shaft mounted / underslung / end drive
Controls:
Start/Stop, Remote Stop, Variable Speed + PEC, Isolator only.

Please speak to sales for further information.

Belt Speed:
To suit your requirement
Belt Type:
1ply PU or PVC (industrial or food grade)
2ply PVC (industrial or food grade)
2ply RubberOther belt options available please contact sales
Frame Material:
Powder-coated Mild Steel / Stainless Steel
Conveyor Finish:
Stainless Steel (2B)
Conveyor Widths:
80mm to 2000mm
Conveyor Loading:
Please contact sales to discuss your options
Support Detail:
Welded 'H' section with adjustable feet (+/- 50mm height adjustment)
Optional Extras:
Side guides, Castors, Quick-release belt, Swan neck/nose over, Underslung centre drive

For electrical options please contact sales
We can provide a range of options and services
Bespoke construction for your application
Product processing and transport conveyors
End of line Inline and also rotary tables for packing product accumulation
Metal detection conveyors, weighing stations & Roller Inspection Tables
Pack Convergers and Packing Turning
Product drying conveyors
Wash down – clean in process conveyors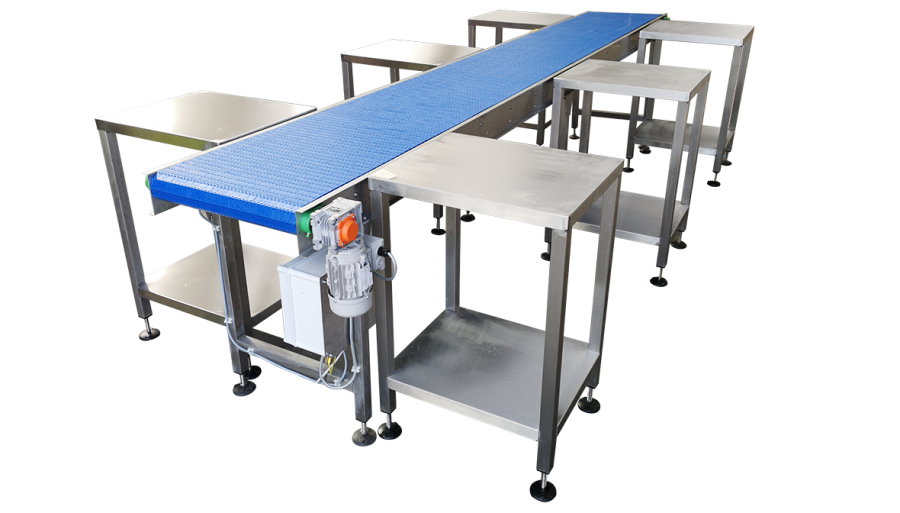 We also manufacture stainless steel modular belt conveyors
Modular belt conveyors are an extremely robust solution for most transport applications.
The belts are hard wearing, and with the correct specified material, they are widely used for the transportation of sharp-edged products, making them ideal for boning lines.
The easy to clean design is also the ideal solution for direct food applications or areas where chemicals are used.
The positive drive on modular belt conveyors increases reliability, whilst the materials and belt designs are ideal for wash down environment and allow for positive movement of products across the belt.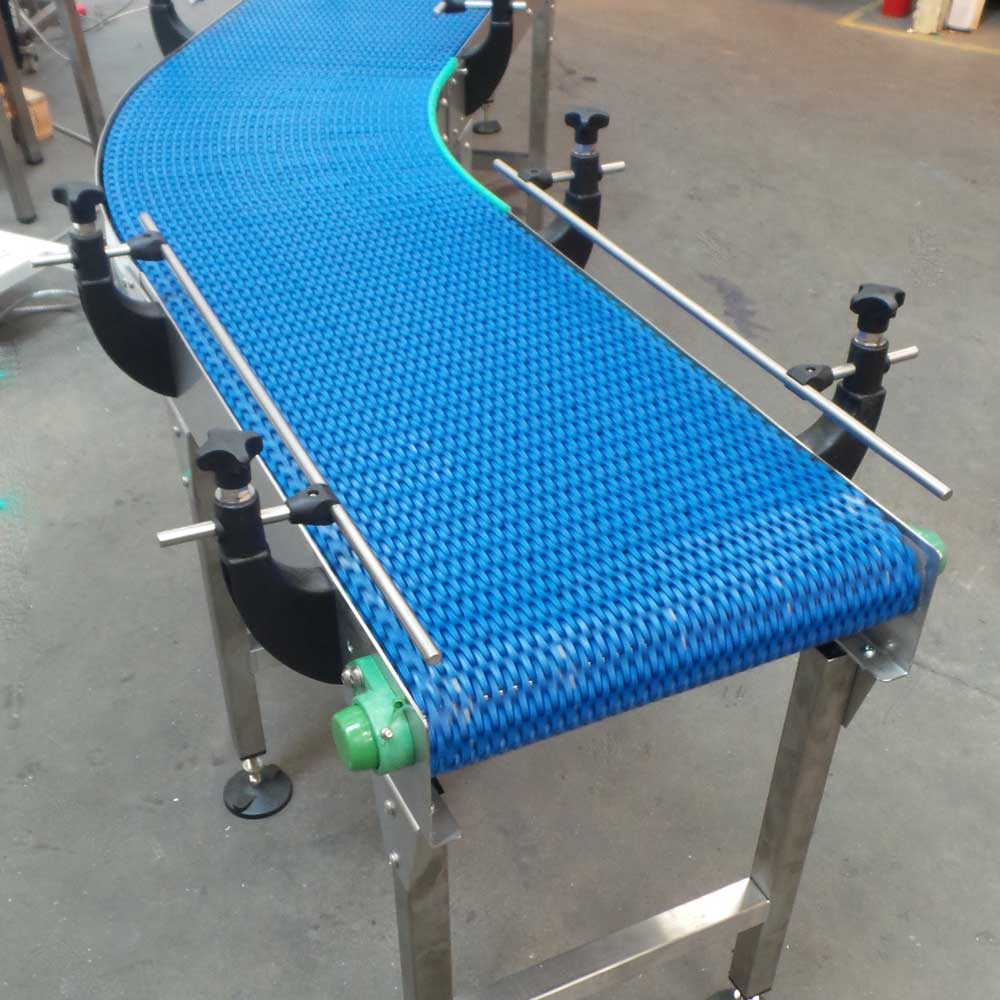 Working with Spaceguard to provide conveyors to suit your needs
We use our trusted carriers for product delivery, as well as offer advice on safe methods for unloading and installing your products.
If however, you require a conveyor installation, please ask our staff when making an enquiry. We have a reliable and efficient installation team who can travel to your site to install Spaceguard products. This ensures our conveyors are thoroughly tested for durability and ensures you will receive a reliable low maintenance conveyor.
Where appropriate we also offer site visits to assist the decision making process, this ensures we produce the most efficient bespoke conveyor solution.
Overall we offer all our automation solutions at competitive prices. Spaceguard builds excellent value stainless steel belt conveyors to suit customer requirements.
We offer free quotations, in addition to friendly, helpful, and non technical advice if required. Please contact us to discuss your requirements.
Get a FREE Belt Conveyor Quote today
We are a leading UK manufacturer of stainless steel conveyors
Email sales@spaceguard.co.uk with your enquiries
Receive a FREE quotation
Please complete the form below to send a message to our team.
For product and pricing enquiries please include a brief overview of your requirements.
Quick response guaranteed
8-5pm Mon to Thurs, and 9-3pm on Fridays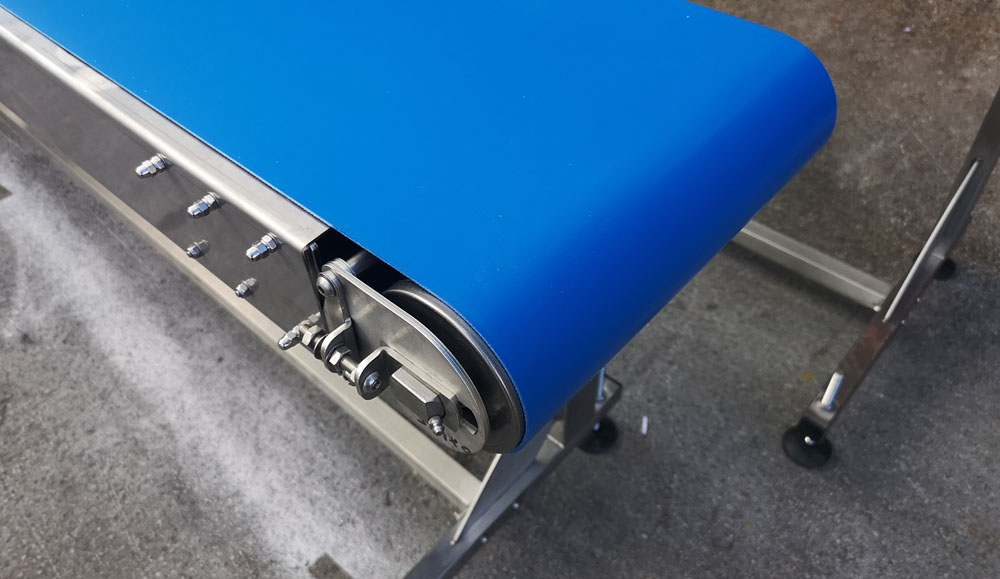 Stainless steel conveyors are manufactured by Spaceguard to suit your requirements.