Bespoke Equipment UK manufactured to suit a range of industries and applications
Spaceguard is a well-established manufacturer of workplace equipment including workbenches, conveyors, trolleys, shelving and more. 
Wherever possible we deliver equipment to your site fully assembled and ready for work. For larger projects or more bespoke configurations, our team is available to provide a full installation service.
Our design team can provide project layouts and plans to suit new spaces, including designs for industrial and warehouse processes such as packing areas, dispatch, goods in, storage and pick walls.
We have over a decade of experience in manufacturing "ready for work" equipment for a wide variety of industries such as automotive, electronic, laboratory, recycling, education, food, pharmaceutical and general industry
Please see the sections below or contact sales if you have any questions about our products & services.
Phone: 01482 363445
Email: sales@spaceguard.co.uk
As standard workbenches are often less than ideal for most applications, we offer a bespoke design service to ensure you get a bench fit for purpose.
You can have workbenches & workstations specifically made to suit your application, space, or process, including custom workshop furniture.
Many of our bespoke workbenches start from a simple sketch, which we develop into 3D drawings for our customers prior to manufacture.
Suitable for your specific environment, industry, process, or application - fully bespoke, made to order based upon your requirements.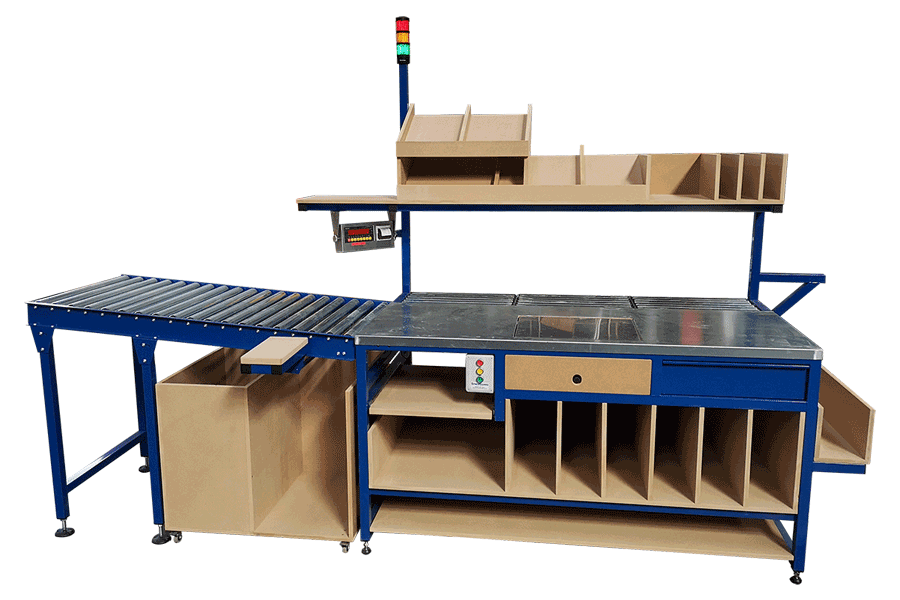 We manufacture mobile & static storage shelving, work benches, drawer units, stands, guarding and more to suit any workshop space.
Working closely with clients, we ensure that the bespoke workshop equipment is going to deliver savings and has scope for growth as required.
We also manufacture to suit specific environments including electronics processing, with many options for anti-static and ESD worksurfaces and equipment.
You can take advantage of our free no obligation design service including CAD layouts, as well as options for on site installation for all our workshop products.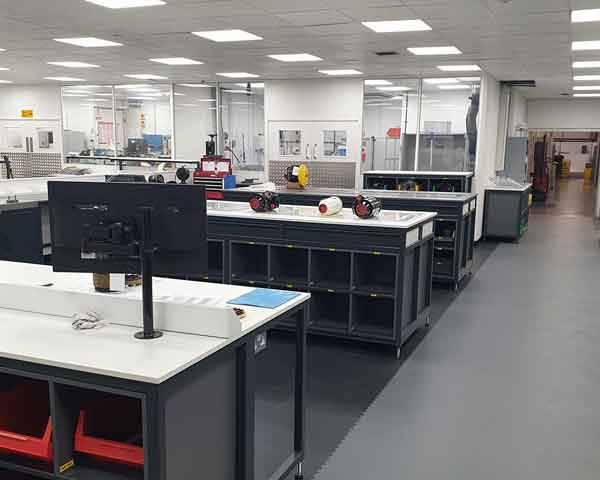 We manufacture bespoke equipment for new buildings such as workbenches and tables,
industrial guarding
and rails, storage shelving and carton flow racking, and
conveyor systems
.
Many of our projects are 'category B' fit-outs, dealing with the manufacture and installation of workstations, workshops, and partitioning of workspaces.
Our design team can produce 3D drawings of complete room plans showing prospective layouts for all equipment we will provide.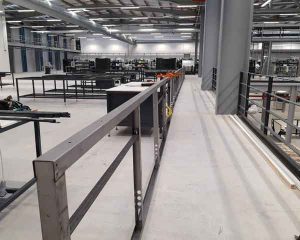 Fully customisable to suit your process flow, our design team will work with you to understand your requirements and what you hope to achieve.
We consider the process to manufacture workstations which include process and production accessories, conveyors, and other automation equipment including options for storage, electrics and IT.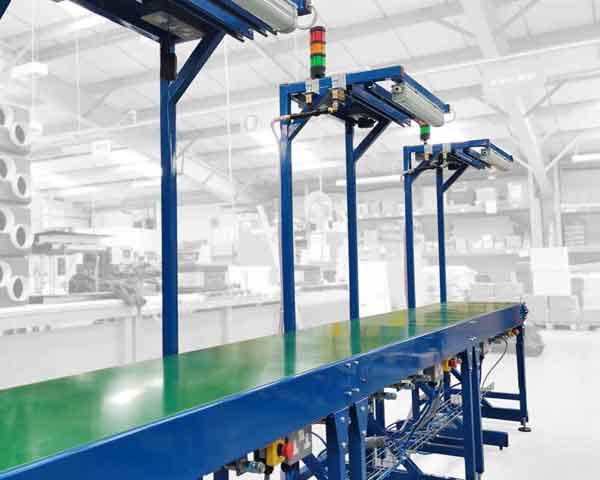 Bespoke Packing Lines
We have helped thousands of businesses improve their product packing and despatch packing processes.
This includes packing line solutions for a range of industries including food & drink, cosmetics, manufacturing, recycling, and warehousing.
From large distribution centre packing lines to smaller businesses, we always work with you to suit your requirements.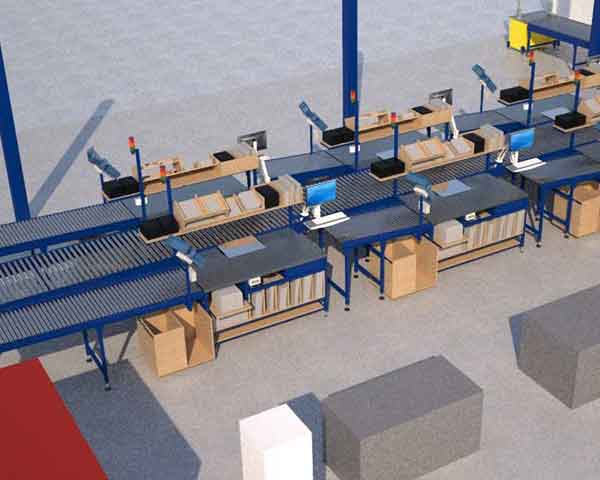 From simple shelves to carton flow storage we manufacture a wide range of bespoke shelving products and pick walls, each designed with you to suit your specific application.
The robust designed shelving units are manufactured from welded steel section, finished with a durable powder coat paint.
Shelving material options available, include. MDF, anti static polyethylene, laminate, MFB, plywood, steel or rollers.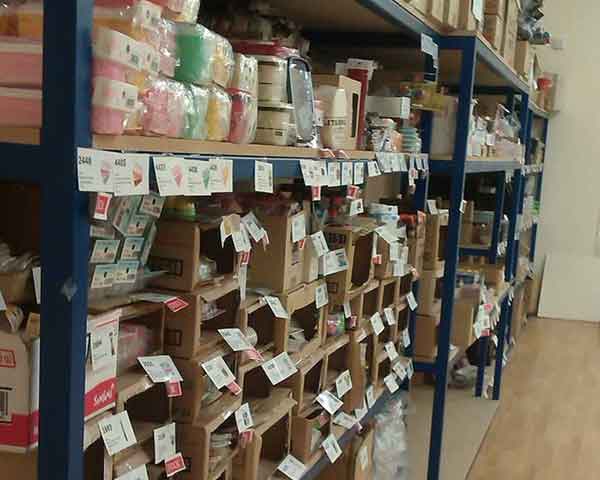 Our team regularly works within the warehouse & logistics industry to provide robust and reliable bespoke equipment, these are delivered on a short lead time and ready for work.
We manufacture a wide range to suit your needs, Including conveyor systems, packing stations, trolleys, shelving, pick walls, and returns processing equipment.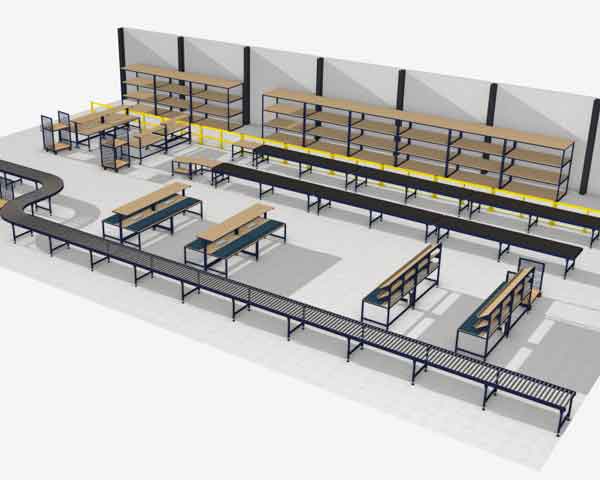 From stand alone belt conveyors to bespoke conveyor systems, all are manufactured in our East Yorkshire factory.
We manufacture a wide range of conveyors and conveyor systems, from bespoke electronic assembly cells to simple end of line conveyors.
Our team have a wealth of experience in integrating conveyors into a wide variety of assembly, packing and process environments, including food pack houses and process lines.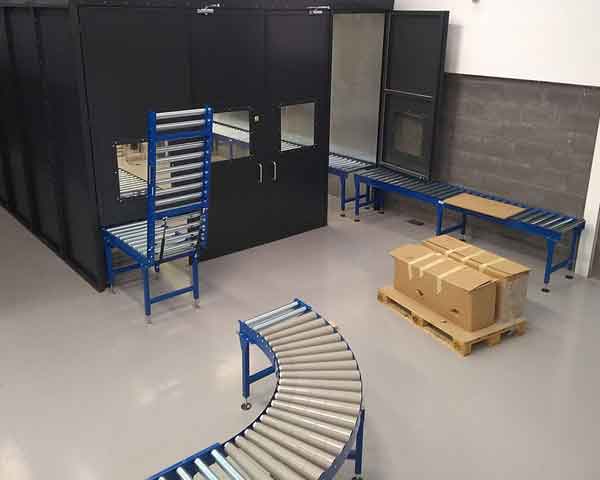 Get a FREE Bespoke Equipment Quote today
We are a leading UK manufacturer of bespoke industrial equipment
Email sales@spaceguard.co.uk with your enquiries
1) We discuss your requirements
Tell us about your project requirements and desired outcomes, we will listen & offer advice as required
2) We design bespoke equipment to your specification
Our expert in-house design team will produce 3D drawings & renders so you can visualise your project clearly
3) Your equipment goes into production
Our skilled manufacturing team build your equipment to the highest quality in our East Yorkshire factory
4) Delivery with optional installation
Your equipment leaves our factory fully assembled ready for work, or to be installed by our on site team.
Receive a FREE quotation
Please complete the form below to send a message to our team.
For product and pricing enquiries please include a brief overview of your requirements.
Quick response guaranteed
8-5pm Mon to Thurs, and 9-3pm on Fridays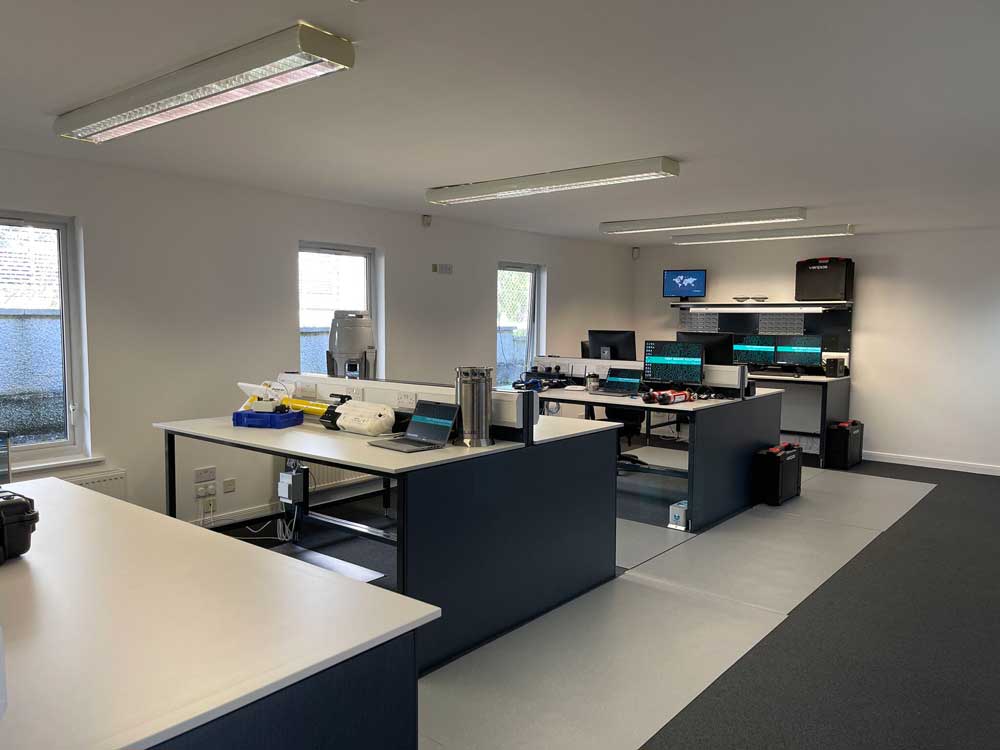 Just wanted to say, thanks for the benches.  We couldn't be happier. The amount of feedback we get regarding the look and quality of them is exceptional. Working with yourself to get the benches how we wanted has been great, and your attention to details is very impressive even down to supplying spare paint and the correct screwdriver bit for the worktops!
- First Marine Solutions