ESD Benches & Anti-Static Workstations UK manufactured to suit your requirements
Spaceguard designs ergonomic ESD & Anti Static workbenches to suit your process.
ESD benches are available with both four-leg and cantilever frames in a wide range of sizes, to suit any workspace. We manufacture fully bespoke electronics work benches and also production systems.
These electrical workstations are ideal for all kinds of electronics processing including assembly, quality control, repair and testing.
During the manufacturing process of circuit boards, the components used are often negatively affected should an electro-static discharge occur. Even if a relatively inexpensive component fails, these may be part of a much more expensive board. This incurs a higher repair/replacement cost. Electro-static discharges can be eliminated with the Spaceguard ESD workbenches, ESD bench matting and kits,  and associated equipment.
Anti-static Workstations & ESD Workbenches once grounded can be incorporated into an EPA (Electrostatic protected area).
Our comprehensive electrical bench designs can also be adjusted to fit automation equipment between or within the workstations.
Due to the complex nature of ESD benches please contact our technical sales team to discuss your requirements and to also receive a free quotation.
Phone: 01482 363445
Email: sales@spaceguard.co.uk
ESD Workbenches
Powder-coated frame fitted with additional earthing points.
Option for ESD laminate worksurface
Workbench supplied with cable and UK plug for earthing with resistor and cable for standard wall sockets
Static dissipative rubber earthed mats are available
Pre-wired workbench sockets for equipment and IT
Localised lighting and extraction as required
In accordance with EN61340-5-1
ESD Workbenches Overview
We are the UK's leading manufacturer of Anti-Static & ESD Workbenches and Workstations, manufacturing both for re-sellers and direct to customers
ESD workbenches are ideal for all types of electronics testing, building, and repair applications and are available with a wide range of accessories including equipment for Assembly and Testing Lines. Choose from a wide range of options and accessories including various types of frames, ESD worktops, bonding and grounding points, lighting, sockets, tool panels, drawers, and cupboards.
Our team work closely with customers to ensure all equipment provided is built to meet your exact specification. Each workbench is made fully bespoke to order and will arrive assembled and wired with a robust solid welded frame, all you need to do is set your bench in place, ensure it's levelled using the built-in levelling feet, and your bench is ready for work. Take a look at our recent projects below to find out how we help our customers get the ESD & Anti-Static workstations that they need.
Please contact our helpful sales team with your requirements to receive a free quotation.
ESD Workbench Key Features
Manufactured in our UK factory to your specifications
Choice of worktops including ESD Laminate
Robust welded box section frame
Durable powder-coated finish
Fixed bench earthing points
Options for tool panels, lighting, sockets
Comes fully wired & electrically tested
Compliant to IEC61340-5-1
Supplied fully assembled & ready for work
See electrical workbench options page for more details

ESD Worktop Specifications
ESD Rubber and ESD Laminate are available
Abrasion resistance: to class H to EN438
Heat resistance: resists molten solder.
Oilpoint test: 20 minutes at 180

 

°C

Resistant to: organic solvents, weak acids, alkali, petrol and oil
Resistance:106–108Ω
Grounded to mains earth point
Helpful terms to know
Electro static discharge -
 Occurs between two electrically charged objects with different electrical charges. This is caused by actual or close contact or a dielectric breakdown.
Anti-static -  When the build up of static is prevented by ensuring an item is not insulted so can conduct electricity.
Dissipative - The electrical charges are allowed to slowly and in a controlled manner find their way to earth.
Conductive - Electrical charges pass easily over or through materials.
Insulative - Are materials which prevent or limit the flow of electrical charges. So are difficult to earth.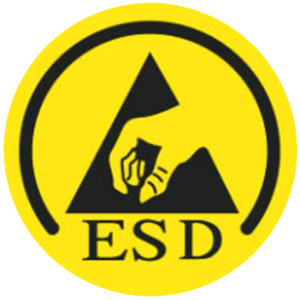 Get a FREE ESD Workbench Quote today
We are a leading UK manufacturer of bespoke ESD workbenches
Email sales@spaceguard.co.uk with your enquiries
Frequently Asked Questions
Are you looking for an ESD Workbench?
Tell us about your requirements to receive a FREE quotation
Please complete the form below to send a message to our team.
For product and pricing enquiries please include a brief overview of your requirements.
Quick response guaranteed
8-5pm Mon to Thurs, and 9-3pm on Fridays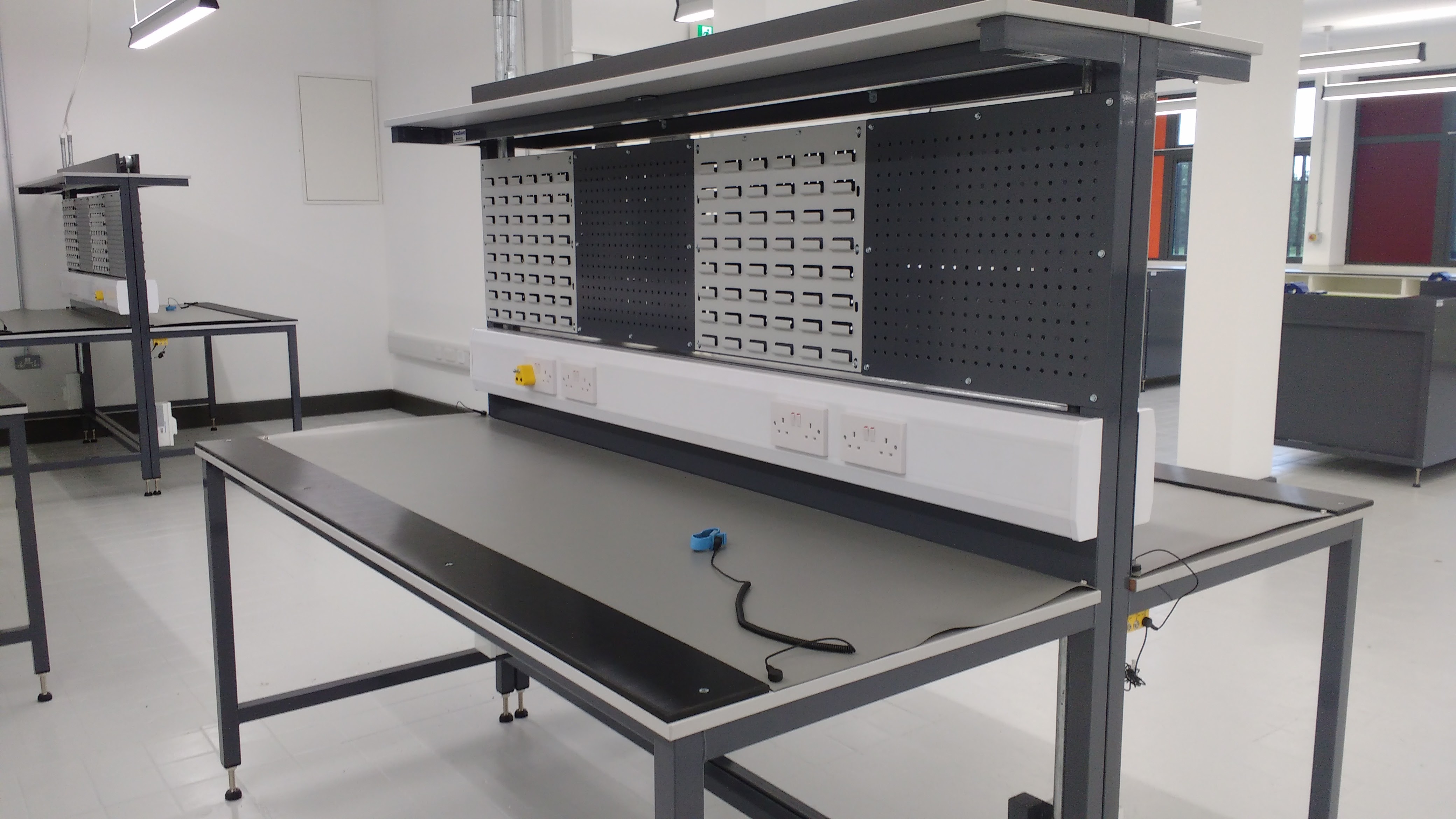 ESD workbenches are made to suit your requirements in size, materials, colour and more.