Fully welded ESD workbench with storage
Spaceguard are a UK based ESD workbench and workplace equipment manufacturer. In this post we look at another of our recently completed projects focusing on workbenches with multiple storage options.
In many work environments the workspace can become cluttered and untidy. A workbench with sufficient storage designed to suit the user and the application can be a quick and easy way to clean up the workspace and improve productivity through better organisation.
Workbench Features:
Dimensions 1800mm x 900mm x 850mm.
Trunking with 6 x double sockets
2 x lovure panels
1 x pegboard
300mm deep upper shelf
LED light with UK Plug
ESD Kit
Under bench cupboard
Under bench drawers
Find out more about full our ESD work benches
Product Photo Gallery
Product Description
This practical and modern designed workbench is built with a number of storage options to suit a number of industrial, commercial and domestic environments.
The bench top is made from melamine which is durable and easy to clean. The bench frame is constructed from fully welded mild steel with a durable powder coat paint finish. Above the bench there is an LED light strip which is powdered by a standard UK plug. The addition of a light makes working with smaller components easy, as well as creating a more attractive and comfortable workspace.
Along the back frame of the work bench there are louvre panels for hanging lin bins for tools and supplies, as well as a peg board for hanging tools or components as required.
For this bench we provided 6 double sockets mounted within white trunking, these are also powered by the standard UK plug attachment.
Underneath the bench are a lockable cupboard for storing valuable tools or equipment, and two drawers fitted with robust runners for tool or accessory storage.
Please note: This workbench has been designed and manufactured to meet a specific customers requirements.
If you would like to place an order for a bench like this please contact our sales team by email or using our contact form and provide us with an overview of your requirements.
We do not hold stock of any item, we manufacture all products to order.
More Workbenches with Storage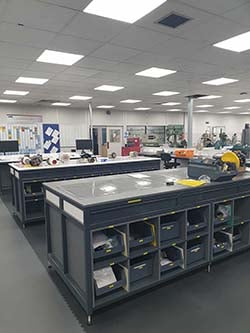 An example of a large workbench with under bench pigeon hole style shelves for storing multiple products, packaging, tools, or bins.
To find out more about our custom workbenches please see our bespoke work benches page.
You may also like these articles