Heavy Duty Belt Conveyors manufactured in the UK
Heavy-duty belt conveyors are manufactured to the highest quality in the UK.
We use robust components and our proven designs, as a result these are very reliable and low maintenance heavy-duty conveyors.
We recommended this range for applications where our standard / medium duty range of conveyor belts would be unsuitable.
Spaceguard manufacture industrial belt conveyors for a wide range of industries including food production, packing, pharmaceutical, warehousing and distribution. We are able to design and build industrial equipment to suit specific requirements.
In addition to conveyors and conveyor systems, we design and manufacture bespoke workbenches, packing stations, heavy-duty workbenches and storage shelving. We can provide complete solutions for all industrial applications.
Please contact Spaceguard to discuss your requirements
Phone: 01482 363445
Email: sales@spaceguard.co.uk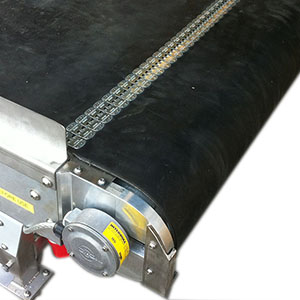 Heavy Duty Belt Conveyors
Buy direct from UK Conveyor Manufacturer
Wide range of conveyor options and accessories
Conveyors delivered fully assembled or installed by our site team
Heavy Duty Belt Conveyor Overview
Please contact our helpful sales team with your requirements to receive a free quotation.
Length:
500mm to 10,000mm
Belt Width:
400mm to 1800mm
End Roller Diameters:
Model B165 - 165mm
Model B200 - 200mm
Roller materials:
Mild steel
Belt Type:
3ply PVC Green
3ply rubber
Anti-Cut Belt
Oil Resistant Belt
Drive Type:
Shafted mounted geared motor
Drive position:
End drive
Conveyor loading:
Dependent on application
Speeds:
To suit requirements
Conveyor Construction:
Steel
Frame material:
Mild steel or Stainless steel (2b)
Conveyor Finish:
Epoxy powder coated (RAL5010 as standard) or Stainless Steel
Supports:
Welded 'H' section
Support Base:
Adjustable feet (+/- 50mm) or Castors
Control Options:
Start/Stop, Variable Speed, Remote Stop
Standard Input Voltage:
3ph 400v
Optional Extras:
Variable Speed (IP54)
Variable Speed (IP65)
Start/Stop Controls
Fixed or Adjustable Side guides
Castors
PEC Sensor
Forward / Reverse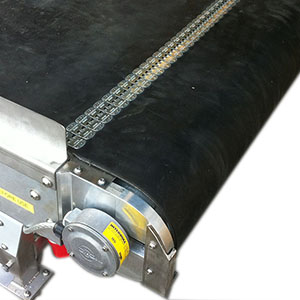 Get a FREE Heavy Duty Conveyor Quote today
We are a leading UK manufacturer of bespoke conveyors
Email sales@spaceguard.co.uk with your enquiries
Receive a FREE quotation
Please complete the form below to send a message to our team.
For product and pricing enquiries please include a brief overview of your requirements.
Quick response guaranteed
8-5pm Mon to Thurs, and 9-3pm on Fridays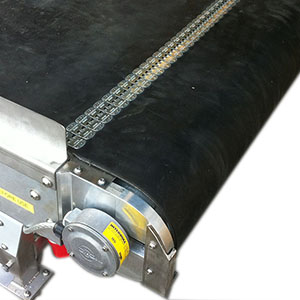 Heavy duty belt conveyors UK manufactured by Spaceguard to suit your requirements