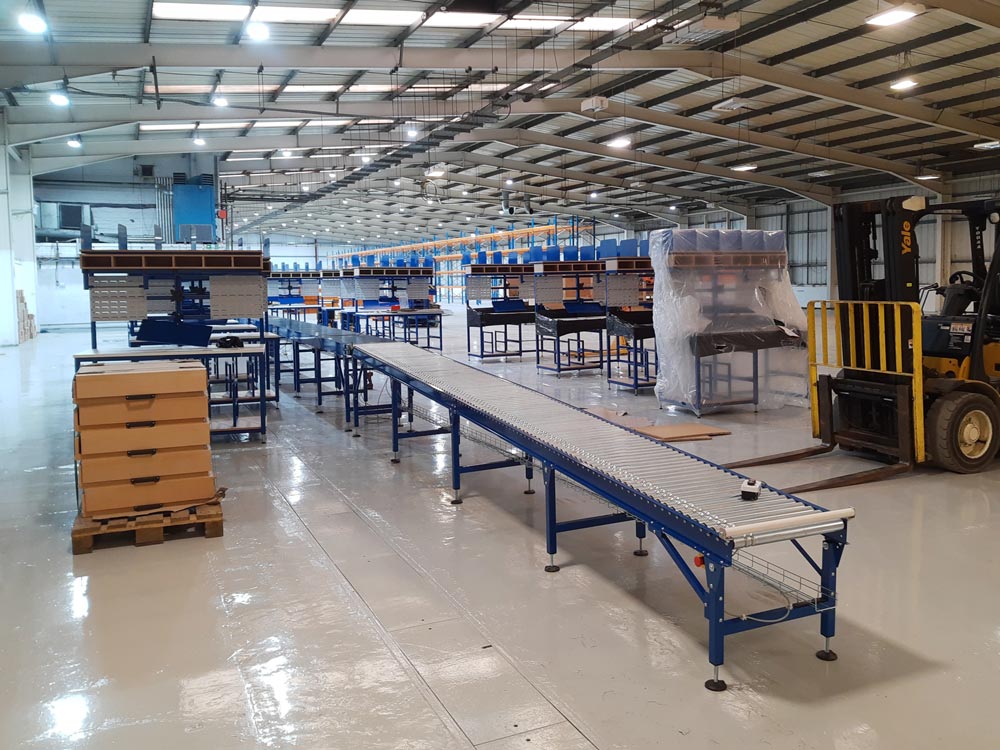 Spaceguard manufactures packing benches with conveyors to transport packaged products away from the packing area
Spaceguard manufactured and installed the conveyor and packing benches in 2021 for a UK based battery supplier.
The customer required 20 bespoke packing benches complete with a number of packing accessories and storage solutions. This would allow them to improve their packing speed and keep the packing area clean, tidy and well organised.
The belt conveyor was designed to run alongside the packing benches so the packaged goods could be slid directly off the packing bench surface and onto the conveyor belt.
The conveyor then carries the packages to a gravity roller conveyor where they can accumulate ready for collection.
The gravity roller conveyor was fitted with grooved rollers so that it could be converted to a powered variety (such as a lineshaft conveyor) at a later date if required.
If you have any enquiries about this project or any of our products, please contact our helpful sales team.
Phone: 01482 363445
Email: sales@spaceguard.co.uk
Project Gallery
Below are just some of the photos of Spaceguard products as they were being installed by our on-site installation team.
Are you looking to enhance your packing process?
Receive a FREE quotation
Please complete the form below and let us know what you want to achieve.
For product and pricing enquiries please include a brief overview of your requirements.