Bespoke Workbenches and Workstations UK Manufactured by Spaceguard
Spaceguard is a leading supplier of both standard and custom designed made to order workbenches. Our customers look to us for producing robust and reliable work benches for both home and industrial use.
As we design and manufacture bespoke to suit your requirements we can provide workbenches with either a wooden or steel framed construction.
We can also provide a wide range of worktops, in addition to storage and accessories to suit your workspace or activities.
All of our products are produced to high standards in our UK based factory, as such we deliver all workbenches from our factory directly to our customers using our trusted delivery partners.
Please use the contact form at the bottom of this page to make an enquiry, or alternatively contact us directly.
Phone: 01482 363445
Email: sales@spaceguard.co.uk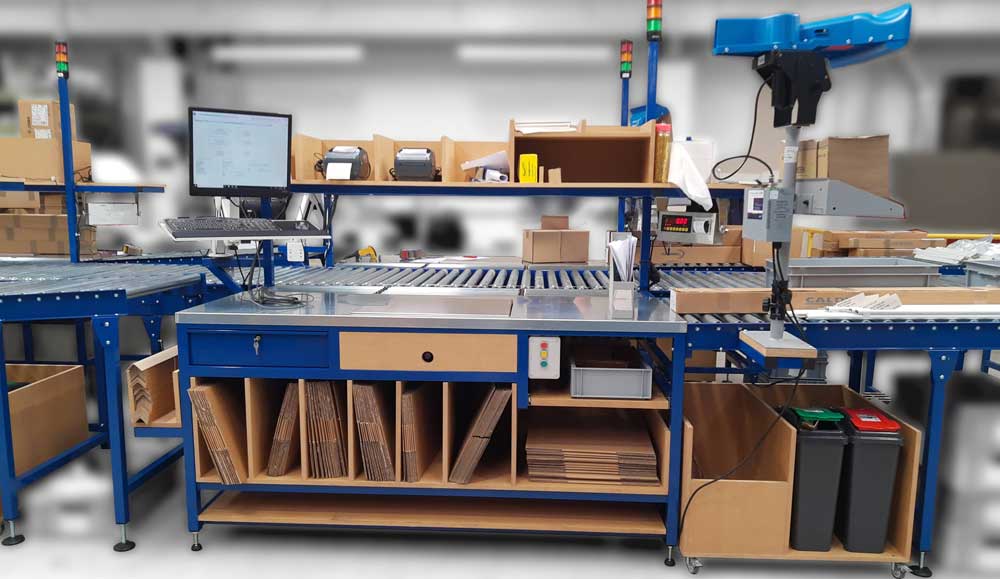 We offer fast quotes on bespoke workbenches at great prices.
Phone: 01482 363445
Email: sales@spaceguard.co.uk
Custom Workbench Options
Below is a brief overview of the different features and materials available for your custom made work bench.
| | |
| --- | --- |
| Frame Materials: | Steel, Stainless Steel, Wood |
| Frame Colours: | Click here to see colour chart |
| Worktop Materials: | Mild Steel, Stainless Steel, MDF, Blocked Beech, Melamine Coated Board, Hardwood, Plywood, Solid Laminate, Food Grade Polyethylene, Anti Static PVC / Nylon |
| Storage: | Drawers, Cupboards, Trolleys & Bins, Shelves, Pegboards, Louvre Panels |
| Packing Accessories: | Weighing Scales, Packaging Roll Holders, Packaging Cutters, Bins |
| Electrical: | ESD equipment, Mounted sockets, Lighting, PC & Monitor Brackets, Andon Signal Lights |
| Conveyor integration: | Please see our conveyor or conveyor workstation pages. |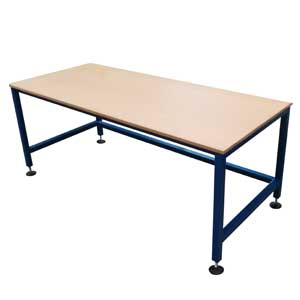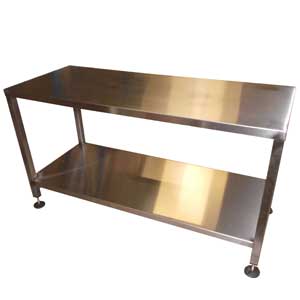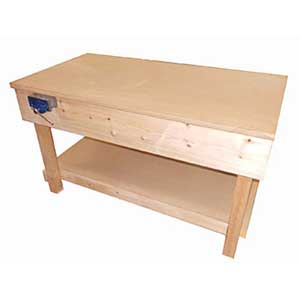 Please note that some colours may incur an extra charge, this can be discussed with our sales team.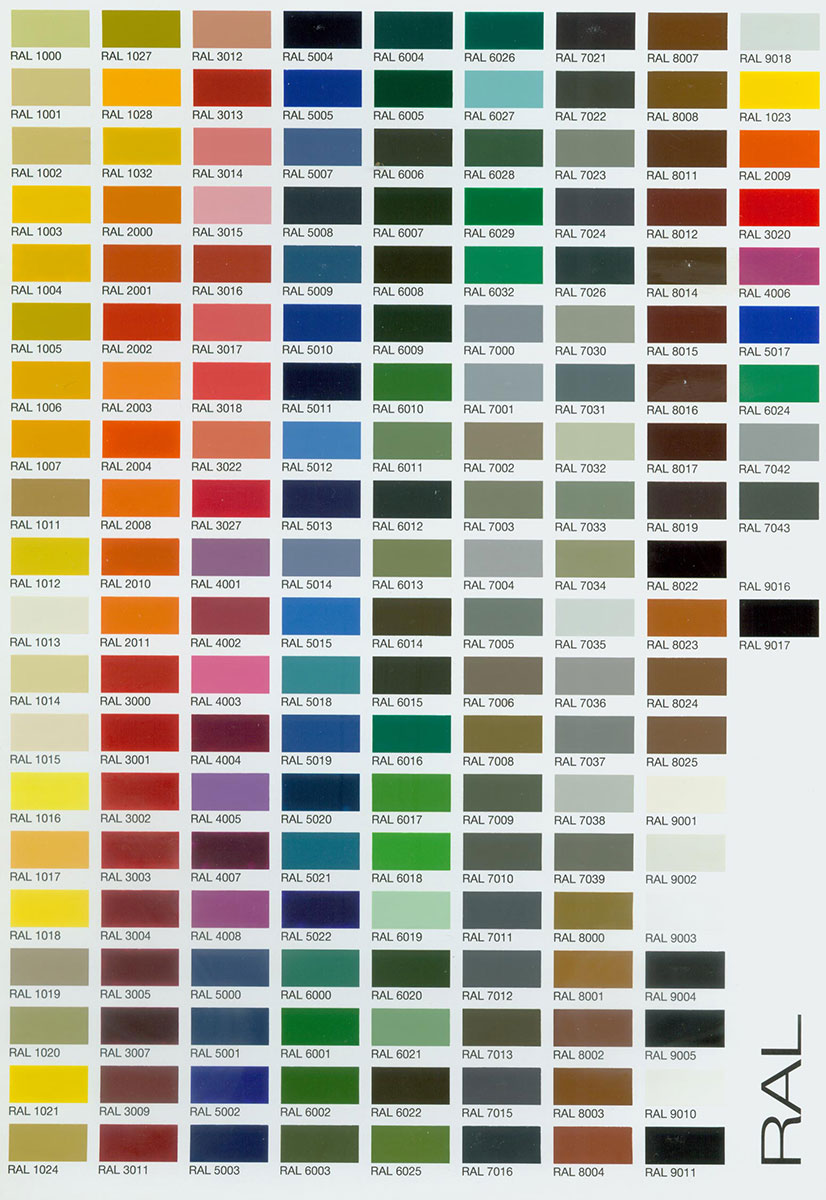 Workbenches are manufactured to suit your desired specification or work environment.
To find out more about the different types of worktop materials please click here.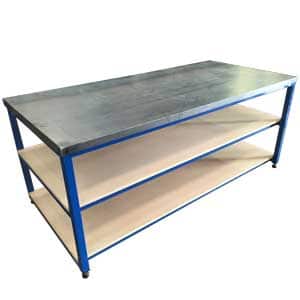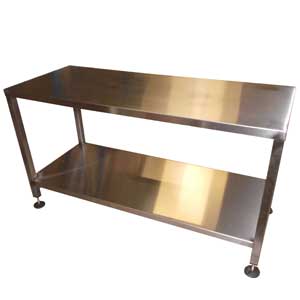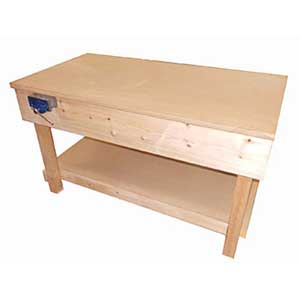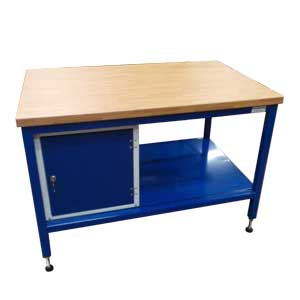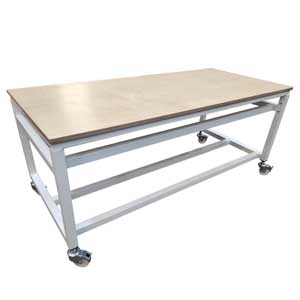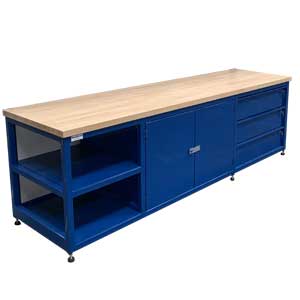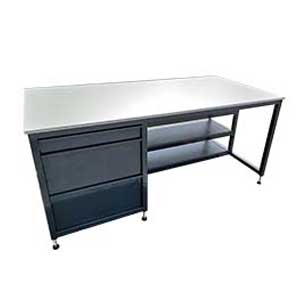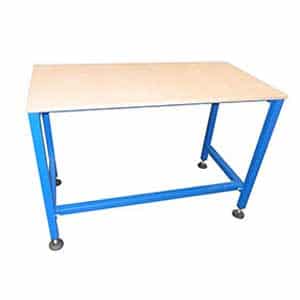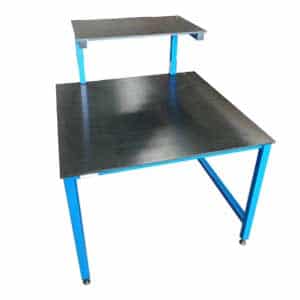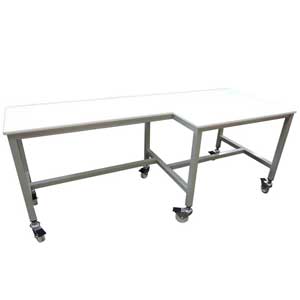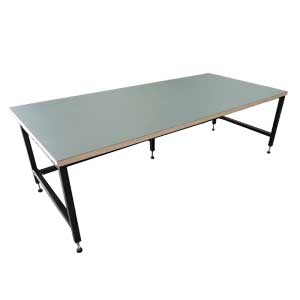 | | | |
| --- | --- | --- |
| | | |
| Cupboards | Louvre Panels | Drawers |
| | | |
| Peg Board | Rails | |
| | | |
| --- | --- | --- |
| | | |
| Woodwork Vice | Engineers Vice | Inset Vice |
| | | |
| --- | --- | --- |
| | | |
| Packaging Cutter | Weigh Scales | Roll Holder |
| | | |
| --- | --- | --- |
| | | |
| Fluorescent Lighting | LED Lightng | Magnifying |
| | | |
| Trunking | Socket Island | Island Fittings |
For further details on electrical options and accessories please contact our sales team. If required we can also consult with our electrical engineers to ensure product safety and compatibility.
We can design & manufacture your workbench based off a sketch

Starting from a quick customer sketch of concept requirements, we then used 3D modelling prior to production to ensure the concept is suitable. We then manufactured the bench to match the customers specification.
We always work with our customers to ensure our custom built workbenches fulfil the expected customer requirements.
Further Product Details
Spaceguard can manufacture fully bespoke and custom built workbenches to suit customer requirements. The benefits of having a purpose built work bench include customisable storage, tidy and safe electrical or computer integration, application suitable materials such as anti-static worktops, and also the addition of a conveyor or ball table.
Our bespoke workbenches allow you to fully optimise your workspace to suit your process, leading to improvements in quality in addition to consistency.
We can support your custom work bench project from concept, to production, installation and beyond. Our knowledgeable sales team have in depth experience of a wide range of industries and therefore are available to give advice on materials, sizes, and industry best practices.
Not only are we able to provide single bespoke benches, we can also design and install complete workbench and workstation systems complete with any required accessories.
Please contact our design and sales team today to discuss your requirements in detail. 
Phone: 01482 363445
Email: sales@spaceguard.co.uk
Frequently Asked Questions
How to place an order
Please use the contact form at the bottom of this page, or alternatively contact our sales team directly to discuss your options.
Phone: 01482 363445
Email: sales@spaceguard.co.uk
Delivery Process
We generally use our trusted delivery partners to collect your workbench from our factory and have it delivered to you, however customers can also collect from our factory if this is preferable.
When you place an order we will let you know the estimated delivery date in the order confirmation. You will then also receive an update via phone or email with the allotted delivery date and time once this has been fully confirmed.
Of course if you have any special requirements for delivery please let our team know beforehand.
Given that our workbenches are in many cases extremely heavy and may require the use of a tail lift, forklift or similar for unloading or placement.
Phone: 01482 363445
Email: sales@spaceguard.co.uk
Send Us A Picture
Absolutely, we often produce benches based upon customer sketches.
Similarly If there is an image of a product on our site or elsewhere online that you're interested in you can send us a link to that image. To do this right click the image and select 'Copy Image Address' from the menu that appears. From here you can paste this address into your email draft by pressing ctrl + P on your keyboard, or by right clicking on your email draft and selecting paste.
Please send your images or image links to sales@spaceguard.co.uk or use our contact form below.
Installation Options
Generally our work benches are delivered fully assembled and work ready, therefore they do not often require installation. However if your project is more bespoke or complex and does require installation we do have a team available, please discuss this with our sales team. Phone: 01482 363445 Email: sales@spaceguard.co.uk
Request A Custom Workbench Quote