Bespoke Workbenches and Workstations
Bespoke Workbenches by Spaceguard are designed and manufactured with you from concept to completion.
Spaceguard is an ideal partner for design and manufacture of bespoke workbenches, and workstations to suit your requirements.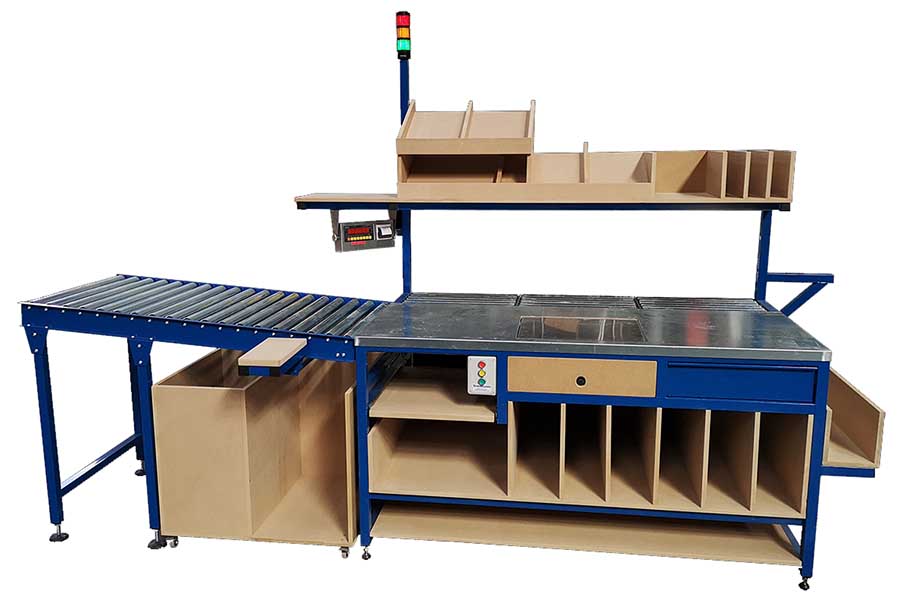 Why use a custom workbench?
A bespoke workbench well designed to suit the specific task and company processes is an ideal way to improve productivity, improve ergonomics and reduce wasted time. Spaceguard bespoke workbenches allow you to optimise your workspace to suit your process, leading to improvements in quality and consistency. As a UK manufacturer Spaceguard works closely with clients to ensure that their bespoke workbench is going to deliver savings and has scope for growth. This is especially important to allow effective handling of workloads during busy periods for example. Where required Spaceguard is able to look at the process, manufacture and supply benches and workstations which include process accessories, including conveyors and other automation equipment. With options for storage, electrics and IT Spaceguard always aim to deliver bespoke packing bench which far out way the functionality of a standard bench, and deliver real benefits.
From concept to implementation, Spaceguard is the ideal partner for your workbench requirements.
Manufacturing lean process work areas for industry by reducing processing costs, whilst also improving quality. Through gains in productivity, environment and ergonomics. Working with you, Spaceguard offer a full Lean process package. Including well engineered workbenches, in addition to Automation, Trolleys, Storage and IT.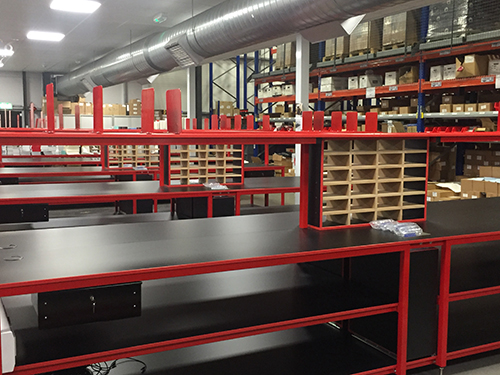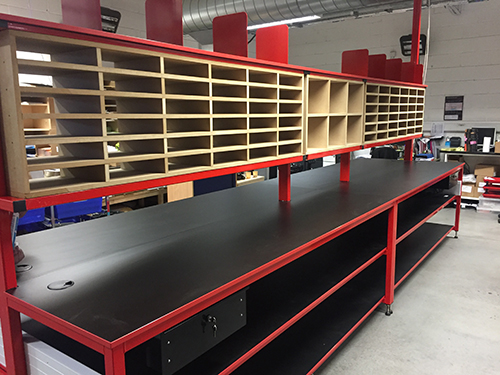 What workbench options can Spaceguard offer?
Spaceguard is a manufacturer of industrial automation equipment, in addition to packing benches and industrial work benches. Consequently we are able to build complete work bench and work station systems. Should you require, our team can answer all your questions regarding the current best industry methods and practices to ensure you have the best products available for your workplace. The workbenches are generally manufactured from welded steel, with a wide range of worktop materials available.
Conveyors - Powered and Gravity Roller Conveyors, Belt Conveyors, and Ball Tables.
Storage - Drawers, Cupboards, Trolleys, Shelving, Pegboards, and Louvre Panels.
Packing Accessories - Weighing Scales, Packaging & Roll Holders, and Cutters.
Electrical - Mounted sockets, Lighting, PC & Monitor Brackets, and Andon Lights.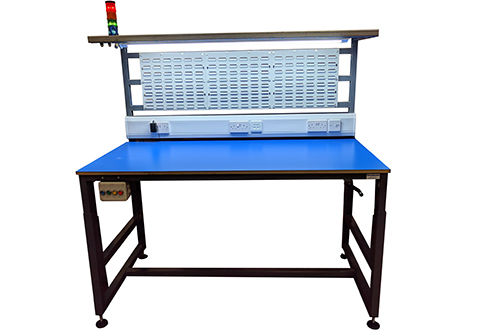 Electronic adjustable height workbench fitted with andon lights and louvre panels.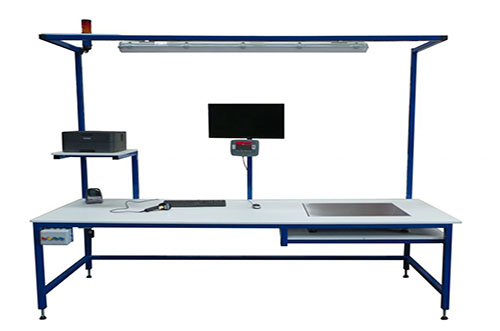 Bespoke Packing Bench fitted with in bench weighing scales, monitor mounts, in addition to Andon lights.
An example of a workbench designed from a customer sketch, through to 3D modelling, and then the final manufactured product

From customer site sketch of concept requirements, 3D modelling prior to production is the ideal method to ensure the concept is suitable, through to the full production table. Spaceguard works with our customers to ensure the bespoke workstation is fulfills the expected customer requirements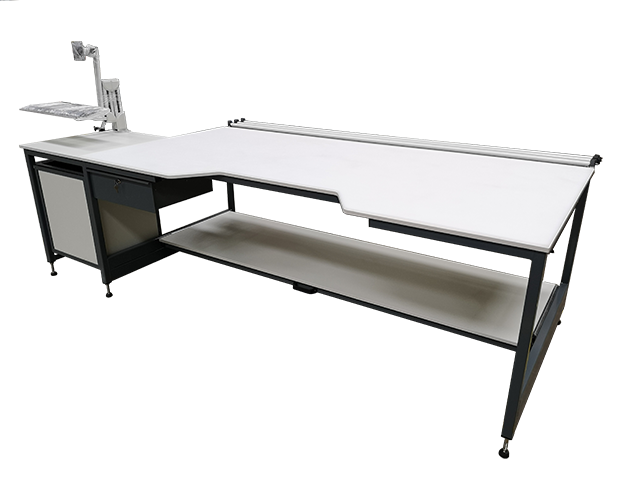 White bespoke packing bench with PC mount, also with under bench drawer and cupboard.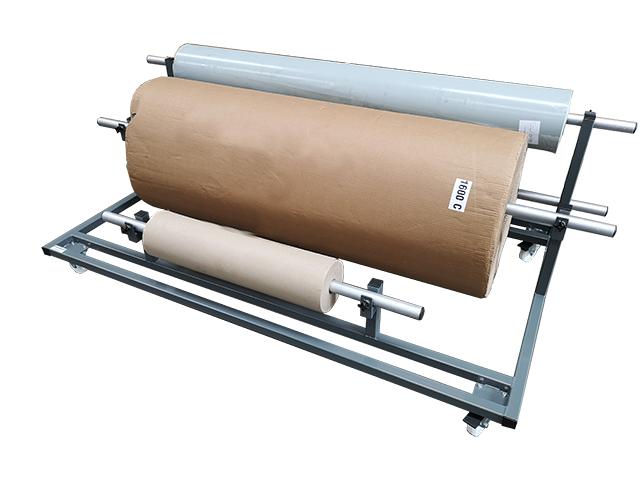 Custom built roll holders for packing materials.
Custom fitted bespoke workshop workbenches
Spaceguard is an ideal partner for your workshop workbench requirements. In addition to excellent customer service,  as part of our services we also offer on site installation and servicing for all our workbench and automation products.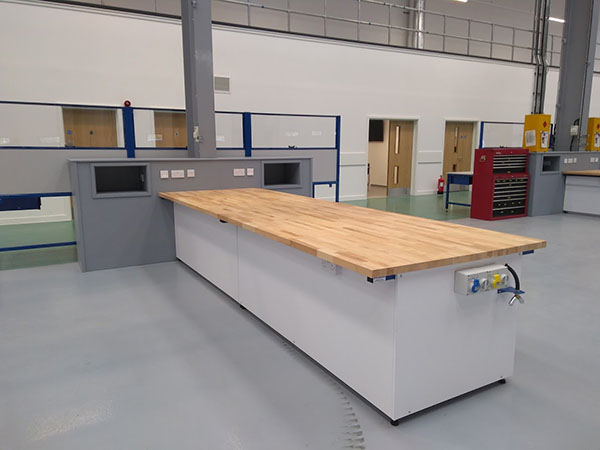 Custom fitted industrial workbench with wooden top, also built in sockets.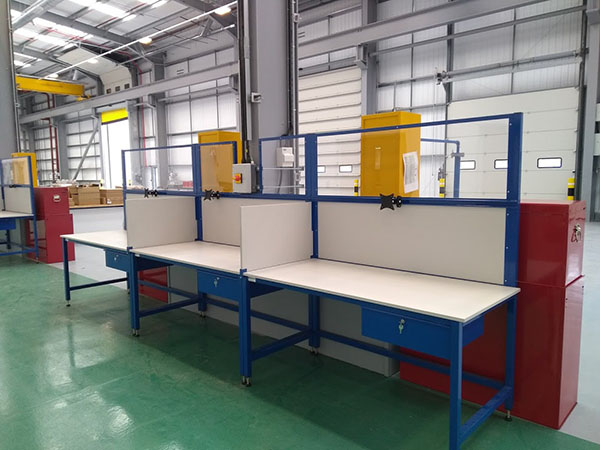 Benches with monitor brackets, partitions and lockable drawers.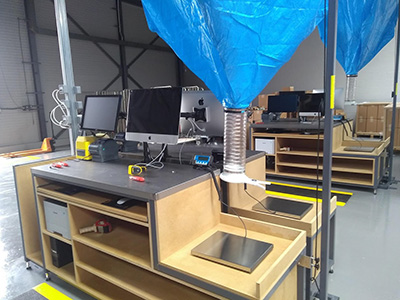 Void fill station coupled with storage shelving and weighing scales.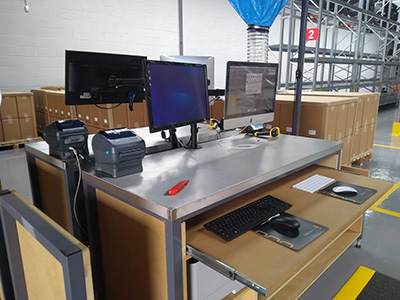 Bespoke Computer Workstation.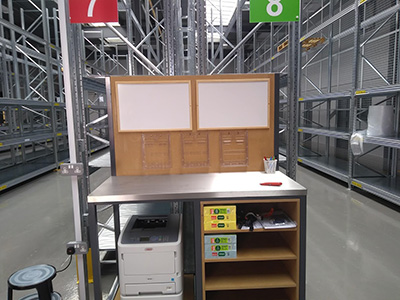 Warehouse printing workbench.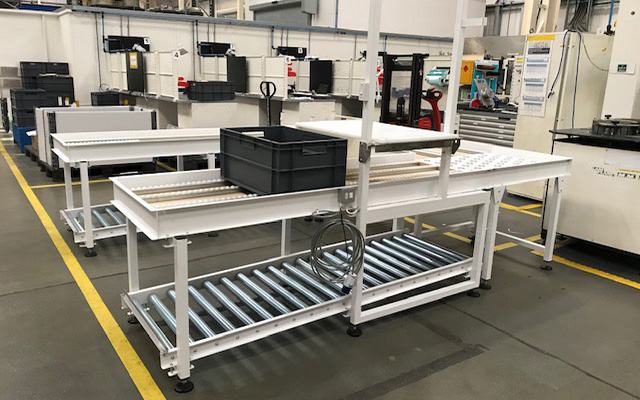 Workbench with integrated ball table including gravity rollers.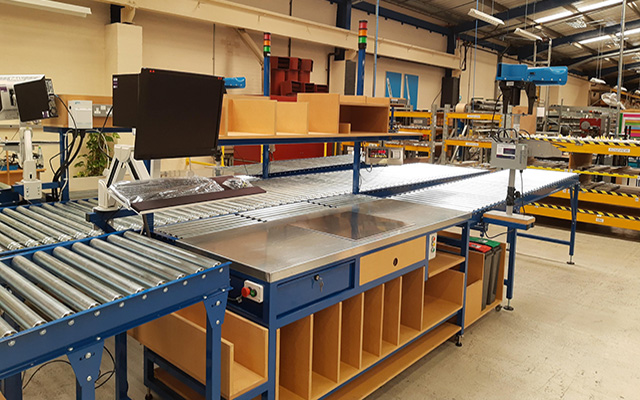 Bespoke workstations with roller conveyor integration in addition to PC mounting with shelving and storage.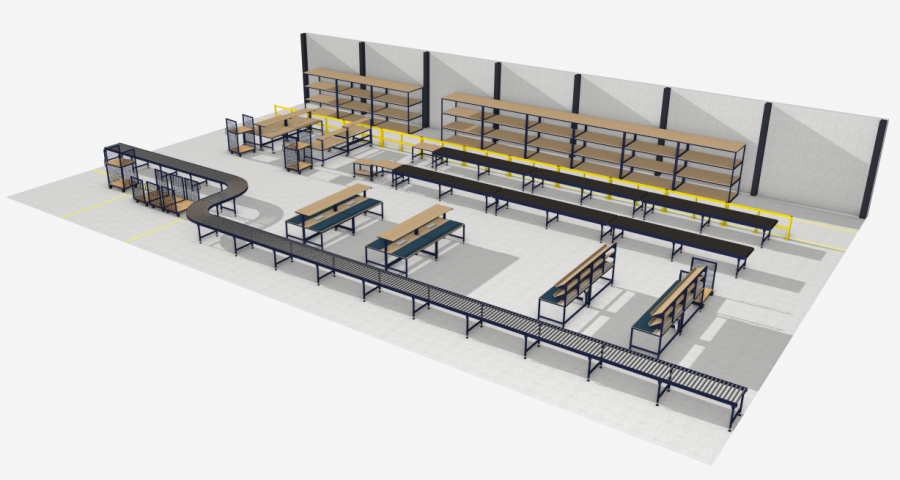 Spaceguard manufactured products which can be integrated or built alongside your workbench: