Cutting tables, manufactured in the UK by Spaceguard to your specifications
The Cutting Tables range manufactured by Spaceguard comes in a large variety, ideal for a wide range of applications.
The Cutting & Pattern Table from Spaceguard is designed to suit many fabric cutting work spaces and sewing rooms. Whether home, small business, or industrial. A cutting table may be required for cutting fabric in a busy design studio for example. Or perhaps a more compact sewing and cutting or pattern layout table is needed for working from home for pattern cutting for dressmaking.  Spaceguard manufactures ergonomically designed tables to suit your all your specific requirements. Including optional storage options for keeping your sewing or fabric cutting supplies safe.
Please contact our helpful sales team to receive advice or free quotations
Phone: 01482 363445
Email: sales@spaceguard.co.uk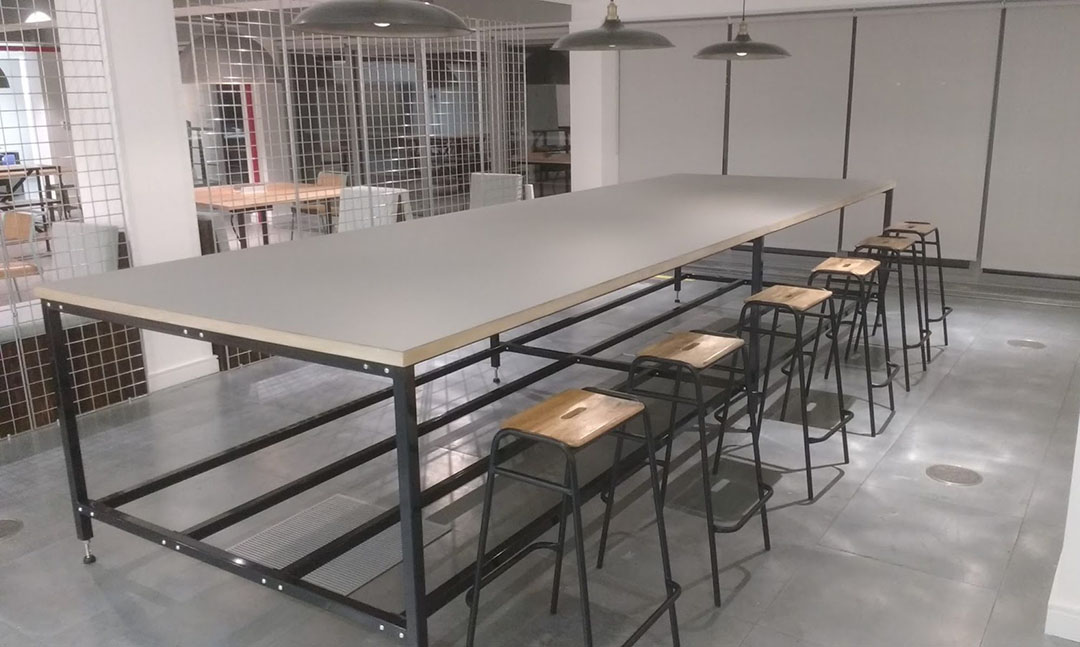 All tables manufactured in our UK based factory.
Spaceguard tables and fabric cutting areas are ordinarily fully welded steel framed, or full wood framed. This is generally dependent on customer requirements.
Made to the highest quality, Spaceguard ensure you receive a work table that is durable and also long lasting. Furthermore, should you also require additional storage, our tables can also have a wide variety of drawers and shelves in addition to take equipment. This includes storage for patterns and materials such as or scissors and knives for cloth cutting. Along with space underneath the table for box storage, incorporated within the design, in addition to an optional fitted tape measure.
Made To Order
All Spaceguard industrial tables are made to measure and made to order. As a result you can be certain to get the perfect large work area tables to suit all your DIY, craft, or industry needs. Please use the contact form below to get in touch with us, or alternatively you can email or phone us to receive a quote. All Spaceguard tables are delivered fully assembled and ready for work.
High Quality UK Manufacture
All Spaceguard products are durable, hard wearing and sturdy. Providing the table is set level there is unlikely to be any wobble if used as a sewing table, as a result you can use industrial sewing machines without worrying about unnecessary movement. Spaceguard also offer manual cutters and cutting machines which can easily be incorporated into the table top.
In addition, if you require any other type of table for a home, educational,  or industrial workspace then Spaceguard also offer a wide range of project tables to suit any environment or application.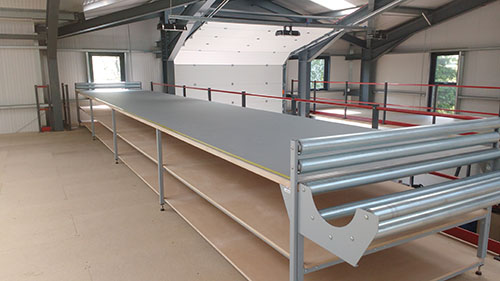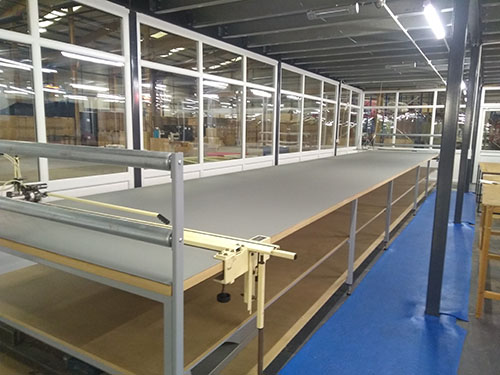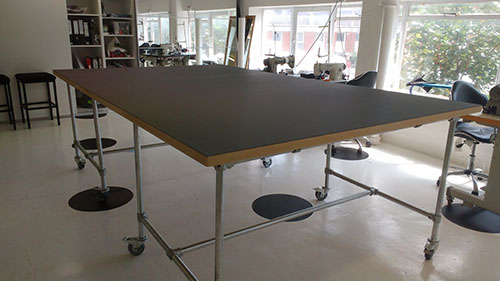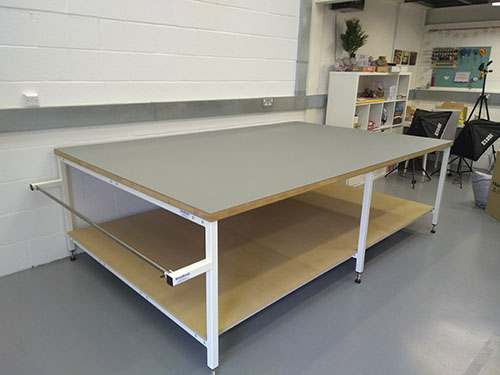 Spaceguard Industrial tables are also especially suitable for other practical work. For example, craft,  printing and also sign making applications. Above all we endeavour to produce the exact table you require.
The tables can be manufactured from either durable powder coated welded steel frame, solid wooden construction, or retro industrial pipe. Spaceguard has been regularly manufacturing large and small tables for over 10 years. As a result, we have a wealth of experience in delivering  cutting tables manufactured to your requirements. As a proven UK manufacturer, Spaceguard is a particularly ideal partner for the manufacture and supply of high quality fashion studio tables. We also offer an on site installation service for larger worktables.
With many cutting table options to choose from including:
Dimensions to suit your workspace and activity
Castors
Storage options
A wide range of tops available
This includes hardwood, PVC, linoleum, stainless steel or simply MDF.
Click here to see all worktop materials
You can also request extra features in addition to your custom cutting table.
Roll holders and cutters: Holds industrial vinyl rolls in various sizes/weights. Cuts smoothly and cleanly. Conveniently integrated as an addition to your workstation.
Integrated Bin Rail, and also Supply Bins: Integrated waste bin into table. Ideal solution for waste and offcuts.
Castors: Locks swivel and wheel for total immobility. Ideal for moving the workbench, around the workshop for example.
Worktop Options
The most popular material for the cutting table worktop is linoleum, often in light colours such as off-white (pearl) or light-grey (ash / pebble).
A brief overview of the linoleum options and available colours can be seen below, or you can see our worktop materials page for a complete list of other materials and colours we offer.
Linoleum
Faced linoleum worktops supplied in 18mm, 25mm or 40mm thicknesses and from 300mm to 1750mm wide.
The worktops fabricated by Spaceguard use either Medium Density fibreboard (MDF) or a plywood core. The exposed edges can be left raw, finished or edged dependent on specific customer requirements. Worktop lengths are fabricated to suit the specific requirements. On larger products this work maybe carried out on site after the assembly of the table base.
Spaceguard offers a wide range of colours, which help create light and modern environments. Linoleum surfaces are easily wiped clean and maintain their looks despite continued wear and tear. Linoleum surfaces are also resistant to diluted acids, oils and most conventional solvents such as alcohol and white spirit. They are not resistant to prolonged exposure to alkalis.
| | | |
| --- | --- | --- |
| mauve | Burgundy | Salsa |
| Orange Blast | Powder | Pearl |
| Midnight Blue | Aquavert | Pistachio |
| Olive | Conifer | Spring Green |
| Smokey Blue | Nero | Charcoal |
| Iron | Ash | Vapour |
| Pewter | Pebble | Mushroom |
Furniture Linoleum is a total natural desktop, workstation or cutting table worktop
Consisting of, linseed oil, resin, wood and limestone colour flour. As a material to use it is environmentally friendly, biodegradable whilst also durable in use.
The combination of the ingredients provide a matt, warm and elastic surface.
Furniture linoleum is available in a wide variety of colour choice dependent on your design requirements.
Furniture Linoleum is a unique surfacing material for furniture designs such as desks, stools, cabinets, doors and displays.
It is renowned for its elegance and durability and being made of natural ingredients, a sustainable surface choice.
The unique aesthetic and tactile properties ensure that every object develops its own character. The combination of a mat surface and a warm, soft texture guarantees interior furniture with a truly distinctive, individual look & feel.
Hygienic & antistatic
The natural composition and the special surface finish ensure that Furniture Linoleum is naturally antistatic. The linoleum worktops surface actively resists the build-up of static charges and prevents dust or dirt from sticking to the surface and is also easy to clean. Linoleum worktops can be supplied on a range of our products, such as industrial workbenches, or packing tables.