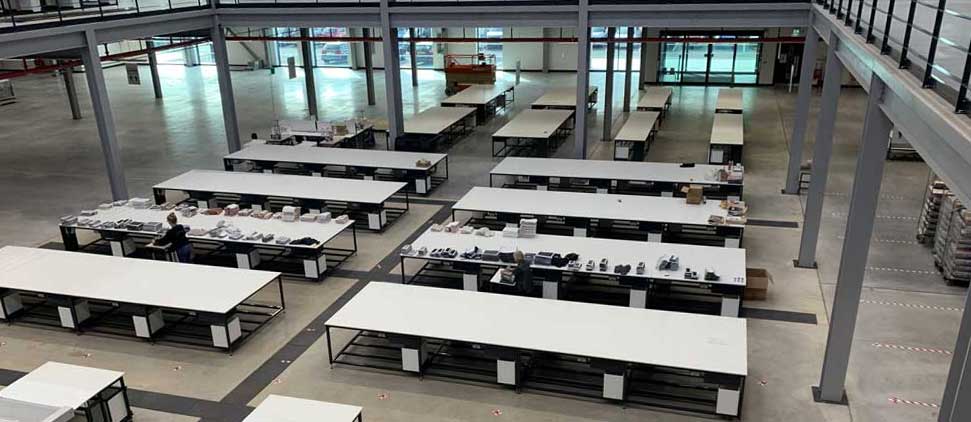 Designing & fitting bespoke workstations at the new Romo Group headquarters
The Romo Group is renowned for its diverse range of high end fabrics and wallcoverings. Founded in 1902, the British run business is now in its fifth generation. The Romo Group products are sold worldwide, with brand recognition in over 70 countries.
Spaceguard were asked to design and manufacture a large number of workstations, tables, industrial trolleys, and workshop equipment for their new multi-million pound headquarters in Nottinghamshire. The project began in early 2019 and continued through into 2020, with products supplied on a staggered basis as required.
If you have any enquiries about this project, or any of our products, please contact our helpful sales team.
Phone: 01482 363445
Email: sales@spaceguard.co.uk
Design Stage
Our drawing team often provides workspace design advice and renders for our customers as a reference prior to their products going into production.
Below you can see just a few of the many versions of the designs that were created for this project. Some of these can be seen as completed products in the gallery below.
Project Gallery
Below are just some of the photos of Spaceguard products installed and in use on site.
Installation at the new headquarters
These are screenshots from a video created by the architects of the new ROMO building, showing further the scale of the project and the products on site during and after the installation process.
Moving Forward
We continue to provide high-quality equipment as required, including fully bespoke workshop benches, workstations, project tables and cutting tables, packing tables, and fabric transportation trolleys.
The Romo Group have been a pleasure to work with and we hope for our working relationship to continue well into the future.
To find out more about the company please visit their website www.theromogroup.com
Receive a FREE quotation
Please complete the form below to send a message to our team.
For product and pricing enquiries please include a brief overview of your requirements.