UK Manufactured Rotary & Accumulation Tables
Rotary tables are usually positioned near the out feed of a process line or packing line which gives packing operatives additional time to pack or inspect. Accumulation tables are also used on bottle lines to load and unload filling lines.. Spaceguard manufacture a wide range of product accumulation tables ideal for use within packhouses along with many other end of line or filling processes.
We manufacture our rotary tables using grade 304 stainless steel with food grade options for the top including nylon. We offer a number of customisation options and add ons including product guides and sweeper arms. With vast experience of packing solutions Spaceguard are an ideal automation and workstation provider.
Our products are known for being not only high quality but also significantly good value, and have been regularly used within the supply chains of major supermarket packhouses.
Rotary packing tables - as standard are manufactured from stainless steel with a food grade polyethylene table top. This product is proven with in the food industry. Options for this product include, stainless steel top, dished top, sideguides, diverters and unscramblers. This product from Spaceguard comes fully wired ready for work.
Please contact our helpful sales team who will be able to advise on all available options and configurations.
Phone: 01482 363445
Email: sales@spaceguard.co.uk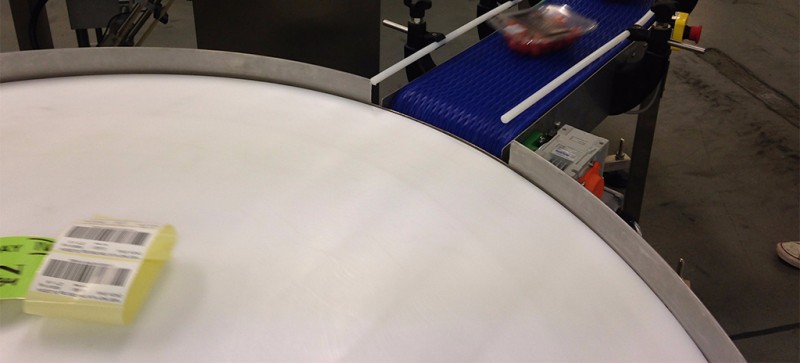 Spaceguard Rotary Table Features
All our products are designed and manufactured to suit customer requirements.
Complete in house design in addition to manufacture
Optional accessories and add-ons including sweeper arms and guides
Overall robust stainless steel construction
Control Panels
Stainless steel or food grade nylon top options
Dimensions specifically to suit customer requirements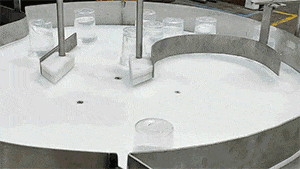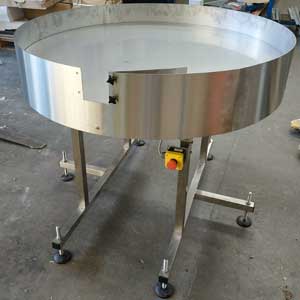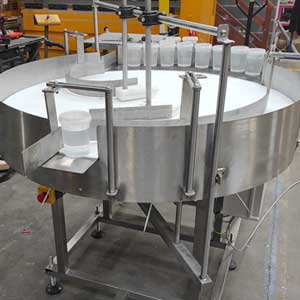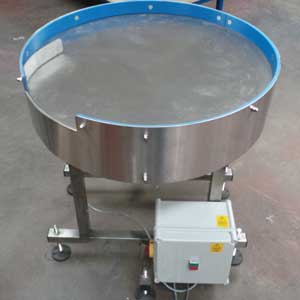 Technical Specification
All Spaceguard products are specifically manufactured to suit customer requirements. As such we generally do not hold stock of items. However in many cases we are able to offer products on a short lead time. With this in mind please contact our knowledgeable sales team to discuss your desired products and we will be able to offer you a competitive quote.
Table Top Material:
Food Grade Nylon
Stainless Steel
Frame Material:
Stainless Steel
Table Finish:
2B Stainless Steel
Table Height:
850mm (+/-50mm) – Other heights available if required
Rotary Table Loading:
100kg
Guide Material:
Stainless Steel
Leg Material:
Stainless Steel
Support Detail:
Welded Stainless steel section
Drive Type:
Geared Motor
Input Voltage: 
3ph 240/400v 50Hz
Options & Accessories
Product sweeper arm & Product un scrambler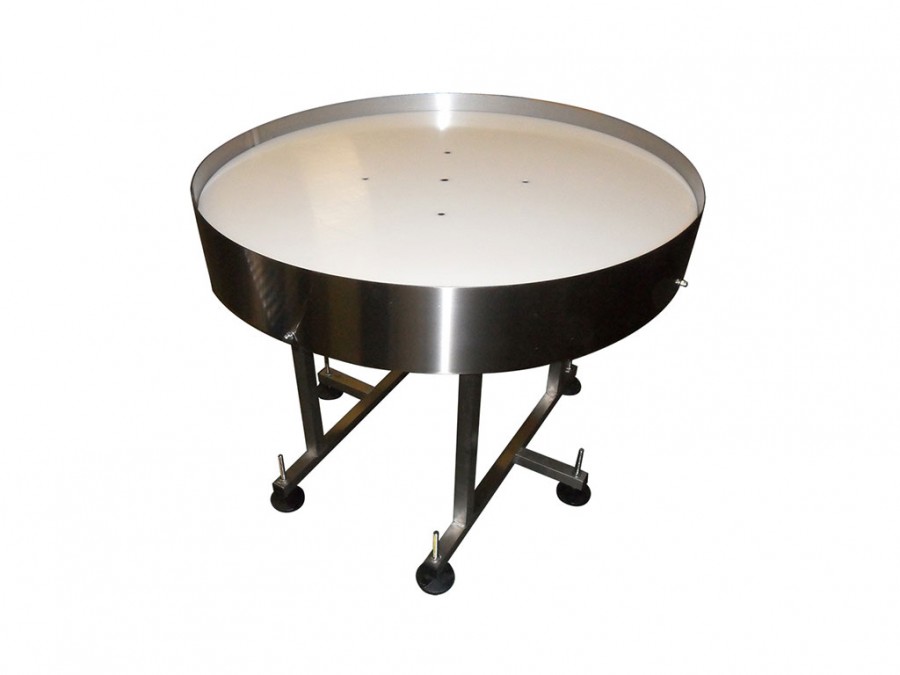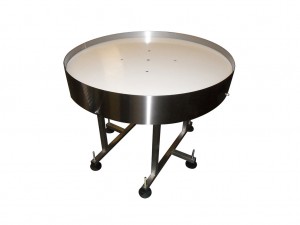 Standard rotary table with no additions. these are delivered to site fully assembled ready for work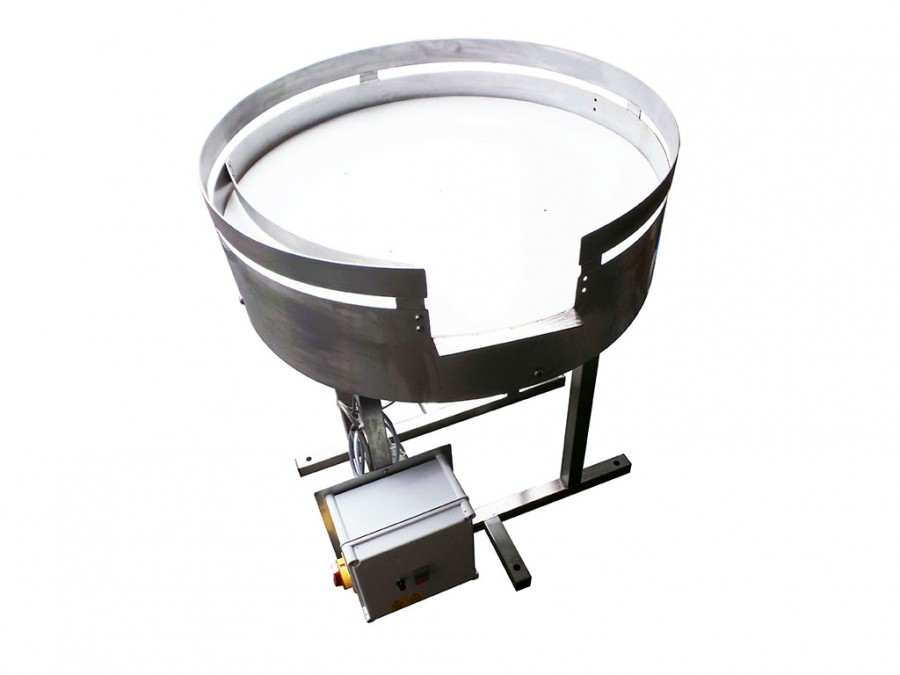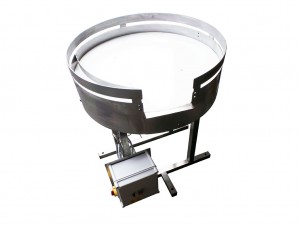 Rotary table – high sideguides and sweep arm – With variable speed and remote top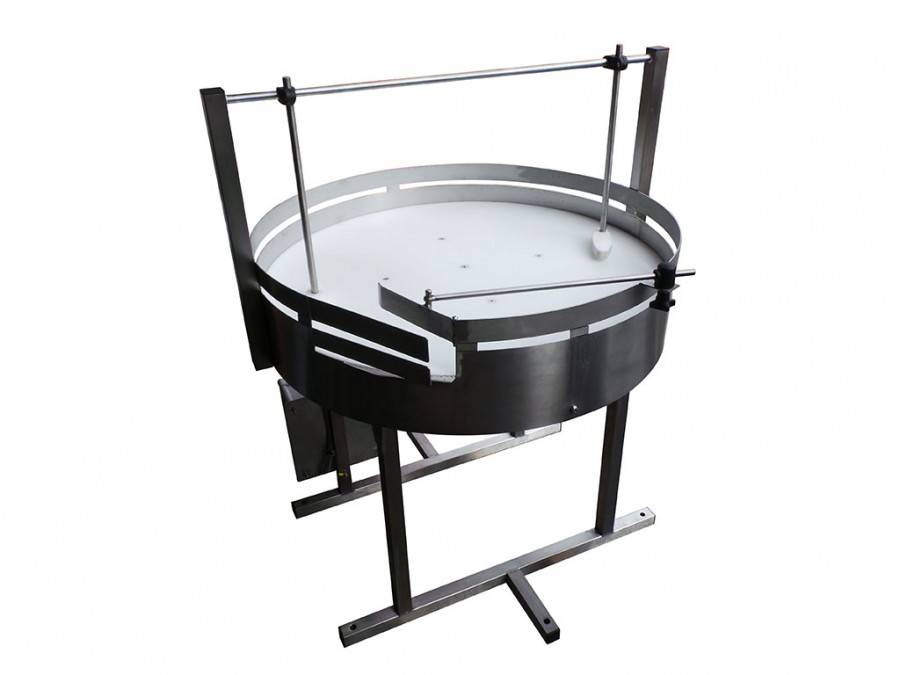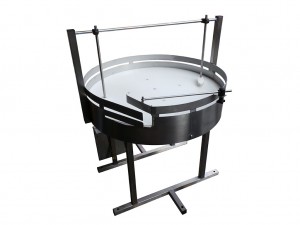 Rotary table – with additional sideguides, unscramblers and sweep arm.
Pack House Rotary Table
One of our previous installations can be seen in this video. The products, in this case tomatoes, leave the modular conveyor and are transported onto the table ready for the next stage of the packing process.
For more videos of our products please visit our YouTube channel.