Extra Wide Belt Conveyor
Extra wide belt conveyors can be manufactured for situations where more bespoke wider belts would better suit customer requirements.
We manufacture wider belt conveyors with widths up to two metres, and lengths to suit any requirement.
If you have any queries please contact us:
Phone: 01482 363445
Email: sales@spaceguard.co.uk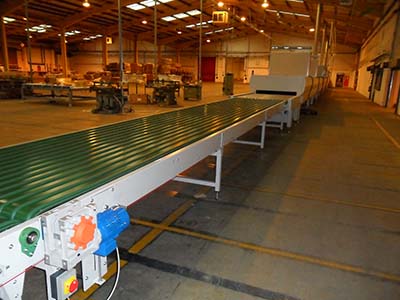 Conveyor Options & Accessories
Extra wide conveyor belts are manufactured to the very same high standards as our standard / medium duty conveyors. We use proven quality components at our factory here in the UK, making Spaceguard your ideal manufacturing partner. Our wide conveyor range is available with the following accessories.
Fixed or Adjustable Side guides
Quick Release
Swan neck & Nose over
Castors
Electrical controls
Extra Wide Belt Conveyor Specification
As a manufacturer, we can provide belt conveyors to suit any specification or application. If you are perhaps unsure on what exact specifications you require then please contact us. Our team have in depth experience of a wide range of industries and their specific needs. Through a short non-technical phone call or email exchange we will be able to help you decide on the best product to suit your needs.
End Roller Diameter: Varies, please contact us
Roller Materials: Mild Steel / Stainless Steel
Drive Type: Geared motor
Drive Position: End Drive
Belt Type: 2ply PVC (food grade) is standard, though other options are available
Frame Material: Painted Mild steel or Stainless Steel
Conveyor Finish: RAL 5010 is standard however other colours available on request
Support Detail: Welded 'H' section (+/-50mm)
Conveyor Widths: 300mm to 2000mm
Conveyor Loading: Please contact us to discuss your requirements 
Spaceguard manufacture a wide range of industrial equipment including work benches, heavy duty benches, packing tables, and conveyors. If you have any questions please contact our team and they will be happy to discuss your requirements.