Heavy duty workbenches manufactured in the UK
From a one-off standard metal workbench to a fully kitted out workshop, we work with you to manufacture great value robust welded workbenches, providing delivered fully assembled and ready for work. Suitable for even the most arduous of applications
Our heavy-duty workbenches are as practical as they are tough, with a fully welded steel frame no assembly is required, and are built to last, protected by a durable powder-coated paint finish.
Spaceguard's heavy-duty workbenches are suitable for all applications including, engineering, fabrication, commercial, machine shop, manufacturing & industrial uses. This includes the workshop, factory, laboratory, garage, warehouse, or even greenhouse. Our fully bespoke design service enables Spaceguard to offer heavy duty workbenches suitable for your specific application.
Due to the solid fully welded metal workbench frame construction using steel box section, our benches are strong and sturdy. These metal workbenches are also available with a choice of workbench worktops, including steel, food-grade stainless steel, wooden or hardwood, or plastic.
We offer a uniformly distributed load rating (UDL) of 1000kg as standard, whilst our extra heavy-duty benches boast an impressive load rating of 5000kg. Load testing certification available on request.
Spaceguard is an ideal partner for your standard and bespoke heavy duty workbench requirements.
For product information and quotations please contact our helpful sales team
Call: 01482 363445 Email: sales@spaceguard.co.uk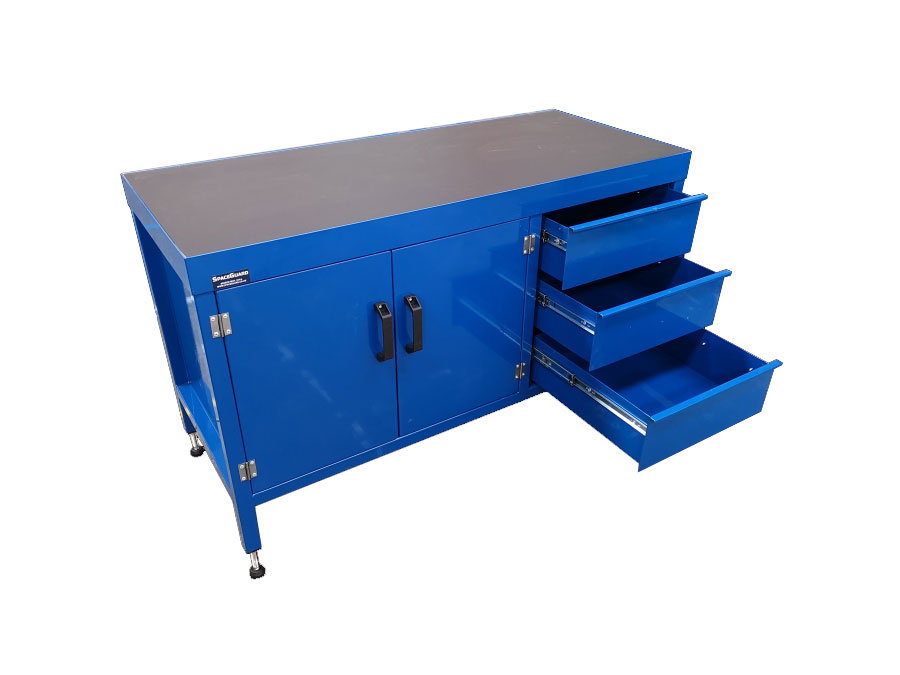 Heavy Duty Workbenches made to your specification
Free Quotes for all bespoke workbenches
Welded steel framed workbenches
UDL from 1000kg to 5000kg
Wide range of options & accessories
In-house design team
Delivered fully assembled
WORKBENCHES MADE TO ORDER
Call 01482 363445 to discuss your requirements

Heavy Duty Workbenches manufactured to your specification
Take a look at the categories below to find out more or contact our team and tell us what you need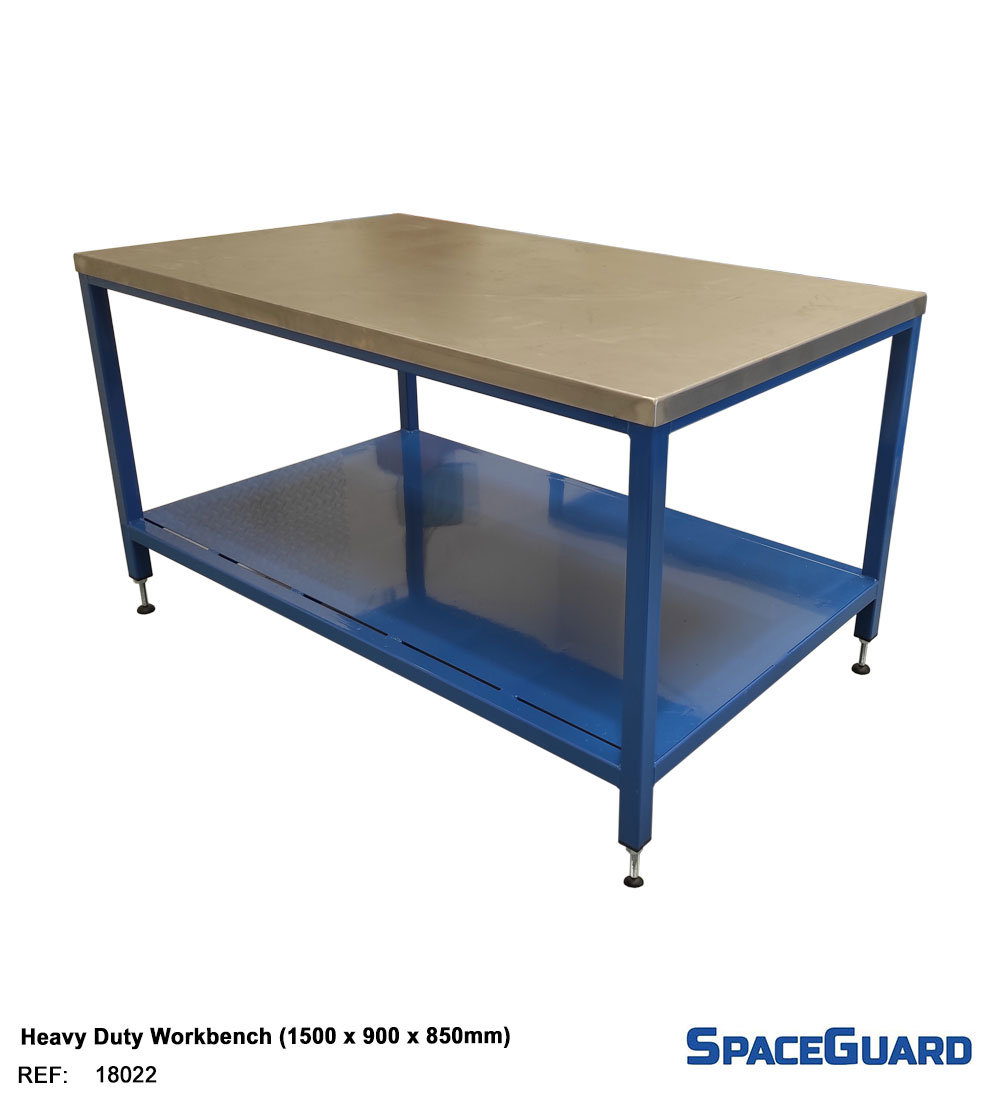 Ideal for general industrial requirements & home workshop or garage use
Loading 1000kg as standard (UDL)
Fully welded steel frame
Manufactured to your specifications
Levelling feet with 50mm adjustment
Choice of finish and colour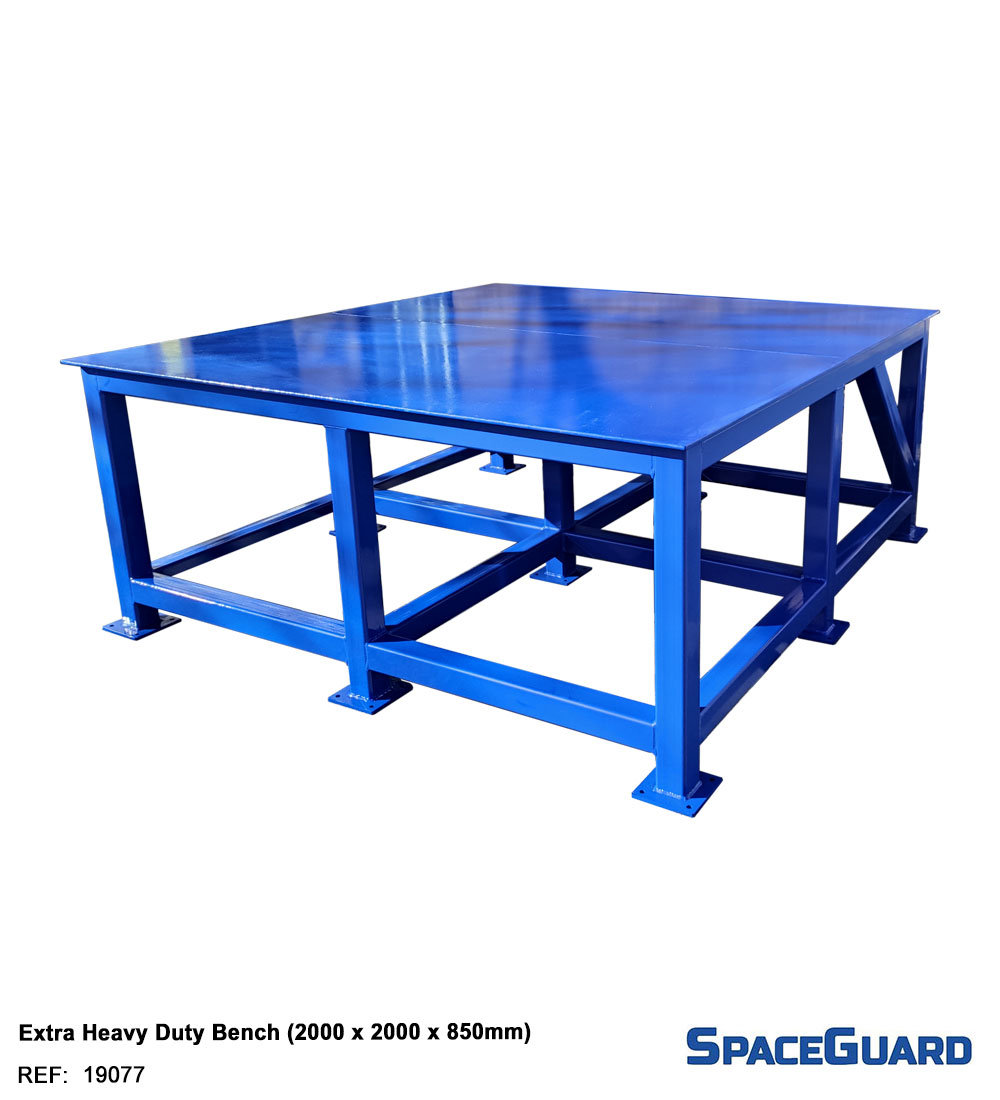 Extra heavy duty workbenches for engineers, mechanics, and manufacturers
Loading up to 5000kg Load (UDL)
Steel floor plates
Fully welded steel frame & top
Choice of finish & colour
Made to order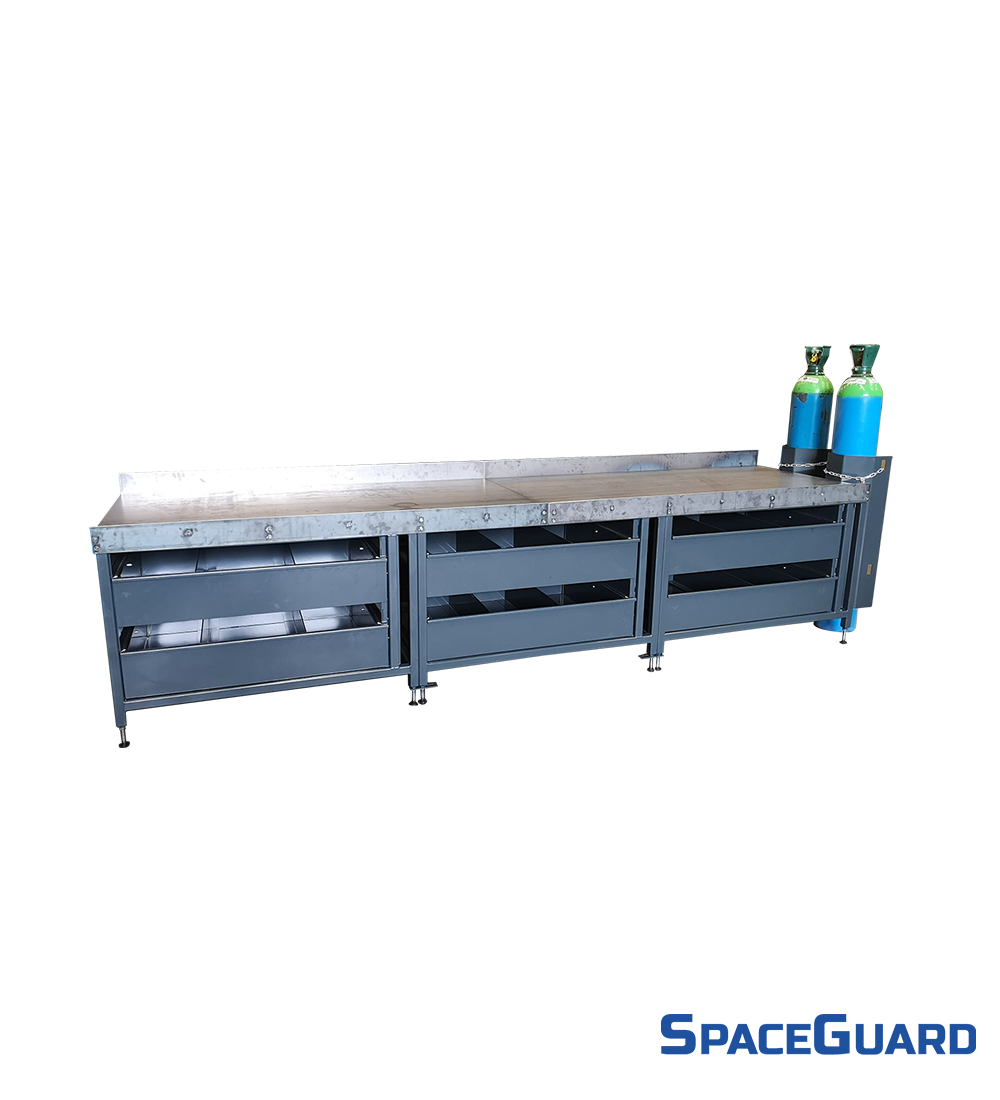 Spaceguard manufacture fully bespoke workbenches to suit your exact requirements
Built for your application(UDL)
Bespoke Design Service
Fully welded steel frame & top
Choice of finish & colour
Made to order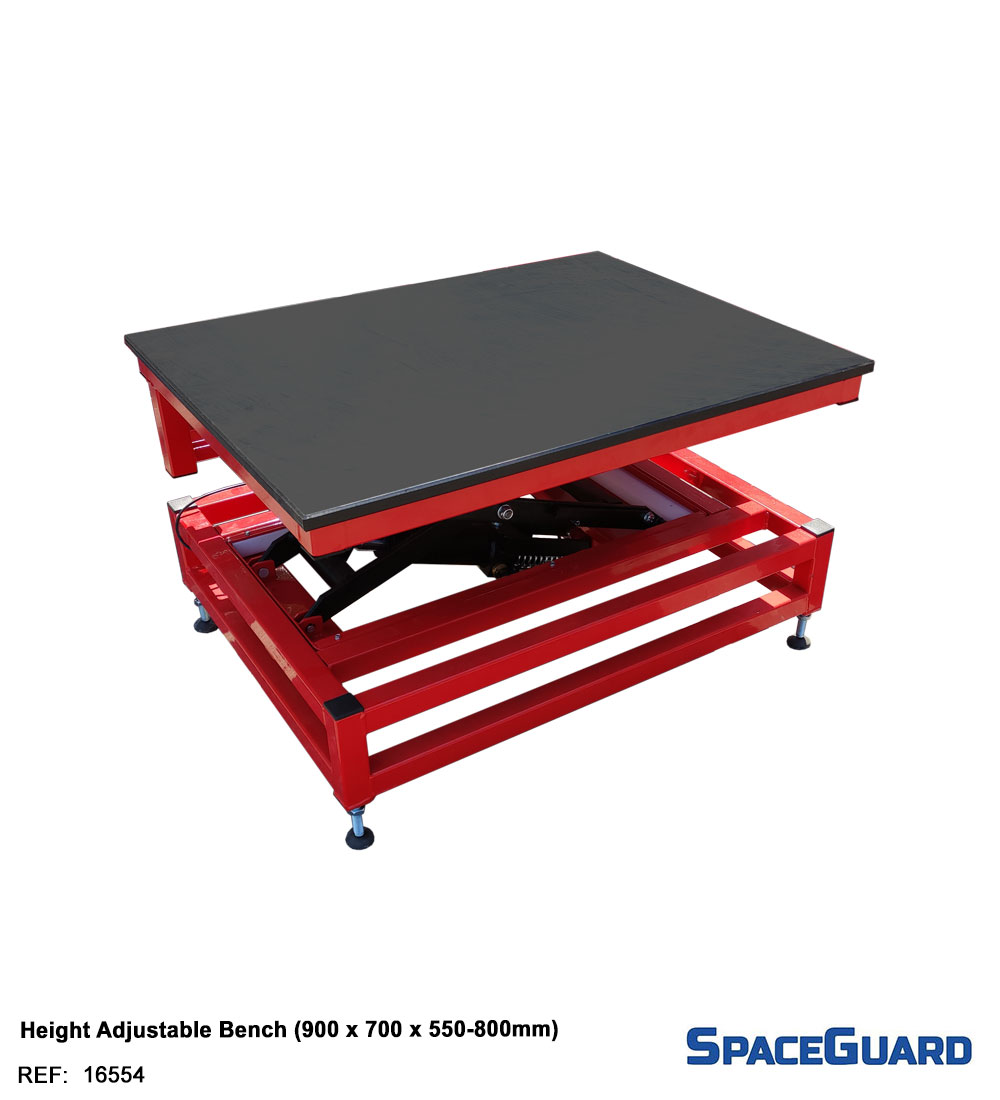 These benches handle considerably more weight than our standard height-adjustable benches
Range of load capacities to suit your application
Scissor lift height adjustment
Choice of worktop materials & colours
Fully bespoke & made to order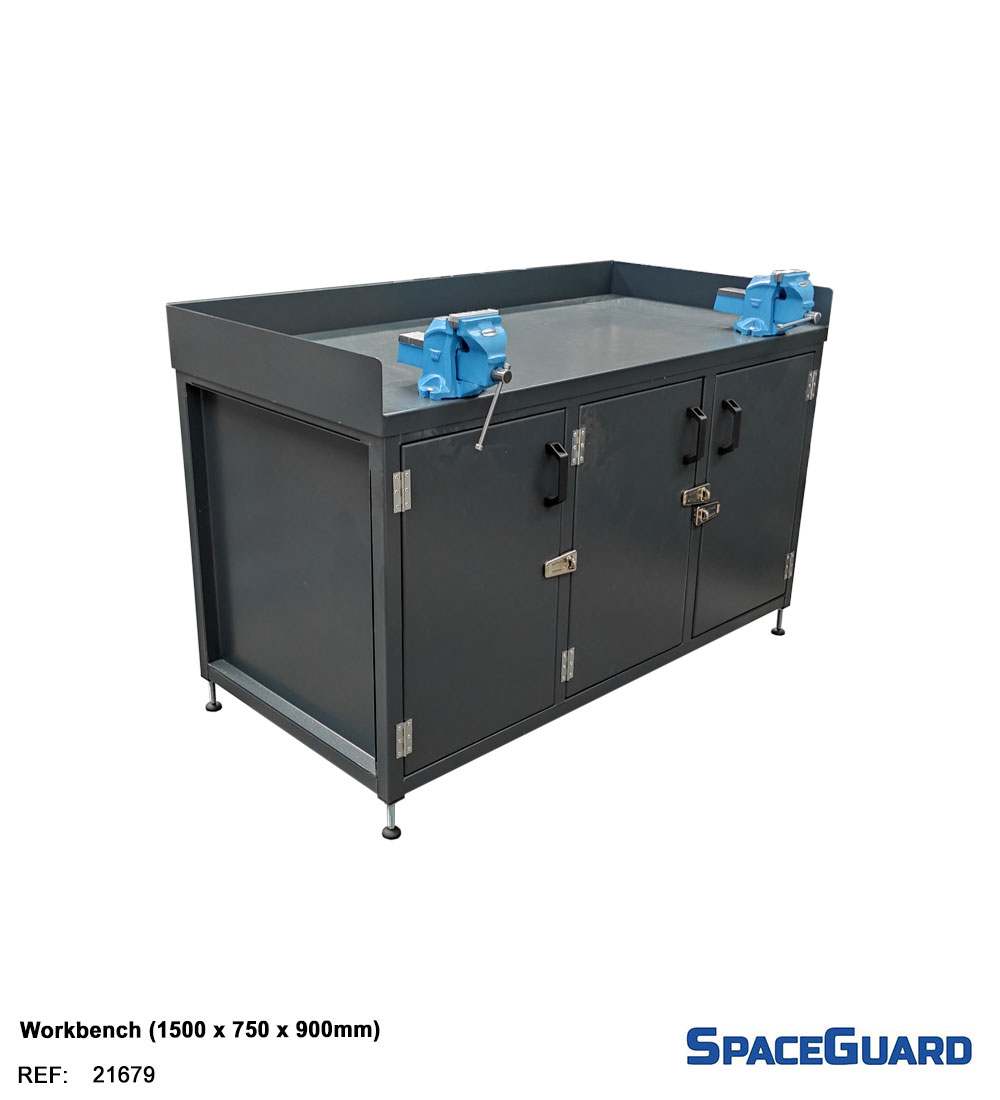 Workshop furniture & equipment ideal for schools, colleges, and universities
Range of load capacities
Custom-designed & fitted workshop equipment to suit any application
Ideal for education workshops
Fully bespoke & made to suit your requirements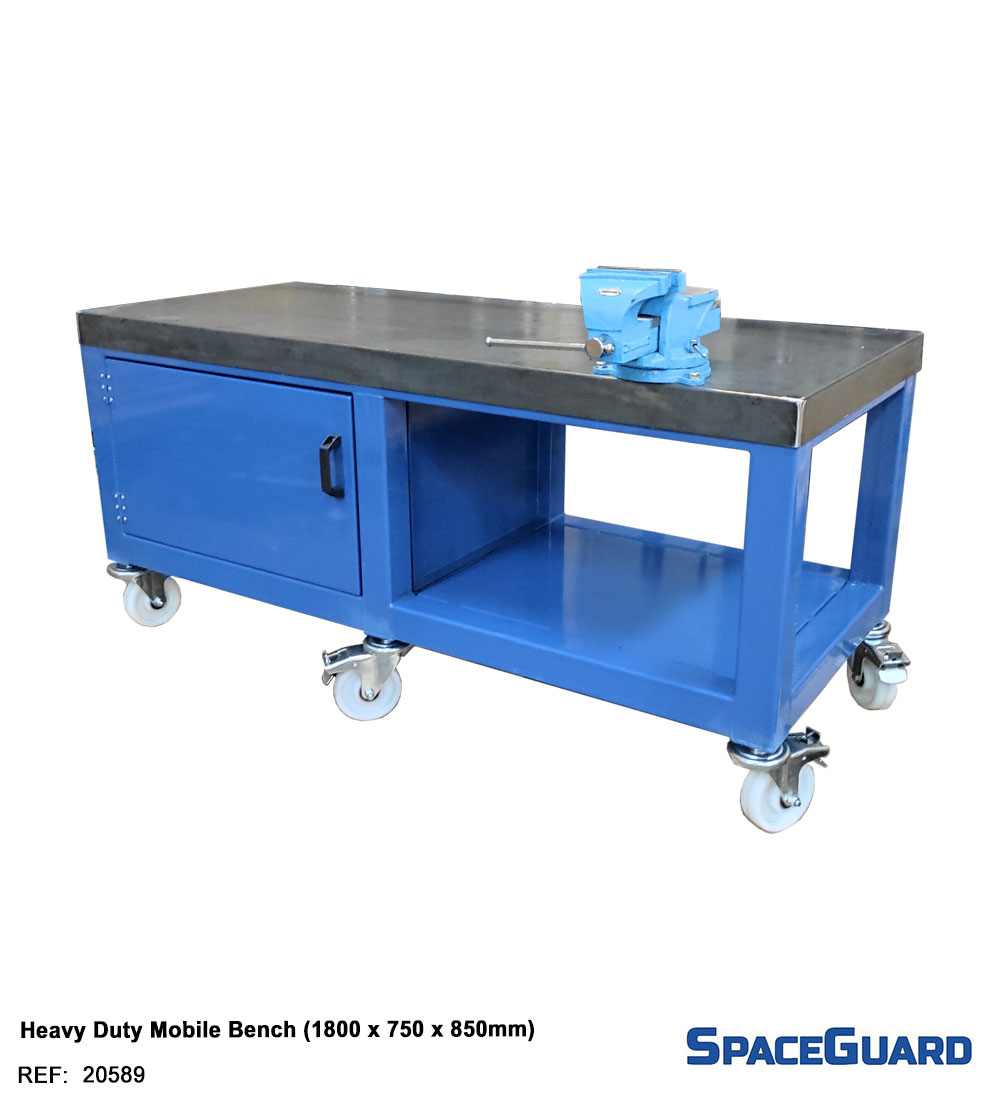 Mobile workbenches offer extra flexibility in the working area
Loading 1000kg as standard (UDL)
Fully welded steel frame
Built to your specifications
Swivel & lockable castors
FREE UK Mainland Delivery
Heavy Duty Workbenches Overview
Spaceguard heavy-duty workbenches are available in a number of varieties which make handy additions to any workspace. Whether you require a small mobile workbench on castors for your workshop, or a large floor-bolted extra heavy-duty bench for factory use, we supply high-quality products for all eventualities.  The robust fully welded frames are constructed from steel box section with a powder-coated paint finish so it will not rust.
Please contact our helpful sales team with your requirements to receive a free quotation.
Heavy Duty Workbenches in Any Size
We make workbenches in any size to suit your requirements or workspace.

Workbench Frames in Any Colour
We use RAL 5010 (gentian blue) as standard but if you want a different colour (see colours) or even a stainless steel finish then this can be provided.

Workbenches to hold up to 5000kg
The robust fully welded frames are constructed from steel box section and can be load tested as required. 

Durable Heavy-duty Worktops
Worktop options include steel or stainless steel with a solid core of MDF or plywood, rubber, polyethene, or hardwood worktops such as block beech.

Heavy Duty Workbenches with Storage
With the addition of secure lockable cabinets, louvre panels or pegboards, and rails for tool storage you can be sure to have all you need contained safely and neatly ready for work.
Vices, Sockets & Built-In Workbench Accessories
We also offer a choice of useful addons and features such as bench-mounted power sockets, overhead lighting, and engineers' vices.

Get a FREE Heavy Duty Workbench Quote today
We are a leading UK manufacturer of bespoke heavy duty workbenches
Email sales@spaceguard.co.uk with your enquiries
Case Study: Heavy duty benches for major UK oil refinery
Customer Specification
Heavy duty workbenches of welded construction - namely robust enough to take the work in an engineering workshop.
In this case must be load tested to 1000Kg +
Benches must be of bespoke sizes to fit within the space available. Must be load tested to 1000Kg +
Also have 4 x lockable drawers, each able to hold 100+ Kg.
Included a Bolt type locking double front cupboard.
Fitted with a steel worksurface with a hardwood core therefore reducing noise levels.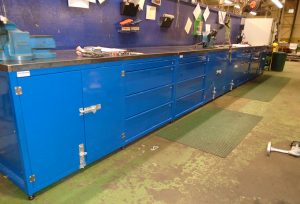 Customer comments
"Having received our new benches I thought I would send you a couple of photos of how robust they look now they are in place. I can say they are quality workbenches which will make a huge improvement. I would certainly have no hesitation in recommending Spaceguard company to others."
Why choose a Spaceguard Heavy Duty Workbench?
Made to Order to suit your exact specification
Choice of worktop materials
Steel or Stainless Steel frames
Delivery & Installation service available
Drawings & renders can be provided
Helpful sales & support teams
Frequently Asked Questions
What is the lead time for these benches?
What are your delivery options?
What do I do if I need product support / spare parts?
Can you install my workbenches?
Can I send you a picture of my workbench?
Are you looking for a Heavy Duty Workbench?
Tell us about your requirements to receive a FREE quotation
Please complete the form below to send a message to our team.
For product and pricing enquiries please include a brief overview of your requirements.
Quick response guaranteed
8-5pm Mon to Thurs, and 9-3pm on Fridays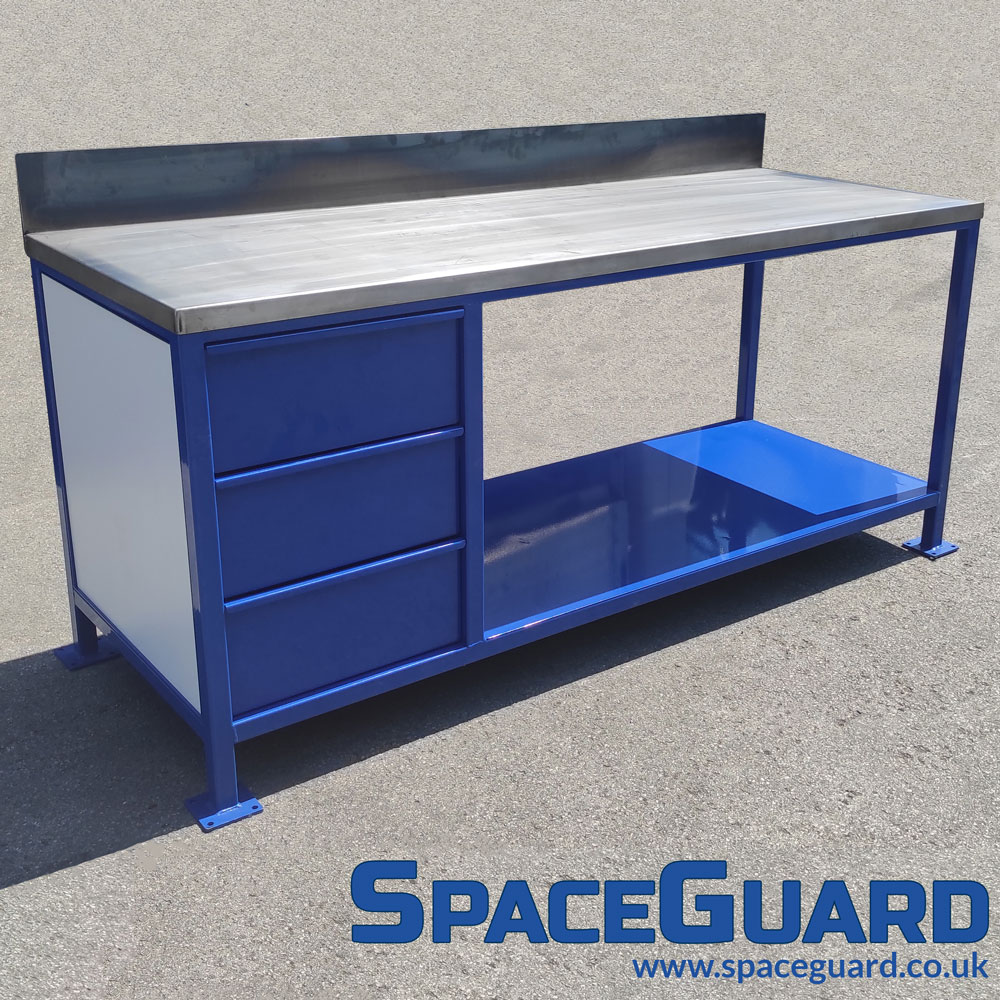 All heavy duty benches are manufactured to order to suit your requirements
Products also manufactured by Spaceguard