Curved Conveyor Bends
Conveyor bends allow for flexibility in conveyor system layouts to maximise floor space.
By using bends the conveyor system can be planned to suit the environment, avoiding building structures and obstructions such as existing immoveable machinery.
Efficient conveyor system planning leads to cost savings, with less floor space required overall.  This allows your process to grow without needing to move to larger premises.
Spaceguard is a UK based conveyor manufacturer offering a multitude of custom features, with a wide range of options for material, drive, width, guides, and bend angles. Our design engineers have in-depth experience and understanding of the specific challenges that different industries face. We offer a full design service with optional 3D rendering available for bespoke projects.
We also offer extremely competitive pricing, with a guarantee of friendly non-technical advice to help you get the best conveyor to suit your needs. In most cases you will receive a same day no-obligation quotation.
To see more of our available conveyor ranges please click here.
Please contact our team to discuss your requirements.
Phone: 01482 363445
Email: sales@spaceguard.co.uk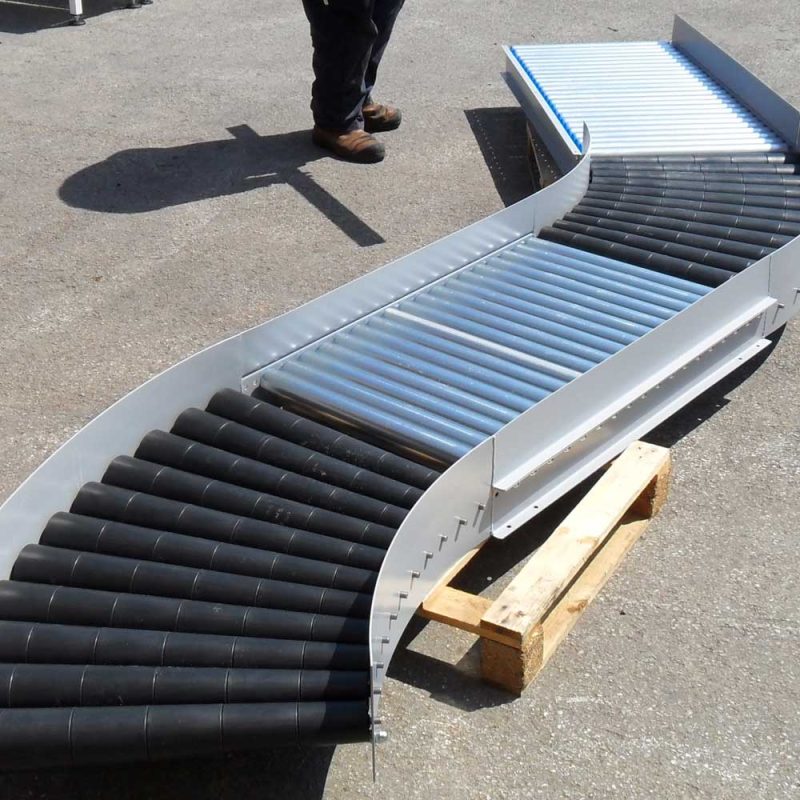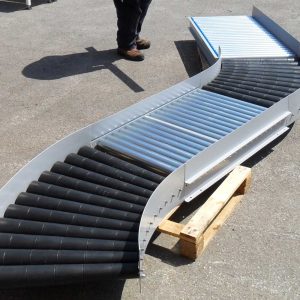 Conveyor Bends
Fully bespoke to suit your specifications
Designed & manufactured in the UK
Powered & unpowered varieties are available
Wide range of materials, options and accessories
Gravity Roller Conveyor Bends
Bend Angles:
30 º , 45 º , 60 º , 90 º
Roller Types: Twin Track, Skate Wheel, Taper Roller
Roller Material: Mild steel Zinc plated, PVC, Stainless Steel
Frame Material: Powder Coated Mild Steel, Stainless Steel
Inside Radius: 850mm
Roller Diameter: 50mm (base roller)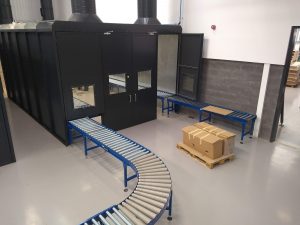 Driven & Powered Roller Conveyor Bends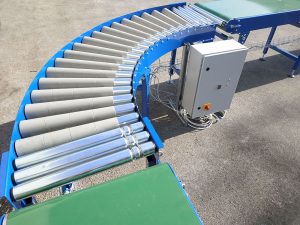 Modular Conveyor Bends
Modular conveyors
have a flexible belt consisting of interlocking plastic components, this allows the belt to curve around corners in a way that would be difficult using a standard conveyor belt.
No tracking issues as found with traditional belts
Low cost maintenance
Extremely durable belting
Hygienic. Suitable for wash down.
Positive drive using sprockets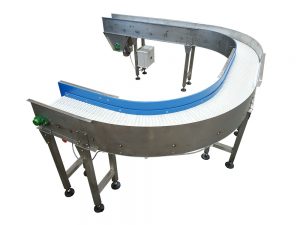 Get a FREE Conveyor Quote today
We are a leading UK manufacturer of bespoke conveyors
Email sales@spaceguard.co.uk with your enquiries
Receive a FREE Conveyor Bend quotation
Please outline your requirements below and our sales team will email you a quote.
If we need further information from you we will contact you.
Please ensure you can receive emails from sales@spaceguard.co.uk.
Quick response guaranteed
8-5pm Mon to Thurs, and 9-3pm on Fridays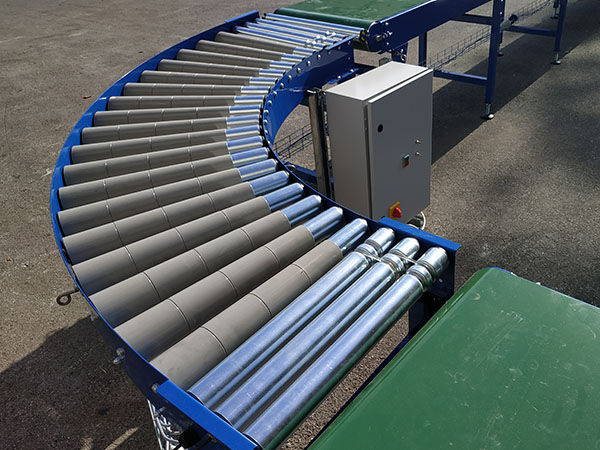 Conveyor bends help to save space and redirect products, we manufacture to order with many bespoke options available.