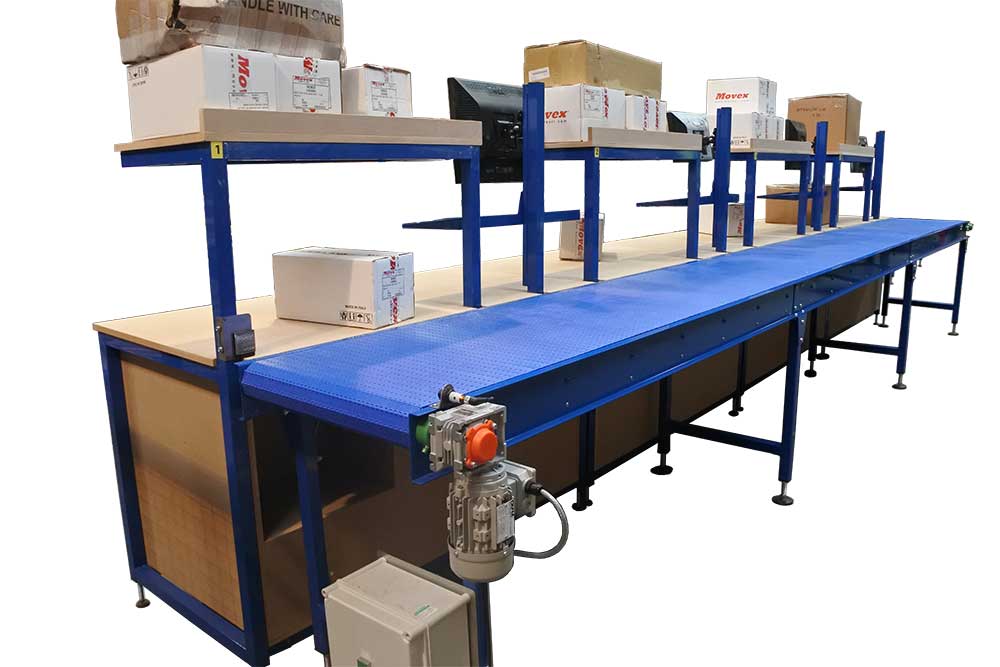 Spaceguard manufactures conveyors and packing benches to suit e-commerce businesses
This equipment was designed and manufactured by Spaceguard in 2021
This packing conveyor system we designed and manufactured for an agricultural supplies company. It comprises of a number of workbenches with a modular belt conveyor.
Employees can be situated at the benches preparing and packaging products for dispatch. These products can then in turn be pushed onto the modular belt conveyor. From here they can then be collected for further processing or dispatch.
If you have any enquiries about this project or any of our products, please contact our helpful sales team.
Phone: 01482 363445
Email: sales@spaceguard.co.uk
Modular Belt Conveyor Features:
6000 x 532 x 900 mm
Shaft mounted geared motor
Control Panel
Photo Electric Cell (PEC) / also known as a Photocell
Fully wired
Packing Bench Features:
Quantity of 4 packing benches
Measures 1500 x 700 x 900mm
MDF Worktop
Adjustable height post mounted monitor bracket
Keyboard tray
Printer shelf
Storage for tape / stanley knife
Lower MDF shelf & dividers
Receive a FREE quotation
Please complete the form below to send a message to our team.
For product and pricing enquiries please include a brief overview of your requirements.