There are many easily made warehouse layout & design mistakes
Setting up an efficient warehouse takes some careful planning and consideration, and there's no guarantee you'll get things exactly right the first time.
The overall goal in the warehouse is order fulfilling accuracy at speed, to achieve this you need inventory that is well managed and easy to locate. You also need a warehouse with sufficient space to allow for flexibility in any eventuality.
Read on to see a few of the common setup mistakes, and learn how to avoid them.
Here are the common warehouse setup mistakes to avoid
Poorly Thought Out Design
A well planned warehouse layout is essential for all functions to operate at maximum efficiency.
Consider each of the warehouse processes that will be taking place, this includes the goods receiving, item picking, packing, dispatch, and returns. It wouldn't make sense to just assign each to an area and expect everything to work out fine. Each of these processes have their own complexities and their own footprint - but they have to be able to work together for your warehouse to function. This is why during the design stage of the warehouse, the layout should be thoroughly considered.
Remember to factor in everything, from doors, to aisle space, to employee areas.
Being Inflexible
This is a lesson learned hard during the Covid-19 pandemic - sudden requirements for social distancing meant warehouses had to be quickly reconfigured to make extra space. Then with lockdown restrictions and self-isolating, more online orders were being made than ever before. Having a flexible warehouse layout at this point in time made things that little bit easier to manage.
Factor in enough void space, this can be used for temporary storage or work areas as required. You should also consider the available height you have for shelving and racking, as expanding upwards could also be an option for overstock.
Consider adopting lean work cells or packing areas, these can be designed in a modular fashion or with the ability to adjust to the user for quick reconfiguration.
Lack of clear segmentation & organisation between warehouse processes
You have to plan a clearly defined area for each warehouse process.
It would be helpful to map out your current processes, and what you think you'll require in the future to determine how to manage each area. Work with the picking, packing, handling and receiving area teams to gain useful information about their activities and requirements, as they understand these processes better than anyone else. Let the processes dictate the layouts, then keep each area clearly segmented.
Once each area is defined, look at the process, the workflow, and how they are organised. Could this be improved?
It may mean staff training, changing the workflow, rearranging, or adding in new equipment and process aids.
The overall goal here is efficiency. By breaking each process down into segments, and then optimising each in turn, you can transform your warehouse into a well oiled efficiency machine.
Poorly planned goods-in or receiving areas
Order processing is often given top priority in a busy warehouse, but this becomes a problem if the goods-in area is neglected. Often the receiving area overlaps with the shipping area. This is a mistake as incoming and outgoing stock can easily be confused.
Errors and inaccuracies at the receiving docks can lead to problems in every area of the facility. It's vital to ensure that the goods-in area has sufficient space and staff to work effectively. Having extra warehouse staff members in other areas of the warehouse who understand the good-in process may be useful, so they can be 'borrowed' from their departments to  the goods-in area during busy periods.
Long or complex picking paths
High demand items should be placed near the packing stations to reduce picking times. You could designate an area of storage for these faster moving items, often known as a 'forward pick' space.
The route for most orders should be a simple, short, and almost straight line between the picking area and the packing stations. The pick path should start at the furthest end away from the packing area so the picker works towards their destination. For more complex order picking requirements, such as those for bulk or multi-item orders, you can use warehouse management software to determine the optimal route to these items.
Messy and untidy areas
Not just a health and safety hazard, a messy warehouse is a sign of inefficiency. Areas should be planned in the design phase for rubbish and recycling processing, storage, or disposal.
There should not be any waste left lying around in any area, especially those that have heavy footfall or forklift traffic as this dramatically increases the risk of accident or injury.
Safety & training aren't made a top priority
Well trained staff engage positively with the warehouse environment, assisting in the quick, safe, and accurate functioning of all departments and processes. Poorly trained staff cause headaches in every area of the warehouse for everyone involved. This not only slows down processes but also puts people at the risk of injury.
Warehouses are dangerous if the correct safety protocols are not followed. Every employee should be trained to operate the equipment they require to do their job safely. Risk assessments should be carried out regularly. There should also be clear floor markings and signage to denote areas of risk, and every employee should know the procedure to follow in case of an emergency such as a fire.
Holding excess inventory
There has to be a balance between the types of inventory in your warehouse. Of course you must ensure that there's enough stock to fulfil orders, but you don't want excess stock lying dormant in the warehouse taking up your valuable space.
A simple solution here is to order (or receive orders) in smaller batches. Some suppliers may let you place a large order, yet deliver it in smaller loads spread over time. If you do have large quantities of slow moving or 'dead' stock, it may be worth considering a sale or promotion to get this stuff moving.
Many businesses have also found success in answering this problem by utilising something called "kitting". Kitting is where you bundle items together for sale - think hampers, bundle deals, subscription boxes etc. Even offering these items as an add on purchase with fast moving product lines can help to clear out that old & slow stock.
If there's really little hope, and excess inventory is taking up a lot of space - consider donation and recycling wherever possible.
Under stocking popular items
It may be difficult to know what exactly these popular items are until your warehouse is up and running and fulfilling orders, so this can be hard to plan for. There are some products that just suddenly skyrocket in popularity from nowhere, this is also nearly impossible to plan for.
You can however gauge some items seasonally. It is quite likely for example, that Christmas lights will be popular in November and December. It would be a mistake to not prepare for that obvious fact. There are ways to estimate the potential of your existing and upcoming product lines, such as looking at current events, the seasons, social media trends, changes in product line marketing strategies etc.
You can also use inventory management systems to set alerts for low inventory, or to spot trends in fast moving items so you know it's time to restock.
Using the wrong equipment
It's one thing coming up with a brilliant warehouse plan, but you need the right equipment to get your warehouse fully set up.
There are many warehouse equipment manufacturers who provide off the shelf solutions for many warehouse problems. From packing tables to conveyors, picking trolleys to pick walls - there's a lot to choose from.
Ideally the equipment you buy needs to be robust, durable, and built to last through years of heavy use. The last thing you want is your trolleys losing wheels, conveyor belts going off track, or wonky packing tables.
Where possible, it makes sense to consider custom made warehouse equipment - things that are built bespoke to suit your space, products or your processes. This way you can make the most of the available space. For example, with custom built racking you can more shelving into tighter spaces, or have a manufacturer build a conveyor system to fit around existing building features or fixtures.
Summary Checklist - How to avoid common warehouse setup mistakes
Plan
Allow space for flexibility
Separate warehouse processes
Pay careful attention to goods-in
Keep picking paths short
Avoid messy areas & avoid waste buildup
Make safety & training a top priority
Get rid of excess inventory
Keep popular items stocked & easy to access
Get the right equipment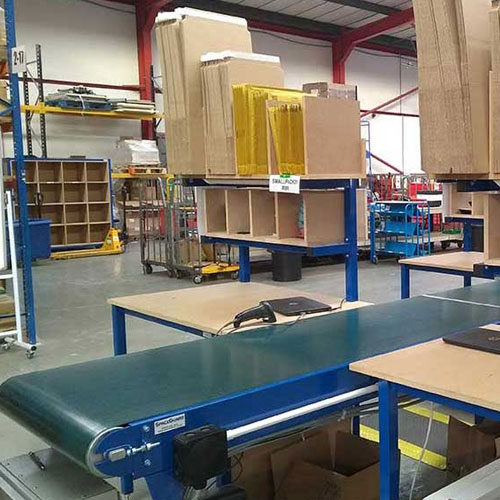 How we can help you to avoid using the wrong warehouse equipment
Spaceguard is the ideal partner for your bespoke warehouse equipment needs
Below you can find just a small selection of our warehouse equipment range, we have a long history of working with manufacturers, distribution facilities and 3PL's to provide them with fully bespoke products to suit their requirements.
As UK warehouse equipment manufacturers, Spaceguard can partner with you to create fully bespoke solutions to suit your warehouse.
Our selection of Warehouse Equipment
We manufacture all products to order in our UK based factory
To ensure orders are packed quickly most warehouses have packing stations. These keep the boxes and other packaging close by and also tidy. Packing stations often include monitor arms, keyboard trays, shelving, dividers, electrical sockets, lighting, signal lights & more. The better designed the packing area is, the more efficient it will be.
The belt conveyor is the ideal solution for transporting a wide variety of items in all shapes and sizes. It is a gentle method of transport which helps keep products safe whilst they're being transported. Often packing benches are situated alongside a belt conveyor, which carries off packed orders to the dispatch area.
There are many types of roller conveyor, included powered and unpowered varieties. The unpowered type is called a gravity conveyor, which products are either rolled down or pushed along on. Roller conveyors are useful for transporting totes, boxes, cartons, pallets, and trays. They're not so good for moving smaller packets and irregular shaped objects.
Help organise and sort items ready for dispatch using pick and put walls. These can be used as simple storage, or integrated with a put/pick to light system for faster order processing.
For transporting items around the warehouse space to and from the storage areas. Trolleys of all different shapes and sizes are used depending on the scale of the warehouse and the items being transported.
Getting the right weights of items is important, inaccurate weights of parcels can lead to an increase in carriage costs. This can add up very quickly when handling thousands of parcels a day.
If there is a problem in the warehouse, these lights let others know. These are often integrated on packing stations, so packers can signal to a supervisor if they're facing an issue with an order, or need further supplies
Expandable conveyors are a type of roller conveyor that is able to expand and flex as required. They're ideal for situations where a conveyor needs quick repositioning, such as when taking deliveries or loading vehicles.
Shelving and racking is essential in any warehouse space for storage and organisation. There are many types of racking, some which use rollers or roller tracks to help move goods.
Receive a FREE quotation
Please complete the form below to send a message to our team.
For product and pricing enquiries please include a brief overview of your requirements.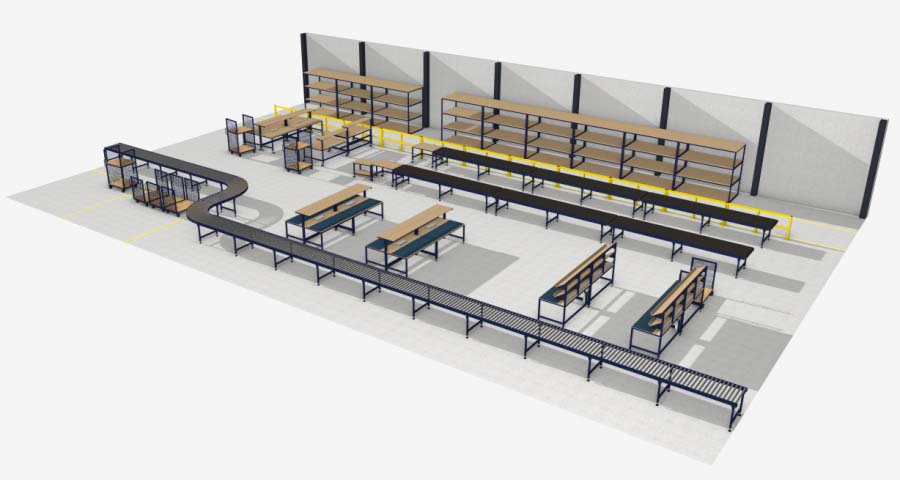 Contact Spaceguard today and tell us what you need to enhance your warehouse space