Standard or custom designed ergonomic workstations. Which is better?
At Spaceguard we know that custom design is usually the answer. In this article, we explore how bespoke and custom-designed ergonomic workstations improve productivity and keep your staff happy and healthy.
As a custom workstation manufacturer, we spend a lot of time hearing about workspace problems. A common issue our customers face is that they don't have the optimum workstation solution for their industry or activity.
Where once a simple table, stack of pallets, or even a bit of wood on trestles might have been sufficient, eventually there is a point in every business where enough is enough and something 'proper' is required.
Think about yourself and your staff, how many hours of your lives will be spent standing or sitting at workstations? Quite possibly that time is only second to the amount of time spent in bed!!
We all understand the amount of pain and discomfort a bad night's sleep can cause. Lumpy old mattresses are a major cause of back and shoulder pain which leads to general misery and fatigue. A poorly thought out workstation is no different.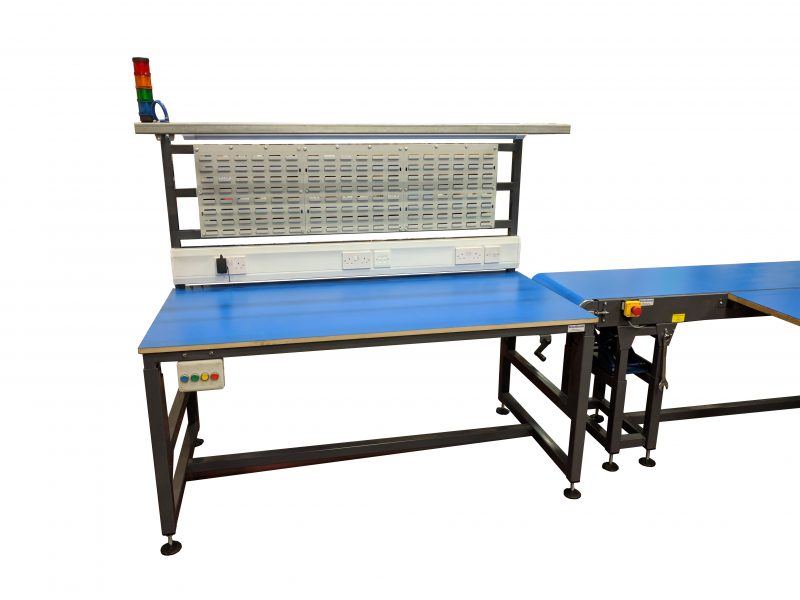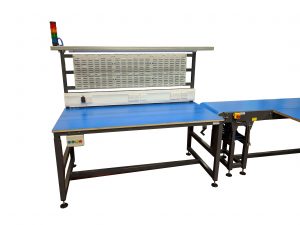 An ergonomic workstation can improve productivity
The following things can cause long term problems for your employees which can impede their ability to work to their fullest potential.
Having to crouch or overreach for tools or supplies
Inadequate lighting makes it difficult to read printouts
Poorly placed computer screens causing eye and neck strain
Working in an environment standing for long periods
Standing or sitting with an awkward posture
Repetitive movements
A nicer working environment can bring great improvements to not only staff health, but also staff morale and productivity. Likewise a well designed ergonomic workstation can considerably enhance the look and atmosphere of the working area. Below we consider a few small additions to workspaces that can make all the difference to your employees.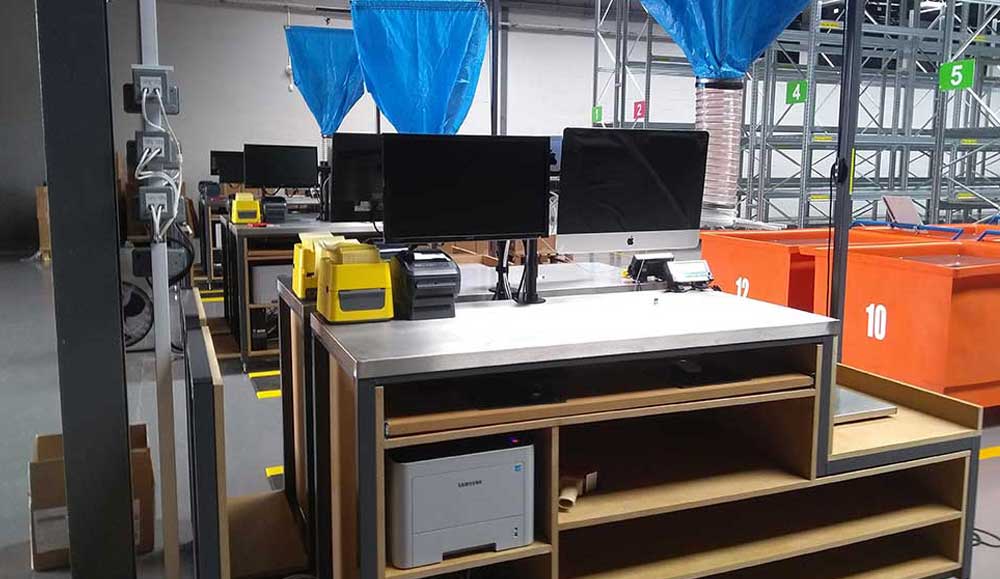 Workstation Storage
Keeping the work surface tidy and free of clutter is important. Unnecessary items on the worktop reduce the available worksurface leading to poorer performance.
It is well known that employees work better with more generous space. Having all the required materials and equipment stored effectively within the workstation can help keep the whole area efficient and orderly.
This approach also gives employees a sense of ownership of their workspace. Letting them store tools or equipment in the way that they prefer gives them a sense of control and responsibility over their space.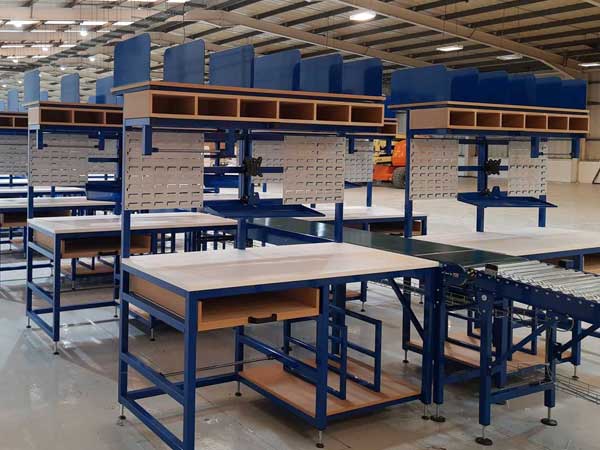 Reach Zones
It is important to get this right as overreaching for objects is the main cause of accidental workplace injury as well as repetitive strain injury.
On and around the worktop
The worktop, desk, table, or workstation surface is obviously where most of the work will be taking place. For this reason, it makes sense that items that need to be accessed frequently should be stored in this area as it takes little effort to move to reach them.
This area can be improved with shelves, dividers and organising bins for storing everyday tools and items whilst keeping the most important things easily in reach.
For example, at a packing bench the most readily available items might be barcode scanners, a label printer, and packaging.
Below the worktop
This area should be used for bulky storage or less important materials and tools. It is often in this area that drawers, shelves, and cupboards are placed. A useful addition there might be a drawer for employees' personal items.
This area is also commonly used to store spare parts or materials such as extra-label rolls, boxes, or packaging such as kraft paper or bubble wrap.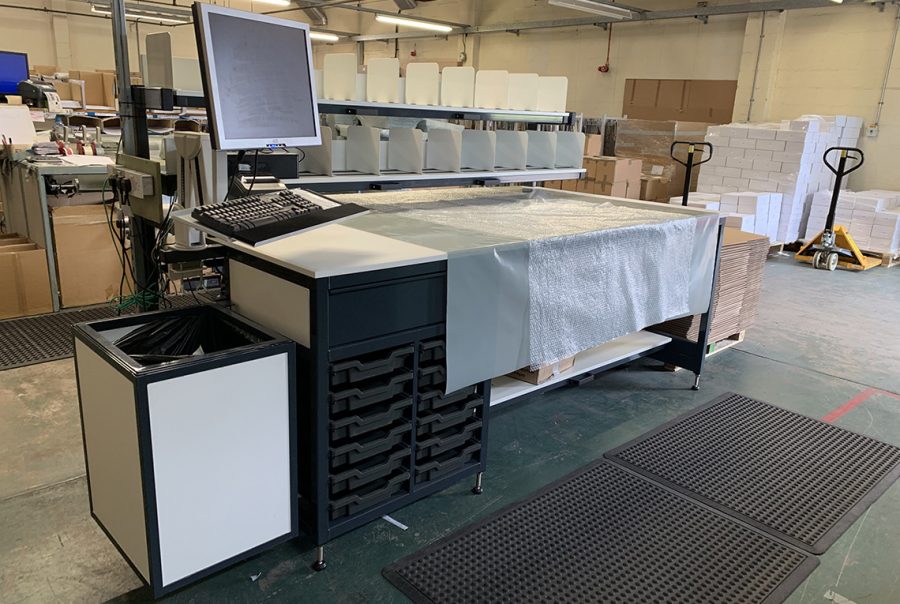 Ergonomic Computer Workstations
Repetitive movements such as those made when using a mouse or keyboard can add an additional chance of strain and injury.
For this reason, the positioning of the mouse, keyboard, and even monitor is very important in a working environment.
The monitor needs to be positioned at the right level and distance to lessen eye and neck strain. The ideal distance for a monitor is an arms-length away. Height wise, the top quarter of the screen should be at eye level. Adjustable height monitor brackets or monitor arms can be utilised to improve a fixed monitor workstation so it's suitable for multiple users.
Frequent breaks from the computer are important for overall health. Ensure breaks are taken where staff can move around and look away from the monitor. Allowing staff to refocus their eyes to look at distant things will help their eyes 'reset' and feel refreshed.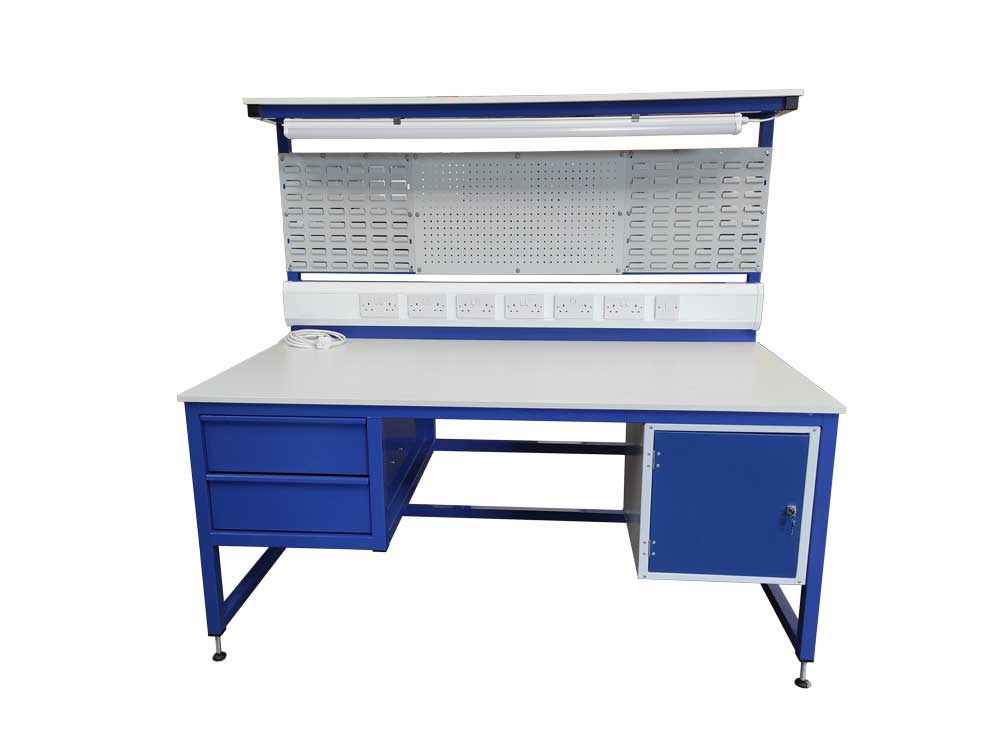 Workstation Lighting
Good lighting is important for general health and a sense of well being, whilst poor lighting can lead to eye strain which can cause headaches or long term eye damage.
Poor lighting can also be linked to an increase in workplace accidents and a prevalence of mistakes made in things like paperwork or small parts assembly.
Many of our products end up in warehouses and similar environments which generally do not have much natural light. This is why we offer lighting additions to many of our ergonomic workstations. We offer overhead lighting rails with either LED or fluorescent lights, as well as articulated magnifiers with built-in lighting.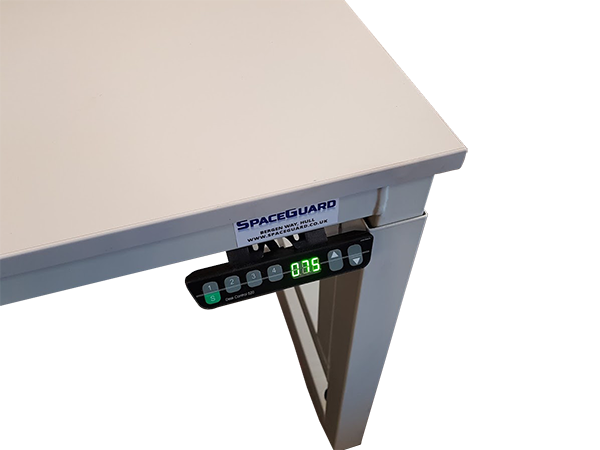 Seated vs Standing Workstations
For some activities, a standing bench or workstation is the most suitable option. In this case, ensuring you take regular breaks or sit down periodically is very important. Standing for long periods can cause back and leg fatigue and foot pain.
Standing desks can have converter options to allow for sitting when needed, however, a height-adjustable workstation may also be a useful addition to the workplace.

Anti-fatigue mats help take the strain when standing is necessary
If standing is absolutely necessary for the job there are ways to make this more comfortable.
Anti-fatigue mats are available, which help to alleviate pressure from the back and legs.
How to create an ergonomic workstation solution to suit your needs
To begin, consider the purpose of the workstation:
Will it be an electrical repair bench complete with ESD fixtures, or a simple packing station? Consider what your workstation needs to have now, and also what else might be useful in the future as your business grows.
Will you or your staff be standing, or seated?
Also consider if more than one person will use the workstation, if so, does it need to be height adjustable for operator comfort?
Think about the movements the person at the workstation will have to make during their normal work day.
For a packing bench, perhaps this will include reaching for packaging from under bench or overhead storage shelves. In this case consider the distance the operator will have to reach. Ideally you don't want the shelves to be so high that it takes getting on tiptoes to reach the top shelf, and climbing under the bench to retrieve boxes is hardly practical either.
For an electrical repairs bench, using a soldering iron on small components could be the main task. Again under these circumstances, a magnifier and sufficient lighting might be a suitable addition to the workstation to save on eye strain. It's likely that for such intricate work seating would be required. Space under the bench is therefore necessary so the operator can get close to the work surface without hunching over or leaning forward.
It's not just about comfort, but speed too
The amount of time spent on repetitive tasks adds up!
Consider how many times in a day a packer has to reach for a box, or tape, or print a label. Unnecessary seconds over reaching for supplies adds up to minutes, which over time becomes hours wasted. By ensuring all necessities are at the workstation readily organised for fast retrieval time is saved, therefore money is saved. Shaving seconds from repeated motions will improve process time down the line, and in fast moving and competitive businesses each second counts.
Observe, design, test. Make sure your workstation is fit for purpose
By observing and understanding the tasks at hand, workstations can be custom designed to suit the activities they will be used for.
With this method it is more likely that the workstation will be operator friendly. This will result in faster and more efficient processes. Regular testing is necessary however as processes change, as do materials and even employees.
To ensure ongoing productivity some re-designing or re-configuring of work areas will be required. Remember to listen to your staff throughout this process as they understand the working area, processes, and the equipment better than anyone.
It may be useful to design your workstation in a modular fashion or with adjustable components if your workspace or application requires regular work area re-configuration or has multiple users.
Spaceguard is a UK based ergonomic workstation manufacturer
In this article we've outlined some of the considerations to be made when planning a tailor made workstation for your business, as well as the benefits of properly designed workspaces. We've also considered the effects of poor design and working environment on employee health and productivity.
Spaceguard is a UK based conveyor system manufacturer and ergonomic workstation manufacturer with in depth experience of workspace planning, product design, and manufacture.
We work with our customers to provide them with the exact required equipment to improve efficiency, productivity, and employee health. To see some of our previous projects please visit this page or see our gallery section.
Please feel free to contact our knowledgeable team for free product enquiries and quotes to find out how we can help your business today.
Call: 01482 363445
Email: sales@spaceguard.co.uk
You may also like these articles
Receive a FREE quotation
Please complete the form below to send a message to our team.
For product and pricing enquiries please include a brief overview of your requirements.