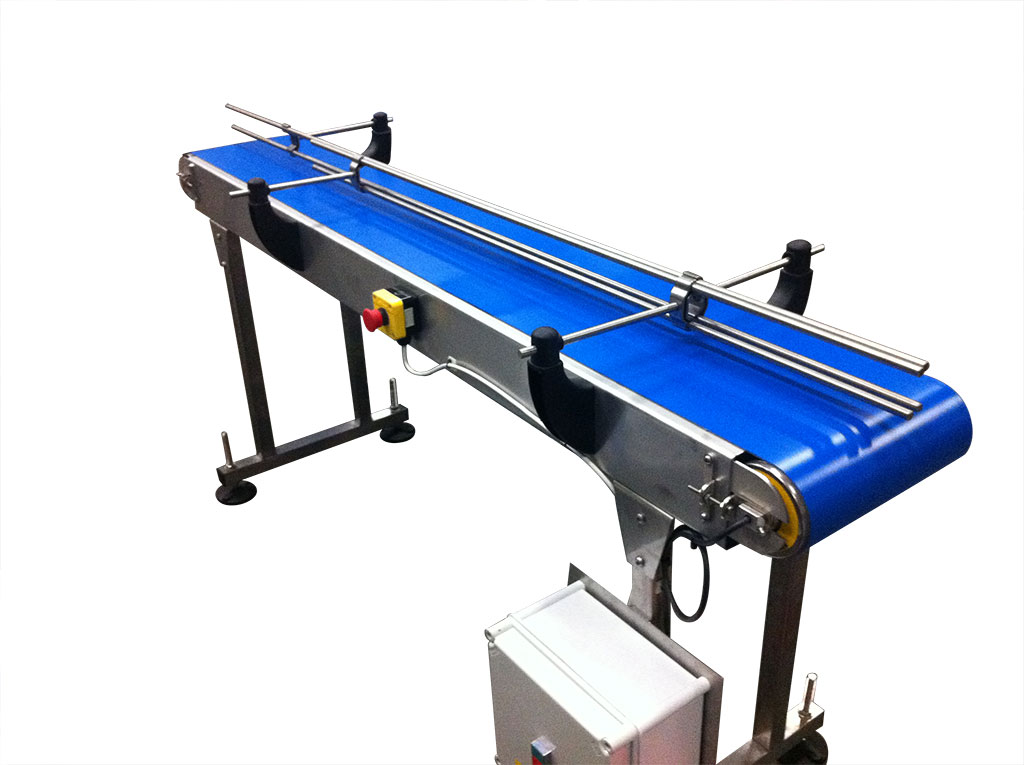 UK Belt Conveyor manufacturer
Competitively placed within the market Spaceguard is an ideal partner for the manufacture of belt conveyors.  With in house design and build to your specific requirements you can be sure our team can provide quality products to suit your needs.  Furthermore Spaceguard can manufacture a wide range of both standard and custom made belt conveyors which can also be finished in an epoxy powder coated frame. Additionally, we can provide stainless steel frames for the food industry.
Spaceguard belt conveyors have high standards, therefore they will prove to be a reliable addition to your process line.  Not to mention streamlining your production. These can include even the most arduous of environments. Built  to industry standards in our UK manufacturing site. We use quality components, so you can be sure of a low maintenance, reliable conveyor. We will deliver a conveyor to your specifications at a competitive price.
Please contact our sales team to discuss your requirements: By Phone: 01482 363445 or email sales@spaceguard.co.uk
Why buy Spaceguard conveyors
Proven reliable conveyor equipment.
UK Manufacturer.
Competitive pricing and short lead times.
Use of only proven quality components.
Choice of drum motors or geared motor drive.
Standard and bespoke conveyor manufacturer
High levels of customer service.
Where possible delivered fully assembled and wired.
On site installation available.
Conveyor Control Panels
On the whole whether you are requiring a simple start / stop and variable speed panel or something more complex. Spaceguard conveyors are delivered fully wired & assembled. Ready for work. Installation is available from our team. Conveyors are supplied with operation, maintenance & compliance manuals.
Choosing a belt conveyor?
Belt conveyors are ideal for the powdered transport of both uniform and non uniform loads. (For example from boxes to gravel) The conveyor belt is powered normally by a geared motor or drum motor, powering a pulley, with an idler roller at the opposite end and a continuous belt connecting the two. These types of conveyors are ideal for use in packing and assembly line.  This is because parts and products are of differing sizes and weights. The belt allows for different sizes and weights of packages to be transported at the same time. Belt conveyors are ideal for e-commerce sites with varying products.
With designs from light duty food, e-commerce applications to heavy duty industrial or bulk use. Belt conveyors will perform a large role in the reduction of manual handling, repetitive handling, product damage and can reduce staffing levels. Belt conveyor can cover longer distances with minimum effort.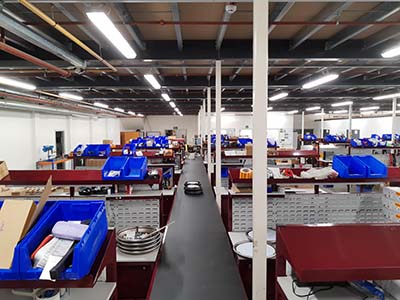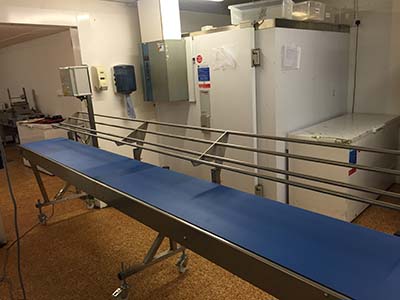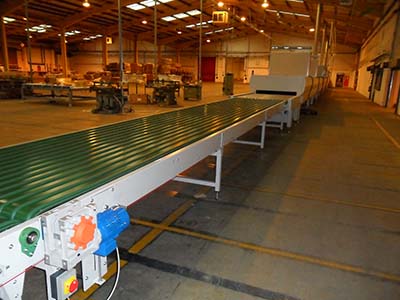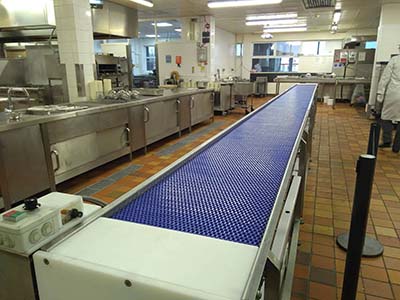 Whats the ideal conveyor belt drive position?
A belt drive conveyor should ideally be pushing loads, rather than pulling which would cause belt tracking issues.  We would recommend this if a conveyor is supplied with an end drive it should only be used uniquely in one direction.  By correctly specifying drives and position this would drastically reduce required maintenance as well as increasing the performance of your conveyor.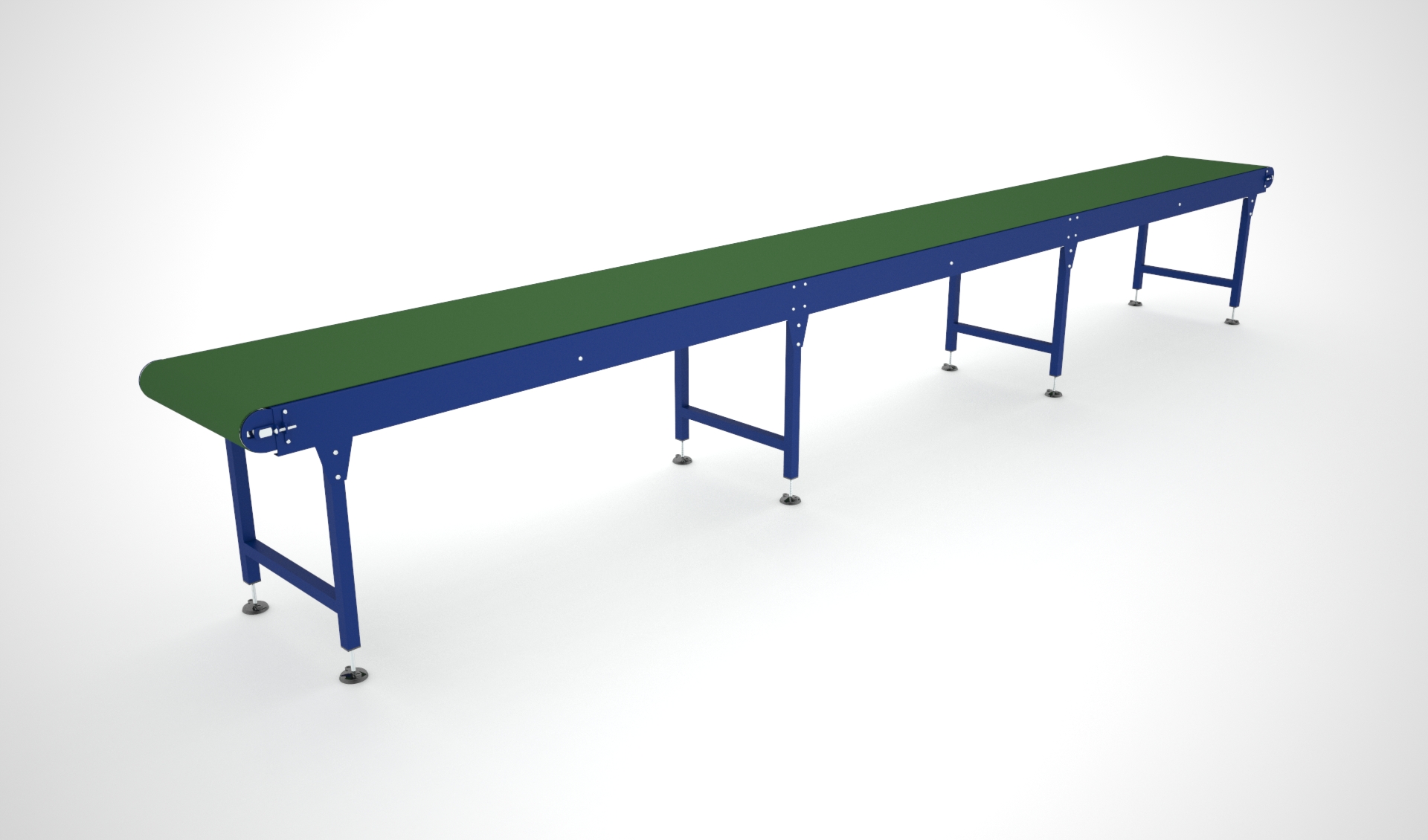 End drive conveyor
The driven roller should be fitted on the outfeed end of the conveyor.  The load being pulled by the drive is equally important. Similarly the top side of the belt should be in tension and furthermore should only be used in a single direction.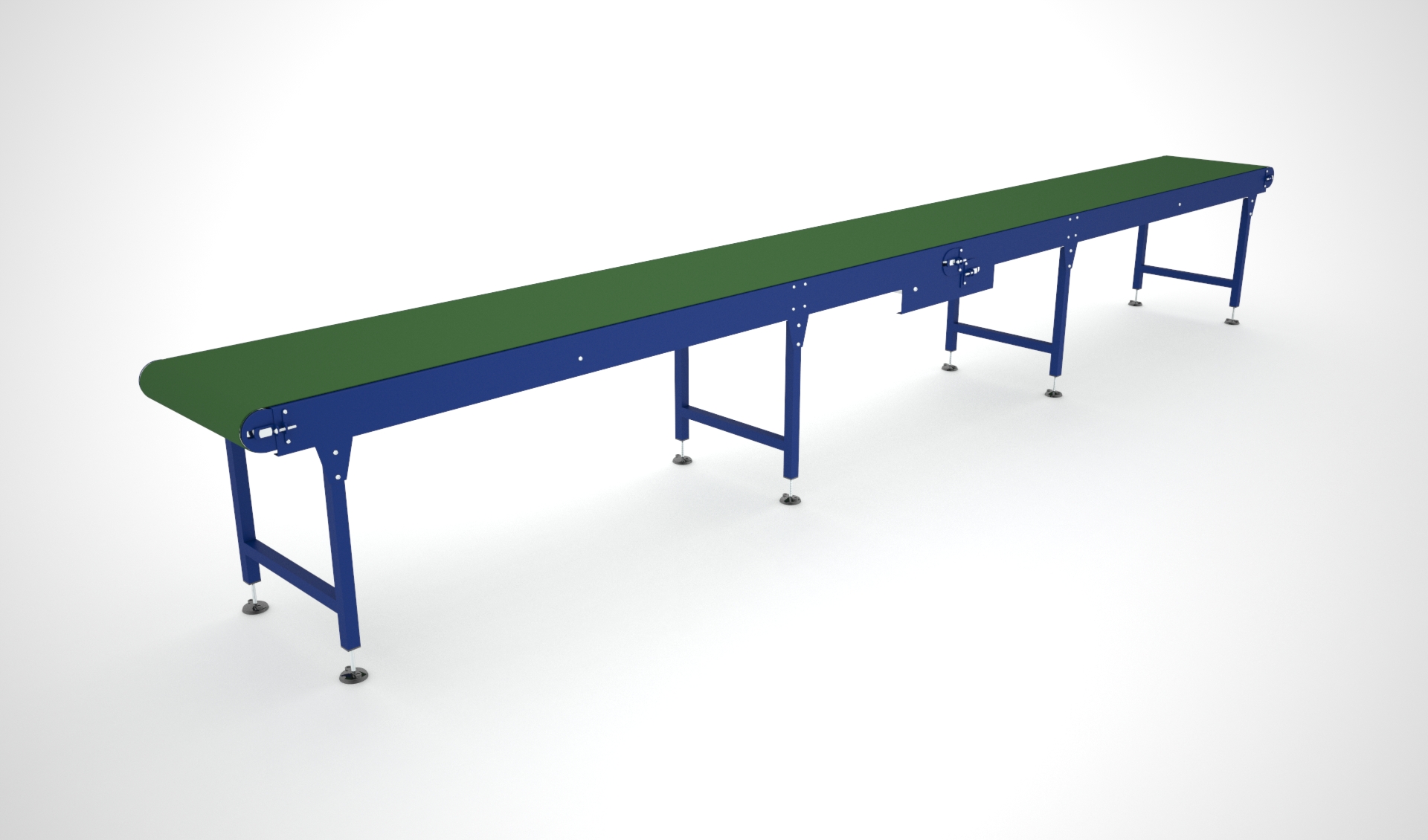 Center drive conveyor belt
Center drives are ideal, both for long conveyors where additional take up is required. By the same token with conveyor belts which have to travel in both directions. Additionally the drive position of the belt at the top of the conveyor is always in tension.
Conveyor belt drive types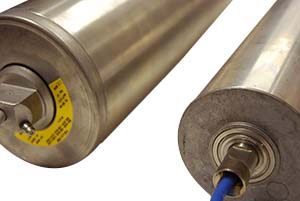 Drum motor conveyor belt drive
Fitting the electric motor and gearbox internally within the end roller with the purpose of the drum motor drive providing a reliable clean line finish to the conveyor. The conveyor design becomes more important as they can be more difficult to maintain. Thus allowing them to be more energy efficient than conventional motors. Together with less external moving parts. With this in mind the reliability and quick service is second to none and often the drive of choice.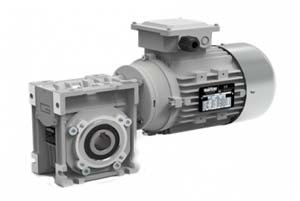 Geared motor conveyor belt drive
In general usage these are used in conjunction with a fixed shaft drive pulley. In particular Electric geared motors power belt conveyors most often. With either a hollow bore for direct shaft mounting. Or with an output shaft, together with chain and sprockets or alternatively timing belts would be used. Geared motors are normally easier to change for regular maintenance. Additionally they can be split into component form. For example gearbox and electric motor. Furthermore geared motors are generally more widely available and cheaper.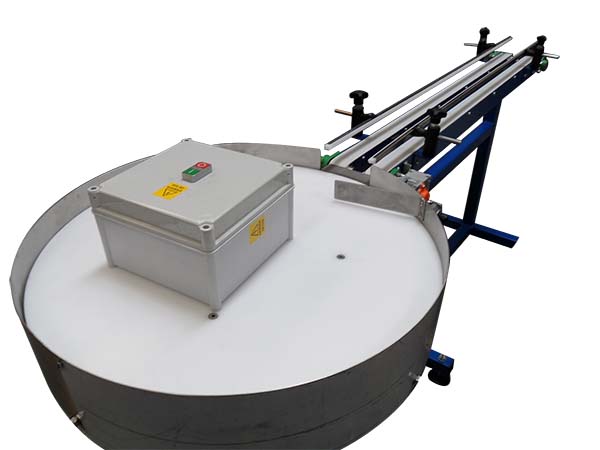 Special application: Base labeling belt conveyor
The conveyor's split bed design allows the positioning of the labelling head. This enables labelling or coding of the base of the product. Both belts run off a single drive shaft to maintain the speed of the belt. for example this product in the photo allows the product to be printed and run off onto a rotary packing table
Other products manufactured in the UK by Spaceguard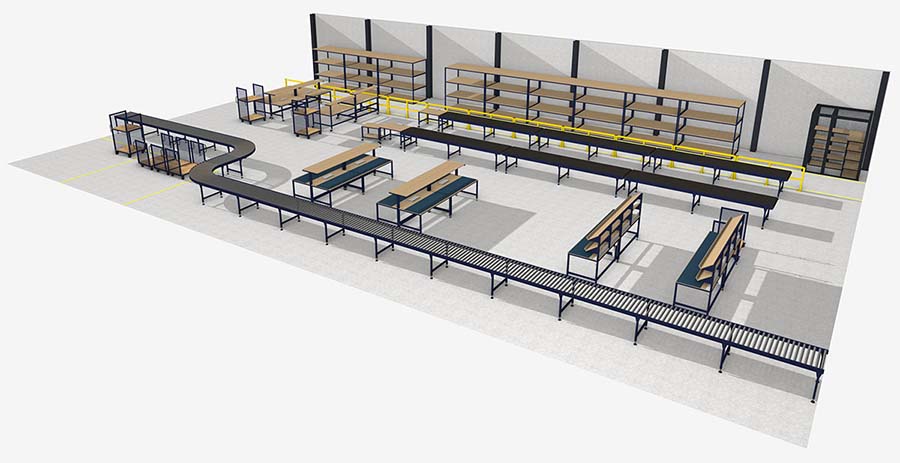 Importantly we are a UK based industrial manufacturer. Products include Industrial workbenches, as well as Storage shelving, Conveyors, Trolleys, Security cages and barriers.
for more information contact sales on 01482 363445
Commonly used Belt Conveyor Terminology
Bed
The bed is a steel section of framework the belt runs on.
You would need to know the length of the conveyor required.
Also the width of the overall frame, also the belt width.
A belt clip is a mechanical fastener which joins both ends of the belt
The endless length of the conveyor belt is the belt length
The Belt Scraper clarifies the section fitted to underside of belt and scrapes off debris
Importantly you would need to know the speed of the conveyor.
Brake motor is used on an incline to brake the belt. It prevents the conveyor belt rolling back.
C
Castors: Wheels normally used to move the conveyor around.
Ceiling hanger: Type of support used to suspend the conveyor from the ceiling.
Centre drive: Position of drive motor, normally underneath on longer conveyors – or small end pulley belts.
Control panel: Enclosure with the electrical components to used power and control the conveyor.
Crowned pulley. A machined angled to the surface normally of the drive and idler rollers.
D
Decline conveyor: Conveyor used for downhill transport – normally fitted with grip face belt.
Drive: Either geared motor of drum motor – used to transmit power to the belt.
Drum motor: Drive motor built in the pulley.
E
Emergency pull cord: Length of coated wire stretching the length of the conveyor. Works like a emergency stop button
Emergency stop button: Push button used to stop the belt in an emergency – (requires a safety relay within the control panel).
F
Flow: Direction of conveyor.
G
Guide rail: Either fixed or adjustable bars or plates used to either contain or to guide the product on the belt conveyor.
I
Idler pulley: Non driven roller.
Inclined conveyor: Conveyor transporting product up a slope.
L
Lagged pulley: Rubber material bonded to the surface of the drive pulley to increase friction.
M
Motor: Normally electric, used to power the conveyor.
P
Photo electric cell: Electric control device used to sense a product on the conveyor.
Pop out roller: A gravity transfer roller fitted to the end of the conveyor, designed to eject if something is dragged in.
Power feeder: Horizontal section fitted at the top and bottom of an incline conveyor, used to transfer products from incline to horizontal.
Pulley: Drive and idler pulleys – rollers at the end of the conveyor.
S
Shaft mounted: referring to the geared motor type and position when using a hollow bore geared motor.
Slider bed: Same as bed.
Snubbing roller: Fitted to the underside of the belt, used to track the belt.
Support: Steel fabricated structure, used to position the belt conveyor at the required height.
T
Tail Pulley: Non drive end pulley.
Take up: Jacking mechanism to put tension onto the belt.
U
Under guard: Sometimes fitted to the underside of conveyors to prevent access to the underside of the belt. Can cause nip points.
V
Variable speed: Means of adjusting the speed of the belt – normally inverter within the panel.