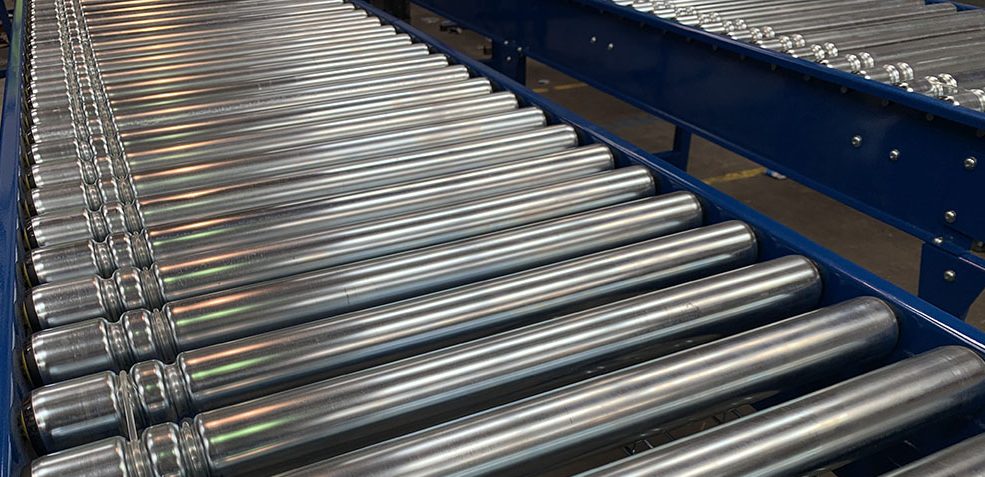 Lineshaft Driven Powered Roller Conveyors
Lineshaft conveyors are a simple proven driven conveyor and also a low cost solution to many product transportation problems. Spaceguard manufacture reliable lineshaft modules including straights, bends, merges and also switches. These can be combined with electrical controls as a conveyor system. We normally use precision bearings within the rollers to reduce noise levels.
The Lineshaft conveyor generally is a universal conveyor. Normally ideal for integration into conveyor systems carrying boxes or totes, and other flat bottomed unit loads.
When an item on the lineshaft conveyor reaches the desired stopping point, extra friction will cause the o-ring band to slip. As a result the rollers underneath the package will stop turning. Allowing products to accumulate on the conveyor without running off, or causing stoppages in other sections of the conveyor.
Spaceguard is a UK manufacturer & installer of Lineshaft driven roller conveyors. Manufacturing and installing conveyors to suit your specific requirements.
Product Information
Module types manufactured: Straight sections, bends, 90° Transfers & merges
Widths: 350mm - 1050mm
Lengths: To suit customer application
Rollers: 50mm diameter, double grooved, stainless steel or zinc plated
Frame: Stainless Steel or Powder Coated Mild Steel
Speeds: 10 - 30 m/min
Accessories: Product Blade Stops, Roller Brakes & switches
What is a Lineshaft driven roller conveyor?
It is a low pressure accumulation or product transport roller conveyor. A shaft beneath the rollers drives this type of conveyor. A friction spool on this shaft for each roller attaches to the rollers by polyurethane o-rings. This transfers the drive from the lower positioned shaft up to the rollers. An electric motor powers the shaft, as the shaft spins, each o-ring drives its corresponding roller.
This type of conveyor has been an industry staple for 50+ years.
Suitable for a wide variety of applications including:
Warehouse transport conveyor
Packing lines
Product accumulation
Production lines
Order picking
Packaging
Barcode labelling
Warehouse sorting
Lineshaft roller conveyors are suitable for loads up to 50Kg / metre.
Other types of roller conveyors suitable for heavier loads, for example chain driven roller conveyors.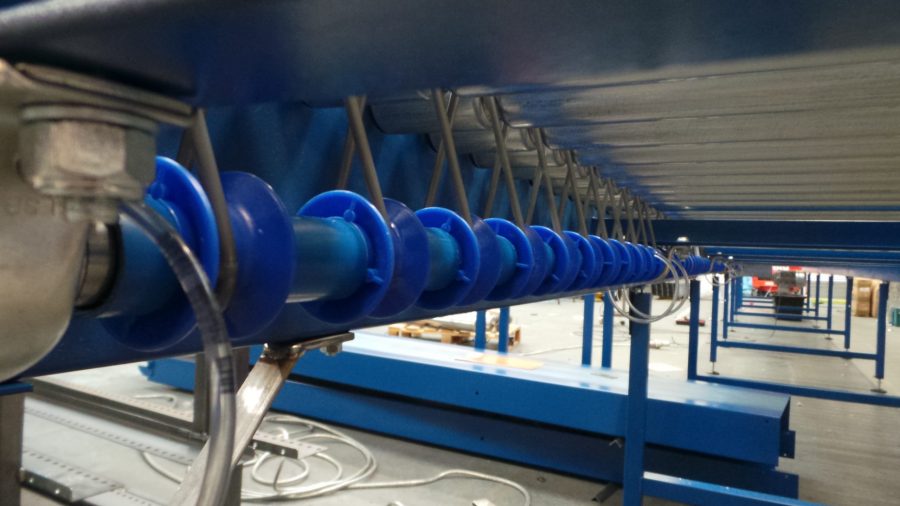 Lineshaft roller conveyor bends
Driven roller conveyor bends are generally used to transport flat bottom products (for example boxes or totes) around corners. Driven from the lineshaft below, the driven rollers are fitted with conical taper sections. This is to allow for the speed differential around the bend, ensuring products maintain their orientation. With conveyor widths from 450mm to 1000mm and angles from 30° to 90°, Spaceguard manufacture reliable conveyor bend products.
Lineshaft roller conveyor merges
Within the conveyor system there is often the requirement to merge two lanes of conveyor into one. This is achieved by using a conveyor merge, coupled with conveyor controls. Allowing product to only merge when there is a gap. Whilst accumulating when no space is available.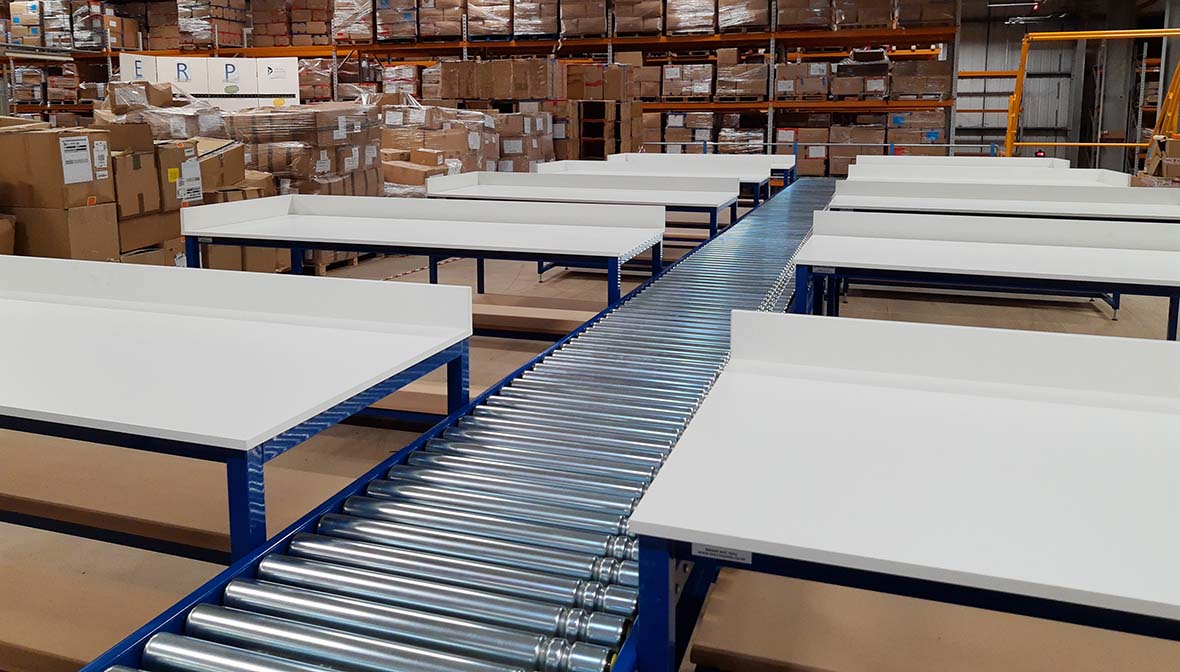 Lineshaft Roller Conveyor Frequently Asked Questions
Can you install My Lineshaft conveyor?
Yes Spaceguard offers a full service from design through to installation, including onsite maintenance aftercare.
Can a lineshaft run at any speed?
The lineshaft generally operates best running at speeds between 10 metres per minute, and 30 metres per minute.
What is the smallest box i can use on a lineshaft conveyor?
There needs to be 3 rollers underneath the box, so 225mm is normally the smallest length box.