This is one of the most common questions we are asked here at Spaceguard, and luckily it is quite an easy question to answer once you understand the main differences between the two types of conveyor.
Below you can find a short overview on the features of conveyor belts and roller conveyors, and to what scenario each type is better suited.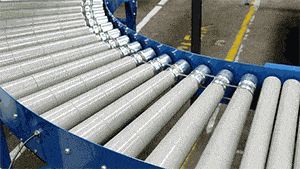 Roller conveyors
Roller conveyors are most suitable for transporting items with a flat rigid bottom
When to use a roller conveyor...
Items can get stuck between the rollers if they are not rigid. This makes roller conveyors unsuitable for loose materials, bags and packets.
The items also have to be large enough to sit across several rollers otherwise the product will not move as desired.
Rollers conveyor systems are more suitable for product accumulation, including zero pressure accumulation which allows products to accumulate without coming into contact. This can help to prevent product damage, particularly with more fragile items like glass bottles.
Roller conveyors are commonly found in airports, warehouses, factories, and assembly lines.
Roller conveyors are mostly used for transporting...
Cartons
Trays
Totes
Boxes
Pallets
Crates
To find out more about different types of roller conveyors please see the roller conveyor products page. Alternatively you can check out our 'What is a roller conveyor?' article.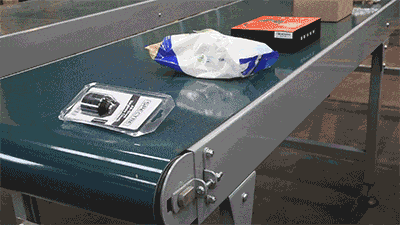 Belt conveyors
Belt conveyors are suitable for transporting a wide range of items, they are one of the most versatile types of conveyors available
When to use a belt conveyor...
As the belt is a flat surface it does not matter so much about the size of the product, belt conveyors can transport small items or loose material with ease.
One thing to consider however is that sharp or extremely heavy items may cause damage to the belt.
Very heavy items may also cause problems for a standard belt conveyor and whilst heavy-duty belts are available, for basic product transportation it is often more cost-effective to use roller conveyors instead.
Belt conveyors are commonly found in farming & mining industries, supermarkets, greenhouses, factories, warehouses, and e-fulfilment centres.
Belt conveyors are mostly used for transporting...
Food & drink items
Packets & bags
Loose materials
Lighter boxes
Packaged products
To find our more about the different types of belt conveyors and their uses please see the belt conveyor products page or alternatively, take a look at our 'What is a belt conveyor?' article.
Are you looking for a conveyor solution?
As a UK manufacturer with over 30 years of experience providing businesses with reliable and robust equipment, we are the ideal partner to supply your conveyors & workplace equipment.
Please fill in the form below to contact our helpful team.