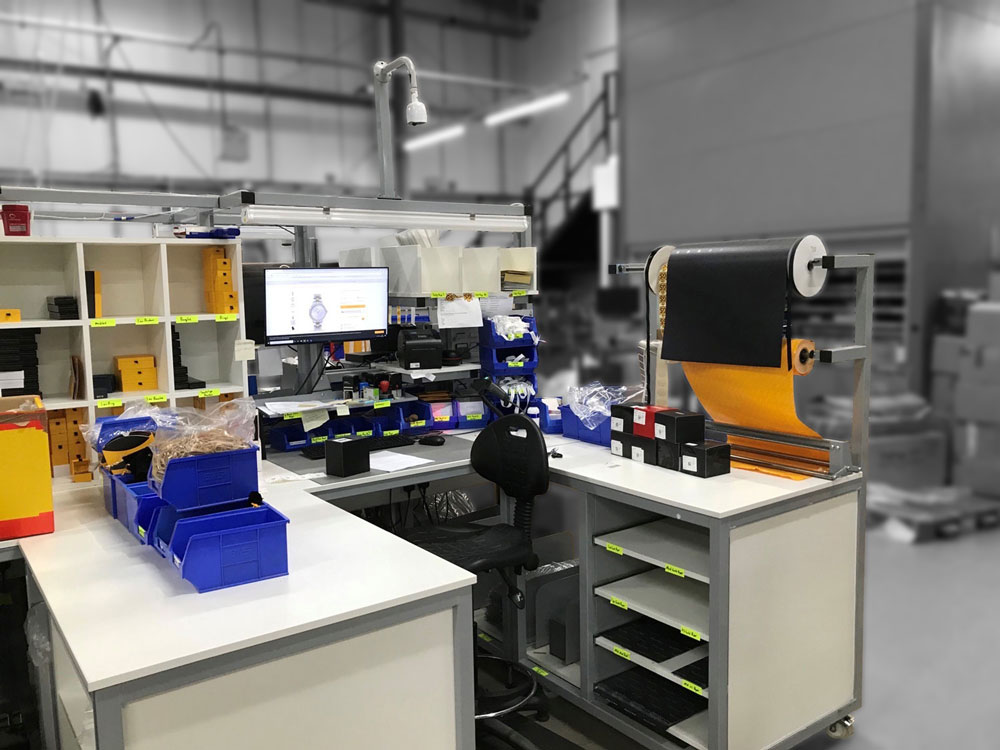 Complete packing area designed & manufactured for luxury watches retailer
Overview
In 2019 the Watches of Switzerland Group approached Spaceguard to design and manufacture a bespoke ecommerce packing bench system.
Since then we have provided further packing benches as required, with modifications made to the design as necessary.
The original design had all bench parts mounted on feet instead of castors. Later versions included castors at the customers request so that some parts of the bench could be repositioned easily.
The workstation also features bench mounted cutters, roll holders, pull out bins & shelves, louvre panels, camera mounts, lighting rails, and under bench mounted sockets.
Packing Area Design Process
The design department took the desired specification and were able to use this to create a 3D model from the proposed design. Below are some examples of the renders that were made during the design process.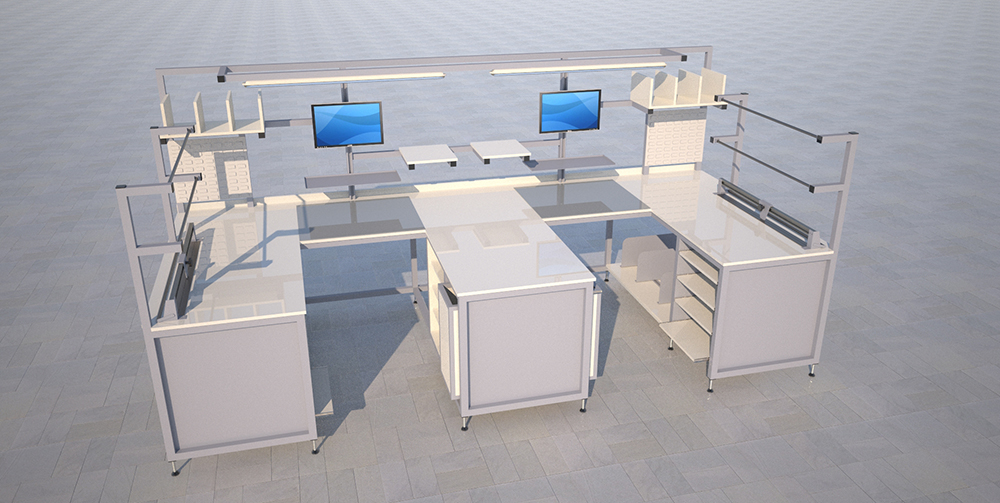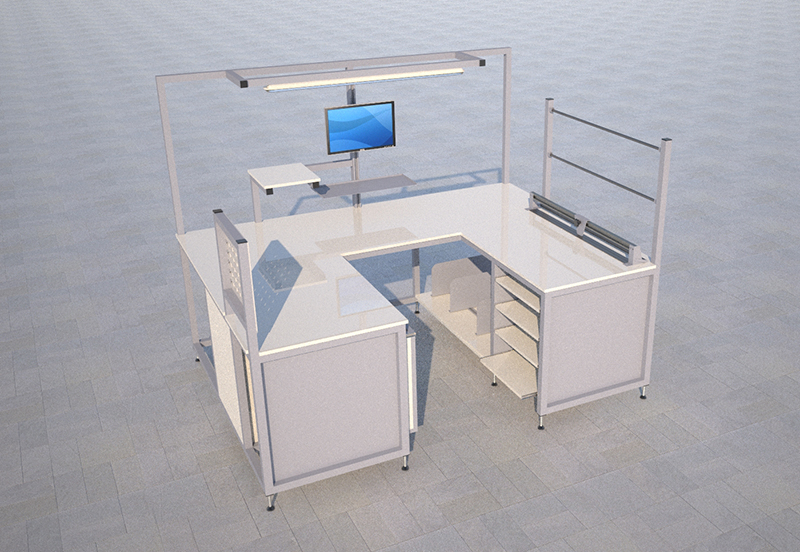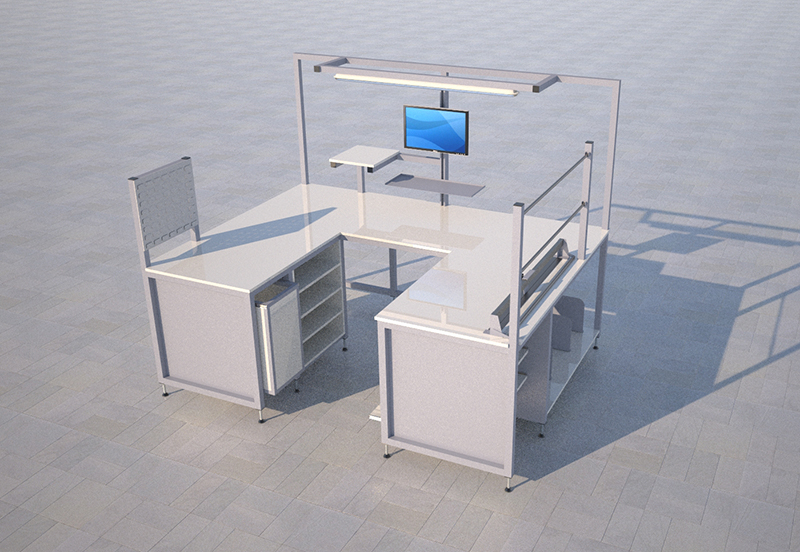 Interactive 3D Model
Where appropriate we can send customers full 3D models showing their desired equipment through different phases of the design process.
Below is an example of one of these interactive models for this project. Once the frame has loaded you can use your mouse or touchscreen to move the model.
Finished Packing Benches
The images below from October 2020 show the latest version of the M-shaped packing bench in the factory prior to being wrapped and loaded for delivery. There are also photos of the smaller side benches that ended up being mounted on castors.
Like many of our workbenches and packing tables this was sent out of the factory fully assembled, however prior versions were manufactured flatpack and installed by Spaceguard on site.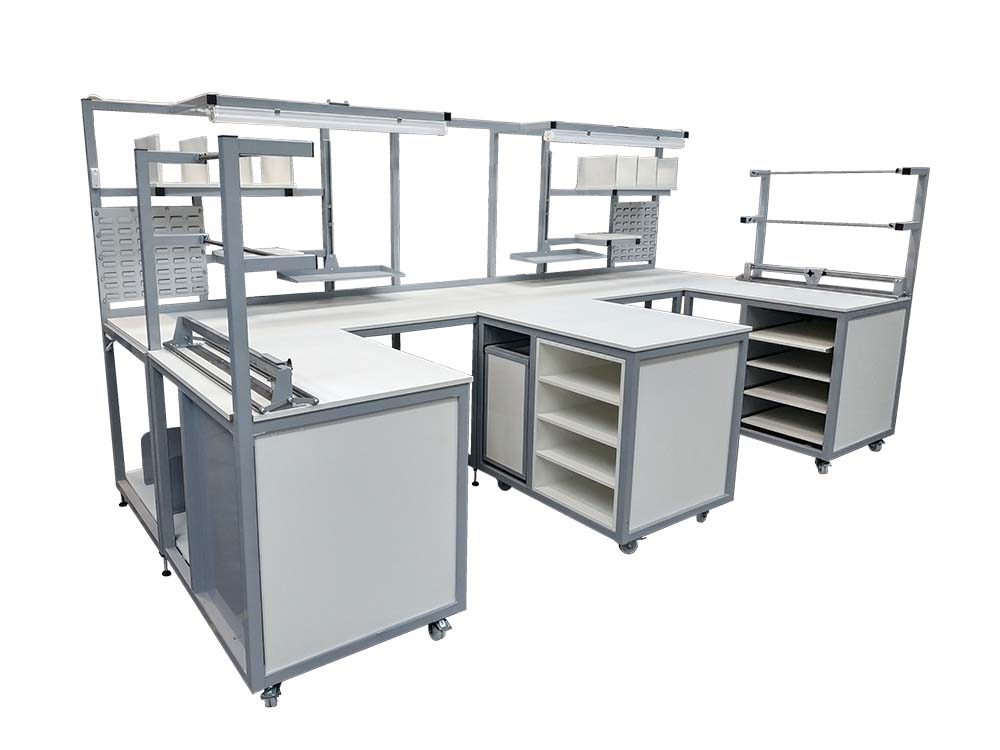 Feedback
It's nice to get positive feedback from our customers, but to get photos showing how things turn out is really great.
We were lucky enough to be sent this photo along with the feedback shown below.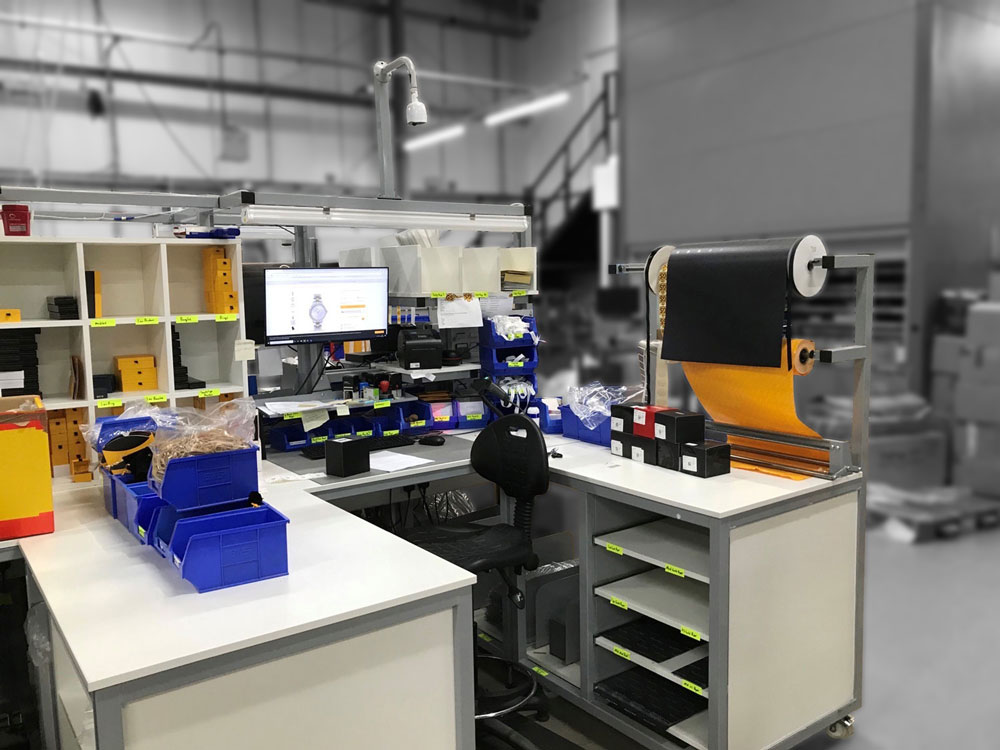 "Spaceguard were amazing from the start. They took the time to listen to our requirement's and see our way of working. Once this was seen they designed our new ecom packing tables from the bottom up. The 3D modeling was great, as we were able to see the design and easily make any tweaks before approving. Once approved we were kept informed of the progress and installation was fitted around our needs and done very professionally. Would highly recommend them for your projects."

Customer Review via Trustpilot
Are you looking for a packing bench solution for your business?
Spaceguard are UK manufacturers of entirely bespoke made to order workbenches, packing benches, conveyor systems, and more.
Many of our products start off from a simple sketch or a quick phone call with our helpful design & sales teams.
If you have an idea in mind for a workstation or packing area to enhance your business then please send it over to us for a no obligation quote.
Send us your packing bench ideas or requirements