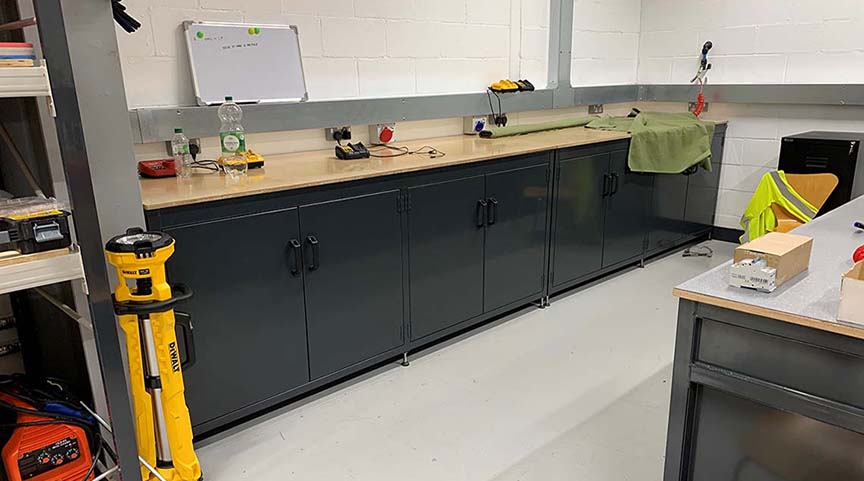 What makes a heavy duty workbench?
Welded construction for extra strength (no self assembly)
Sturdy construction manufactured from hollow section sized to suit the application
Designed to carry the required load with a high safety factor
Robustly manufactured
Designed to suit heavy engineering and manufacturing applications
Heavy duty worksurface such as steel topped, steel on coreboard, hardwood, laminate faced hardwood, linoleum faced hardboard or UHMWPE (no chipboard)
Options for drawers, cupboards, tool storage & services built within the bench
We offer fast quotes on heavy duty workbenches at great prices.
Phone: 01482 363445
Email: sales@spaceguard.co.uk
At Spaceguard we manufacture a wide range of both standard heavy duty workbenches upto 1000kg, along with bespoke manufactured workbenches to suit your specific requirements. Standard workbenches are available on a quick delivery, whilst bespoke designed equipment Spaceguard as able to help design, manufacture and install where required, equipment which is durable and ascetically pleasing. Simply Spaceguard equipment is built to last.
All Spaceguard workbench equipment is delivered welded and assembled or for larger items onsite installation service is available
Why Spaceguard is the ideal partner to manufacture your workbenches
Complete in-house design & build service.
Proven robust ascetically pleasing equipment.
Competitive pricing and often short lead times.
Wide choice of options and accessories.
Excellent customer service.
Wherever possible delivered fully assembled and wired.
On site installation also available.
Please contact our sales team to discuss your requirements
Phone: 01482 363445
Email: sales@spaceguard.co.uk