Spaceguard design & manufacture workbenches for heavy duty applications. Our work benches are suitable for engineers, mechanics & general workshop usage.
Engineering workbenches from Spaceguard are designed to be tough enough for daily industrial use. Whether that be a garage, factory or workshop bench – we always provide the perfect bench to suit your application.
Are you looking for a custom made workbench? Contact our helpful team who will be happy to assist you.
Phone: 01482 363445
Email: sales@spaceguard.co.uk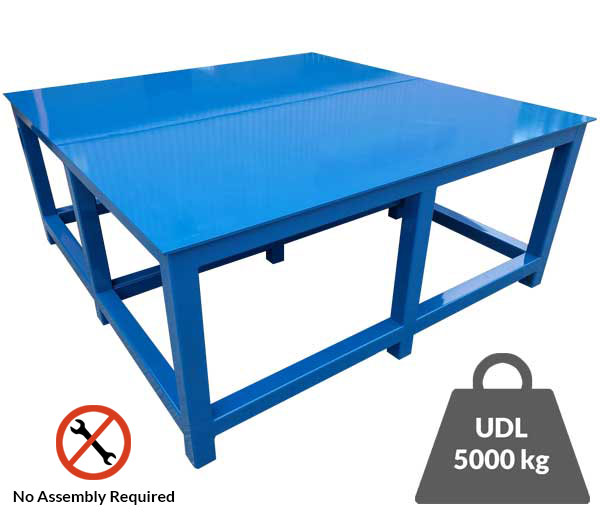 Extra Heavy Duty Engineering Workbenches
This is the strongest of our workbench range, with a UDL of 5000kg.
Load testing is available on our workbenches if required for safety & peace of mind.
Please click the button below to find out more.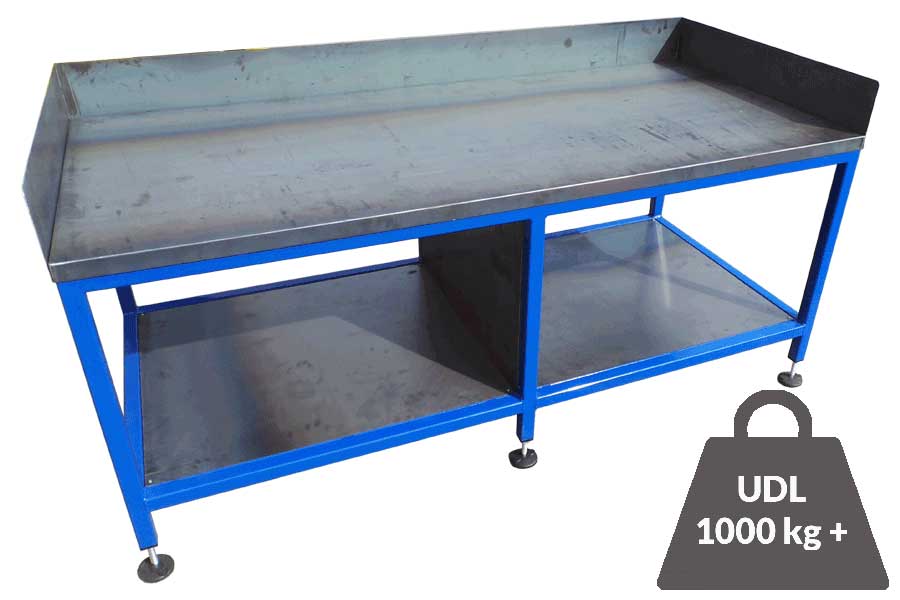 Heavy Duty Metal Worktable
Metal work tables can be used for a range of engineering and manufacturing purposes. The bench pictured here is one of our standard heavy duty metal workbenches that has been customised with upstands to the back, left, and right sides. There's also a divider added to the lower shelf which splits the storage area in two.
The standard heavy duty bench has a UDL of 1000kg, and arrives fully assembled ready for work.
Standard Heavy Duty Workbenches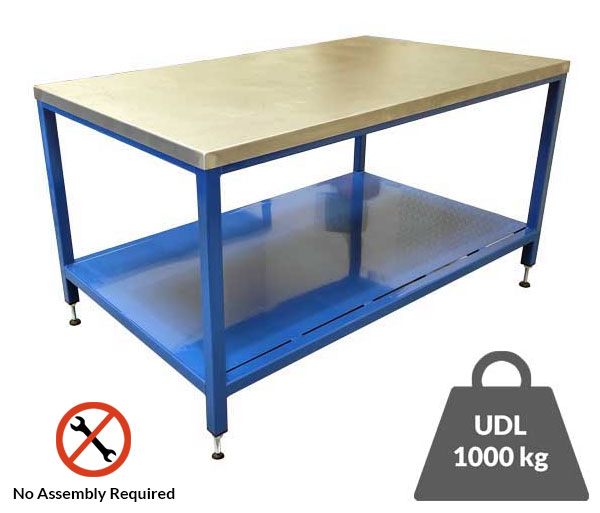 Stainless Steel Top Engineers Workbench
Whilst a stainless steel worktop may not be required in most environments, they are often a more aesthetically pleasing worktop choice.
If your work area is open to visitors, or if your business relies heavily on photography & social media posting, a clean looking stainless steel top might make all the difference.
Spaceguard also manufacture fully stainless steel benches which are more suitable for food production environments.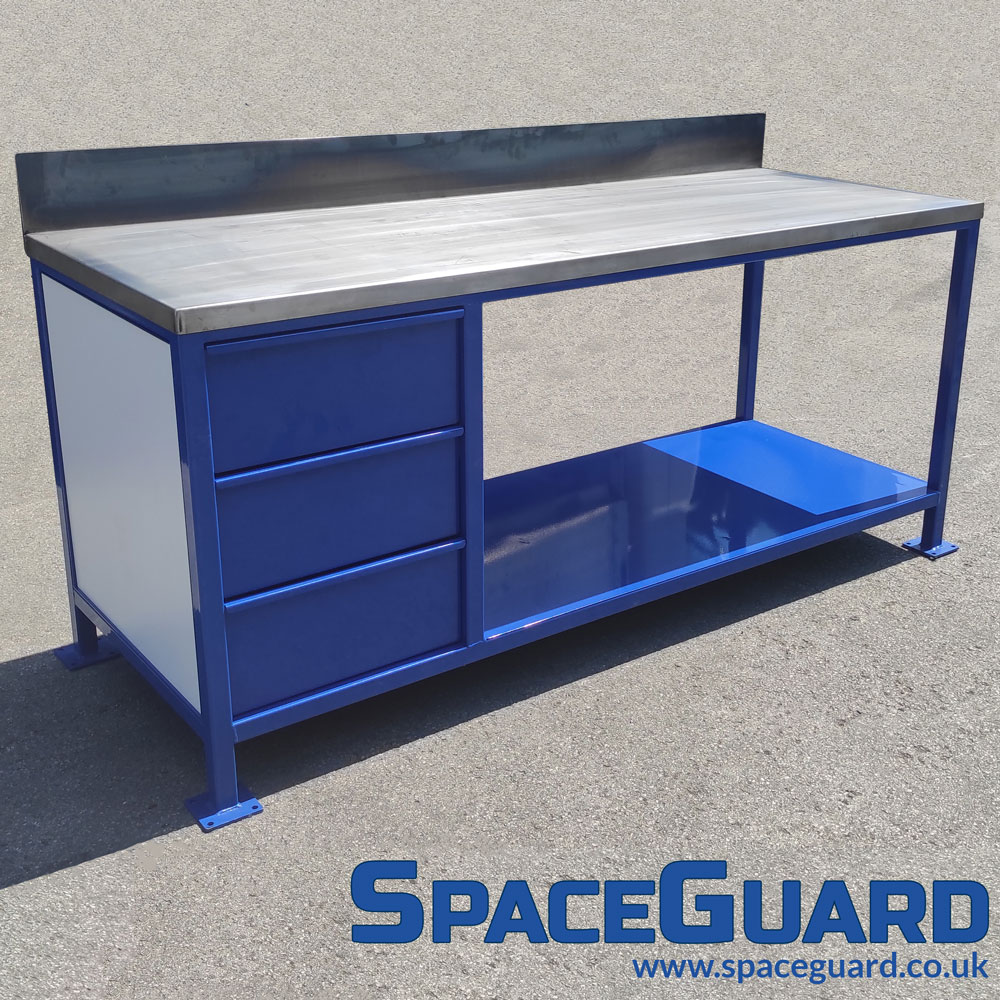 Engineering workbench with Drawers
This workbench features floor plates for bolting the bench to the floor. Once in secured place this solid metal bench will not wobble or move at all when in use.
Along the back edge there is an upstand, which can be used to work against, and it also prevents items from being accidentally pushed over the edge.
The three drawers shown are set on smooth runners, making the drawers ideal for quick access to tools and components.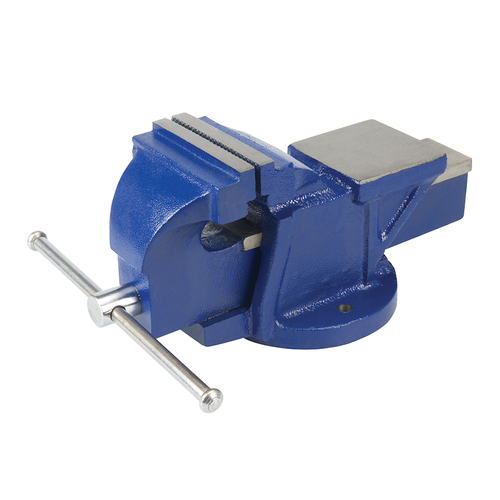 Workbench Accessories
As we manufacture all products to order, you can choose from many of our helpful addons and accessories.
Vices can be added to all workbenches as required, we have a number of types available to suit all applications.
For electrical work we can add sockets, ESD equipment, or even manufacture benches which have anti-static or ESD worktops
Pegboards, tool rails, and louvre panels are great additions to assist in keeping the workplace tidy, whilst added bench lighting helps with accuracy.
All of our workbenches are manufactured to order
We use only the highest quality materials and our well proven designs to built robust and ready for work industrial equipment. Many of our products start from a simple sketch or short telephone consultation with our design and sales teams.
Spaceguard workbenches can be found worldwide in some of the most arduous environments imaginable. Whether in a mechanics garage, or an oil rig workshop, our benches have been providing a safe & sturdy working environment for thousands of users over the previous decades.
Please contact our helpful team who will talk you through the design & ordering process
Phone: 01482 363445
Email: sales@spaceguard.co.uk