Heavy duty workbench, manufactured in the UK by Spaceguard.
Designed and built to suit even the more arduous of applications.
Heavy Duty Workbench range from Spaceguard is manufactured to the highest standard. Using heavy duty steel box section thereby giving additional structural strength. Spaceguard heavy duty benches are as a rule Supplied to you fully welded and assembled. Therefore they are "Ready to use". They are also available with a choice of workbench work tops,  for example steel, hardwood, or polyurethane. Spaceguard has a proven track record for manufacturing quality robust workbenches and trolleys. Spaceguard is therefore an ideal manufacturing partner for the supplying of your heavy duty work bench requirements.
From a straight forward workbench, to complex bespoke built heavy duty workbenches, Spaceguard is able to design and build to suit any application. Spaceguard have gained a good reputation for manufacturing robust well engineered welded steel workbenches and workstations. We have options for independent load testing and stamping.  Spaceguard are a flexible company to work with, delivering and installing heavy duty workbenches where required.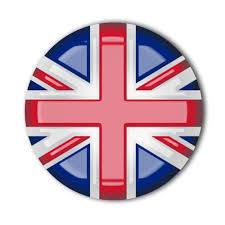 As a standard, Spaceguard manufacture robust, hard wearing, and heavy duty workbench products.
These are available together with a comprehensive range of optional extras. These are particularly suited to your specific requirements. Consequently, they're suitable for even the most heavy duty application. Spaceguard workbenches are manufactured from heavy steel section, coupled with a durable powder coated finish. Workbenches are also available with food grade stainless steel.
Spaceguard manufactures to order. As a result, we can manufacture to suit your specific size and specification. So simply contact our sales team for a competitive quotation.
Ordinarily as a standard the uniformly distributed load (UDL) is 1000kg for each workbench. However Spaceguard also manufacture bespoke super heavy duty workbenches. Consequently being suitable for loads up to 5000 Kg.
Please contact our sales team to discuss your requirements
Phone: 01482 363445
Email sales@spaceguard.co.uk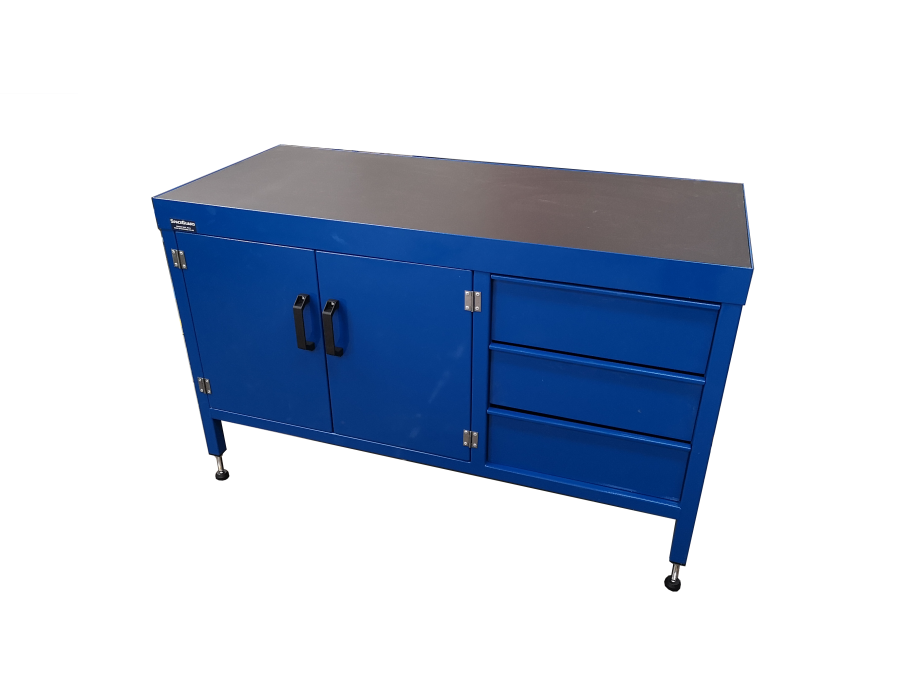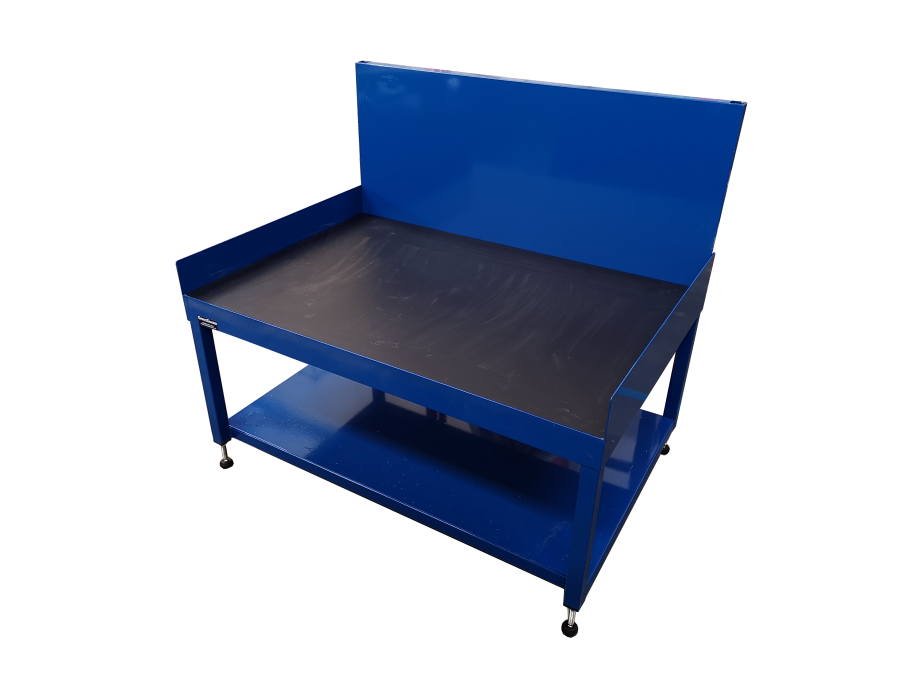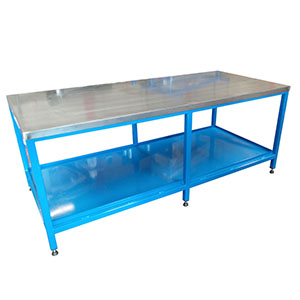 Heavy Duty Benches
Spaceguard  heavy duty benches are ideal for industrial requirements. Manufactured in our UK factory to suit your bespoke requirements. Including a base working load of 1000 Kg. The welded steel section framework and heavy duty construction provide the base of an especially robust workbench. With a wide choice of accessories and options available particularly suited your specific process. Please speak to our sales team to discuss your requirements.
Heavy duty mobile workbench
When the workbench is required to be moved to the job, this work bench is ideal. Manufactured especially to suit your bespoke requirements. Mobile high duty workbenches products are ideal from loads up to 1500 Kg. In addition, external load testing can be carried out prior to delivery should you require. Our sales team are ready to discuss your requirements .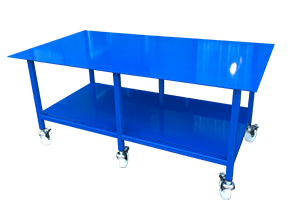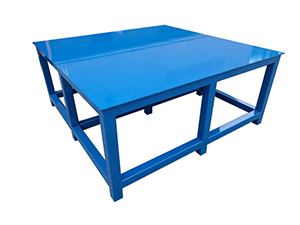 Extra heavy duty workbench
Manufactured to suit your bespoke requirements. Spaceguard extra heavy duty products are ideal from loads up to 5000 Kg. External load testing can also be carried out prior to delivery should you require. Please speak to our sales team to discuss your requirements.
Heavy duty roller table
In addition to the wide range of workbenches, Spaceguard also manufacture standard and bespoke heavy duty roller and ball transfer tables. You can speak to our sales team who are happy to discuss your requirements.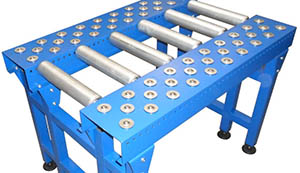 Standard Welded construction heavy duty work benches – 1000Kg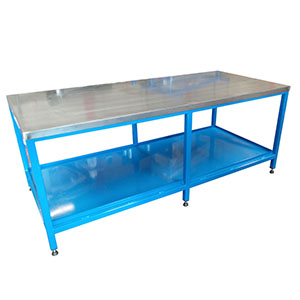 Manufactured by Spaceguard from robust welded steel box section, in addition to a durable powder coated paint finish. Complete with a steel worktop coupled with a lower shelf. It has a load tested design. Delivered to your site fully assembled. Ready for work. Made to order, standard sizes can be ordered online.
Bespoke heavy duty benches, Ideal for industry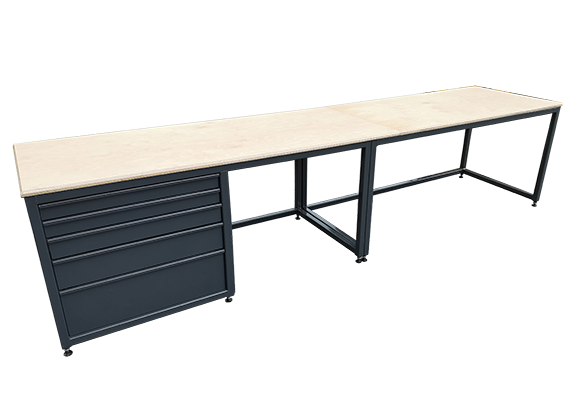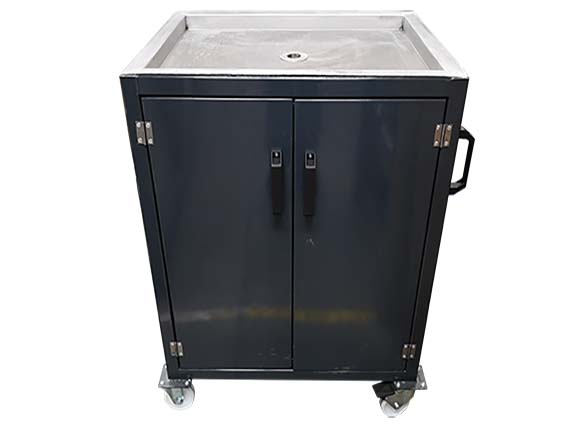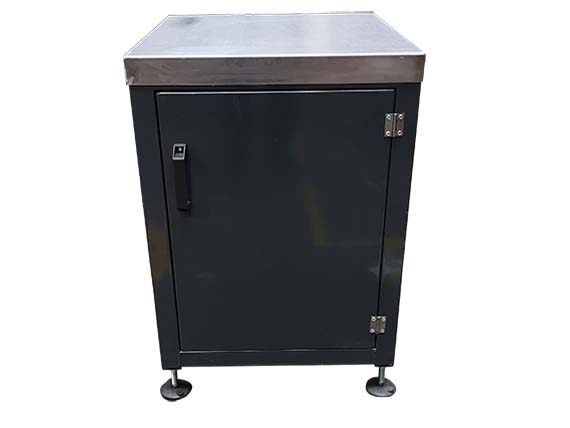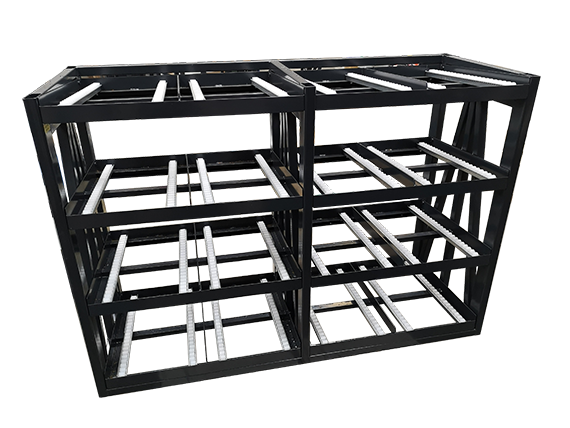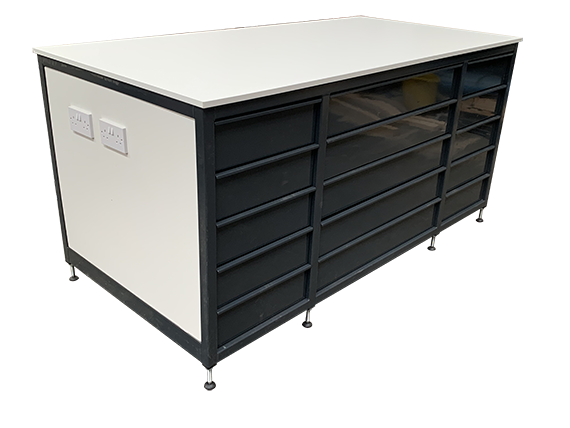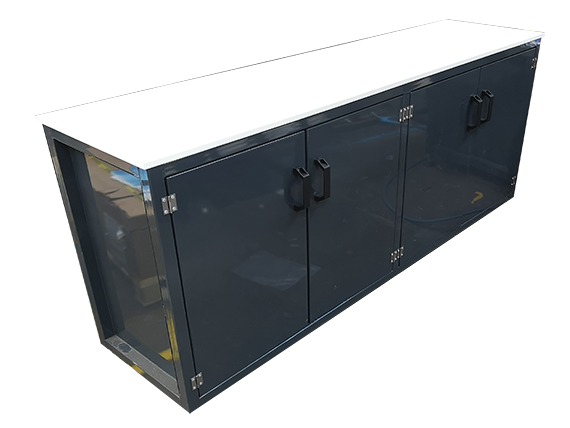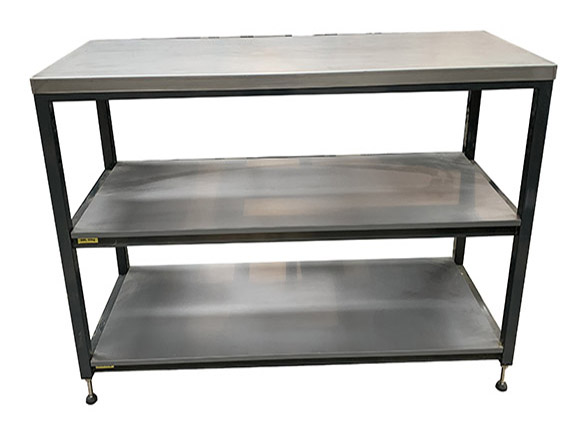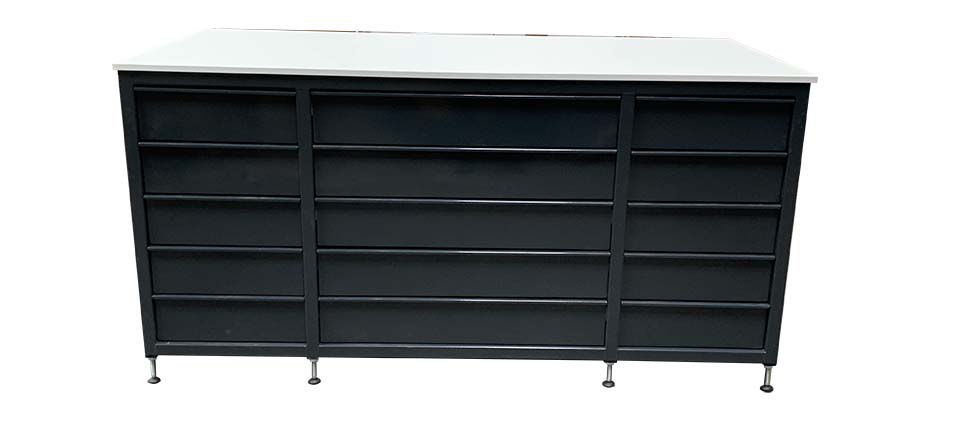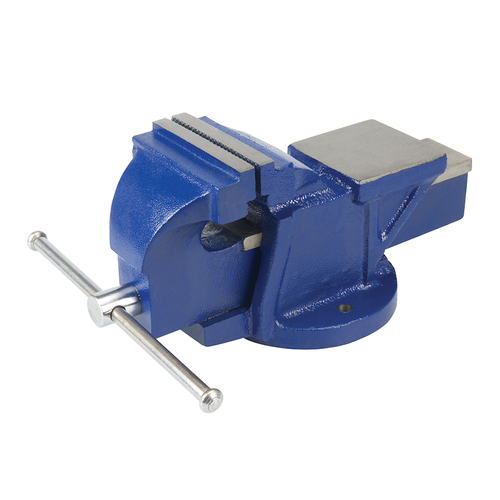 As a UK manufacturer of robust fully welded and assembled heavy duty workbenches. With a wide range of workbench options available. Spaceguard is an ideal partner for your
workbench
requirements. Please contact our sales team to discuss yours. We can also supply a 
belt conveyor
system, 
gravity conveyors
and ball tables which can be integrated with or supplied with your work benches. Please mention your interest when contacting Spaceguard.
Workbench Specification
Workbench Detail: Delivered fully assembled ready for work
Frame Construction: Heavy Gauge Robust Welded box section painted mild steel or stainless steel Construction
Frame Finish: Durable powder coated paint finish
Workbench Worktop: Steel, wooden or plastic top
Options: See available storage, IT and electrical options
From concept to bespoke Heavy duty workbench
Our design team have a wide experience of a number of industries bringing cross industry improvements which are made to drive efficiency. From initial site sketches to 3D design layouts for presentation, time and motion and were appropriate mock up areas Spaceguard are an ideal partner to aid with your workbench design.
Solutions based around your needs
Spaceguard work with you and listen to your requirements and ideas, we work closely with your whole team, making sure we collate their ideas, transforming them into a productive solution.
Made in the UK
All our products are manufactured in our UK factory, using our robust designs you can be sure of a workbench which will last. All of our equipment comes fully assembled an installed if your application is more bespoke. We are confident you will not be disappointed with the equipment and services you purchase from Spaceguard.
Please contact our sales team to initially discuss your requirements : Phone: 01482 363445
Spaceguard is the ideal partner for Heavy duty workbenches as a UK manufacturer of workbenches, with all the support you would expect from working with the UK manufacturer - Including onsite service, where required.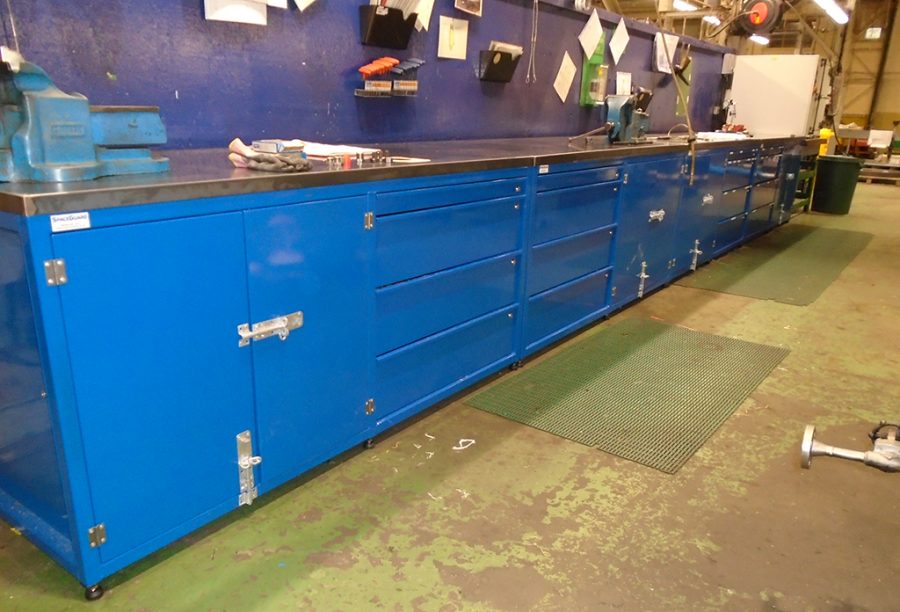 Case Study: Heavy duty benches for major UK oil refinery
Benches of welded construction – namely robust enough to take the work in an engineering workshop.
In this case must be load tested to 1000Kg +
Benches must be of bespoke sizes to fit within the space available. Must be load tested to 1000Kg +
Also have 4 x lockable drawers, each able to hold 100+ Kg.
Included a Bolt type locking double front cupboard.
Fitted with a steel worksurface with a hardwood core therefore reducing noise levels.
"Customer comments"
Having received our new benches I thought I would send you a couple of photos of how robust they look now they are in place. I can say they quality workbenches which will make a huge improvement.
I would certainly have no hesitation in recommending Spaceguard company to others.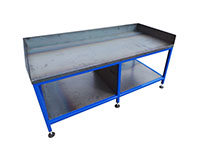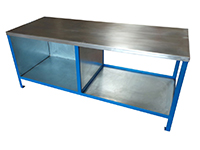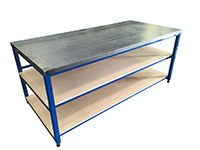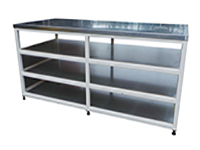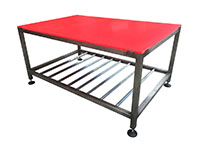 What makes a heavy duty workbench?
A safe working surface, generally designed and manufactured to safely take the weight or process they are purchased for.
For example: If the worktable is rated at 1000Kg UDL, the heavy duty work bench should in this case have a sufficient safety factor to be solid and stable whilst also carrying that weight without out of tolerance flexing.
Furthermore, the workbench frame ideally will also be manufactured out of suitable materials to withstand weights. Welded frames especially provide greater stability in comparison to flat pack frames.
The heavy duty work bench top therefore should be made out of materials which have some kind of structural integrity. For example steel, backed with a core board or solid wood. Rather than manufactured boards such as chip board or MDF. As a rule, underneath the work top, there should be sufficient support structure underneath.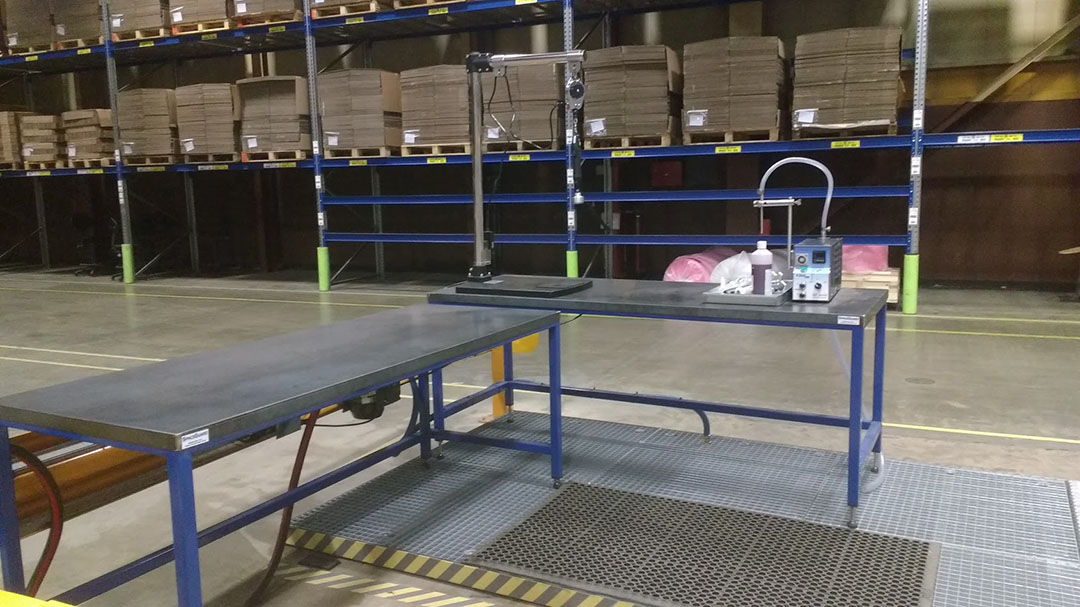 Heavy Duty Workbench Examples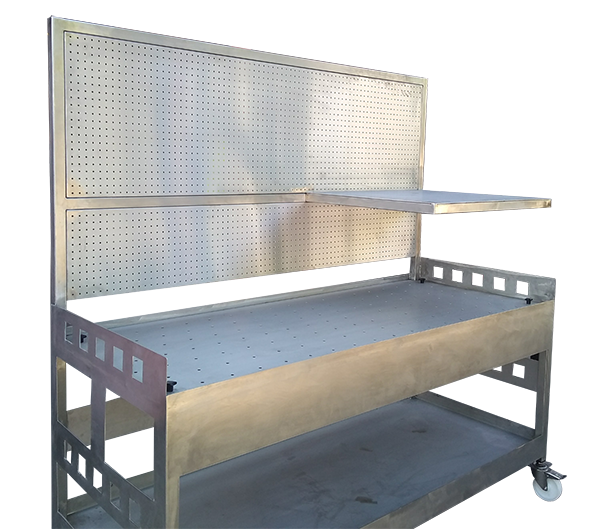 Along with painted mild steel heavy duty benches. Spaceguard manufacture heavyduty workbenches from stainless steel. Both from customer design drawings and specifications. Working with customers to ensure robust units, which meets application compliance as required. Please contact our sales team to discuss your individual requirements.
Phone: 01482 363445 or email sales@spaceguard.co.uk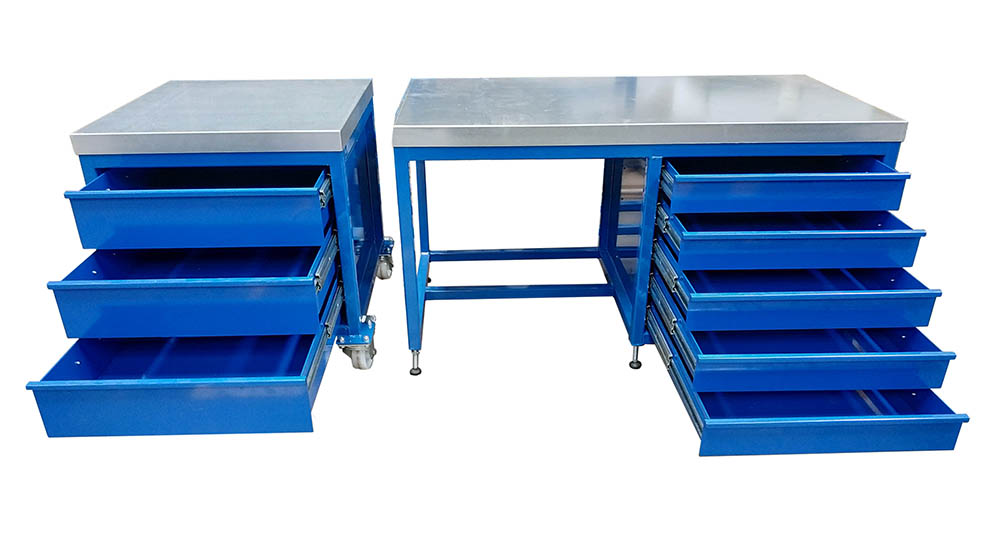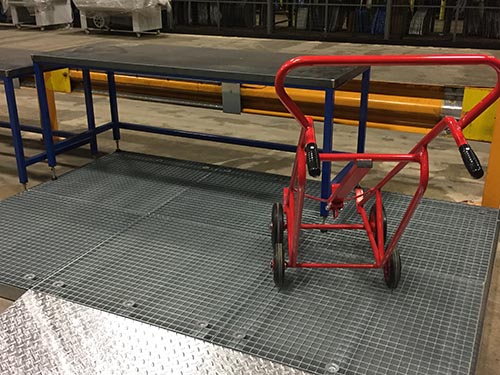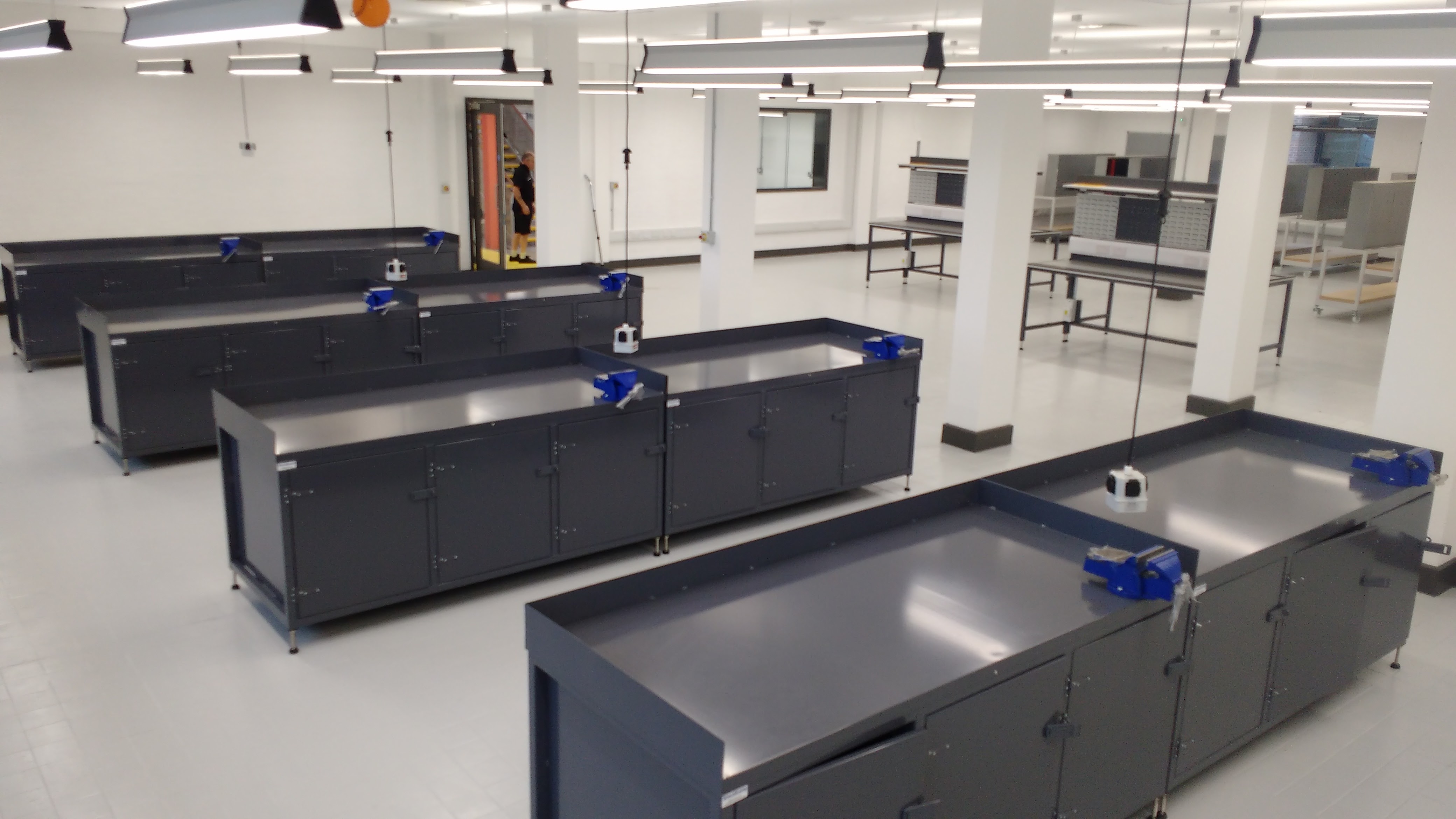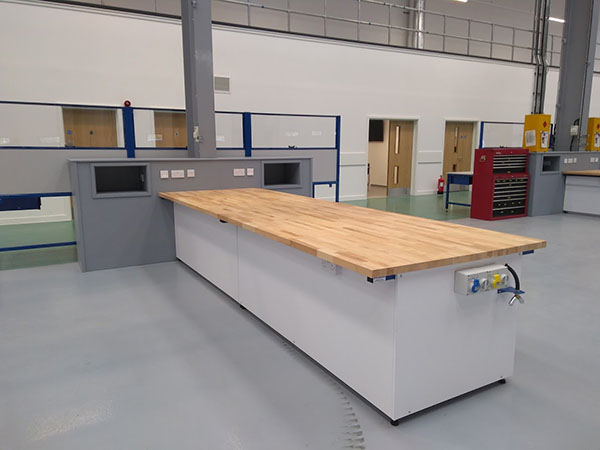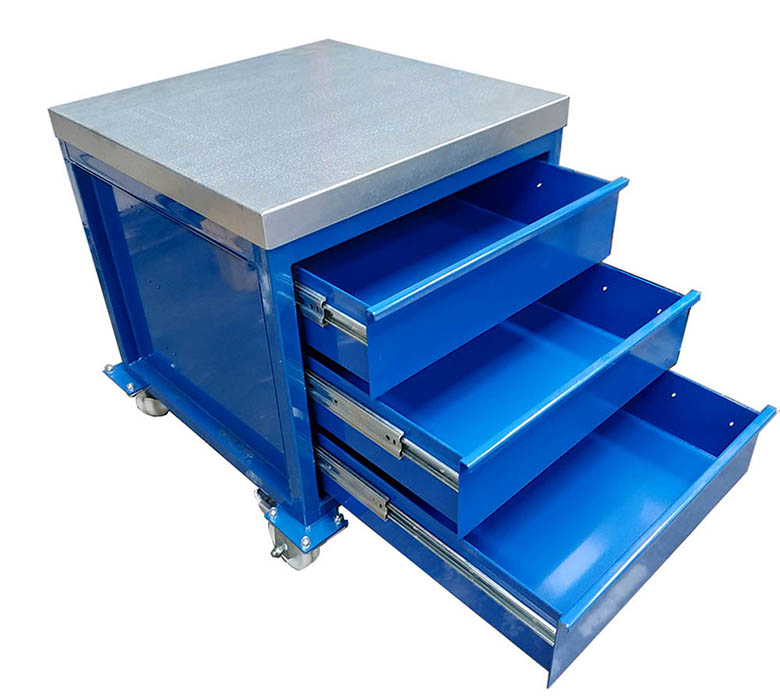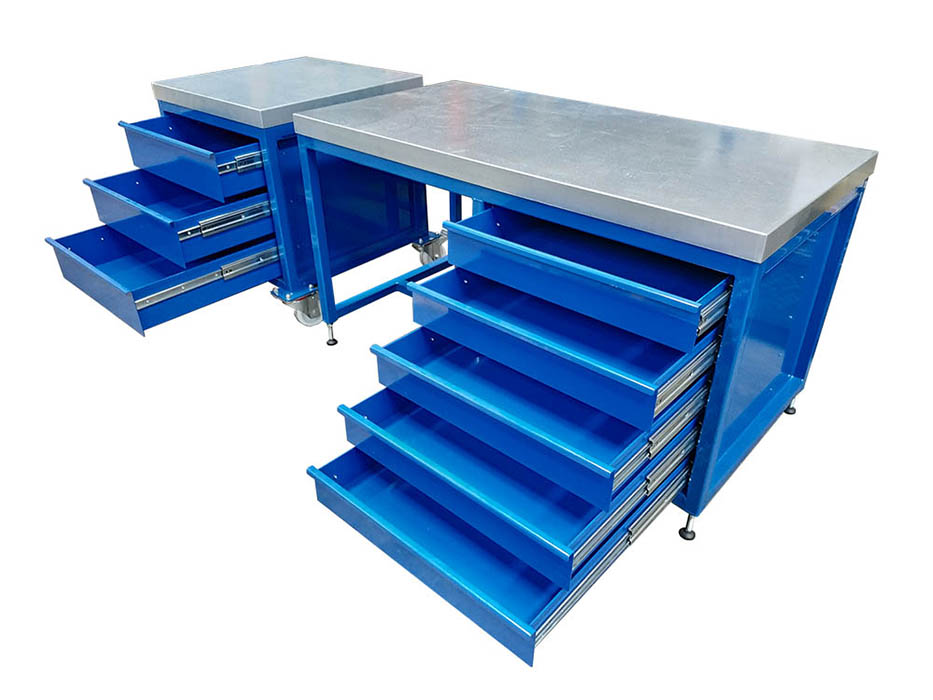 Heavy Duty Workbenches terminology  / glossary
Deflection: How much the frame bends under load.
Height: Work top working height from the floor.
Length: Overall bench length.
Load test: The test carried out to measure the deflection and movement in the structure, when a specific weight is applied.
Safe working load: The actual load the workbench can take without movement.
UDL: Uniform distributed load – The weight loading of the bench – Please note. This is different to safe working load.
Width: Overall bench width.