What are Roller Conveyors?
Roller conveyors generally consist of a number of rollers mounted within a frame. In the case of a gravity conveyor these rollers spin as the product travels across them, aiding the product in moving forward. The conveyor rollers may also be powered, meaning items placed on the conveyor will be pushed forward by the rollers. In either case, the roller conveyor makes product transportation simple and also efficient for most industrial environments.
Most commonly transported items include boxes, pallets, crates, totes, trays and also boards. Items being placed upon a roller based conveyor should generally have a flat and rigid bottom, this ensures that the product will not slip in between or sag in the rollers and become stuck.
Who invented roller conveyors?
The basic concept of transporting objects on rollers has existed for thousands of years. It is said that the pyramids were built using a system of wooden rollers to transport the large stone blocks into place.
It wasn't until 1908 however that a patent for roller conveyors first appeared. Hymie Goddard of the Logan Company in Indiana filed the first patent for modern roller conveyor systems.
Several years later Henry Ford popularised the assembly line and the use of conveyors became more widespread.
Automotive industries generally began using powered conveyor lines in the early 1920s which allowed for mass production in their factories, whilst coal miners were using roller systems to transport coal over much longer distances.
During the second world war however further enhancements and improvements were made to roller systems. This was due to widespread lack of natural materials, but still an increasing need for efficient production methods. Conveyor rollers were at this point being designed and built using synthetic materials for the first time in history.
Through the years further changes have been made to conveyor systems to incorporate health and safety considerations. The roller system as a result continues to evolve in line with technological advances, meaning they are now more reliable, quiet, and efficient then ever.
Where are roller conveyors used?
Found throughout a wide range of industries, roller conveyor systems offer an incredibly versatile, adaptable, and simple to install conveyor solution. This makes them popular with small businesses and large businesses alike.
Roller conveyors can be found in the following industries:
Food production
Food packaging
Packaging
Logistics
E-commerce Fulfilment
Postal Services
Luggage handling
Steelmaking
Manufacturing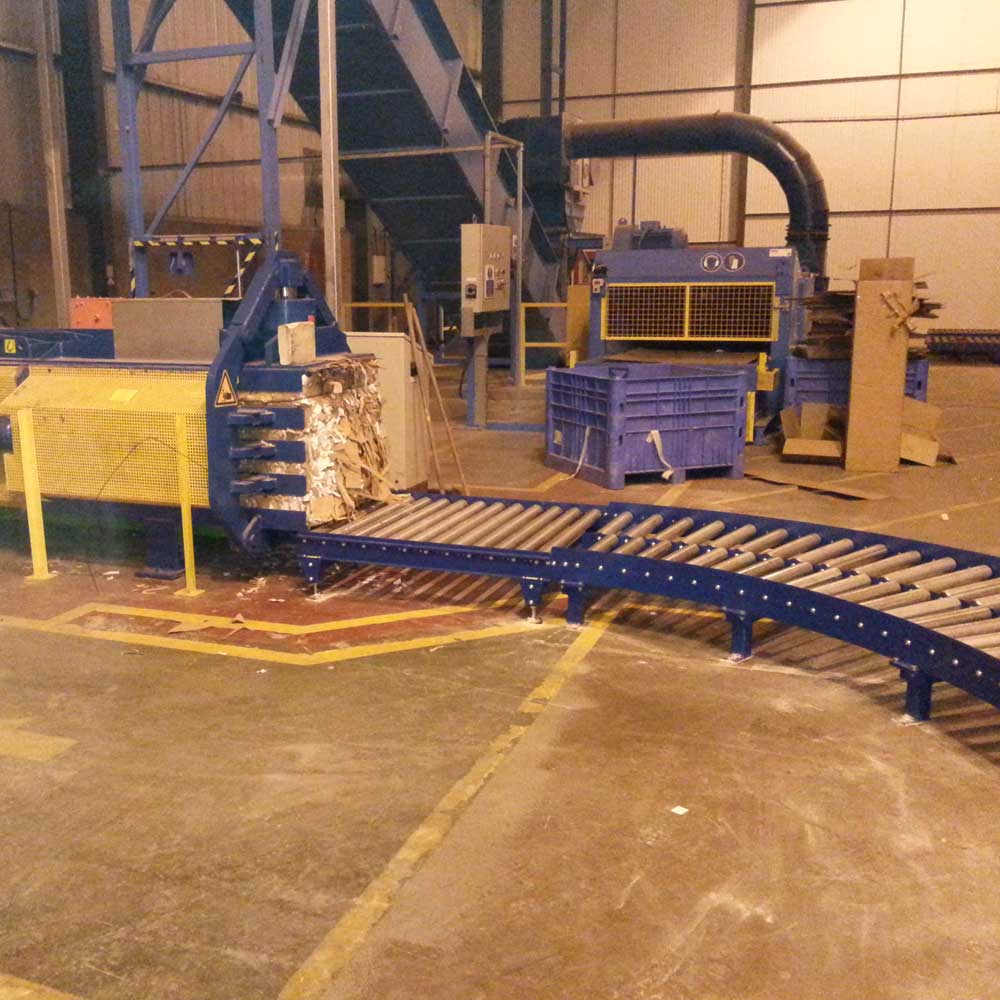 Types of Roller Conveyors
Gravity Roller Conveyors
Benefits of gravity conveyors
Gravity conveyors generally incur a low cost to operate as there is no need for a power source. The items on the gravity conveyor move freely with the force of gravity, or through manual force.
Due to the installation at a decline angle, the products will roll downwards to their destination.
Low maintenance due to the ease of roller replacement, which only is necessary when rollers become seized or damaged.
A gravity roller conveyor can be built to your product specification, and this is advisable for safety reasons. If you place products lighter or heavier than the weight of product for which your conveyor was designed, the transport speed could be sub optimal.
This is a downside of a gravity roller conveyor, that the conveyor speed cannot be controlled. In this situation a powered roller conveyor may be better suited.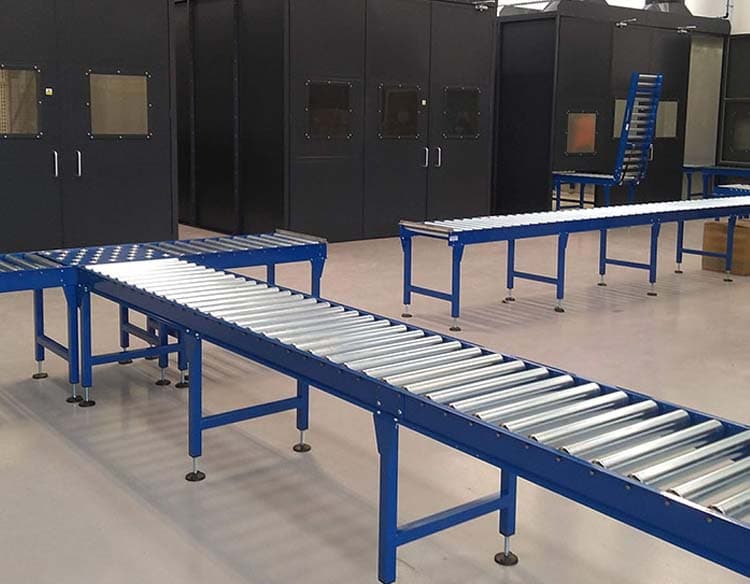 Powered Roller Conveyors
Benefits of powered conveyors
A powered roller conveyor allows for transportation of products at variable speeds. It can also cover much longer distances than a gravity roller conveyor.
Powered roller conveyors will commonly be found within the manufacturing industry as they have much higher weight capacity than gravity conveyors.
The length of the conveyor can be split into different zones, allowing for differing speeds in each zone if required.
Through the effective use of speed controls, risks of product damage or employee injury become lessened.
A powered roller conveyor is more expensive than a gravity conveyor, however the versatility and control options do lead to cost savings overall by improvements in efficiency, and a reduction in manual handling.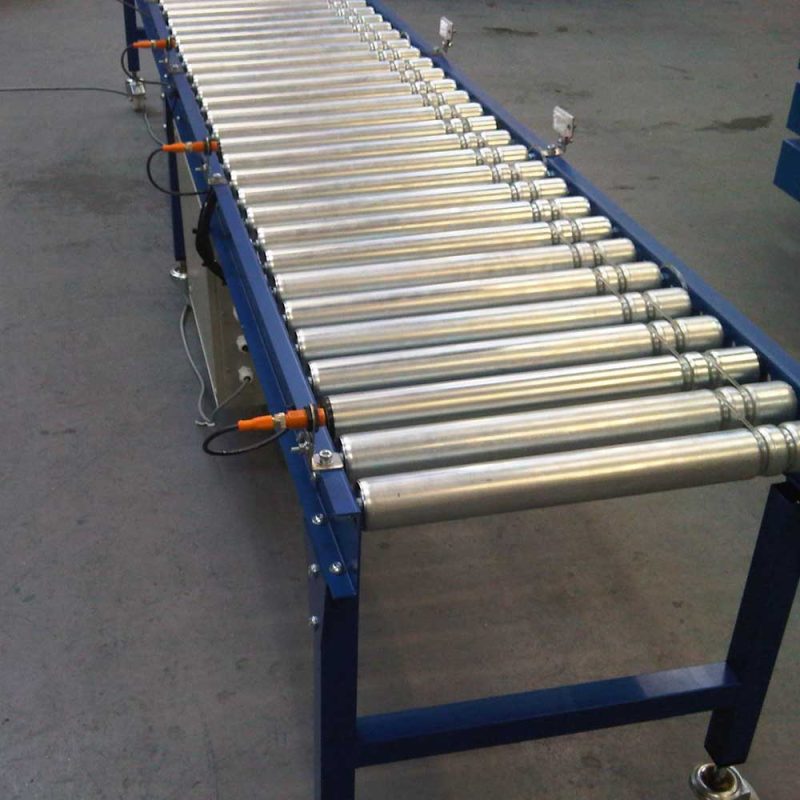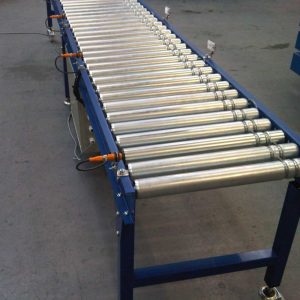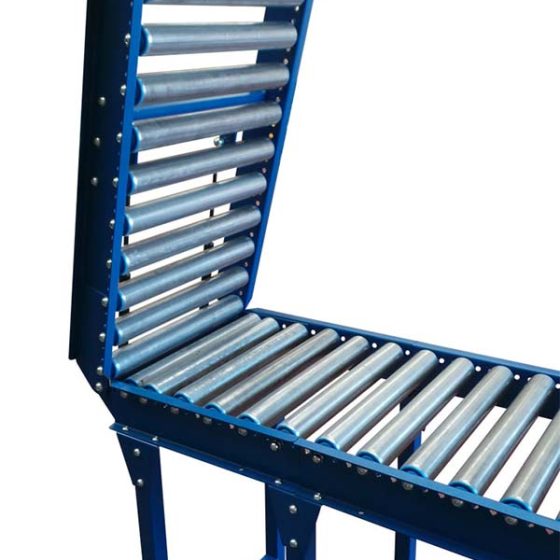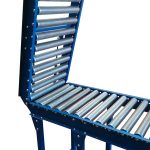 Conveyor Lift Up Access Gates
The lift up gate is used as a pedestrian access gate. Generally used for warehouse pathways or emergency access routes. The gate uses industrial gas springs to support weight of the gate whilst opening. As a result the gate is light to operate. Incidentally it may be possible to use the gate section as a stop. The lift up gate uses a 50mm diameter roller as standard.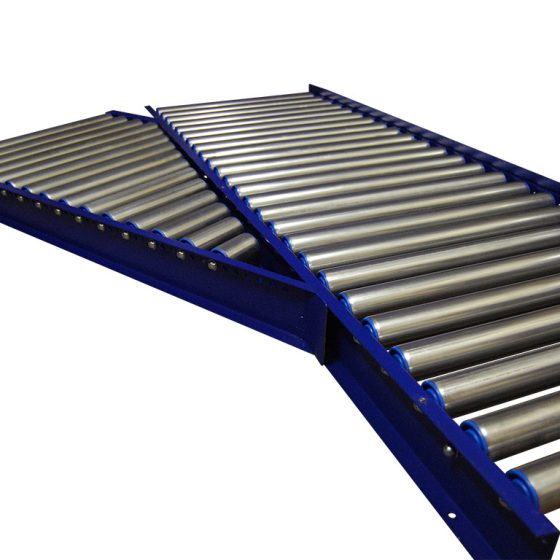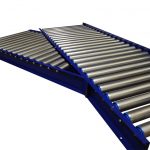 Roller Conveyor Merges
The 30 º and 45 º Roller Conveyor Merge is used to bring two conveyor lines together.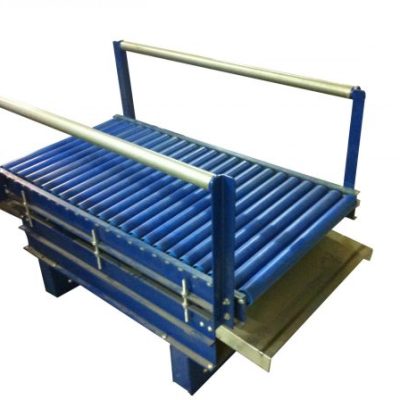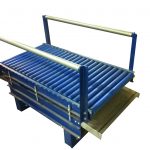 Roller Conveyor Transfer Car
The Transfer Car runs on floor mounted tracks to travel between the gravity lines. Built to suit application, for example, board handling.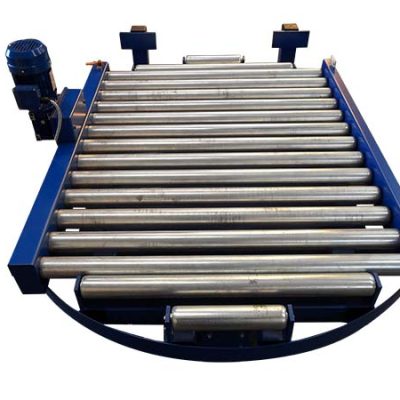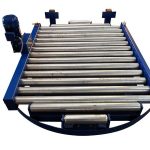 Roller Turntable
For changing the direction or turning items when used as part of a gravity roller conveyor system.
Receive a FREE quotation
If you require a roller conveyor system our helpful team is able to offer advice and no obligation quotations.
Please contact us with details of your requirements