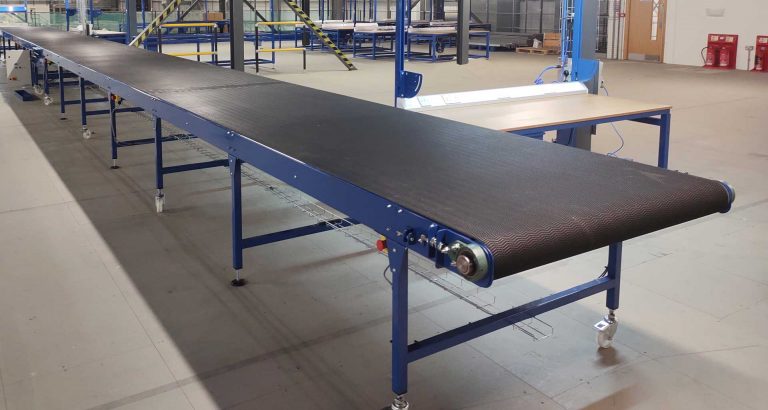 How to choose the right belt conveyor for your application
Look at your products, size, weights, quantities, how and where do you need them moving?
Establish where you need to put everything to make it work well for you. For example, link your products infeed conveyor through the packing bench onto an outfeed conveyor
Conveyor belts are ideal for moving various sizes and shaped products at the same time. If you have variations in the size and shape of your products then a belt conveyor is ideal for you.
Conveyor belts offer many benefits
They reduce operational costs.
Reduce the manual handling involved in your process.
This in turn can reduce damage to both person and package.
Most importantly they improve productivity.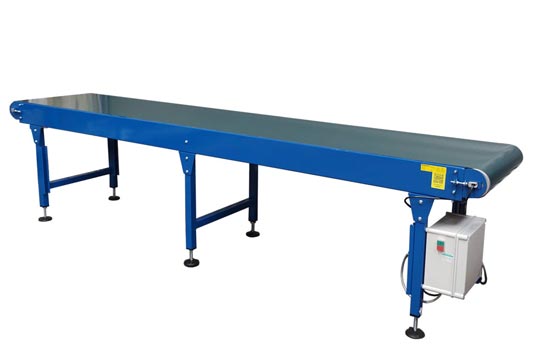 To help us establish the best belt conveyor for you we need some information
Why use a belt conveyor instead of a roller conveyor?
The main advantage of using a belt conveyor over a roller option like a gravity conveyor is that when you have various size products on a roller conveyor they can fall or snag between the rollers.
The driven belt conveyor requires less human interaction. You might feel a little sorry for the person having to push all the items along a gravity roller conveyor all day long!
Conveyor belts can increase productivity, speed, and distribution as they are designed to work without human interaction. Belt conveyors are ideal to transport your products with least amount of effort whilst also lessening the need for manual handling.
Belt Conveyors are often used in warehousing and distribution centers. With more and more companies opening for on-line (e-commerce) sales. Belt conveyor's are a necessity for any company looking to keep up with the demands of the internet shopper.
The product & application
You need to establish the right belt type for your application. We offer belt options of smooth PVC or PU, grip face or flighted for incline, plastic modular or slat chain.
The type of belt required is determined by your products and environment.
The more information about how you work and what you are hoping to achieve, the more benefit you will have from your belt conveyor.
| | |
| --- | --- |
| Product size | The smallest size L x W x D to the largest size L x W x D. This is because we need to establish that your product will fit on the belt and not snag. |
| Product weight | The lightest versus the heaviest weight of your products. As we need to establish that the belt is strong enough to carry the total weight. Without causing damage to the components used within the conveyor.Product size |
Conveyor Specification
| | |
| --- | --- |
| Desired conveyor speed | How fast you want the products to travel. |
| Conveyor length | What length of conveyor belt do you need. This is often determined by the space available. |
| Conveyor control options | This should be looked at early on. The addition of a control panel has the benefit of reducing operator risk. Along with protecting both the conveyor and operators. Lowers ongoing maintenance costs. |
| Plug and play or self-integration | We would always recommend plug and play, or installation by competent personnel. Conveyors should come with manuals and even some training. |
Do you need help with your conveyors?
Receive a FREE quotation
Please complete the form below to send a message to our team.
For product and pricing enquiries please include a brief overview of your requirements.