Why do you need a warehouse conveyor system?

Warehouse conveyor systems are commonly used to transport boxes, cartons, and pallets efficiently and safely throughout the warehouse environment. They allow for the reduction in manual handling which can be useful if you're trying to reduce the number of personnel on site. 
Speed
A typical warehouse or distribution centre should have the capability to quickly pick, pack, and ship products, as well as efficiently store well organised products to speed up the picking process.
A conveyor system can effectively connect processes and departments which overall lead to improvements in speed and operational performance. 
Accuracy
A warehouse conveyor system can be simple or complex, depending on the needs of the business and the type of products being handled. Purchasing the right system is important as it keeps disruption to a minimum allowing for continuous, correct, and accurate product flow.
Efficiency
Time and energy efficiency are of high importance when designing a conveyor system. For example a simple gravity conveyor may be suitable for lower throughput applications, whilst a 24V zero pressure accumulation conveyor may be more suited for busier lines that require power whilst still being energy efficient.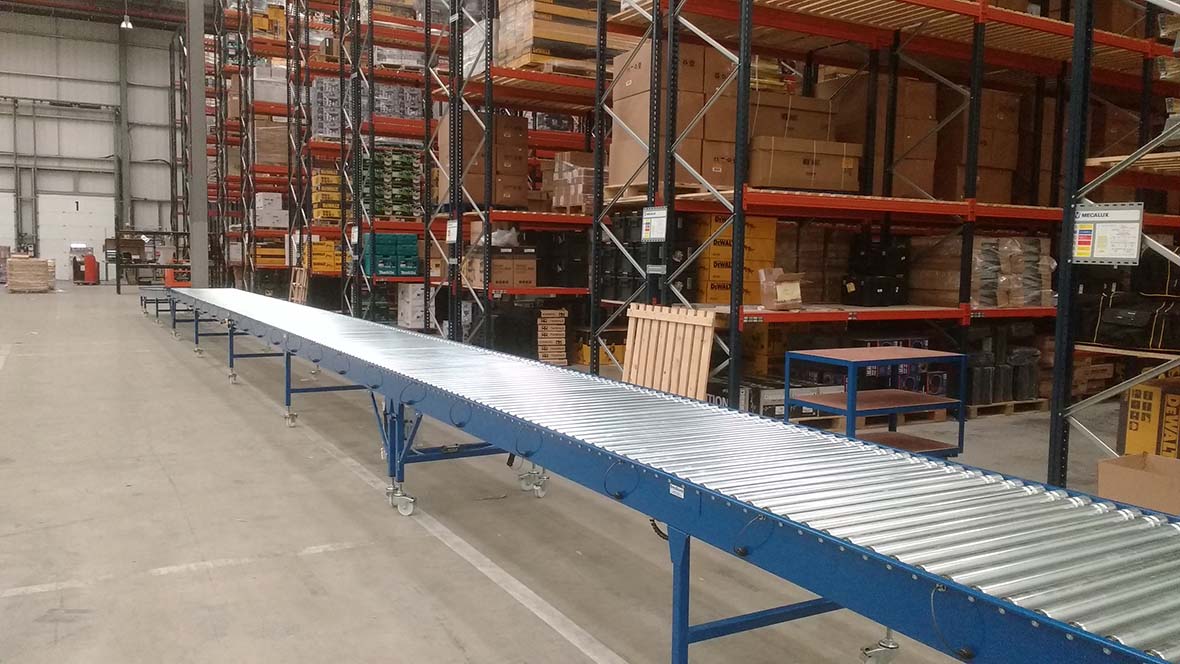 What types of warehouse conveyor are available?
In this fast moving sector, planning ahead is the key to success. Our conveyor systems are designed so they can be scaled up as required allowing you to plan long term. 
Spaceguard is the ideal partner for the planning, design, construction, and deployment of your conveyor system. We regularly design conveyor systems that bring a provable ROI through being highly reliable, safe, and low maintenance. Below is an outline of the conveyors and equipment we manufacture.
Belt conveyor
Our belt conveyor range is ideal for the transport of goods in process lines, factories, warehouses, and distribution centres. We manufacture to suit the customer requirements.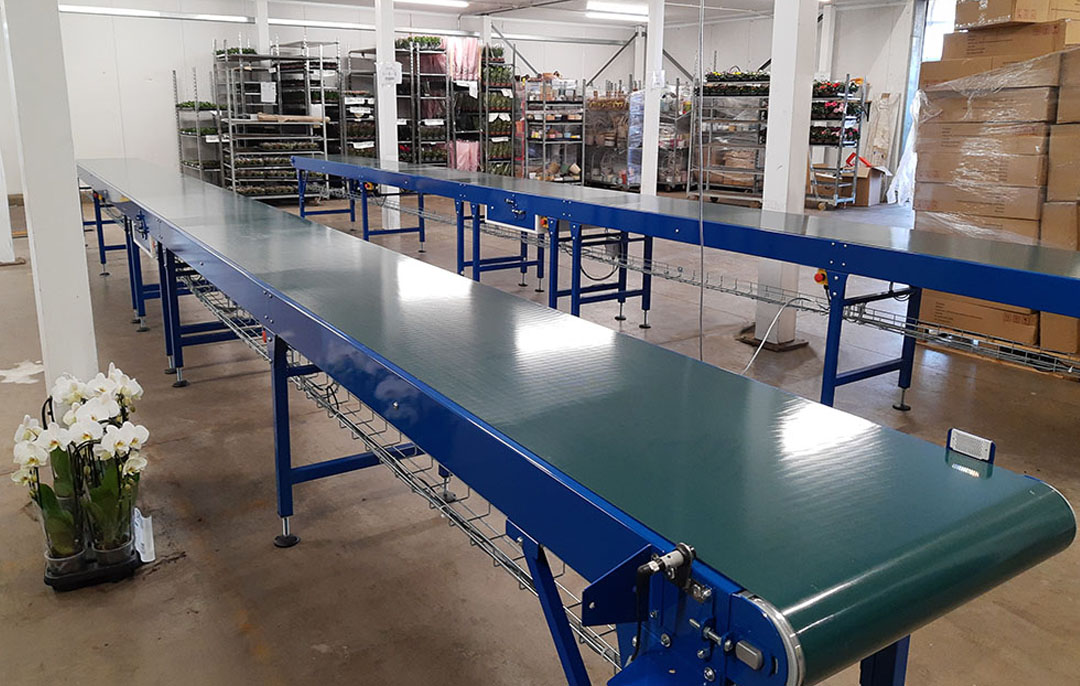 Gravity roller conveyor
Our gravity roller conveyor range is suitable for moving cartons, trays, crates, boxes and totes. They are also used for moving heavy parts in factories.
Items placed onto a gravity conveyor should have a flat, rigid bottom. This therefore makes them unsuitable for bags and packets.
Objects on a gravity conveyor can be manoeuvred by hand, or if the product weighs enough then items will move using the force of gravity.
This type of conveyor is unpowered and as a result has no running costs outside of basic maintenance.
Lineshaft driven roller conveyor
Our lineshaft driven roller conveyors offer a simple low cost solution to many product transportation problems. Spaceguard lineshaft modules can include straights, bends, merges and also switches.
The lineshaft roller conveyor generally is a universal conveyor, ideal for integration into conveyor systems carrying boxes or totes, and other flat bottomed unit loads.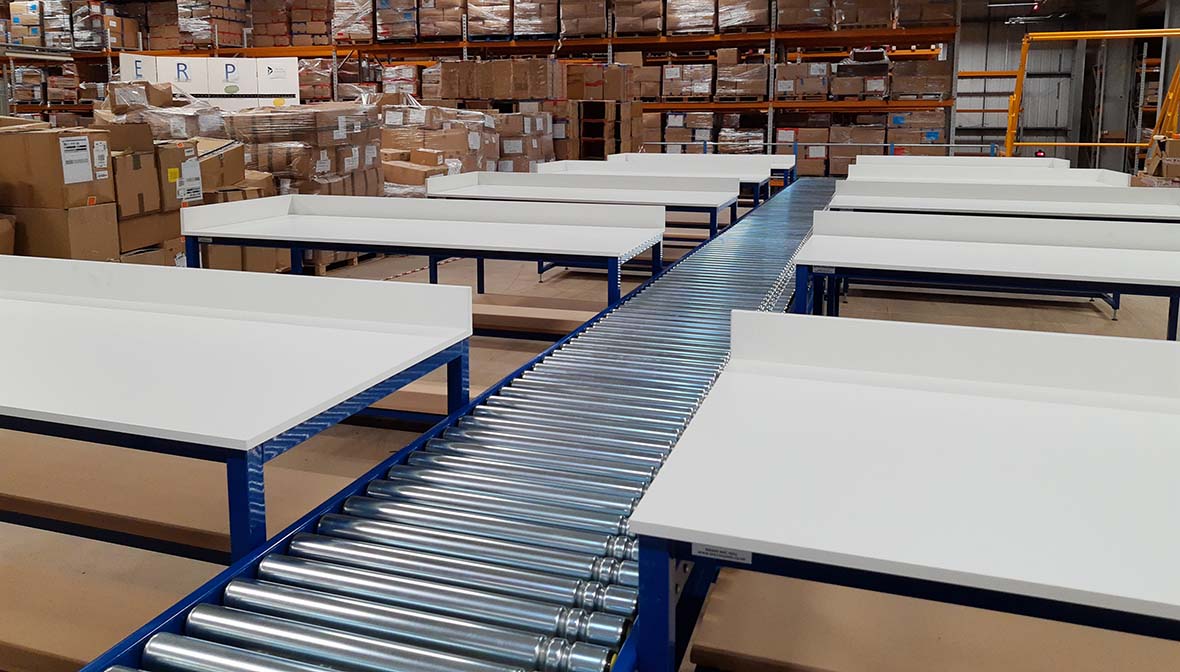 24V powered roller conveyor
The 24V powered roller conveyor is available as both fixed drive transportation conveyors and Zero line pressure powered accumulation conveyors. We can also provide these as straights and bends, with merges and switches.
A fixed drive powered roller conveyor is ideal for moving unit loads such as cartons or totes. This driven conveyor uses 24-volt self-contained motors to drive groups of rollers transporting the product down the conveyor. With fewer moving parts than traditional motors, the 24 Volt driven conveyor requires less maintenance and is safer for users.
A 24 Volt Zero pressure accumulation powered conveyors uses photo electric cells and zone control cards to hold products in place along the line until the zone in front of them is clear.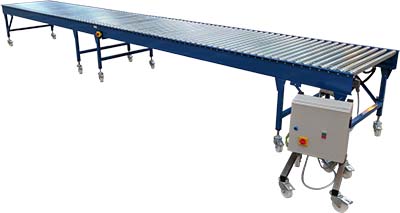 What other equipment is available alongside a warehouse conveyor?
Spaceguard can also custom manufacture workstations and storage equipment to compliment the conveyor system. As with our conveyor systems we can manufacture all items completely bespoke. As a result we can design and build complete process lines, conveyor systems, packing conveyors and packaging stations to suit any customer requirement. We regularly outfit complete warehouses with all desired equipment at very competitive prices.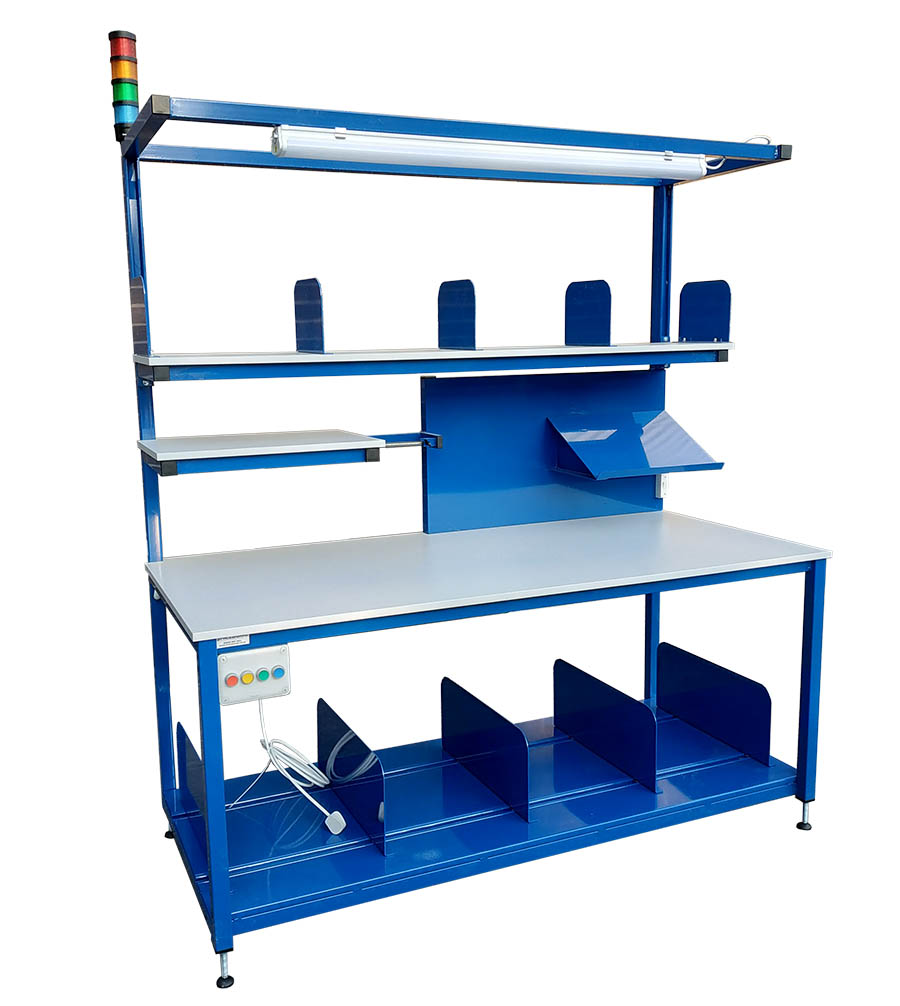 Packing stations can be supplied in bulk quantities to suit your warehouse processes. Bespoke packing stations improve the order packaging speed by providing staff with all items necessary to pack an item within easy reach. An improvement in packing speed can make a considerable positive difference to the number of orders processed.
The packing benches in the photo come complete with anti-fatigue matting in front, this relieves unnecessary stress on staff when standing. They also have an andon light system, an efficient way for the operator to signal if a situation arises that needs resolving. Often these are used in a warehouse environment to signal that packaging materials are running out.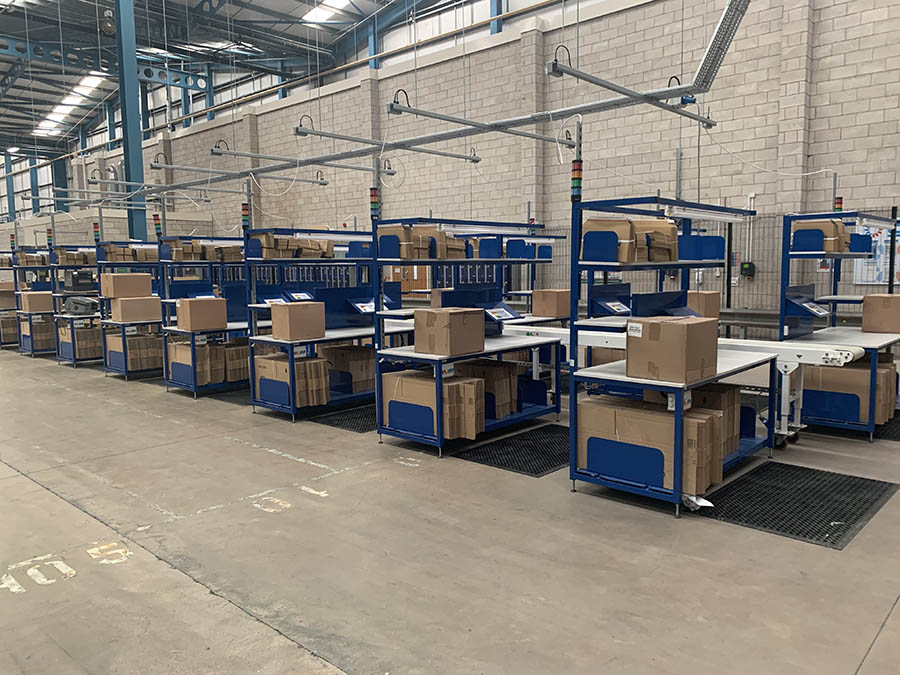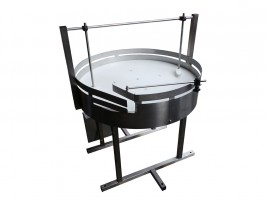 Rotary Tables
Rotary Tables take packages off the end of a conveyor line for accumulation to allow for more time for operators to continue the packing or dispatch process.
How do I order a conveyor system from Spaceguard?
Our helpful and knowledgeable sales team can assist you in deciding on the best equipment to suit your process. In brief when contacting our team, this is the information we will require.
Product Dimensions

Product Weights

Distances / lengths 

Product variety

Speed / product rate

Environment
We have a skilled engineering team who can take care of onsite installation and ongoing maintenance should the need arise. To find out more about our available warehouse equipment please see our warehouse equipment page. 
Contact Spaceguard to discuss your requirements.
Email: sales@spaceguard.co.uk
Phone: 01482 363445