Things to consider when installing a Gravity Conveyor
Conveyors set up correctly allow for optimal product flow. A Gravity Conveyor setup is usually dependent on product weights.
Gravity roller conveyors are generally installed on a decline, with the infeed at the higher point so that the product is conveyed downwards to the discharge point. A Gravity Conveyor installation done correctly can mean smooth, safe and simple operation with lessened risks for product damage and an increase in overall performance.
Specify conveyor lines for product weights
To maintain optimal performance the gravity conveyor should be specified for particular product weights. For example, a lighter product may need a steeper decline than a heavier product, as the heavier weight requires less gravitational force to allow it to move towards the discharge end. If you were to add a heavier product to this conveyor, it may move too fast.
Check the product size
The size of the product is important as well as the weight. A products base should always have contact with at least three rollers, so getting the roller spacing correct is important.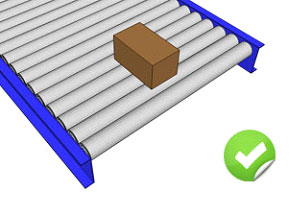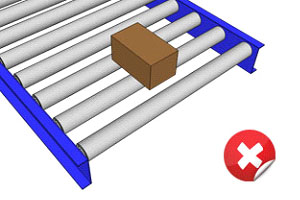 Roller Type
Another gravity roller conveyor installation consideration is the roller type itself. Skate wheels tend to move products faster than a typical roller would. However, rollers are generally more versatile for handling different products. Another consideration is the bearings of the rollers, as clean bearings tend to roll faster than grease packed bearings.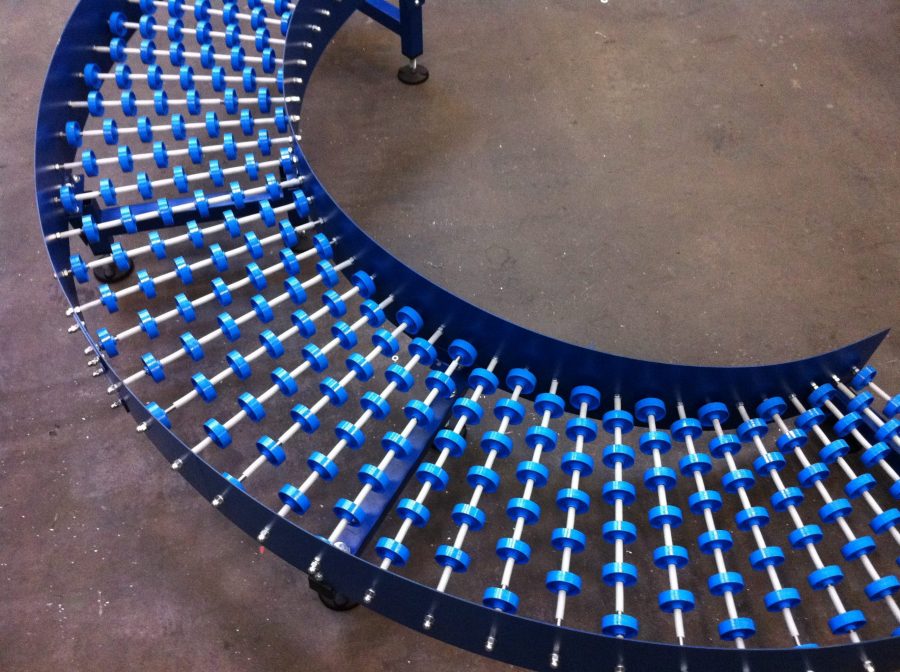 Line Length
Similarly, longer lines can cause speed increases due to the products gaining momentum as they travel down the conveyor.  This compounded with rollers continuing to spin when a product has traveled over it can contribute to product acceleration.
If the products move too fast
End stop installation can ensure the products do not come off the conveyor. The products can also be slowed by adding retarding plates, roller brakes or by adjusting the angle.
If the products move too slow
If the product however is moving too slowly, the conveyor slope can increase to aid the product travelling down the conveyor. The products flow faster when the slope of the conveyor is steeper.
Safety Is Important - Testing Your Conveyor
Testing should take place on the conveyor prior to it going into operation. This is to ensure optimal product flow, and to address any potential safety concerns for the products and conveyor line workers.
Your conveyor manufacturer can advise you on the best conveyor build and installation.  This is achievable through knowing a few details on the conveyors requirements for use. This includes the product sizes, shapes, and weights, and your site layout.
Spaceguard manufacture gravity conveyors and offer gravity conveyor installation where necessary to ensure your operation continues smoothly and safely.
Receive a FREE quotation
Please complete the form below to send a message to our team.
For product and pricing enquiries please include a brief overview of your requirements.