Gravity Conveyors - A Cost Effective Solution for a wide range of Industries
What are gravity conveyor systems?
Gravity conveyor systems are one of a number of efficient pieces of equipment popularly used for transporting physical goods. Often particularly useful for packing industries. For example, to transport boxes and cartons through warehouses. Being non-powered, it makes them a cost-effective and popular conveyor solution for material handling industries. The materials can simply travel by manual force or through the help of an incline from one designated station to another location.
Which industries benefit from the use of conveyors?
Automotive
Aerospace
Scrap metal
Wood processing
Farming
Computing
Electronics
Food Processing
Pharmaceutical
Bottling
Canning
Printing
Packing
Chemical
Mining
Due to the simple design and cost effectiveness, gravity conveyor system usage benefits a wide range of industries. These conveyors can be installed in a wide variety of locations, with different specification to suit a range of sizes and weights. This makes them practical for almost any warehouse application. Where truck offloading, pallet handling, assembly and packaging is concerned, the main benefit is the safe and simple transportation of materials in an efficient manner. Gravity conveyor system usage also further minimises costs. Less human labour, forklifts and other machinery is required to transport good through the site.
A gravity conveyor system is manufactured from a wide range of materials, with different components including wheels, rollers, or chutes. Widely manufactured in many widths and lengths to suit all types of load. This allows for maximum flexibility.  As a result, they have a low cost in relation to other types of conveyors. Combined with ease of operation and installation, gravity conveyors keep expenses down whilst still optimizing your operations.
To decide on the correct gravity conveyor to suit your company's needs, consideration of the usage is necessary. A conveyor is generally built and installed to suit the product sizes, shapes, and weights that will be placed upon it. The loading and unloading points and their locations is also of importance. This will help to decide the incline required.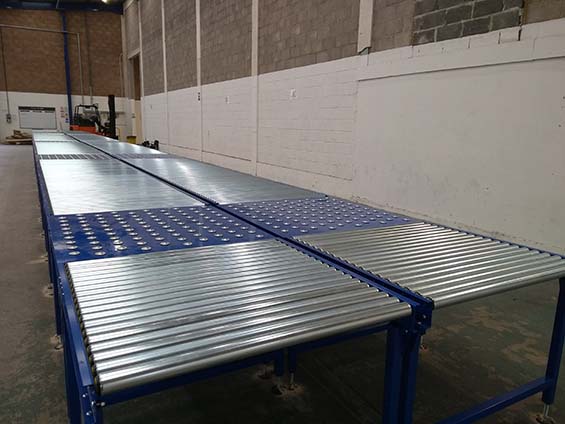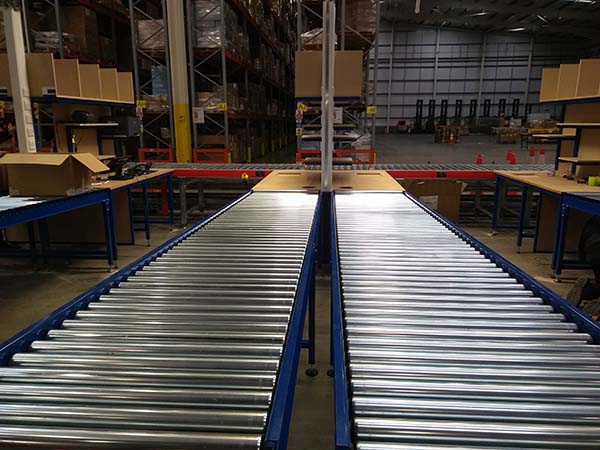 Gravity Roller Conveyors
A gravity roller conveyor is generally made from steel or PVC rollers attached to a steel conveyor frame. The rollers spin freely which allows for the product on the conveyor to move forward manually by pushing. Items can also roll of their own accord if the incline (slope) is sufficient. Products with heavier weights generally require less of an incline than lighter weight products. By design the rollers are simple to remove and replace, allowing for fast and cost effective maintenance.
These are best suited to medium to heavy duty uses to transport heavy loads. For example items often transported by a roller conveyor include drums, barrels, pallets, heavy boxes and totes. Industries that benefit from gravity systems include many distribution based industries and goods warehousing. Ideally the items on the conveyor will have a flat rigid bottom surface, otherwise the product could sag and become stuck in the rollers instead of gliding over it. For products with an uneven or soft bottom, consider the use of a belt conveyor.
Skate Wheel Gravity Conveyor
A skate wheel conveyor is similar to the above roller conveyor in construction. The main difference is that instead of rollers, these utilise a number of wheels on shafts attached to the conveyor frame. The main benefit of a skate wheel conveyor as opposed to a roller conveyor is that they can convey lighter products. These conveyors again need some manual force or an incline to transport the products. Skate Wheel Conveyors are a more economical option than roller conveyors. Common uses for skate wheel conveyors include the handling of boxes, flat bundles, cartons, crates, trays and totes. This type of conveyor is often found in parcel handling, shipping, receive, dispatch and assembly areas.
Chute Conveyors
Unlike the above systems which require manual force to move items, a chute conveyor relies solely on gravity. The conveyor installed angled downwards allows for items to slide to the lower level. Spiral or straight formations are widely used. A main benefit of this type of conveyor is that it is able to transfer products between floors. When used in a spiral shape it needs very little floor space to do so. It is also a popular method for product accumulation. Due to the inexpensive simplistic design, maintenance is relatively easy. Often found in bulk handling operations, chute conveyors move items such as powders, grains, mineral ore, and coal. A wide range of boxes, packets, pouches, envelopes and bags can be transported using a chute conveyor.
Spaceguard is a UK manufacturer of conveyor systems, workbenches, and packing tables.
Please contact our team if you have any queries
Phone: 01482 363445
Email sales@spaceguard.co.uk