Spaceguard is a leading UK manufacturer and supplier of industrial workbenches, packing benches, and conveyor systems.
When you order a product online, whether it comes from a small family business, or a huge distribution centre, chances are that your product has been in contact with a Spaceguard bench or conveyor system.
We have over the years manufactured complete bespoke solutions for a wide range of businesses and individuals. Below you can find examples of previous requests and how Spaceguard was able to provide a solution.
If you are interested in our products please give us a call to find out what we can do for you.
Phone: 01482 363445
Email: sales@spaceguard.co.uk
Most Recent Case Studies & Projects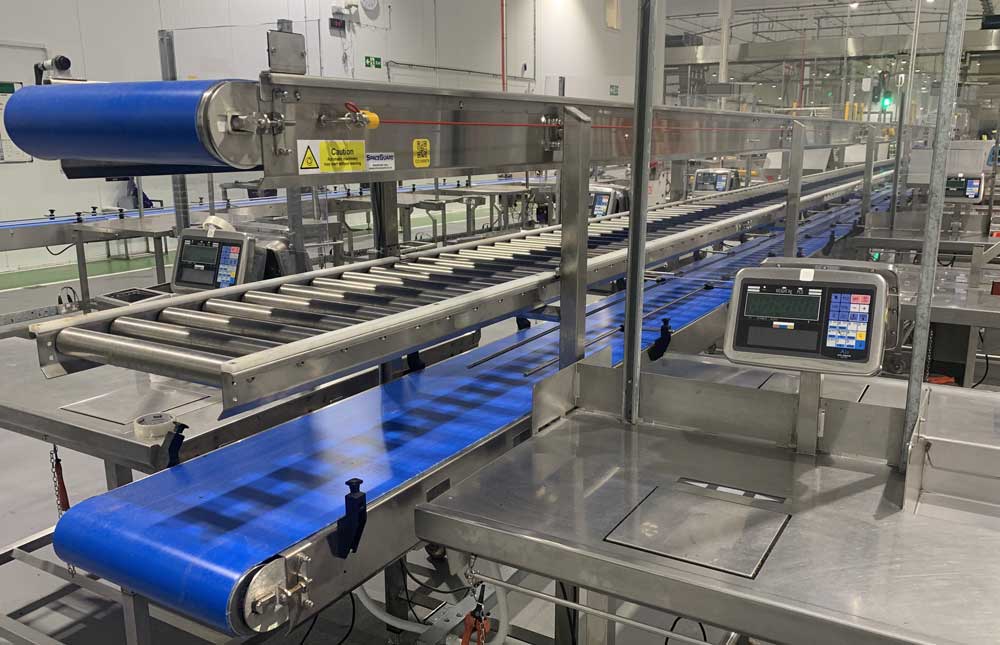 3 Tier Fruit Packing Conveyor
Spaceguard recently manufactured and installed a 3 tier stainless steel fruit packing conveyor for a major supermarket supplier.
Read the full case study post to find out more.
Complete Packing Area
These brightly coloured packing tables and conveyors were designed, manufactured, and installed recently by Spaceguard.
The customer required a product packing and dispatch solution to fit their existing space.
To find out more and to see more project photos please see this article.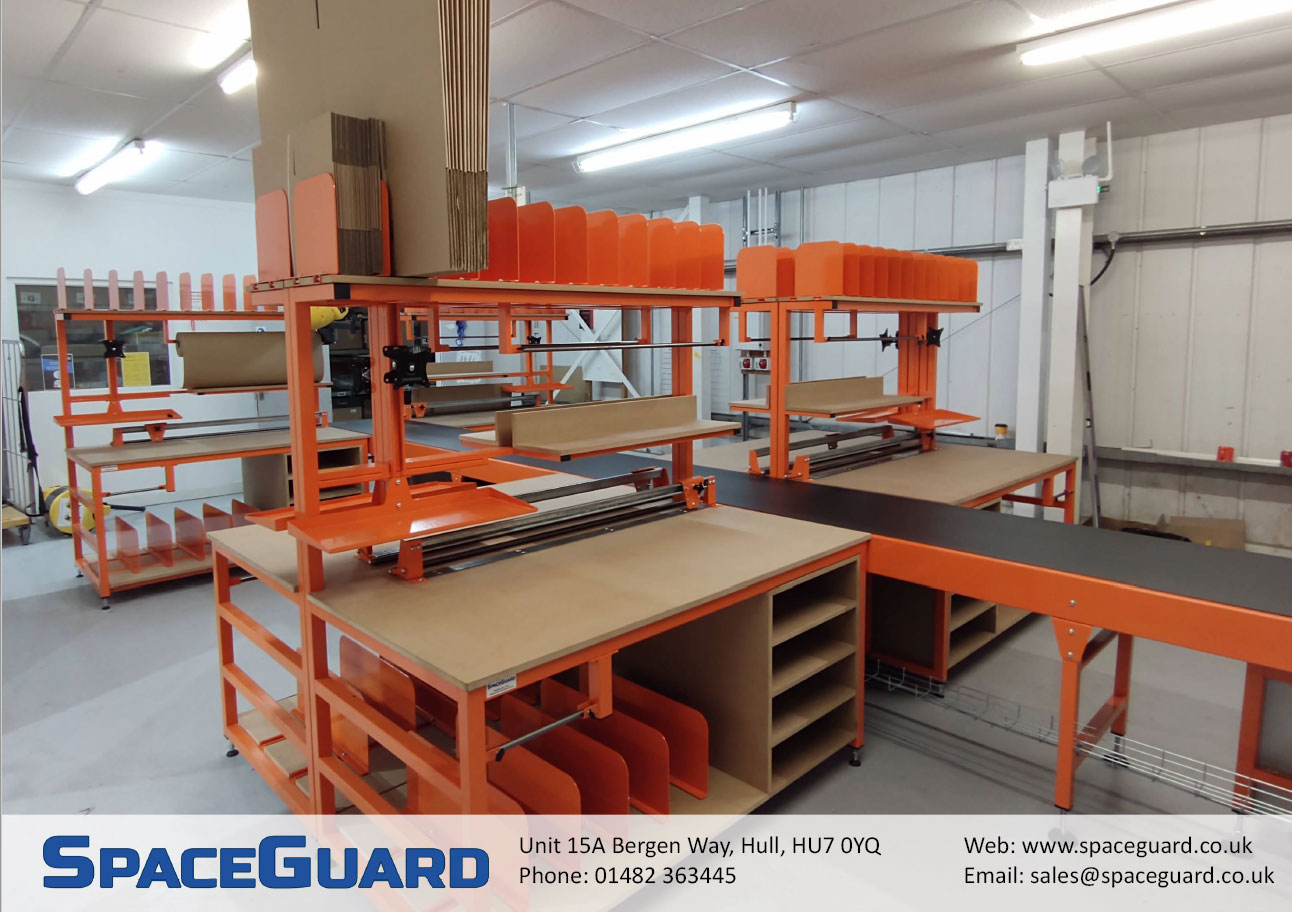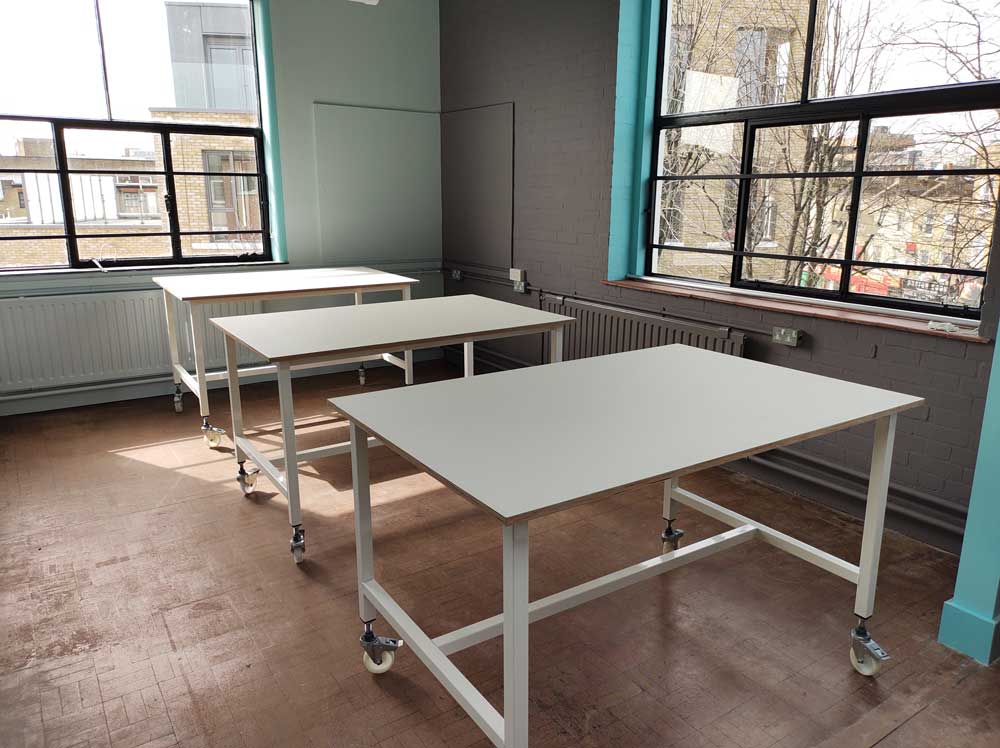 Mobile Cutting Tables
A further order from a London based university led to our installation team carrying 29 part assembled tables up 4 flights of stairs, all on one of the hottest days of the year.
Our cutting tables can be delivered fully assembled or installation is available where required. Click the button below to find out more about our cutting tables.
15m Belt Conveyor
We were recently contacted by a houseplants & floristry company looking for a long belt conveyor to assist in their packing and dispatch process. Our team arrived safely on site to assemble and install this 15 metre long conveyor belt with minimal disruption. 
UK University Workbench Range
A UK university requested a range of bespoke workbenches.
The range provided included a stylish workbench with integrated under bench drawers, height adjustable benches on castors, in addition to a number of smaller different sized benches. 

Belt Conveyor Extension
We know our customers find Spaceguard products to be efficient and reliable. It just so happens that our installation team is too!
A retailer who has been using one of our belt conveyors for over a decade contacted us to ask if it would be possible to extend their conveyor by 10 metres. 

Our installation team were able to do this overnight so as not to impede warehouse staff, getting the conveyor up and running smoothly ready for many more years of use.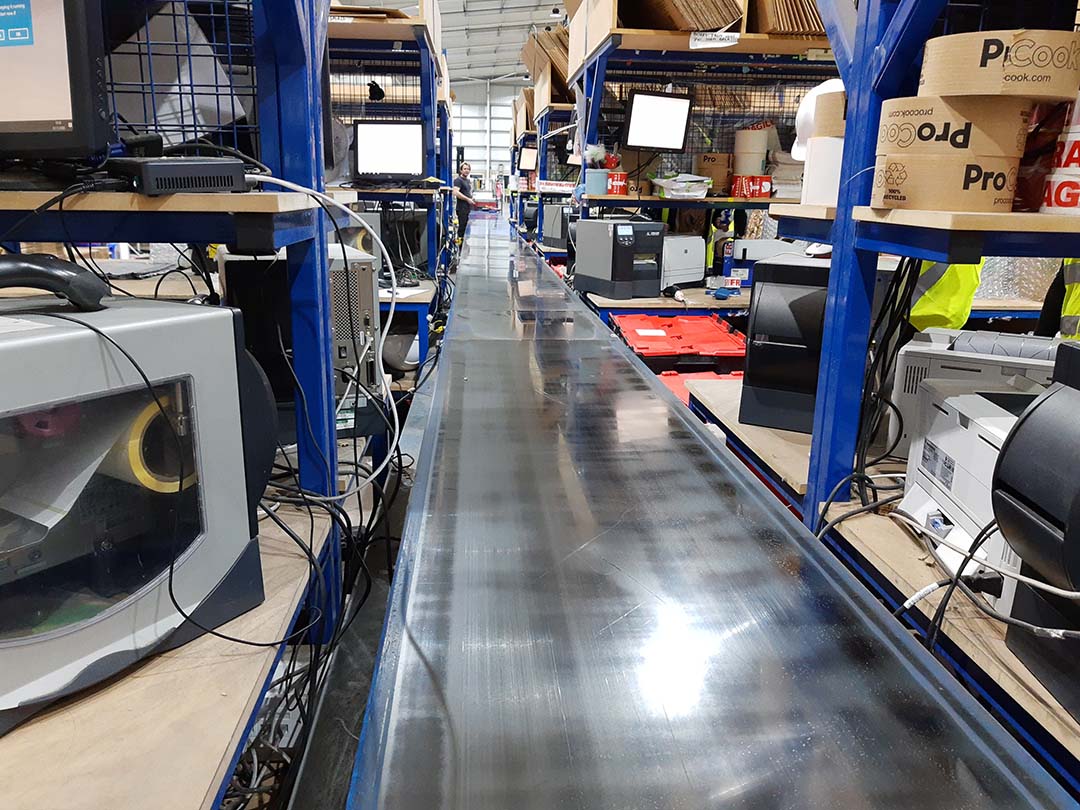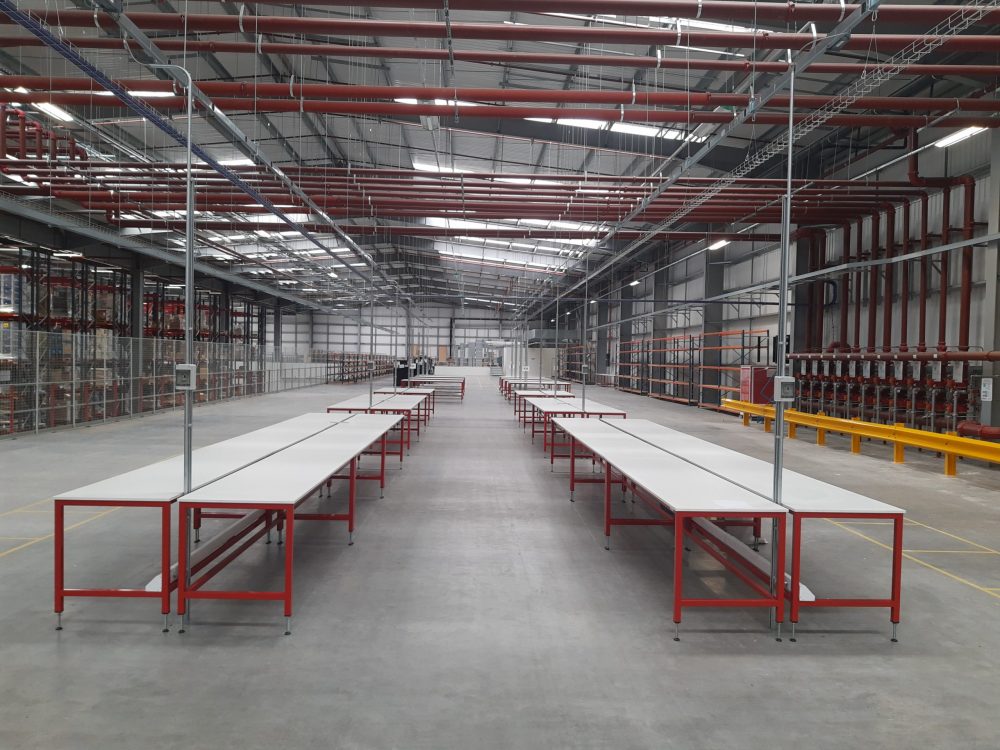 Warehouse Packing Tables
A leading distributor of technology products and services commissioned Spaceguard to produce a large number of packing tables and packing benches for a large warehouse space.
Spaceguard provided these tables on a short lead time, with a white melamine top and the frame powder coated in the requested RAL colour 3013. This matches their company colour scheme.
Bespoke Benches & Lineshaft Conveyor
A popular UK high street fashion retailer needed a long lineshaft conveyor and a large number of custom designed packing benches.
Spaceguard manufactured and installed to suit their specifications, with the product installation taking only a few hours.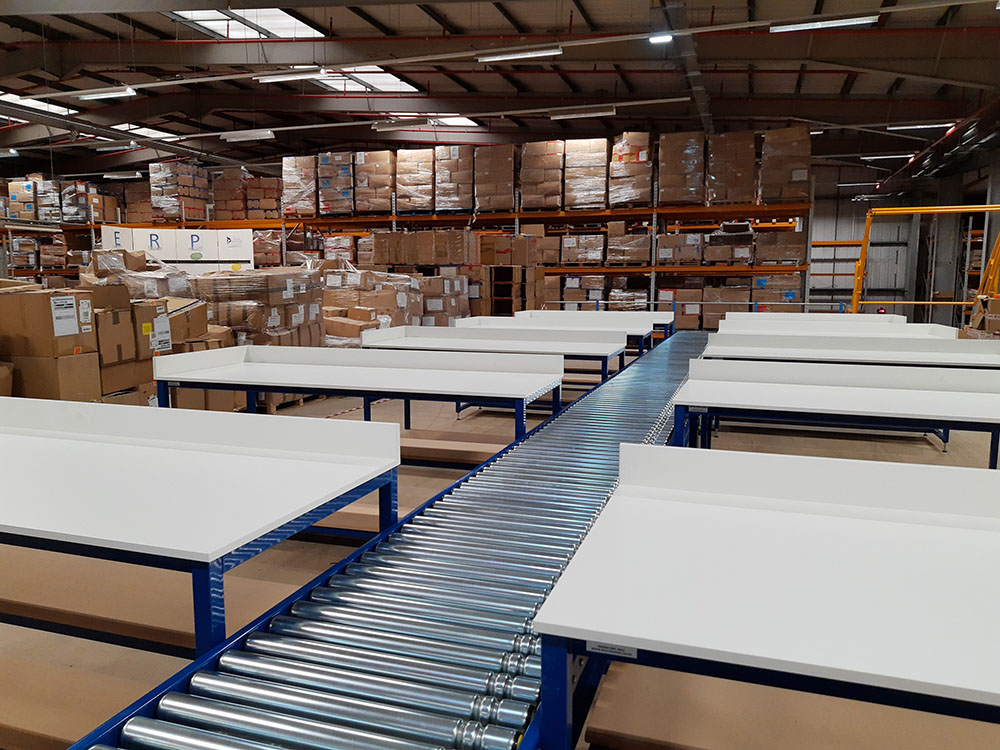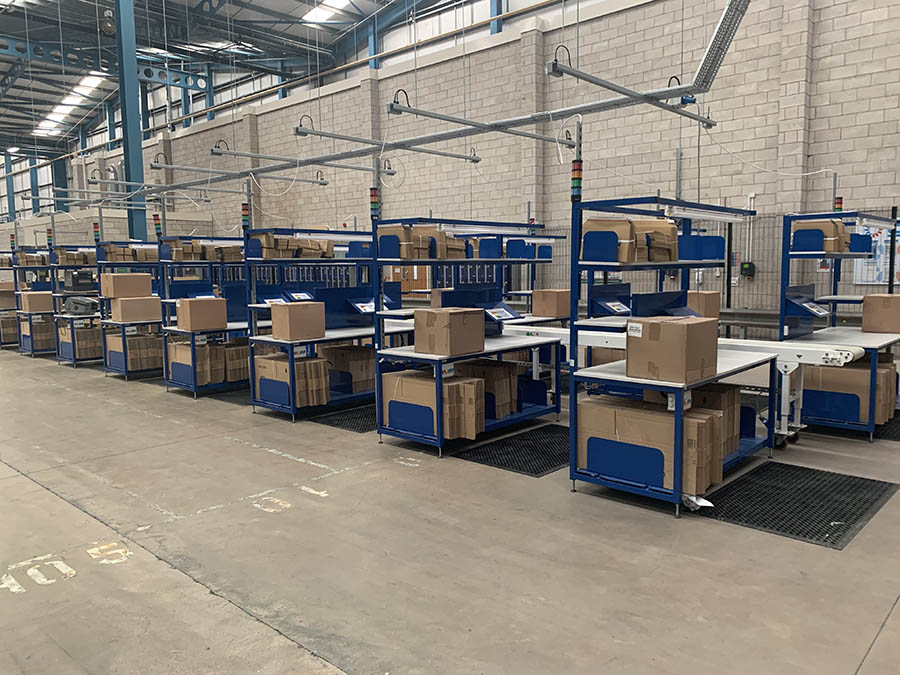 Bespoke Warehouse Packing Benches
Spaceguard recently were contacted by a large UK logistics business who provide warehouse and distribution services for blue chip companies. The business required a full packing bench solution.
Spaceguard were able to provide durable stylish benches complete with printer & scanner shelves, laptop shelves, packing dividers, an andon light system, a lighting rail, and under bench mounted sockets.  

Conveyor systems delivered in time for clients busy season
A well known food and luxury gift hamper company were in need of a new conveyor system.
Spaceguard manufactured and installed a gravity roller conveyor and belt conveyor system ready in time for their busy season.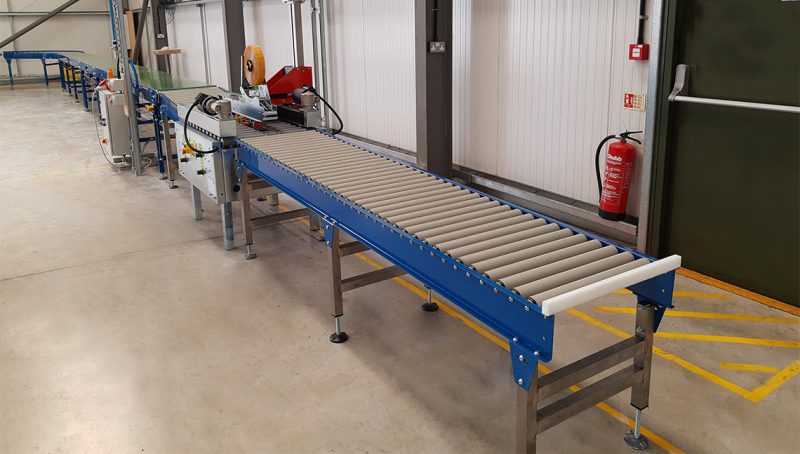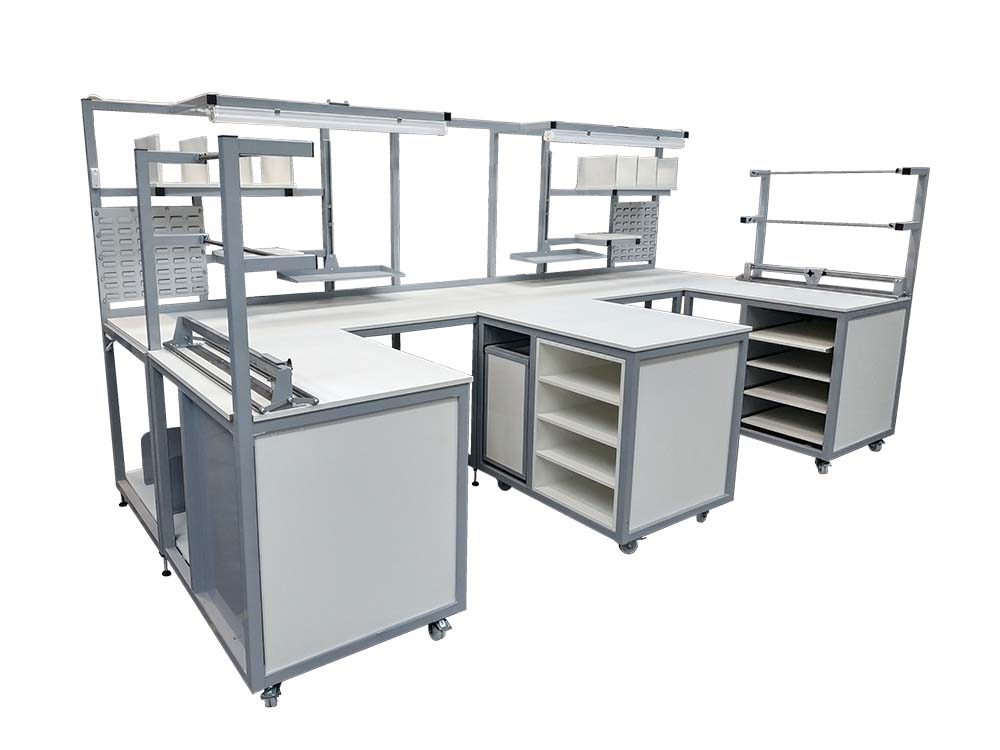 Custom designed packing bench
A luxury accessories retailer required a modular design M shaped bench for their high end accessory packing. 
Spaceguard were able to design, 3D render, and build to suit their specification. 
Final product features lockable castors for removable bench sections, louvre panels, camera mounts, monitor and keyboard brackets and trays, pc mount, bench mounted cutters, sockets, lighting rails, storage shelves, roll holders, and pull out shelves and bins.
Bespoke Packing Conveyor Workstation
A hardware company needed a bespoke packing workstation complete with conveyors.
Spaceguard designed and manufactured a number packing stations complete with andon signal lights, monitor brackets, in bench weighing scales, packaging storage, lockable drawers, and shelving. Supplied to integrate with the workstations were powered and gravity roller conveyors.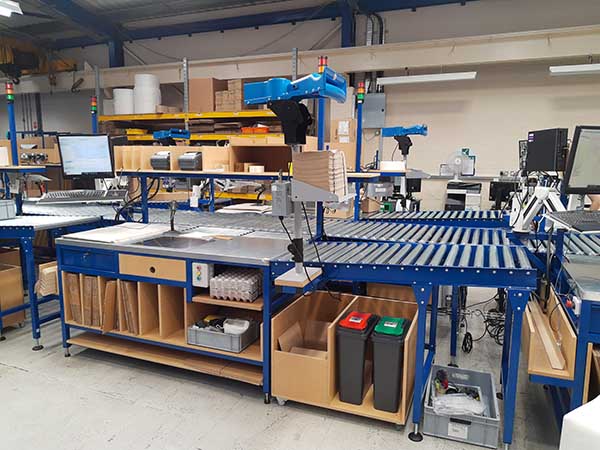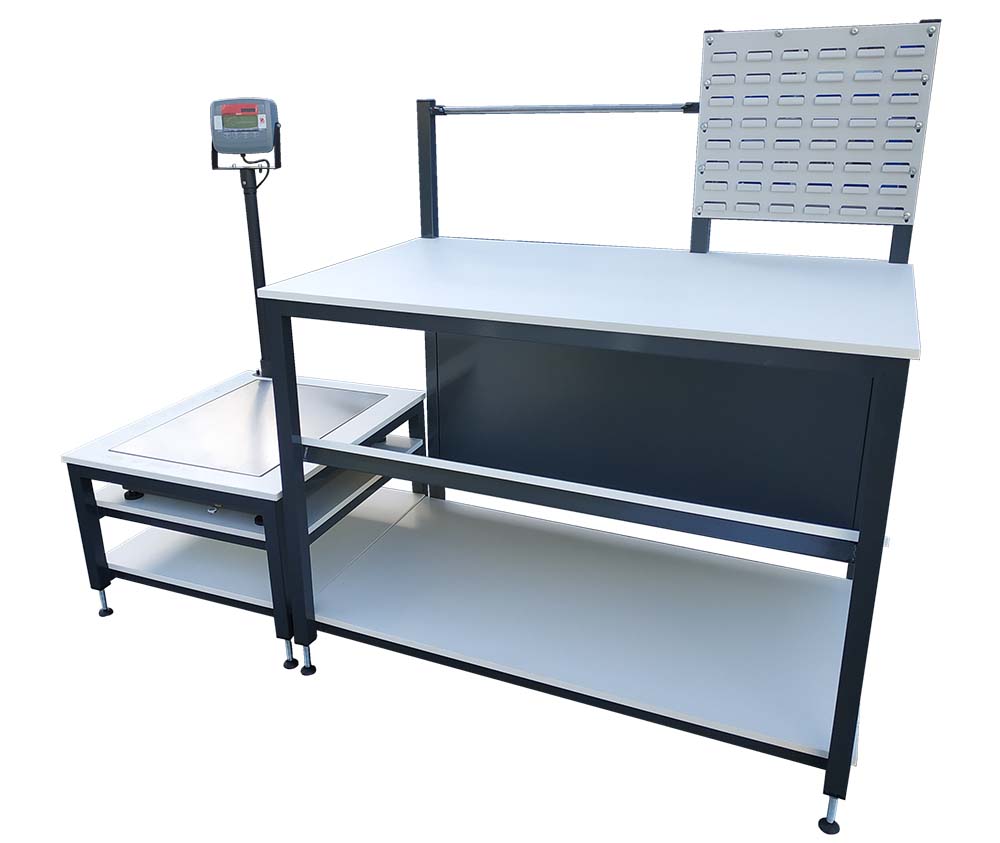 Packing Bench With Integrated Scales
An online retailer of toys and gifts needed packing tables complete with under bench shelving, roll holders, louvre panels and a side table with integrated weighing scales.
Spaceguard delivered a number of these stylish and robust bench combinations, with melamine faced MDF worktops and a Anthracite grey (RAL7016) powder coated mild steel frame.
Cutting Tables for a London University
A number of cutting tables were required to fit a classroom overlooking a busy London street.
Spaceguard's technicians visited the site to install these tables, which are constructed from plywood and ash linoleum. Each table was also fitted with castors to allow the room to be reconfigured.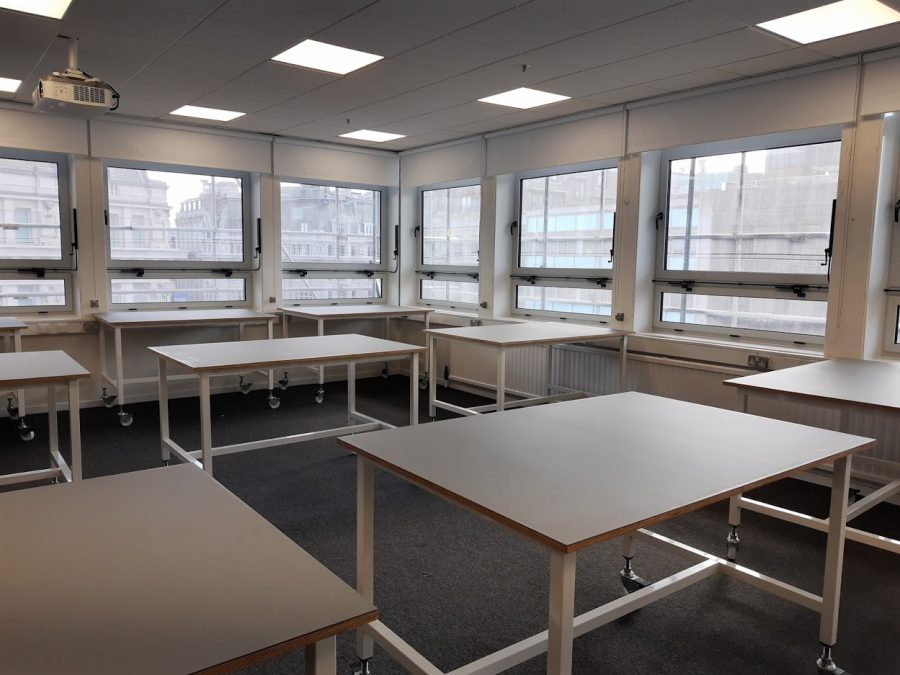 Receive a FREE quotation
Please complete the form below to send a message to our team.
For product and pricing enquiries please include a brief overview of your requirements.