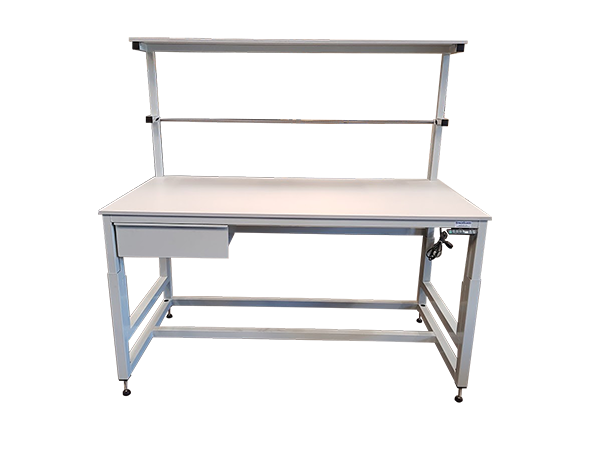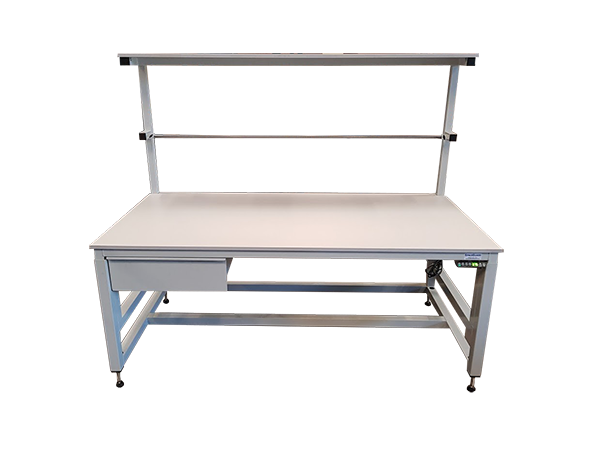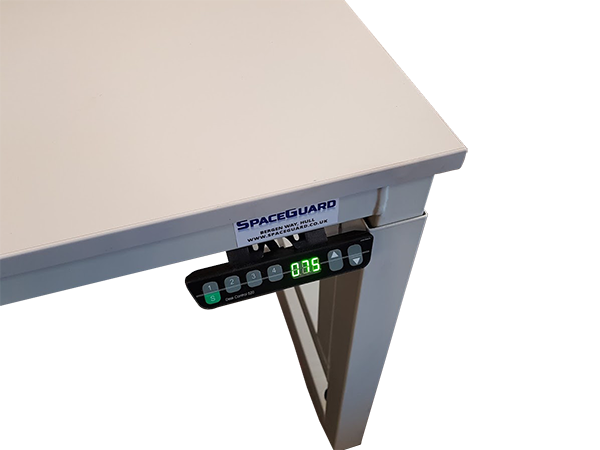 Height adjustable workbench, manufactured in the UK by Spaceguard
Spaceguard manufacture height adjustable workbench products in a range of standard and bespoke options.
These are ideal for applications where workbench height adjustment is required, for example in assembly, educational use, packing or fulfilment processes.
Height adjustable workbenches manufactured by Spaceguard are robust and built to last. Supplied as either manually adjustable with tools and pins, manual winding handle ,or electrically operated. Spaceguard offer a range of height adjustable workbench products which will suit your needs.
For all enquiries please contact our helpful design & sales teams
Phone: 01482 363445
Email: sales@spaceguard.co.uk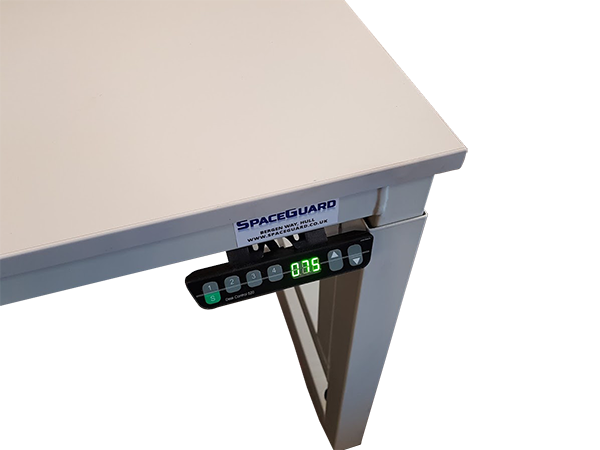 Electrically operated height adjustable workbench
Push button operation height adjustable workbenches. The robust industrial workbench design allows pre-set heights to be stored. Ideal for repeatable tasks for sit or stand operation. Manufactured to your specific sizes. Also available with a wide choice of worktops and accessories.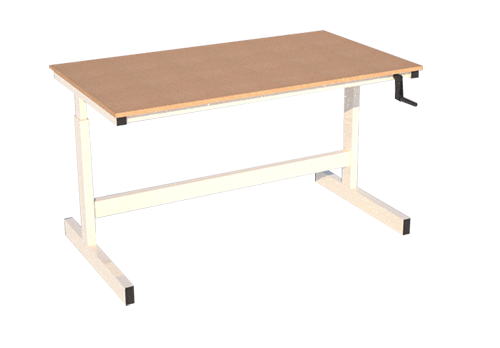 Handle operated height adjustable workbenches
With height operation via a hand crank. The Handle operated adjustable height workbench combines the robust designs expected from all Spaceguard industrial workbenches. The hand operated version is ideal for occasional height adjustment. Manufactured to your specific sizes. Also available with a wide choice of worktops and accessories.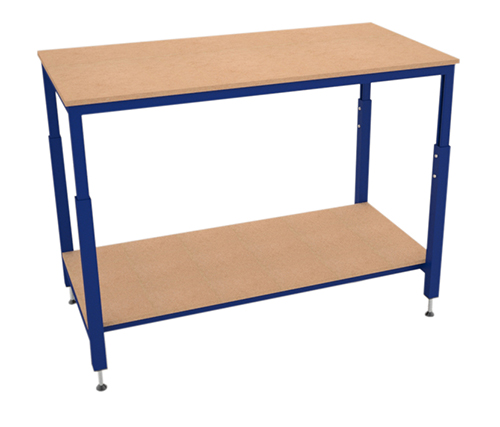 Manual height adjustable workbenches
Ideal low cost adjustable height bench. The robust welded frames provide a solid workbench, expected from all Spaceguard products. Ideal for operations which do not require regular changes in working height. Available with a wide choice of worktops and accessories.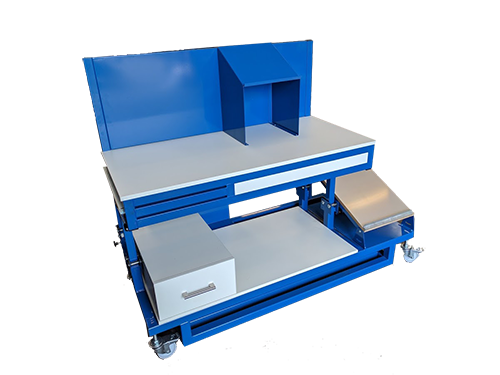 Bespoke height adjustable workbenches
Along with standard height adjustable industrial workbenches, as a UK manufacturer. Spaceguard builds bespoke designed height adjustable workstations. These are developed and manufactured to suit your specific requirements. The heavy duty base design, ensures the workstations are robust and durable, making them suitable for industrial environments. Whilst providing additional benefits. Such as increased productivity and better ergonomic user position. Working closely with customers ensures the equipment supplied, has real results.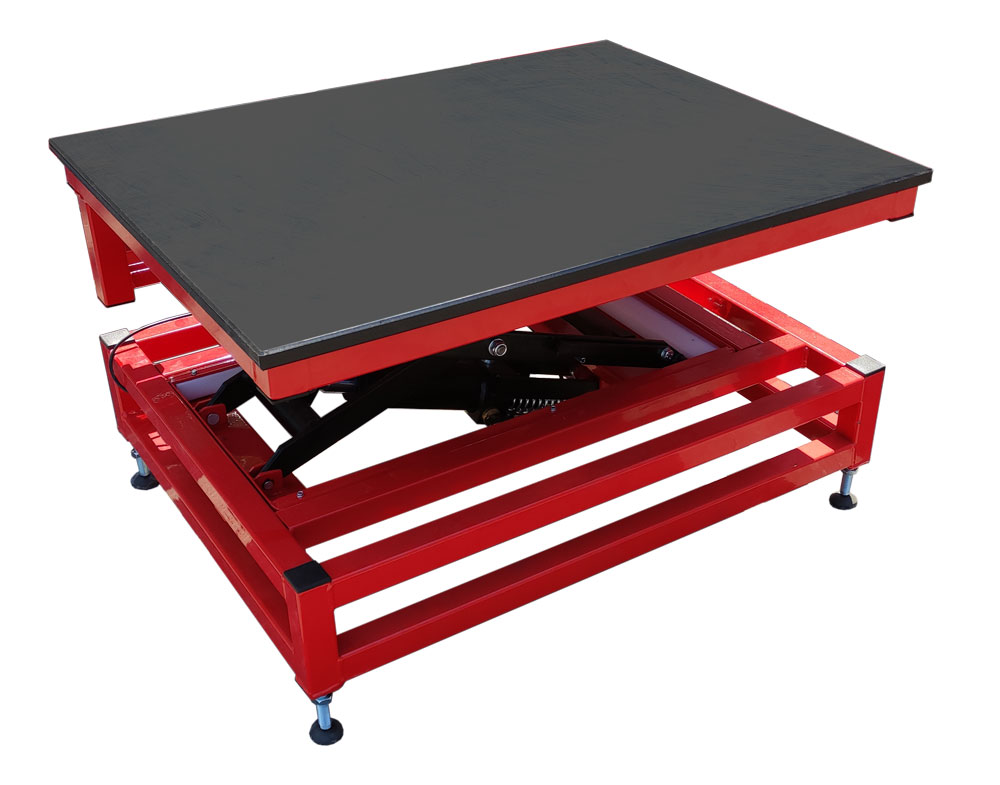 Heavy duty height adjustable bench
Recently added to our product range, this bench allows for a height adjustable working surface which can handle considerably more weight than our standard height adjustable work benches. The height adjustment is achieved through use of a scissor lift. Please contact our sales team for more details on available sizes and load ratings.
Adjusting your workbench height
Height adjustable workbenches are simple and safe to adjust the height. Spaceguard workbenches are designed for industrial & packing process use use in demanding assembly areas and workshops. The height adjustable, coupled with the efficient bench design and layout also aim to be employee-friendly and ergonomic. Spaceguard manufacture durable industrial workbenches, with options for the additional adjustable flexibility.
There are 3 different mechanisms available to adjust the working height of the bench between its various heights.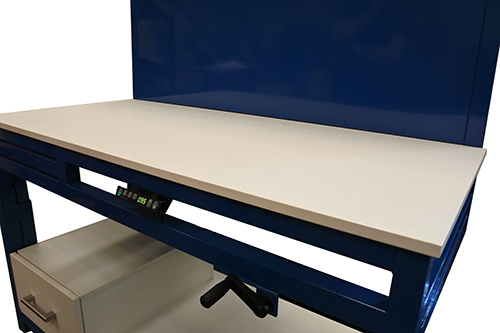 Allen Key
Perhaps the simplest and most cost effective option you can choose is the allen key height adjustment mechanism. When the screws are loosened, at intervals down the edge of the bench legs, the height can be adjusted. Then when tightened again they keep the new level firmly in place, ready for work to resume.
Hand Crank
The second option is adjustment via a manual hand crank. All you need to do is turn the conveniently placed hand crank clockwise or counter-clockwise to raise or lower the workbench to the desired height
Electric Motor
The third way of adjusting the workbench height is by using an electric motor. Simply press the easily accessible up and down buttons to achieve the perfect working height for your current job. This is the quickest and easiest way to change the workbench height and keep production rolling.
Sit or Stand?
A height adjustable workbench offers the user the flexibility to either sit or stand during their working day. This choice is either based on their comfort or determined by other factors such as the size and weight of the object they are working with. A standard workbench height may not be suitable for all staff members.
This means that you no longer need two separate workbenches for jobs that require standing and those that require sitting. A height adjustable bench is versatile enough to handle both tasks, and everything in between.
The flexibility that can be achieved is also useful if several people use the same workstation. It allows the workspace to always compliment the user's requirements and adapt to their workload, making it perfect for shift based work.
Improve ergonomics with bespoke workbench design
Our ranges of Industrial Workbenches and our Height Adjustable Workbenches have bespoke process design with optional accessories to further improve them. From useful bench storage, to keep necessary items at hand, to additional lighting, IT equipment, weighing & Automation equipment.
The addition of above bench accessories create a comfortable vertical working area and the adjustable arms can be used to make sure that the reach zone is not too large. This ensures that the users aren't over stretching to reach parts or tools and will help them avoid any repetitive strain over time.
Using height adjustable benches in combination with their accessories can create the perfect ergonomic area, specifically designed for your workspace process. This will lead to both improved productivity and an increase in the consistency and the quality of your end product.

Spaceguard also manufacture height adjustable conveyor workstations. These are designed and manufactured to suit customer requirements. Please contact our sales team to discuss your options.
Request a Height Adjustable Work Bench Quote