We manufacture workbenches with worktop materials to suit your needs
At Spaceguard we manufacture workbenches and workstations for a wide range of industrial, commercial, and domestic environments.
Below you can find information on the materials used for each type of workbench, including what we reccommend for your industry or workbench usage.
Please contact our sales team to discuss your worktop material options
Email: sales@spaceguard.co.uk
Phone: 01482 363445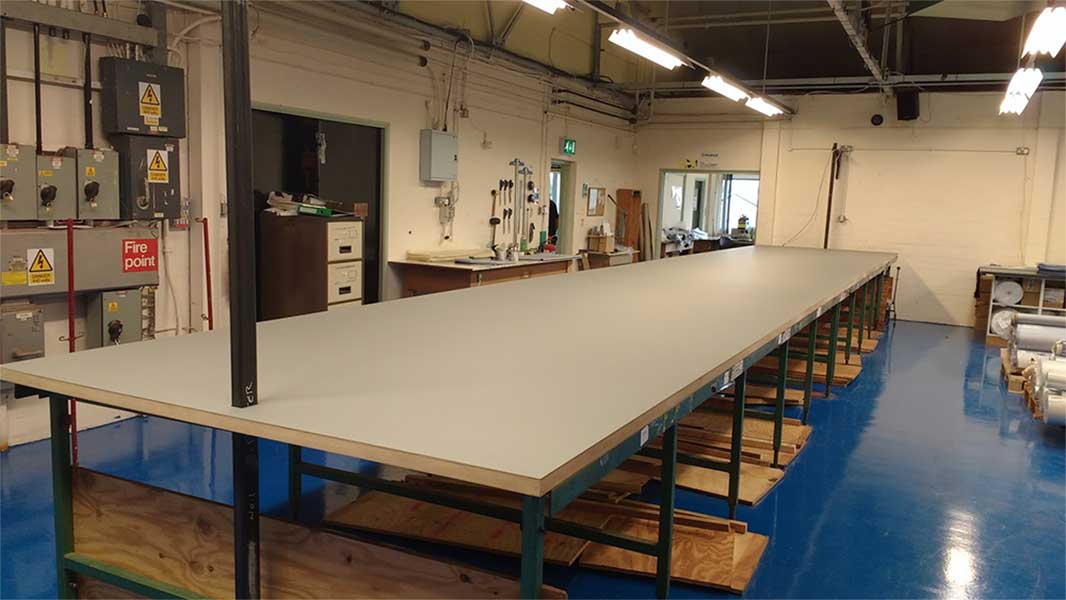 Replacement Workbench Worktops
We can provide replacement workbench worktops and workbench worktop refurbishment for all types of tables, benches, and other work surfaces.
You can choose from many of the materials on this page, or our sales team can source alternative worktop materials to suit your requirements..
To find out more please see the replacement worktop page.
Here's an overview of our widely used worktop materials
Linoleum
Faced linoleum worktops supplied in 18mm, 25mm or 40mm thicknesses and from 300mm to 1750mm wide.
The worktops fabricated by Spaceguard use either Medium Density fibreboard (MDF) or a plywood core. The exposed edges can be left raw, finished or edged dependent on specific customer requirements. Worktop lengths are fabricated to suit the specific requirements. On larger products this work maybe carried out on site after the assembly of the table base.
Spaceguard offers a wide range of colours, which help create light and modern environments. Linoleum surfaces are easily wiped clean and maintain their looks despite continued wear and tear. Linoleum surfaces are also resistant to diluted acids, oils and most conventional solvents such as alcohol and white spirit. They are not resistant to prolonged exposure to alkalis.

Polyethylene
Spaceguard plastic top workbenches provide an ideal solution for robust worktables requiring low a friction work surface. Polyethylene worktops are easy to clean and resistant to stains. This makes them ideal for use in educational environments, workshops, kitchens, art, textiles, and also craft studios. 
Solid polyethylene or polyethylene faced top from 3mm to 20mm thick
a medium density fibre board or hardwood core
A width available up to 3 metres wide
Ideal for direct food use,
The exposed edge can be left raw, edged or finished
Available in a range of colours, helping to create a light modern environment.
Melamine Laminate
Melamine laminate is a low pressure laminate. Because of the lower pressures used within the manufacturing process. To simplify, layers of paper are saturated within a melamine resin. Using thermal fusion they are converted to a solid whilst applied to a core board.
Melamine laminate is a cost effective, material to provide colour to worksurfaces. The durable finish also provides a level of protection against scratches and the water. Melamine laminate worktops from Spaceguard are normally finished with 2mm thick PVC edging to finish the board.
Product standard
Manufactured to (EN 622-5:2006
Product Information
Melamine-faced MDF is ideal for use in all furniture applications and especially for kitchen and bedroom door manufacturing. The high density core gives an excellent finish when routered giving greater design flexibility.
Cleaning and care
Melamine-faced products should be cleaned using most non-abrasive cleaners.
For more information click here
Ply worktops
Plywood worktops can be supplied untreated, varnished, or faced with a material of your choosing. For example, many of our cutting table worktops are linoleum faced plywood.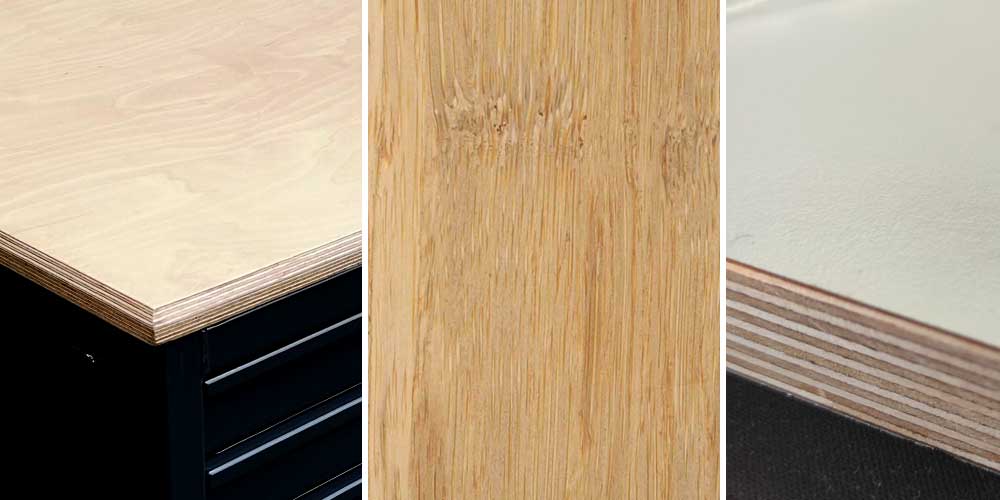 ESD Worktop – Duropal / Resopal Laminate
(ESD) Electrostatically dissipative worktop complete with high-pressure laminate, with durable melamine resin surface and sanded reverse.
Ideal for: workstation worktops in ESD areas, e.g. at production and assembly workstations in the electronics industry. Also in areas where electrostatic charges are to be prevented, such as on production lines, in laboratories or control rooms.
Product standard
Manufactured to EN 438-3:2016
Volume resistance RD
1 x 104 – 1 x 1012 Ohm
Measured dry, measurement voltage 100 V DC, cylindrical electrode, 20-30 °C and 20-50% rel. humidity (96 h conditioning)
Product safety
The decorative surface and the core consists of paper layers that are impregnated with thermosetting resins. The resins harden completely during the manufacturing process by heat and high pressure. They form a stable, resistant and non-reactive material.
Cleaning and care
The surface can be cleaned with water and gentle cleaning agents.
The use of cleaning products, cloths, sponges with abrasive ingredients, should be avoided.
For removal of particularly stubborn stains, industrial cleaners suitable for plastic surfaces can be used. Before use we would recommend testing in a small, hidden area.
The impact of water and cleaning agents should be limited to a short time period, drop quantities and standing water should be avoided. Please wipe the surface with a fluff free cloth allover and efficient dry.
For more information click here
Anti static worktop PE
Polyethylene PE1000 – Electrically conductive
Anti static workstation material Polyethylene PE1000 sheet – UHMW electrically conductive is an electrostatic dissipative material providing a surface resistance of < 105Ω. This helps to provide dissipation of static charges and provide protection from electrostatic discharge. It is primarily used within the chemical, aerospace, mechanical engineering and power station industries.
Key Features: 
Electrically conductive.
Highly resistant to bending and impact.
Good wear characteristics and chemical stability.
Highly resistant to cold with no moisture absorption.
Spaceguard can manufacture your Anti Static or ESD workstations to your specification. We have numerous options available to ensure your work area is suitable for your application.
Bulletin Board worksurface
Bulletin Board is the ideal material for pin boards, notice boards and all other surfaces where ideas and information are exchanged.
Bulletin Board linoleum surfacing material has a multitude of applications. Its properties make it ideally suited for use as a notice board because of it's excellent pin hole recovery; it also provides a functional finish to furniture, walls, door panels and cupboards. The application of Bulletin Board in rooms shared by many people facilitates simple, efficient communication.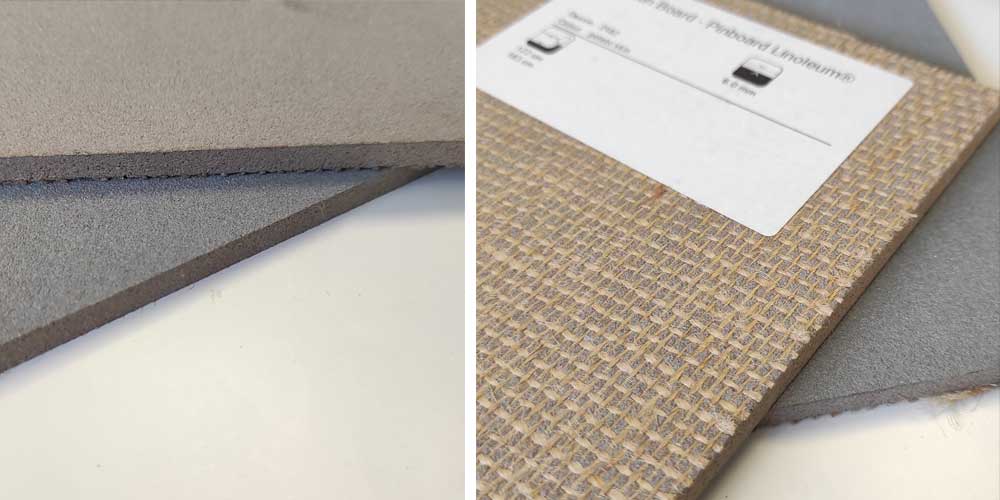 Trespa
Trespa is a type of high pressure laminate that is very durable and resistant to the effects of weather, moisture, temperature, and UV radiation.
Receive a FREE quotation
Please complete the form below to send a message to our team.
For product and pricing enquiries please include a brief overview of your requirements.
Quick response guaranteed
8-5pm Mon to Thurs, and 9-3pm on Fridays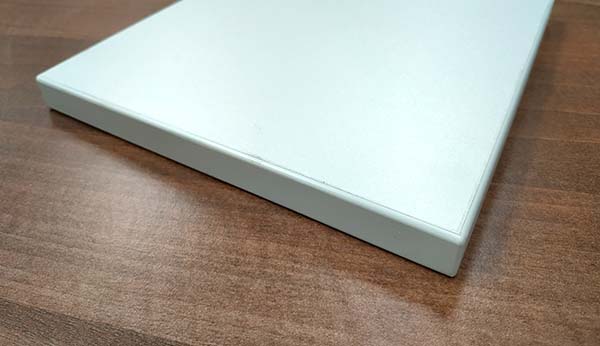 We manufacture workbenches to order allowing for your choice of worktop material