UK Manufactured Stainless Steel Workbenches
Our stainless steel workbenches are manufactured in the UK making them ideal for heavy industrial, food production, pharmaceutical or commercial use.
Spaceguard's hygienic and durable stainless steel workbenches have been used in many arduous environments including for meat processing and deboning, in many cases we manufacture workstations for use alongside stainless steel belt conveyors.
We manufacture entirely to order, meaning our customers are able to receive a workbench in the exact size they need with any included accessories required to suit their application.
To find out more please contact our sales team, or see our other heavy duty benches or bespoke workbenches pages.
PRODUCT FEATURES
Fully welded steel construction
Made to your size and specification
Suitable for kitchen, workshop, factory, garden, industrial, or commercial use
Swivel lockable castors or height adjustable feet available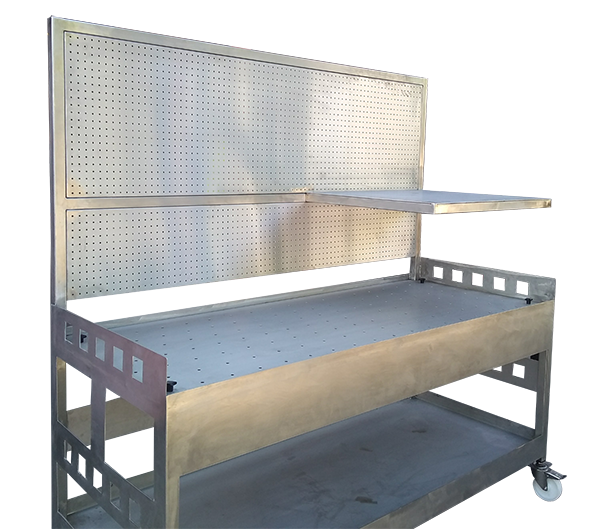 Stainless Steel Workbench Specifications
Frame Material
Welded Stainless Steel
Table Top
304 2b Stainless Steel
Workbench Length
Standard lengths are 1200mm, 1500mm, 1800mm and 2000mm
However we manufacture to suit your requirements.
Workbench Width
Standard widths are 600mm, 750mm, and 900mm
However we manufacture to suit your requirements
Workbench Height
Standard height is 850mm
However we manufacture to suit your requirements
We manufacture all stainless steel workbenches to order and therefore we can add on any required additional accessories, storage, and organisation options.
Please contact our sales team to discuss your requirements and receive a free competitive quotation.
If you have any questions please don't hesitate to call us, our experienced and friendly team will be happy to help.
Phone: 01482 363445
Email: sales@spaceguard.co.uk