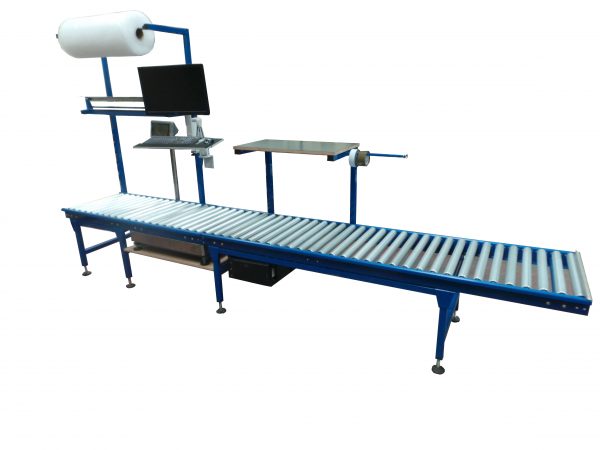 Roller conveyors & workstations - manufactured in the UK by Spaceguard
Roller conveyors by Spaceguard, supplied for most types of applications. From standard stand alone conveyors to integrated roller conveyor workstations, including incorporated packing areas, and also process equipment. This includes conveyor weighscales, packing equipment, and IT integration. As a result, Spaceguard is able to make a standard conveyor into a fully functional production or packing line. All designed to suit your specific requirements.
From lightweight to heavy duty, Spaceguard is able to manufacture and supply robust, in addition to reliable roller conveyors.
Types of Roller Conveyors manufactured by Spaceguard
Manufactured from either painted mild steel or stainless steel, Spaceguard manufactures roller conveyor workstations to suit most applications. With built in items including packing or assembly tooling / supplies, IT equipment, power and data and weighing equipment. Built to suit your specific requirements. Please contact our sales team to discuss your requirements.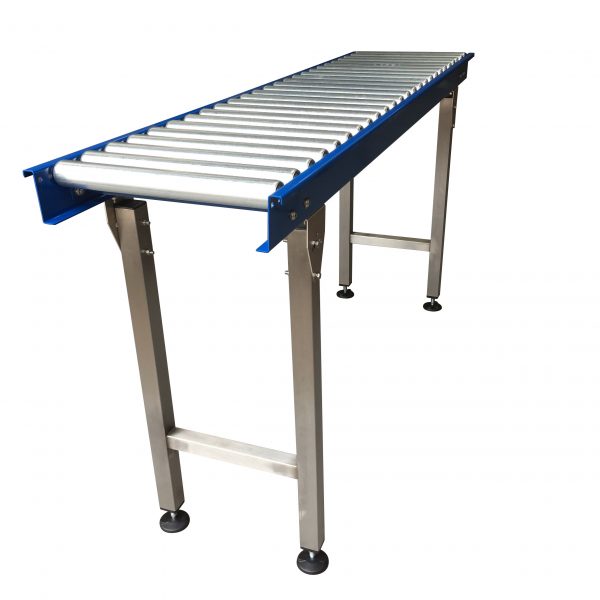 Gravity Conveyors
Standard gravity conveyors. From a one off piece of small diameter gravity roller tracking, to a large system of gravity roller tracks. Spaceguard offers a wide range of quality manufactured, in addition to proven design gravity conveyors. Please contact our sales team with your requirements: 01482 363445 email: sales@spaceguard.co.uk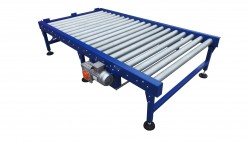 24V driven conveyors
Using quality 24V 50 diameter roller drive, Spaceguard also offer both fixed drive, in addition to zoned zero pressure accumulation conveyor. The 24V roller conveyor is an ideal product for carton handling applications.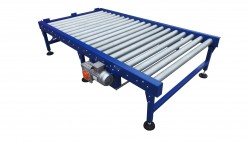 Chain to Chain roller conveyors
Ideal for fixed drive drum handling and and filling applications. The robust medium duty chain to chain driven conveyor can be used as a stand alone unit, or also with multiple drives as a zero pressure accumulation conveyor.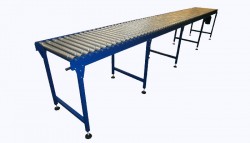 Lineshaft driven roller accumulation conveyor
The lineshaft driven conveyor however is a low pressure driven conveyor. With build up pressure from the spool, the line shaft is ideal for a low cost low pressure accumulation conveyor or as a carton transport conveyor for example.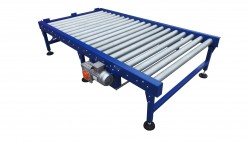 Pallet heavy duty driven conveyors
The heavy duty pallet conveyor provides a robust solution to pallet handling. This fully guarded unit shows as an example the especially heavy duty build of Spaceguard products.
Spaceguard is an industry leading UK roller conveyor manufacturer. With the capability to manufacture both standard and custom built reliable conveyor systems.
The available conveyor range is extremely broad as Spaceguard has many years of industry experience manufacturing both Gravity Conveyors and also Powered Roller Conveyors for all industries and environments.
Our roller conveyor systems are suitable for both medium and heavy duty applications. A roller track conveyor system is the ideal cost effective solution to transport piece goods with a flat and rigid bottom. They're most suited for moving boxes, totes, crates and pallets. We can ensure the roller conveyor you request is optimized for transporting goods you work with. As a UK manufacturer we will build a conveyor to suit your industry specifications. When you contact our team you can supply us with the details of the conveyors intended use, and also the lengths and widths of the conveyor required. If you are unsure then our helpful team can quickly determine what conveyor specification would be most suitable after a brief chat or through email exchanges.
Above all we want to ensure that you get the best conveyor that is most suited for your workplace requirements.
Cost Effective
As the rollers are affordable, quick, and also easy to replace, roller conveyors can be maintained easily at a low cost without the need for calling in an engineer. The rollers come in range of materials including stainless steel, zinc plated, and PVC. Gravity roller conveyors are an incredibly popular, versatile and simple solution. Gravity conveyors are unpowered, therefore they have quiet operation and require no additional energy costs to run. The force of gravity or manual pushing is all that is necessary to transport the product down the conveyor line, due to installation with a gentle decline to aid product movement in the required direction.
Ready For Work
All standard Spaceguard roller conveyors arrive pre-assembled, fully ready for work and therefore easy to install. However, if you require a custom installation for a more complicated integration of a conveyor system then we have skilled technicians available to carry out on site installs. In addition to roller conveyors, Spaceguard can also offer mini tracks, ball tables, and skate wheel conveyor options.
Robust Construction
Our roller conveyor frames are manufactured from welded steel and can have a robust and durable powder coating if required. We are able to offer our conveyors in a wide range of colours allowing for aesthetically pleasing equipment that can brighten up your working environment or match any existing company colour schemes.
Versatile
Roller conveyors are highly versatile, and widely used throughout a vast range of industries. An advantage of a roller conveyor system is the layout options available when used in a modular fashion. The conveyors can be supplied with bends, as well as lift up gates, end stops, and conveyor line merges. An existing system can easily expand or upgrade by adding further modular modifications.
Increase Productivity
Spaceguard roller conveyors are proven to increase productivity. They will aid your staff in handling products, for example for picking and processing orders, packing, unloading and loading deliveries, and transporting items through the different phases of product flow. We also offer ergonomic conveyor workstations which can be custom made or integrated into your existing conveyor system. Our workstation range of options includes PC and monitor mounts, conveyor or bench weighing scales, power sockets, network connections, lighting, packaging storage, and cutters. We also have engineers to design bespoke conveyor workstations should you require anything you haven't seen anywhere else.
Leading Manufacturers
Feel free to contact the Spaceguard team with your ideas, and as a result of careful deliberation, design, and 3D modelling we can help make your perfect conveyor and workstation a reality. We have many years of experience in building custom roller conveyor systems from concept to completion, and we take pride in being able to deliver the perfect products to our clients to meet their exact specifications. We guarantee that our conveyors are manufactured to the highest quality, however in the unlikely event there is a manufacturing defect we do have a warranty agreement in place.
Please contact Spaceguard today for a no obligation quote
Phone: 01482 363445