Roller conveyors manufactured in the UK by Spaceguard
From stand alone roller conveyor units to integrated driven roller conveyors workstations, Spaceguard can supply solutions for most applications.
Our conveyor product range is broad as we manufacture to order, with units suitable for both medium and heavy duty applications. We can design & manufacture gravity conveyors and also powered roller conveyors to suit your business needs.
A roller conveyor system is normally the ideal cost effective solution to transport piece goods with a flat and rigid bottom. They're most suited for moving boxes, totes, crates and also pallets. We will ensure the conveyor you request is optimised for transporting the goods you work with.
We are also able to supply quantities of conveyor rollers as required.
For further information on roller conveyors please see our guide available here.
Phone: 01482 363445
Email: sales@spaceguard.co.uk
Spaceguard Roller Conveyor Features
Spaceguard is a UK conveyor systems manufacturer offering a fully bespoke conveyor design and manufacture service. We offer a wide range of competitively priced conveyor products to suit all industrial sectors, environments and applications.
Gravity conveyors are a versatile and simple transport solution suitable for most industrial environments. We offer a range of roller materials such as PVC or stainless steel, and also frames in stainless steel or painted mild steel.
24v Driven Roller Conveyors by Spaceguard are constructed from high quality components. We offer Fixed Drive or in addition to Zoned Zero Pressure options. These conveyors are available with straights, bends, merges, and also transfers. Generally the ideal solution for carton handling applications.
Lineshaft driven conveyors are an economical transportation solution ideal for warehouse & also distribution environments. They are suitable for boxes, totes, cartons, and trays.
Heavy duty driven conveyors are a robust pallet handling solution for especially heavy duty applications. This unit is also fully guarded to ensure safe operation.
Conveyor workstations by Spaceguard are the ideal ergonomic operator friendly conveyor addition. Constructed from painted mild steel and also stainless steel and built to suit a wide range of applications. We offer many additional options or accessories from packing stations to tool storage. We can also integrate IT equipment as required. The conveyor workstation is generally entirely custom built to suit customer requirements.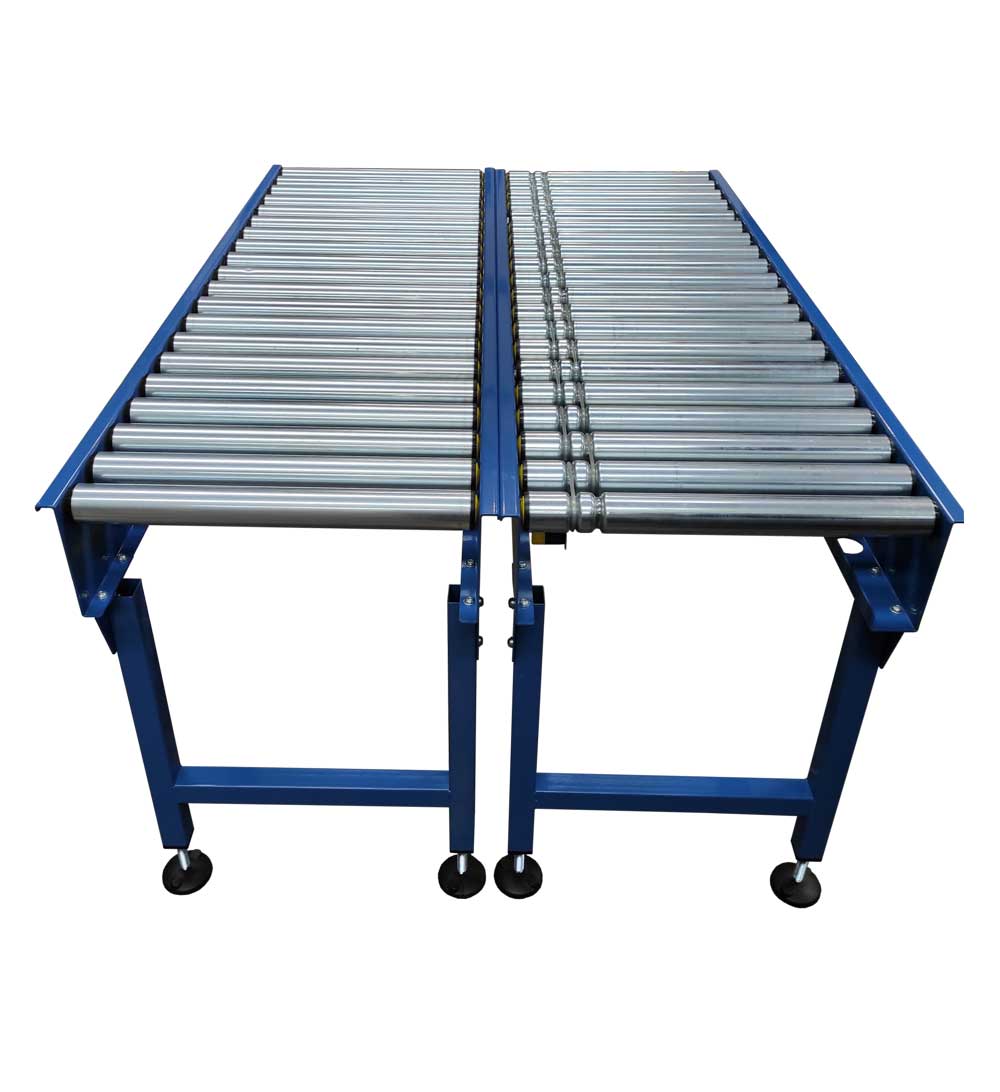 How to order a roller conveyor
When you contact our sales team you can supply us with the details of the conveyors intended use. If you are unsure then our helpful team will ask some questions to find out what conveyor specification would be most suitable. Through deliberation with our customers, draft designs, and also 3D modelling we can help make your perfect conveyor and workstation a reality.
If you are unsure of what type conveyor you need please read our useful guide or visit here to find out more about roller tracks.
With many years of experience in building custom conveyor systems, we take pride in delivering the perfect products to our customers to meet their exact needs.
We manufacture our conveyors to the highest quality. However, in the unlikely event there is a manufacturing defect we do have a warranty agreement in place.